News
Collar Bomb Heist True Crime Doc Series Coming to Netflix
Evil Genius: The True Story of America's Most Diabolical Bank Heist will detonate on Netflix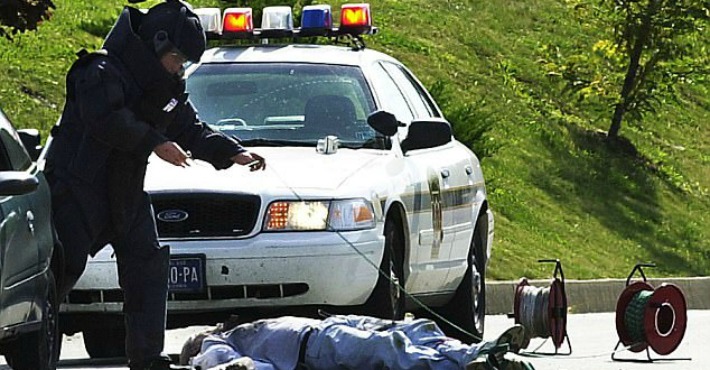 "I'm about to go off," Brian Wells told the cops as he was thrown to the sidewalk and handcuffed after a daring bank robbery attempt. And then he did. Netflix's new true crime documentary series Evil Genius: The True Story of America's Most Diabolical Bank Heist will tell the "truth behind an extraordinary criminal case known as the 'pizza bomber heist.'"
The four-part original series comes from executive producers Mark and Jay Duplass, who made Netflix's pop-culture phenomenon Wild Wild Country. Evil Genius is written and directed by Barbara Schroeder.
"In 2003 in Erie, Pennsylvania, a robbery gone wrong and a terrifying public murder capture the nation's attention, and a bizarre collection of Midwestern hoarders, outcasts, and lawbreakers play cat-and-mouse with the FBI," reads the press statement. "Eventually, a middle-aged mastermind named Marjorie Diehl-Armstrong — once a town beauty, now a woman grappling with mental illness — is arrested. But 15 years later, Evil Genius proves there's more to the conspiracy and murders than was ever thought."
Forty-six-year old pizza deliveryman Brian Wells blew up three minutes before the bomb squad arrived. He had just walked out of a PNC Bank in Erie, Pennsylvania, with a bag filled with $8,702 in cash. He walked into the bank with a bulge under his T-shirt and note reading "Gather employees with access codes to vault and work fast to fill bag with $250,000. You have only 15 minutes."
Wells had a device hanging from his neck. When state troopers caught up with him, Wells told them a group of black men put a gun to his head and chained the bomb around his neck while he was delivering a pizza. "I'm not lying," he told them. TV camera crews arrived at the scene before the bomb squad. Wells died on the sidewalk when the device went off, ripping a 5-inch gash in his chest.
Evil Genius: The True Story of America's Most Diabolical Bank Heist launches globally May 11 on Netflix.