News
New Charles Manson Documentary Explores His Musical Side
Once upon a time in Hollywood, a songwriter cut some demos. New documentary Manson: Music from an Unsound Mind gives a listen.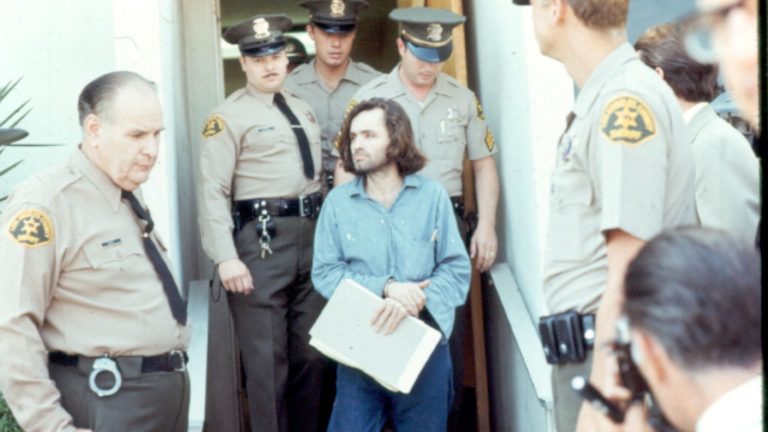 "My life is yours, and you can have my world,"  the Beach Boys sang in the song "Never Learn Not to Love." Mostly written by Charles Manson, that world was a far different kind of hallucination than the band  surfed when they were dispensing "Good Vibrations." Credited songwriter Dennis Wilson changed a good portion of the lyrics and wrote a bridge so it could be issued as a B-side and paid the struggling the songwriter. The musical side of the man who killed the sixties will be explored in the upcoming documentary Manson: Music From An Unsound Mind.
The documentary was written and directed by Tom O'Dell (How the Beatles Changed the World, Duane Allman: Song of the South). "I first found out about Manson's musical ambitions back in 2007, while producing a Byrds documentary," O'Dell said in a statement. "It was an unbelievable backstory to a case I thought I understood. We've gone back and have interviewed those who were actually there, who believed in Manson's talent and were appalled by his transformation into a monster. The revelations in this film make the Manson myth more real, more complex, and ultimately more tragic."
Manson: Music From an Unsound Mind, courtesy of Vision Films Inc., "follows Manson's journey from the Haight-Ashbury to the Sunset Strip, recording sessions in Hollywood's most illustrious studios and auditioning for the most powerful figures in the music industry," according to their press statement.
You can watch the trailer here:
"When career-criminal Charles Manson was released from prison in 1967 after a ten-year stretch, he headed straight into the heart of San Francisco during the Summer of Love," reads the official synopsis. "He had one goal – to become a rock star."
He almost made it. The trailer captures Manson explaining he'd written a couple hundred songs by the time he got himself studio time. "It's a revelation just how close he came to stardom and how closely tied his failure in the music industry was to the murders that made him infamous," Lise Romanoff, CEO and Managing Director of Vision Films, said in a statement.
Further Reading: Everything You Need to Know About Once Upon a Time in Hollywood
Manson: Music From an Unsound Mind looks at the rock legends who supported him and offers a fresh look at Manson's own recordings. Beach Boys' producer Stephen Desper, who recorded Manson at Brian Wilson's home studio, is interviewed for the film. The doc also explores Manson's close friendship with Beach Boys' drummer Dennis Wilson, talking with his songwriting partner Gregg Jakobson, Manson's closest ally on the Los Angeles scene. He was also a key witness for the prosecution at his trial.
Speaking with musicians like Ernie Knapp, the guitarist in Manson's only band, The Milky Way, the film "reveals the untold story of his musical ambitions." The film also follows musical minds which believed in Manson's music, like Phil Kaufman, who released Manson's only album. Kaufman was a fellow inmate of the future cult leader in 1966.
Further Reading: Charlie Says Review
"As Manson's dreams fell apart, it would lead to his descent into violence and chaos," reads the press statement. The film also looks at the "fear and pain that spread through his Los Angeles contacts once they discovered the darker side of the man they called 'The Wizard.'" The filmmakers speak with Manson Family member Dianne Lake, who joined Manson's cult at just 14 years old and was arrested with him two years later.
Manson: Music From an Unsound Mind will be released on Aug. 13. It will be available across all major VOD platforms, including iTunes, Amazon, GooglePlay, Vudu, Vimeo, and FandangoNow, as well as cable platforms Comcast, Cox, Spectrum, Dish, Verizon, and Frontier.
Culture Editor Tony Sokol cut his teeth on the wire services and also wrote and produced New York City's Vampyr Theatre and the rock opera AssassiNation: We Killed JFK. Read more of his work here or find him on Twitter @tsokol.