News
Central Songs from Sgt. Pepper's Never Made the Album
Nothing to get hung about, but Sgt. Pepper's Lonely Hearts Club Band reissue might contain new Beatle destinations.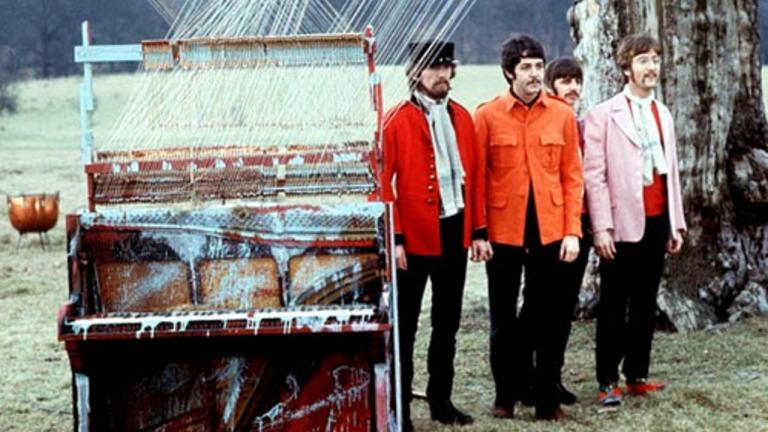 "Strawberry Fields Forever" and "Penny Lane" were an early clue to a new direction. The first songs that opened The Beatles' contribution to the summer of love bridged the gap between the experiments of Rubber Soul and Revolver and the massively ambitious George Martin production that became Sgt. Pepper's Lonely Hearts Club Band. Both songs were originally the twin pillars of that album but the Beatles had a policy of leaving off pre-released singles because they were "filler" material. But there's nothing to get hung about, there is an unsubstantiated rumor going round that an upcoming re-release of the Beatles' classic album will remedy that. No worries, though, the rumors give us reason to explore the childhood memory song couplet by songwriters John Lennon and Paul McCartney. 
The Mirror of London reported that "Strawberry Fields Forever" and "Penny Lane" will be included on the Sgt Pepper's Lonely Hearts Club Band 50th anniversary reissue when it comes out on June 1. While the story has since been questioned, there is no question that the songs were a centerpiece of the album whether they were included or not. Fans were angry that the songs weren't on Sgt Pepper's but "Penny Lane" and "Strawberry Fields Forever" did show up on the Magical Mystery Tour album.
While the two songs may not be making an appearance on the June 1 re-release, the book Sgt. Pepper at Fifty: The Mood, the Look, the Sound, the Legacy of the Beatles' Great Masterpiece will hit shelves that day.
The two songs were written specifically for the Beatles eighth studio album, but EMI, their record label, rush released them as a double-A side single on February 17, 1967. Capitol Records, EMI's American arm, butchered Beatles albums long before the famous "butcher album" cover that adorned their Yesterday, Today and Tomorrow culling of Rubber Soul and Revolver. Producer George Martin said that leaving the songs off the album was "the biggest mistake of my professional life."
"The only reason that Strawberry Fields Forever and Penny Lane didn't go onto the album was a feeling that if we issued a single it shouldn't go onto an album," Martin said on the Beatles Anthology. "It was a crazy idea, and I'm afraid I was partly responsible. In those days it was an aspect that we'd try to give the public value for money."
"Brian (Epstein) came to me and said: 'I must have a really great single. What have you got?' I said: 'I've got three tracks and two of them are the best tracks (Lennon and McCartney) have ever written'. So we put them together.'"
The double-A side meant that neither song made it to the top of the charts. This was the Beatles' first single in four years earlier that didn't hit #1 in England.
John Lennon wrote "Strawberry Fields Forever" while on location in Almeria, Spain, filming How I Won the War with director Richard Lester, who directed Help! and A Hard Day's Night. Strawberry Field was a Salvation Army home in Liverpool. Lennon had already scrapped plans to do a reminiscent tune when he completely reworked his autobiographical song "In My Life." The song started as a trip down memory lane and grew deeper. So deep that Lennon trusted his cognizant collaborator to handle writing most of the melody.
"Strawberry Fields is a real place," Lennon said in his 1980 interview with Playboy magazine. "After I stopped living at Penny Lane, I moved in with my auntie who lived in the suburbs in a nice semidetached place with a small garden and doctors and lawyers and that ilk living around, not the poor slummy kind of image that was projected in all the Beatles stories. In the class system, it was about half a class higher than Paul, George and Ringo, who lived in government-subsidized housing.
"We owned our house and had a garden. They didn't have anything like that. Near that home was Strawberry Fields, a house near a boys' reformatory where I used to go to garden parties as a kid with my friends Nigel and Pete we would go there and hang out and sell lemonade bottles for a penny. We always had fun at Strawberry Fields. So that's where I got the name. But I used it as an image."
"Strawberry Fields Forever" is actually one mix of two different version of the song spliced together. The version were in different keys and tempos but Martin slowed down one and sped up the other and, besides a quick edit noise at the 59 second mark, you'd never know the difference. Paul McCartney played the flute opening on the Mark II Mellotron, a electro-mechanical keyboard that used tape loops of real instruments. That Mellotron is now owned by Trent Reznor from Nine Inch Nails
"Strawberry Fields Forever" ends with Lennon's voice intoning the words "cranberry sauce." Many people thought he was giving a clue to the mysterious rumors that his songwriting partner had died in a car crash the year before.  But "I buried Paul" might only have referred to the songwriting competition. The pair were fans of each others' works but always had an eye toward one-upping the other. 
"John wrote this absolutely amazing song 'Strawberry Fields Forever' for the new album and I was frankly a bit jealous so I went home and wrote 'Penny Lane,'" McCartney recounted in Anthology. "We wanted them as the main tracks on Sgt Pepper. We were in another phase of our career."
That new phase meant some new inspirations for recording. It was also one of the first rock concept albums. Paul McCartney came up with the idea to record the album as the fictional band to free the lovable moptops to try new sounds after they gave up touring.
"We didn't have to be performing every night so instead we could be writing or chatting with our mates or visiting an art exhibition," McCartney said in Anthology. "Having the time off gave us time to come in (to the studio) with crazy ideas. We were all opening our minds to different areas and sharing it with one another. There was a lot of cross-fertilization."
"Sgt. Pepper is Paul after a trip to America and the whole West Coast long-named group thing was coming in," Lennon told Playboy. You know, when people were no longer the Beatles or the Crickets– they were suddenly Fred And His Incredible Shrinking Grateful Airplanes, right? So I think he got influenced by that and came up with this idea for the Beatles."
The concept was never fully conceptualized. Lennon said it worked "because we said it worked," in an interview captured in Anthology. 
"It was going to run like a rock opera. It started out with a feeling that it was going to be something totally different but we only got as far as Sgt Pepper and Billy Shears," Ringo Starr admitted in the book Come Together: Lennon and McCartney In The Seventies by Richard White "We kept the title and the feel that it's all connected but in the end we didn't actually connect all the songs up."
The high trumpet part on "Penny Lane" was added after the song was complete. McCartney was watching the BBC when he saw Bach's "Brandenburg Concerto #2" performed by The New Philharmonia. The band contacted trumpet player, Dave Mason, to play a part McCartney sang to the quick notation taker Marton for a B-flat piccolo trumpet solo. Mason, also played on "A Day In The Life," "Magical Mystery Tour," and "All You Need Is Love." George Harrison played the conga drum on the song.
Penny Lane loomed large in the Beatles' legend. "Penny Lane" was about Liverpool's Penny Lane Bus Station. Lennon's mother Julia worked as a theater usher in Penny Lane. The band each got their hair cut there as kids and kept up their famous cheeky Liverpudlian patter. "Finger Pie" and "keeps his fire engine clean" were British sexual slang.
The short promotional films weren't shot in Liddypool, though. "Strawberry Fields" was shot in January 1967 in a field in Kent. The movie that accompanied "Penny Lane" was shot on Angel Lane in Stratford in East London. Buses in London were red in the sixties. Liverpool buses were green. The footage was shot on Sunday February 5, the same day the band put the finishing touches to the closing song "A Day in The Life." The director of these videos was Peter Foldmann, a Swedish friend of Klaus Voormann.
Sgt Peppers Lonely Hearts Club Band won four Grammy awards. It was the first rock LP to be named Album Of The Year.