News
Captain Marvel Giveaway: Win a Fandango Gift Card!
We're giving away Captain Marvel-themed Fandango cards to five lucky winners!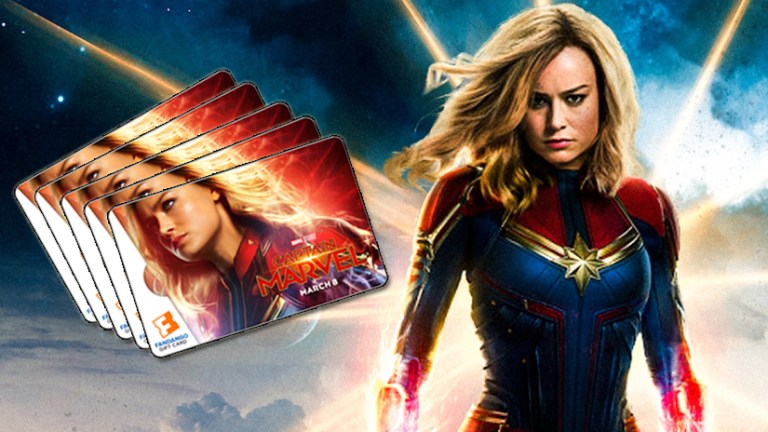 Already soaring past Wonder Woman, Aquaman, and Deadpool in advance ticket sales on Fandango, Captain Marvel has emerged as one of the most eagerly anticipated movies of 2019. To celebrate Captain Marvel's kickassery, we've partnered up with Fandango to give away five Captain Marvel-themed Fandango gift cards valued at $25 each. Each Fandango gift card is good for any theatrical ticket purchases (via Fandango) or for home viewing (with FandangoNOW).
Click here to enter via our official giveaway page.
Set in the year 1995, before the birth of the Avengers and the climatic Avengers: Infinity War, Captain Marvel follows pilot Carol Danvers has she finds herself caught in a intergalactic conflict between two alien species: the Krees and the Skrulls. Danvers becomes one of the galaxy's greatest defenders and joins an elite Kree military unit called Starforce, when questions of Danver's mysterious origins begin to emerge.
Brie Larson stars as Carol Danvers, and is the first woman to ever headline a film in the Marvel Cinematic Universe. Samuel L. Jackson once again appears a digitally de-aged Nick Fury, who during the events of Captain Marvel is not yet the director of S.H.I.E.L.D. Clark Gregg also reappears as a digitally de-aged Phil Coulson, who at that point in time was a rookie agent of S.H.I.E.L.D. Ben Mendelsohn plays the villainous shape-shifting Skrull villain Talos, while Jude Law plays Danvers' mentor and the commander of the Starforce unit.
Captain Marvel will be released in theaters on March 8th. The film is written and directed by Anna Boden and Ryan Fleck, who previously collaborated for Half Nelson, Sugar, It's Kind of a Funny Story, and Mississippi Grind. Captain Marvel is the twenty-first film in the Marvel Cinematic Universe, and will be followed by Avengers: Endgame.
Click here to enter via our official giveaway page.
Five winners will be drawn randomly and notified immediately via email. Winners will have forty-eight hours to respond or other winners will be chosen. Entries will be accepted until March 12th. Good luck!