News
Braun Strowman's WWE Return Opens Up SummerSlam Possibilities
Braun Strowman returned and Samoa Joe beat Roman Reigns, and the WWE SummerSlam 2017 picture just got more interesting.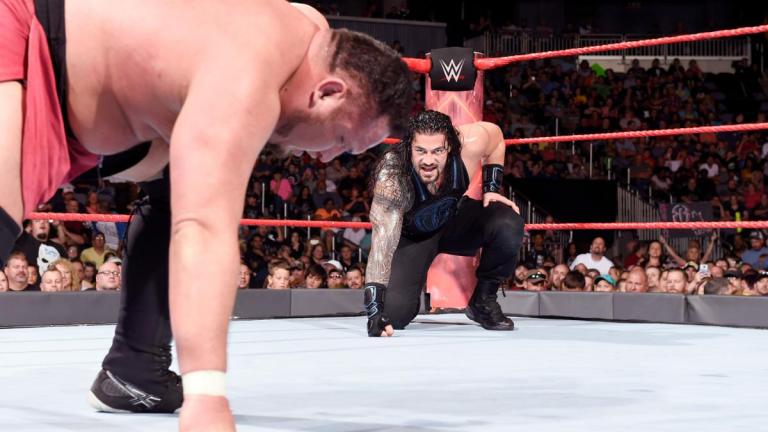 Roman Reigns announced his SummerSlam intentions on Monday's episode of WWE Raw, and he told the crowd in a show-opening promo that he intended to challenge for the Universal Title at WWE's second-biggest show of the year.
But the problem wasn't that he just announced intentions. Instead, Reigns announced that at SummerSlam, he was the No. 1 contender for the title.
I'm sorry, but wrestlers shouldn't be allowed to do that. In an era where wrestling companies are in love with authority figures, it looks foolish that a wrestler can just walk to the ring and anoint themselves No. 1 contender to a title, especially when there are two months between now and the supposed title shot.
Now, that doesn't mean Reigns will challenge the champion at SummerSlam, but it might. And if it does, it could be a slight hint that WWE is re-thinking Lesnar as champion, and could go with Samoa Joe in the main event of Great Balls of Fire in a few weeks.
Joe interrupted Reigns promo, explaining that Reigns has never beat him. Reigns, acting heelish, dismissed, "that guy named Joe," downplaying his title shot, of course.
Later in the show, Reigns wrestled Joe 1-on-1, and Joe forced Reigns to tap in the Coquina Clutch after Braun Strowman returned, and distracted Reigns in the ring. During the match, an ambulance pulled in to the arena — it was shown on the big screen — and Strowman walked out.
Now, Reigns will fight Strowman at Great Balls of Fire. And, it's entirely possible that Reigns wins and goes on to SummerSlam. There, he could face Joe.
Or, it could be the complete opposite. Lesnar could win the title match, and Strowman could beat Reigns, hence earning Reigns self-declared title shot at SummerSlam.
I think that's the way they ultimately go, but what the booking did last night – despite the absurdity of Reigns declaring himself No. 1 contender – did set in place some mystery. At least going into Great Balls of Fire, no one should know the result of the main event, whereas one week ago, I think everyone assumed Lesnar was walking out of Dallas as the champion.
Matt Hardy & Jeff Hardy beat Luke Gallows & Karl Anderson
It was strange to see this be nothing more than really a throwaway tag team match. A few months ago, before the Hardys returned to WWE, this would have been considered a dream match. Here, it just felt like it was there to fill time.
That doesn't diminish the quality of the match. It was more the presentation of the match.
Finn Balor beat Bo Dallas
Bo's new look was pretty good. His hair was longer and he looked to be channeling more of a Bray Wyatt look. At first, I figured that they were maybe going to go in a new direction and put Bo and Curtis Axel with Bray, but instead, we learned later in the show that those two will be joining up with the Miz as his new entourage.
Akira Tozawa beat TJP
This was another very strange presentation. I'm genuinely not sure if the Titus Brand are supposed to be babyfaces or heels. Tonight, they were babyfaces, I guess. We'll see about next week.
Samoa Joe beat Roman Reigns
It was revealed later in the night, that Reigns vs. Strowman at Great Balls of Fire will be an Ambulance Match. Strowman is a really strong character and I'd like to see them do more with him. With Reigns, it would most likely help him to take a little bit of a step back right now, in order to reset and maybe allow the fans to invest in him a little more. It's not going to happen, because that's not the way WWE operates, but it probably should happen.
Sheamus & Cesaro beat Titus O'Neill & Apollo Crews
Again, so the Titus Brand are babuyfaces tonight. Good to know! We'll see what they are next week. Make sure you tune in to Monday Night Raw!
Nia Jax beat Sasha Banks
There were some shenanigans here, of course. Alexa Bliss, Emma, Dana Brooke, Mickie James and then Bayley all got involved in some post-match business. The match seemed to be more here for an excuse for that post-match brawl than anything else.
Big Cass turned on Enzo Amore
This was the big hook of the show. All night, they were pumping up that we would find out who was attacking Enzo and Cass. As it turned out, Corey Graves had access to security footage from last week, and it showed that Cass faked his attack, kicking a box and then laying down in order to be discovered.
Cass admitted that he faked it, and also admitted that he attacked Enzo. Cass said he did it because he was sick of Enzo's talk, with Cass always being the one that had to back him up. The segment ended with Cass giving Enzo a huge boot in the ring.
Cass really shined in this segment. He hasn't been given a lot of promo time, because Enzo does so much of the team's talking. But Cass delivered in a big way and this was a great start of his run as a heel. Enzo was great as well with his facial reactions and his disbelief that his partner was turning on him. They both sold the segment really, really well.
Closing the show with it also should tell you how important they feel Cass can be. You could tell from the very beginning that they were going to give him a run as a singles wrestler at some point, and the time for that is apparently now.