News
Bohemian Rhapsody Trailer, Release Date, and Cast Info for Queen Movie
Bohemian Rhapsody brings Queen to the big screen, starring Rami Malek as the band's stunning frontman, Freddie Mercury!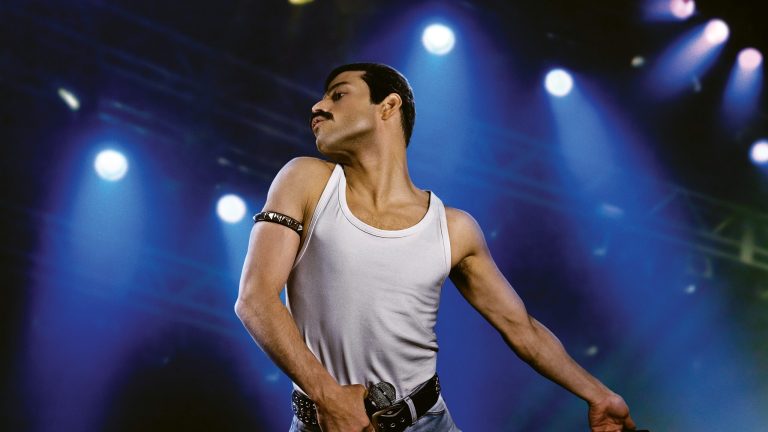 While the word "legend" is thrown around a little too freely, it is thoroughly appropriate in the case of Freddie Mercury, who had superhuman charisma to go along with extraordinary vocal range and songwriting ability. Born Farrokh Bulsara in Tanzania 1946, Mercury rose to rock superstardom through the '70s and '80s fronting Queen, with whom he recorded over a dozen albums that themselves yielded dozens of hit singles. He died in 1991 of AIDS-related complications.
While Queen greatest hits compilations get all the love (and fair enough), do yourself a favor and check out their first two albums, handily titled Queen and Queen II, which are as melodic and subversive as Bowie at his best but with riffs that give more traditional hard rock bands like Led Zeppelin or Black Sabbath a run for their money. They're also positively full of sci-fi and fantasy imagery, which predates their soundtrack to the beloved 1980 Flash Gordon movie. 
Bohemian Rhapsody, the biopic about Freddie Mercury and Queen, has been in the works for ages, and had to switch directors midway through production. Dexter Fletcher replaced Bryan Singer as director of Bohemian Rhapsody. The directorial swap occurred due to the controversies surrounding Singer, ranging from rumors of creative clashes with star Rami Malek, as well as allegations of bizarre, unprofessional, behavior during production that include, amongst other things, lengthy absences. Fletcher is a veteran British actor from films such as Kick-Ass, Lock, Stock and Two Smoking Barrels and The Elephant Man, as well as HBO's monumental World War II miniseries Band of Brothers. However, he's made a behind-the-camera transition in recent years, making a directorial debut with 2011's Wild Bill, followed by 2013's Sunshine on Leith, before landing the high-profile 2016 Hugh Jackman/Taron Egerton-starring comedy, Eddie the Eagle.
Bohemian Rhapsody Trailer
Check out the brand new trailer:
And the first trailer is below…
Here's the official synopsis:
Bohemian Rhapsody is a foot-stomping celebration of Queen, their music and their extraordinary lead singer Freddie Mercury, who defied stereotypes and shattered convention to become one of the most beloved entertainers on the planet. The film traces the meteoric rise of the band through their iconic songs and revolutionary sound, their near-implosion as Mercury's lifestyle spirals out of control, and their triumphant reunion on the eve of Live Aid, where Mercury, facing a life-threatening illness, leads the band in one of the greatest performances in the history of rock music. In the process, cementing the legacy of a band that were always more like a family, and who continue to inspire outsiders, dreamers and music lovers to this day.
Bohemian Rhapsody Release Date 
Bohemian Rhapsody is due on November 2, 2018. Any excuse to listen to Queen is a good one.
In fact, speaking of Flash Gordon, while the title track gets all the love, don't forget about "The Hero" which plays over the closing credits. It's not only the superior tune, but Queen used it to open their sets in the early '80s, paired with a blazing fast version of "We Will Rock You." Turn this up…
In fact, take another moment to appreciate Queen at the height of their powers in 1974 with this performance of "Father to Son" which rocks harder than humanly possible…
Bohemian Rhapsody Cast
"When you're able to open your eyes and see a different person staring back at you in the mirror," Malek told Entertainment Weekly about the first time he saw himself as the singer/songwriter/pianist, "it's a very affirming moment."
Malek wasn't just fitted for hair and makeup for the role. He is also filling his lungs.
"We're going to use Freddie as much as possible and use myself as much as possible," Malek told EW. "I'm in Abbey Road [Studios] right now if that should say anything to you. I'm not working on my acting."
"Rami has great presence and he's utterly dedicated to the project," guitarist Brian May and drummer Roger Taylor said in a joint statement. "He's completely living and breathing Freddie already, which is wonderful."
The rest of the band will be played by Gwilym Lee (guitarist Brian May), Ben Hardy (drummer Roger Taylor), and Joseph Mazzello (bassist John Deacon). Lucy Boynton will play Mary Austin, Freddie's dear friend and muse.
Bohemian Rhapsody Review
It is always a curiosity when star and a star vehicle are at odds. Sometimes this is because a performer does not gel with the material, but in the case of Rami Malek in Bohemian Rhapsody, it is due to his vast surpassing of it—like a shooting star leaping through the sky. With the responsibility of portraying Freddie Mercury, one of the undisputed musical geniuses of the 20th century, what he achieves is less a performance and more an act of necromancy. For it is some kind of magic trick when he conjures the spirit of Queen's lead singer before our eyes, which will be more than enough for audiences who want to relive the music and brilliance of a man who thought the best way to view his glam rock scribblings was as a "night at the opera."