News
Bob Dylan Bootlegs His Own Whiskey Brand
Two shots of Bob Dylan's bootleg whiskey will make you feel like you're knocking on Heaven's Door.
First, be thankful Bob Dylan chose whiskey instead of wine, because we'd never be able to get the vision of his wandering bootheels stomping the grapes out of our heads. The legendary Nobel laureate singer-songwriter has been hard at work over the past few years putting out unreleased material in his Bootleg series, currently standing at number 13. Dylan is now taking the bootlegger label seriously and launched his own signature line of whiskey called Heaven's Door Spirits, according to the New York Times.
Dylan is collaborating with Marc Bushala, who sold his bourbon-making company Angel's Envy to Bacardi in 2015 for $150 million, "to create a collection of American whiskeys that would each tell a story," Dylan told The New York Times. The company is working on three different batches. The will be distilling a straight rye, a double barrel whiskey and a Tennessee bourbon. 
"We both wanted to create a collection of American whiskeys that, in their own way, tell a story," Dylan told the New York Times. "I've been traveling for decades, and I've been able to try some of the best spirits that the world of whiskey has to offer. This is great whiskey."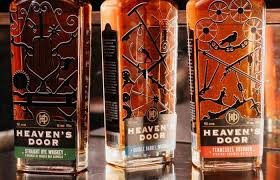 Dylan made a trademark application for the name "bootleg whiskey" in 2015. Busala made contact with the musician's representatives, got Dylan to change the name from Bootleg Whiskey to Heaven's Door, Inspired by Dylan's 1973 song, "Knocking on Heaven's Door," and went off to raise $35 million for the new project with Dylan is involved as full partner.
Heaven's Door will also launch a luxury "Bootleg Series," They promise to have a 25-year-old whiskey available by next year. That may sound like it skirting the laws of physics, but the whiskey will come in ceramic bottles decorated with Dylan's oil and watercolor paintings. Dylan's signature will be visible on the reverse side of the label when the bottles run dry.
Celebrity alcohol marketing is big business lately. Sammy Hagar sold his Cabo Wabo Tequila to Gruppo Campari for a quick pick me up. George Clooney sold his Casamigos tequila to liquor giant Diageo for up to a reported  $1 billion.
This isn't a vanity project, and it's not a revisiting of the 1965 Folk Festival that had Pete Seeger sticking his fingers in his ears, or the 2004 commercial he made for Victoria's Secret, his 2014 Super Bowl TV ads for Chobani yogurt and Chrysler, or the commercials he taped for Apple, Cadillac, Pepsi, IBM and Google.
"He didn't sell out," Bushala told the New York Times. "This is his brand, and it's his idea. We just helped him do what he wanted to do. Bob does not want to be face man of the brand and he does not want the packaging to scream 'Dylan.'
 Dylan will be the face of Heaven's Door Spirits, wearing a tux, an after-hours Renaissance man at 76 , "but he's not going to appearances or bottle signings. He didn't even pick up his Nobel prize, so he's not going to go out touting this," said Bushala.
Heaven's Door will retail for $50 to $80 a bottle.