News
Billy Corgan Reportedly Buys NWA: The National Wrestling Alliance
After a messy divorce from TNA, Smashing Pumpkins honcho Billy Corgan is back in the wrestling business ...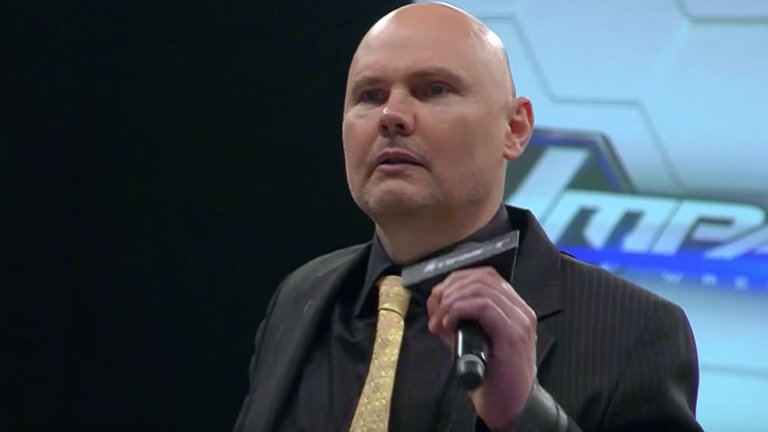 About six months after a messy departure from Impact Wrestling, Smashing Pumpkins frontman Billy Corgan is back in the wrestling business. According to PWInsider.com, Corgan has purchased the National Wrestling Alliance.
According to PWInsider's report, Corgan's purchase includes the name, rights, trademarks as well as the NWA championship belt.
Since 2012, the NWA has been owned by a Houston attorney, Bruce Tharpe. His group won ownership of the organization in a lawsuit over the NWA's insurance practices. After Tharpe took control, the business model moved to a licensing model, where many current promotions under the NWA publicly left the organization, most prominently being Championship Wrestling from Hollywood.
Essentially, Tharpe went from running the NWA as its own promotion, and instead tried to license the name "NWA" to several independent promotions for a fee. Under his leadership, Tharpe mainly re-connected the NWA with Japan.
Prior to Vince McMahon's takeover with the WWF in the 1970s and 1980s, the NWA was the premiere governing body in professional wrestling.
Corgan hasn't publicly commented. His last activity on Twitter came exactly one month ago (April 1), where he congratulated former Impact star, Drew Galloway, on returning to WWE/NXT.
After his departure from Impact last fall, Corgan did a one-hour podcast interview with Mike Johnson of PWInsider.com. After last October's Bound for Glory pay per view, Corgan tried to leverage several loans he made to Dixie Carter into an ownership stake in TNA. Corgan took Carter to court, but the company was ultimately sold to Anthem Sports and Entertainment, a Canadian-based company that also owns the Fight Network.
Corgan ultimately settled with Anthem, and released a statement in November.
The NWA, as an entity, isn't currently a functioning promotion under Tharpe. There are six championships under the NWA umbrella, including Tim Storm as the current NWA World Hvt. Champion.
The NWA has no television contract Corgan will inherit.