News
Bee Gees Biopic in the Works with Paramount, Bohemian Rhapsody Producer
A biopic about legendary pop siblings The Bee Gees is being spearheaded by Paramount Pictures.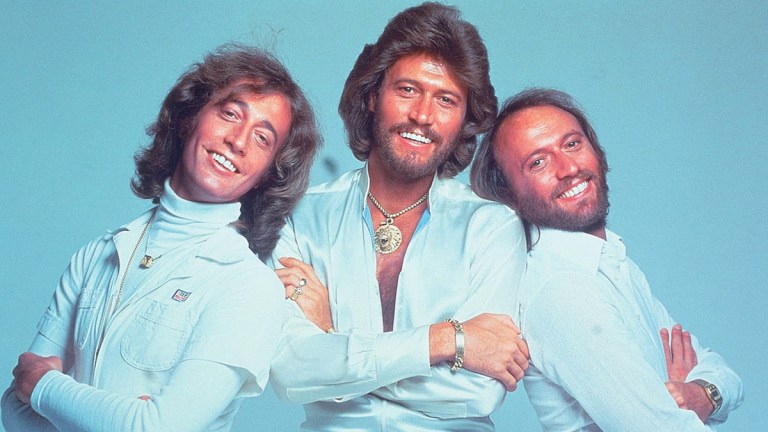 The Bee Gees are set for an outbreak of their signature brand of night fever at theaters, with the story of the iconic Aussie sibling pop act set to join the recent genre surge of music biopics in the aftermath of Rami Malek's acclaimed performance as Queen's Freddie Mercury in the hit movie, Bohemian Rhapsody.
Indeed, a yet-to-be-titled biopic project centered on the 220 million-record-selling trio, The Bee Gees, will be brought about by a producer trifecta spearheaded by Paramount Pictures, reports Deadline. Paramount acquired the rights to dramatize the story from the Gibb family estate, chronicling the travails of siblings Barry, Robin and Maurice Gibb from their beginnings as a rock act, career nadirs and, ultimately, their reinvention as disco kings, culminating with their culturally-ubiquitous smash hits from the soundtrack of 1977 film Saturday Night Fever.
Further Reading: Elvis Biopic Casts Olivia DeJonge as Priscilla Presley
The big screen endeavor will see Paramount team with the burgeoning financier, Sister (recently launched by Elisabeth Murdoch, Stacey Snider and Jane Featherstone), and, pertinently, Graham King, a key producer for the aforementioned Oscars-earning smash hit, Bohemian Rhapsody. The untitled Bee Gees biopic will serve as the first U.S. project for Sister, which split its structure between divisions in Los Angeles under former chairman/CEO of Twentieth Century Fox Stacey Snider (who left her last position after the Disney acquisition,) and London under Jane Featherstone.
The Brothers Gibb, a designation more famously known in the phonetically-abbreviated form of their band, The Bee Gees, came into formation in 1958, having emigrated from Manchester, England to Queensland, Australia, where they put together a string of minor hits throughout the '60s. However, a fateful tour brought them back to England, which led to demo tapes being sent to The Beatles manager Brian Epstein, leading to a five-year contract with Polydor Records that kickstarted an era of mainstream success with hits like "New York Mining Disaster 1941" and "To Love Somebody."
Further Reading: Boy George Biopic Set for MGM, Sacha Gervasi to Direct
However, a reset would occur after tumult amongst the siblings saw The Bee Gees break up in 1969, only to reform in 1970, pared-down to the primary trio of Gibb brothers, yielding hits like "Lonely Days" and "How Can You Mend a Broken Heart." This iteration of the group would, of course, become the driving musical force behind the soundtrack to director John Badham's 1977 disco-scene snapshot of a film, Saturday Night Fever, which elevated the stardom of Welcome Back, Kotter actor John Travolta well beyond that of his fellow Sweathogs. Indeed, the album became a platform on which The Bee Gees reaped four unforgettable hit songs, "Stayin' Alive," "Night Fever," "How Deep is Your Love" and "More Than a Woman," with the former three managing to top the U.S. charts. The group would also appear in director Michael Shultz's 1978 (much-maligned) musical movie adaptation of The Beatles' Sgt. Pepper's Lonely Hearts Club Band as part of the titular fictional group of the iconic 1967 concept album.
Later branded as a disco act for which styles passed by, the Bee Gees fielded numerous comebacks over the ensuing decades, but remain marked by tragedy, starting with the death of youngest Gibb brother, Andy – a hit singles artist in his own right – due to the heart condition, myocarditis. Maurice Gibb would succumb to health issues in 2003, followed similarly by Robin in 2012, leaving lead singer Barry as the lone surviving member. The band was inducted into the Rock and Roll Hall of Fame in 1997.
The untitled Bee Gees project follows the post-Bohemian Rhapsody surge of biopics that includes the recent Elton John-focused Rocketman, which, starring Taron Egerton, was also a hit this past May, joined by currently-developing industry offerings focused on Elvis Presley, Aretha Franklin, Boy George, Carol King as well as John Lennon and Yoko Ono. – Don't expect that deluge to subside anytime soon.
Joseph Baxter is a contributor for Den of Geek and Syfy Wire. You can find his work here. Follow him on Twitter @josbaxter.