News
Be seeing you…again
Martin is excited and apprehensive in equal measure about the impending return of The Prisoner to our TV screens...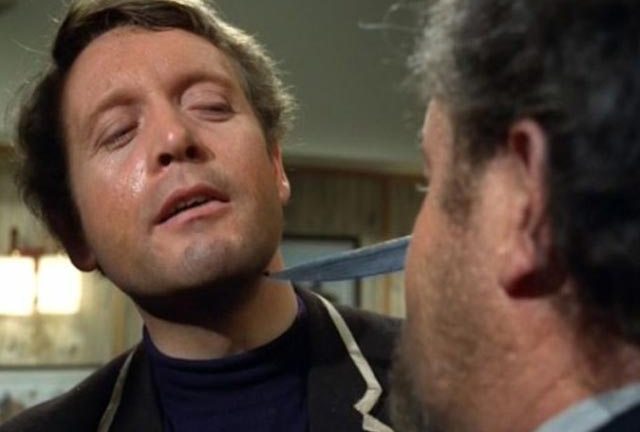 It's not through laziness – at least not this time – that I here repeat the model of a previous column, namely that of the 2nd of May this year, where I took a look at Sky One's fresh announcement that it was to remake Terry Nation's Blake's 7. What can I do? If they are going to keep re-making excellent bolshevist science-fiction shows, I am going to have to keep writing about them…
Six Of One – the appreciation society for Patrick McGoohan's hugely influential yet oddly unique 1960s TV series The Prisoner – announced on the 6th of June (how quaint) that thirty-one years of talking about rebooting the show has finally given way to a budget, a firm cast and a production schedule. Shooting is to begin within 7 weeks, eschewing the surreal location of the late Sir William Clough-Ellis's Portmeirion for the more exotic climbs of Namibia and Cape Town.
Sir Ian McKellen will star as 'Number Two', the effective mayor of 'The Village', a clandestine prison-community to where critical government operatives are consigned if their loyalties are in doubt; here they'll be treated well, relieved of the burden of bills…and psychologically tortured until they confess all. But who is running the camp? The government or its enemies?
James Caviezel replaces McGoohan as 'Number 6', an otherwise unnamed British spy who resigns in fury over some unknown disaccord with his masters, only to be kidnapped and transported to the five-star internment community.
This new production surely closes work on both Sky One's earlier bid to remake Prisoner, on Christopher Nolan's movie project, and on an almost innumerable number of remake attempts tabled and shelved over the last three decades…
I remember well the first ever repeats of the show, ten years after its initial 1967 run. Whatever else the new proprietors of the property get right, the original, apocalyptic title sequence will be very hard to top, with Ron Grainer's distinctly catchy theme punctuating a Welles-ian masterclass in editing. Utterly obsessed with The Prisoner, my weekly attempts to record the title theme on a C30 cassette were foiled by barking dogs, returning sisters and an innumerable number of other audio-obstacles.
In desperation I spent a little pocket-money on membership of the newly-formed Six Of One society, receiving for this outlay a signed picture of McGoohan, a really great glossy badge featuring the penny farthing that is the emblem of the village, and a year's worth of drip-fed, abstruse, mimeographed musings about why the penny farthing is the emblem of the village, amongst other equally unanswerable questions. The meaning of The Prisoner is sought in an Escher-esque landscape of semiotics and recursive puzzles, and many unworthy souls have had to be airlifted out over the years. In terms of narrative clarity, it frequently makes Lost look like Adam West's Batman show.
In the meantime, Six Of One V.1 (1977) couldn't help with my title-track quest, only offering an ersatz and very inferior cover to the Grainer original. I bought the single anyway, but would have to wait three years for the advent of VHS, three more until my family could afford a VCR and a few more on top until Prisoner was actually released on video, by which time mention of its name invited unwelcome conversations about Australian women inmates. [shudder].
During that intervening period, the show had been mooted for the remake many times over, with one popular 1978 rumour proclaiming that No.6 would be a woman in the new version. This broth of unconvincing interest nearly fermented into a go-ahead in 1997, only to fall back into a continuing stretch of development hell that was to prove lengthy even by Hollywood standards. In the last two years the property has seemed confusingly divided between Sky One and Christopher Nolan…
Some hoary old punk in me wants to believe that The Prisoner – like the Blake's 7 property that Sky was more successful in acquiring and developing – is being reborn out of some sense of the anti-establishment feeling that created it in the late 60s and rubber-stamped its rebellious stance in the punk-era repeats a decade later.
The truth is out there. Sadly, it's just come in from a fag-break and is sitting before me in all its grim pragmatism: Sky have been looking for a retro-cult sci-fi property to revive since Russell T. Davies's Doctor Who went into ratings orbit in 2005. Their sheer lack of imagination in pursuit of their own cash-cow was manifest when they cast Christopher Ecclestone as No.6 in their own (ultimately aborted) development of McGoohan's show. That kind of attitude can't bode well for Blake's 7…
Now No.6 has returned to his native masters, with the new version a co-production between the American Movie Channel and ITV (who originated the show in the sixties under ITC), the latter of which at least has shown little originality in producing good TV sci-fi in the last decade.
Perhaps Prisoner fans shouldn't lose heart – McGoohan's mad notion was greenlit for equally commercial reasons: psychedelic and mind-bending movies and TV were incredibly 'hip' when he set off on his bizarre seventeen-episode journey, and he was himself the highest-paid TV star in the country, with the hugely successful Prisoner demi-prequel Danger Man standing to his credit. The American-born Irish actor himself issued from the similar commercially-viable background of new Prisoner producer Trevor Hopkins and writer Bill Gallagher.
The difference may prove to be the sheer amount of control that McGoohan was able to negotiate over his show – Hopkins and Gallagher have put in workmanlike hours on the likes of Maigret, Dracula (2006) and Dalziel and Pascoe, but neither are the commanding titan RTD was when he took on Doctor Who. The very short six-episode run (all written by Gallagher) also confers an air of timidity on the project. But we'll have to wait and see…
One of the highlights of my geek life came in the late 1980s, when I stayed in the house opposite No.6's bachelor pad in Portmeirion for a week. Clough-Ellis's astoundingly beautiful Italianate village on the North Wales coast is groaning in preservation orders, and was utterly unaltered since the show's time. The only difference was that Six Of One head honcho Max Hora had turned No.6's pad into a great Prisoner gift shop, no-one ever seemed to drive the mini-moke that was parked outside our flat, and our walks on the shore were undisturbed by large feral weather balloons.
I do hope that there is a forceful mind behind what is worryingly called the 're-versioning' of this classic cult series. I understand that they couldn't film it in Portmeirion, as the show must find its own space and culture away from that distinctive architecture; I'm glad the producers understand that only an actor of the stature of Ian McKellen could possibly follow in the footsteps of the legendary Leo McKern (and Patrick Cargill and the lesser Number Twos of the original series); I will even understand if new Prisoner lacks 'Rover' (though he is a delightfully easy task for young modellers – blow up a white balloon and you're done) – I just hope that the motivating powers realise that the 'keyhole gesture' that accompanies the famous catch-phrase 'Be seeing you' represents only part of the huge potential to add a second branch of social commentary to a great suspense story…and that we need that commentary and reflection far more badly now than in the era of flower power or punk. Don't blow it…
Martin writes his (mostly) sci-fi column every Friday at Den Of Geek.