News
Batman: We Rode in the Famed 1966 Batcopter!
We take you on the ride of a lifetime inside Batman's Batcopter, which carried Adam West and Burt Ward over shark infested waters.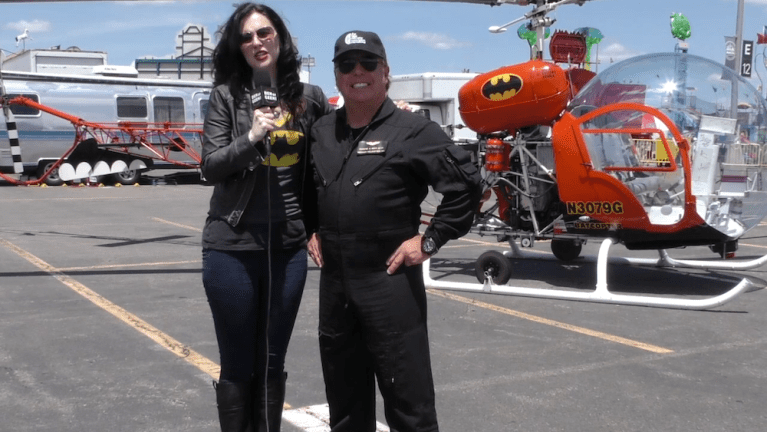 Holy Batcopter! Yes, the Batcopter exists, works, flies, and is every bit as glorious as any Bat-fan would imagine. Almost 50 years after Adam West's Batman ended its original run, his legacy, quite literally, is still flying high.
We had a chance to see it for ourselves when we visited the original Batcopter (also known as the Batcopter N3079g) during its showcase as a flagship attraction at State Fair Meadowlands, which takes place at MetLife Stadium from June 21 to July 8. Eugene Nock, owner of the Original Batcopter since 1996, provided Den of Geek with a ride around the stadium and an interview on how he came about owning one of Bruce Wayne's most prized assets. Batcopter N3079g was built by Bell Helicopter Textron in 1964 and was a G3B-1 model. Before being the Batcopter, it was an ABC News helicopter and had duty on many TV shows included Lassie, F.B.I., The Green Hornet, and even recorded the first ever televised Super Bowl in 1968. The Batcopter is capable of speeds up to 105 mph and can reach altitudes up to 18,000 feet. Nock stated he can fly it for two hours and 45 minutes with a 15-minute reserve. Inside is a plethora of signatures from beloved actors of the original Batman television series, as well as and comic book artists who've drawn and written the Caped Crusader over the years. The names we spied included the Dark Knight himself, Adam West, as well as Boy Wonder Burt Ward, and the still purrrfect Catwoman, Julie Newmar.
Some people argue that the Batcopter is the most famous chopper of all time, but to Bat-fans, it's more than that; it's the vehicle that Burt Ward appeared to pilot over shark-infested waters—complete with emergency Bat-shark repellent—in Batman: The Movie (1966).
You can visit Eugene Nock and his famous aircraft at the State Fair Meadowlands, where we can promise you'll see the ride of a lifetime.