News
Anthony Bourdain's Parts Unknown Final Season Runs This Fall
CNN will serve up the last course of the late Anthony Bourdain's Parts Unknown in the fall.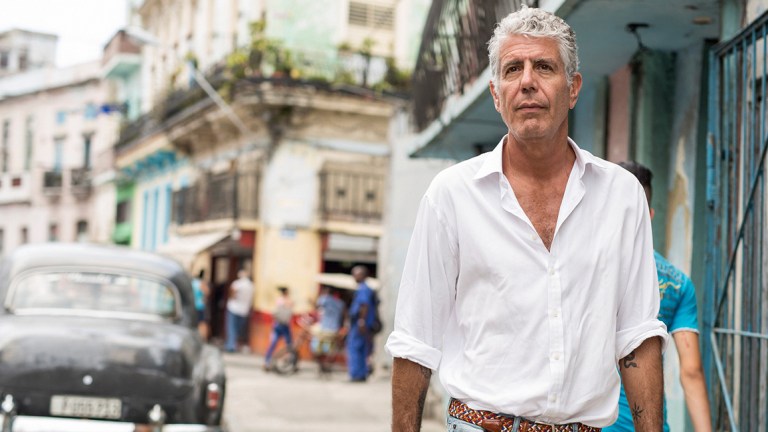 CNN will air a final season of Anthony Bourdain's  Parts Unknown this fall, according to The Hollywood Reporter. The cable news network says they have one finished episode and four episodes which directors who filmed them for Zero Point Zero, Bourdain's production company, will have to complete from footage already shot. Some of the production was shot in Manhattan's Lower East Side.
Parts Unknown season 12 was in production when celebrity chef and TV host took his own life while filming in France on June 8. The completed episode, which was shot before Bourdain's death, features a trip to Kenya with United Shades of America host W. Kamau Bell. The episode will be the last to have Bourdain's written narration.
"Each one will feel slightly different depending on what's gathered in the field," Amy Entelis, the executive vice president of talent and content at CNN, told the L.A. Times, via THR. "They will have the full presence of Tony because you'll see him, you'll hear him, you'll watch him. That layer of his narration will be missing, but it will be replaced by other voices of people who are in the episodes."
The final season will run seven episodes. The series will include travels to the Big Ben area of Texas, the U.S.-Mexico border, the Asturias region of Spain and Indonesia. The episodes will feature audio of Bourdain which was recorded while shooting on location.
The second to last episode will feature the cast and crew discussing the making of the series. It will feature outtakes and behind the scenes footage. Other episodes will include a finale devoted to Bourdain's impact on the world. The Parts Unknown finale will include fan reactions and reflections from people who appeared on the show.
Read the latest Den of Geek Special Edition Magazine Here!
Beyond the final two episodes, there are no plans to use show archives.
CNN, which launched Parts Unknown in 2013, paid tribute to Bourdain with a weekend of specials. It announced it would air the final two episodes of Parts Unknown's eight-episode season 11 as planned. For that season, Bourdain traveled to  Newfoundland, Uruguay, Armenia, Berlin and Hong Kong. The final two episodes featured Cajun Mardi Gras and Bhutan.
Anthony Bourdain's Parts Unknown season 12 does not yet have a premiere date.