News
Anthony Bourdain's Hungry Ghosts #1 Exclusive Preview
Anthony Bourdain, Joel Rose, Vanessa Del Rey, and Alberto Ponticelli team up for a food-themed horror comic. Here's an exclusive preview!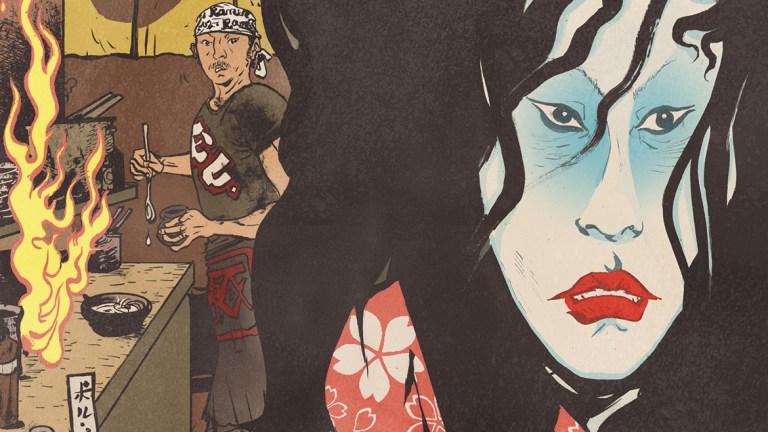 Fans of Anthony Bourdain's writing and documentaries are about to have a brand new way to enjoy his work. Dark Horse is publishing a new food-centric horror comic from the minds of Bourdain and Joel Rose (Kill, Kill, Faster, Faster), along with an excellent lineup of comics, including Vanessa Del Rey.
Del Rey is bound for comics superstardom. This feels like a bold assertion, but if you've spent any time with her art – on Hit 1957, in the pages of the most recent (and gorgeous) Scarlet Witchseries, or in Redlands, her creator owned book with the person who colors half the known comics world, Jordie Bellaire – you know that it's actually a little understated. She has a genuine gift for capturing the eerie discomfort of a horrific, supernatural situation with a clean, quick line and ominous staging. 
That's why she's the perfect contributor to Bourdain and Rose's Hungry Ghosts, which Dark Horse was kind enough to send over an exclusive preview of. Paired with all time great colorist Jose Villarrubia, they nail the dark, threatening mood of the story.
Here's the first issue's synopsis:
HUNGRY GHOSTS #1

Writers: Anthony Bourdain & Joel Rose

Artists: Alberto Ponticelli & Vanesa Del Ray

Cover Artist: Paul Pope

On a dark, haunted night, a Russian oligarch dares a circle of international chefs to play the samurai game of 100 Candles–where each storyteller spins a terrifying tale of ghosts, demons and unspeakable beings–and prays to survive the challenge.

Inspired by the Japanese Edo period game of Hyakumonogatari Kaidankai, Hungry Ghosts reimagines the classic stories of yokai, yorei, and obake, all tainted with the common thread of food.

First course: With bad consequence, a ramen chef refuses to help a beggar, and a band of pirates get more (and less) than they were bargaining for after their encounter with a drowning woman turns ghastly.
Alberto Ponticelli handles art on the framing sequence and the first story, and he's well matched to this work: he did great monster work back on Frankenstein and the Agents of S.H.A.D.E.back when the New 52 first kicked off. The story is presented as a little Russian nesting doll of a tale, and it's interesting to see where it goes next. Take a look!
[gallery:0]