News
Andre the Giant HBO Documentary Trailer and Release Date
Bill Simmons and HBO are teaming up to tell the big story of Andre the Giant.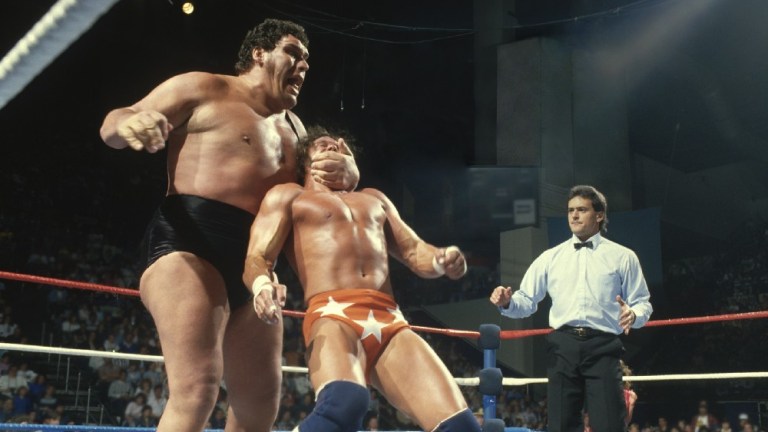 A comprehensive HBO documentary on the life of Andre the Giant sounds like a good idea, doesn't it? The project, appropriately titled Andre the Giant is a co-production of HBO Sports, WWE, and Bill Simmons Media Group. 
Andre the Giant (real name: André René Roussimoff) was one of the most inescapable figures during wrestling's rise to mainstream prominence in the early '80s. His match with Hulk Hogan at WrestleMania III is as iconic an image of pro wrestling as you can imagine.
"For more than 20 years, Andre the Giant's larger than life personality and unique charisma captured the imagination of fans around the world," said WWE Chairman & CEO Vince McMahon in a statement (via HBO). "I will always value our friendship, and am proud to tell the story of the 'Eighth Wonder of the World'."
Jason Hehir will direct the documentary, "which will combine never-before-seen footage and revealing interviews for a comprehensive and intimate portrait of one of WWE's most beloved, yet largely unknown figures." The prospect of seeing early Andre footage from his pre-WWF days is especially enticing if they go down that route. 
"Going back to 2007 and 2008 when I was creating and developing 30 for 30 for ESPN, Andre's story rode the top of every single sports documentary wish list I ever made," Bill Simmons said. "We always hear about unicorns these days — Andre was the ultimate unicorn. He's a true legend. Everyone who ever crossed paths with him has an Andre story — and usually four or five. I'm delighted to join forces with Jason Hehir and WWE so we can capture Andre's amazing story once and for all."
Check out these two trailers. This really looks great.
Andre the Giant arrives on HBO on April 10.