News
Alexa Bliss Can Be The Future of WWE's Women's Division
Bliss delivered an outstanding promo on Monday's Raw, showcasing her spot as a top heel ...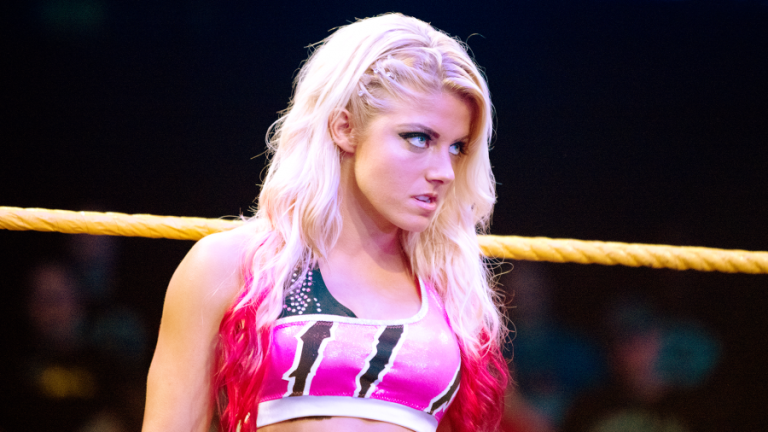 For the last two years, when it comes to the WWE women's division, it's been the same cast of character when it comes to "the future" of the division. Charlotte, Baley, Sasha Banks, and they all deserve to be there.
Alexa Bliss showed on Monday night's Raw, why she also deserves to be near the top of that division.
Bliss delivered an oustanding promo. First, the crowd was giving her a hard time with "what?" chants, and she deflected it the best way possible. "Alexa Bliss is the best, say what" she said, immediately silencing the crowd.
After that, Bliss said she came back to Raw now to talk, but to win. Making wins and losses seem important is great, and Bliss talked a lot about that in this promo. She came back to win matches. That's what wrestling needs to be about.
Bayley came to the ring and Bliss hit on points like a heel should. Bayley talked about Payback, coming up on Sunday, was going to be in her hometown. Bliss responded with, "I thought you were from Candy Land!" Bliss said it would be even better beating Bayley in front of her family, friends, and especially in front of her father.
Bliss asked Bayley if she ever kissed a boy? She ended the back-and-forth by telling Bayley her Cinderella story would run out on Sunday.
Sasha Banks then came out. Bliss gave Sasha a hard time as well, asking Bayley if Sasha puts love notes in her lunchbox? Banks' involvement here ruined it for me a little bit, I think they could have just gotten to the subsequent match without her involvement in the promo, but the fact remains that Bliss was on her game here.
From the moment she shut up the obnoxious "what?" chant to her dressing down Bayley, she was being a great heel.
Now, I could see WWE getting some heat for a promo like this, especially with recent bullying allegations towards JBL. But at the end of the day, the heels are bullies. They're bad guys. That's what they are. You need to let them be bad.
Alexa Bliss is going to be at the top of the women's division in WWE for along time, and promos like this one on Monday is a prime example why.
Matt Hardy beat Sheamus
Really good match and a surprising finish, with Jeff getting the win over Cesaro last week. WWE usually splits the singles wins in situations like this. But, I'm glad to see it. They teased more tension on the handshake, just like last week.
Austin Aries & Jack Gallagher beat Neville & TJ Perkins
Not much of note in this match, but it did give the announce team a good opportunity to plug Payback.
Kalisto beat Braun Strowman in a dumpster match
This was an interesting choice. The booking protected Strowman, in that it was a fluke win for Kalisto with a dropkick off the apron. But I'm not sure why WWE booked it this way, when they're trying to put so much steam behind Strowman. Sometimes WWE swerves for the sake of swerving, and this felt like that.
After the match, Strowman was mad at losing, obviously, and shoved Kalisto into the dumpster, locked it, and then pushed it off the stage. The spot was a letdown compared to the destruction he pulled two weeks ago with Reigns, and that the stage isn't even that far off the ground anymore. It just didn't look as impressive as it should have.
Dana Brooke beat Alicia Fox
Filler! This match was filler, and came across as filler. They didn't do anything that made you feel like you should be paying attention to what was going on in the ring.
Finn Balor, Seth Rollins & Big Cass beat Samoa Joe, Luke Gallows and Karl Anderson
Good match that went shorter than I expected. That being said, there was some video angles before the match that filled some of the actual time. Rollins looked good here as a babyface, even playing with the crowd a few times. He seems to be getting more comfortable in that role, and the crowd has always been willing to accept him that way.
Sasha Banks beat Alexa Bliss via count-out
Bliss took the intentional count-out loss here, which I think added to the brilliance of her promo after she talked about "returning to Raw now to talk, but to win." Bliss hit a grand slam on Monday night.
Apollo Crews beat Curt Hawkins
Titus O'Neil showed up here, trying to recruit Apollo Crews. I'm not sure what the Titus Brand is, really, but at least they've giving a very good guy something to do rather than wishing him well on his future endeavors.
Bray Wyatt & The Miz fought Chris Jericho and Dean Ambrose to a no-contest
This was a very weird ending. There is a pay-per-view on Sunday and no one in this match had their match for that PPV spotlighted, for the most part. Wyatt ended the show, almost as a babyface, hitting the Sister Abigail on Miz.