News
AEW Full Gear: Date, Matches, Card, How to Watch
The long-awaited battle between Kenny Omega and Jon Moxley will finally go down in the next All Elite Wrestling PPV.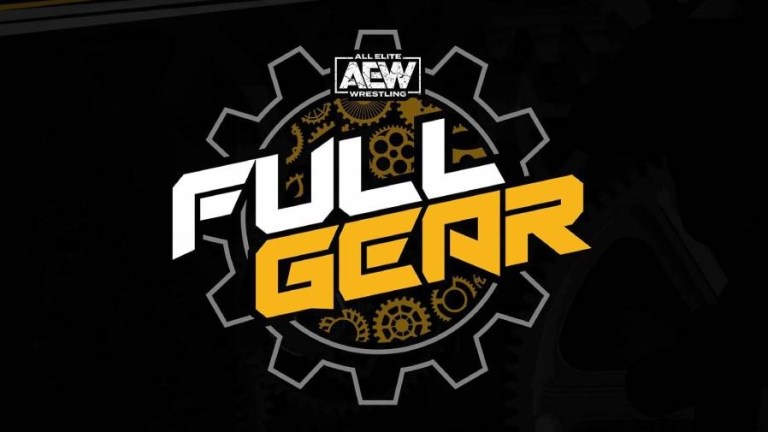 So far All Elite Wrestling has put together four different PPVs partially for the sake of keeping their name on the tongues of viewers. With their new TV show starting in early October, AEW will finally be able to build on the happenings of their weekly show and not just previous AEW PPVs and a handful of YouTube videos. Their next PPV is AEW Full Gear. It's actually an in-joke from the YouTube series Being the Elite, where "Hangman" Adam Page would have a tendency to wear full wrestling gear wherever he'd go. It just so happens that it sounds cool enough out of context, so why not.
WHEN IS AEW FULL GEAR?
The show will take place on November 9 at the Royal Farms Arena in Baltimore, Maryland at 8pm. There will be a special pre-show called The Buy In beforehand.
HOW TO WATCH AEW FULL GEAR
The show will be available on PPV as well as on Bleacher Report Live.
AEW FULL GEAR MATCHES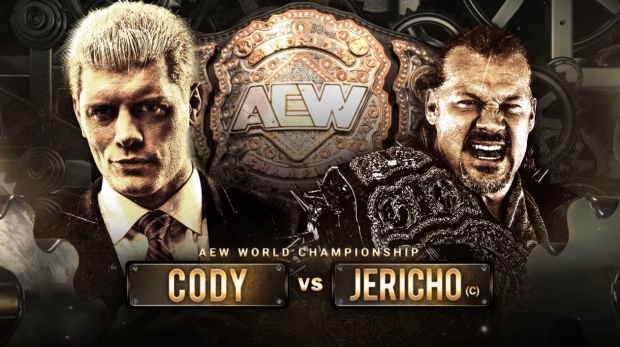 CODY VS. CHRIS JERICHO (C)
AEW World Championship, Cody's only shot at the title
During AEW's brief existence, a mini tournament was put together to crown its inaugural AEW World Champion. After decisive victories over both Kenny Omega at Double or Nothing and Adam Page at All Out, Chris Jericho was crowned the very first champion. Then he accidentally lost the belt for real, but they got it back.
While Cody's win-loss record isn't perfect, he's still undefeated in singles action and got a couple high-profile wins over his brother Dustin and Shawn Spears, which netted him the title match. Since then, he's continued to win matches with no stopping.
read more: All Elite Wrestling: A Guide to Wrestling's New Contender
Even before the title was in the picture, the two have had issues. While Cody has been trying to build up AEW as an executive, Jericho has been annoying him to no end by constantly insisting that he's the reason people watch their shows and sell out locations. Jericho keeps insisting on being thanked and no amount of gratitude will ever be enough.
Things really started to heat up in the first episode of AEW Dynamite, where Jericho debuted his stable the Inner Circle by beating down Cody and his friends. The two sides have been warring with each other for weeks, culminating in a contract signing segment where Cody was too distracted to realize that backstage, Jake Hager was beating down Dustin under Jericho's orders.
The match will have a sixty minute time limit and three special judges in case there is a draw. Cody also made it known that because he's an executive in charge of AEW, he will make it so that this is his one and only shot at the championship. If he loses, he cannot challenge for the title again.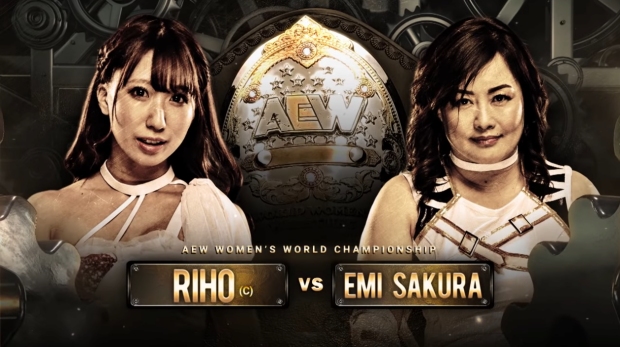 RIHO (C) VS. EMI SAKURA
AEW Women's World Championship
Through a mini-tournament, Riho won the AEW Women's World Championship, having pinned Hikaru Shida and later Nyla Rose. Since then, Riho has continued to compete and win, even defeating the highly-hyped Britt Baker. Now her next big challenger is Emi Sakura, a longtime mentor and rival who previously lost to Riho in a six-woman tag match at Double or Nothing. Sakura won a big four-way battle on AEW Dark, which got her the nod to facing Riho for the belt. Even then, Sakura caught Riho with a flash pin during a tag match in the go-home edition of Dynamite.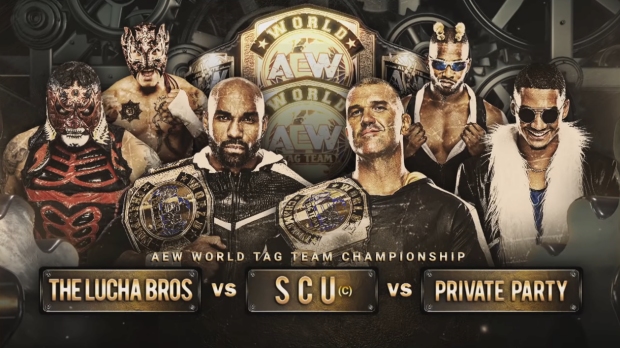 LUCHA BROS VS. SCU (C) VS. PRIVATE PARTY
AEW World Tag Team Championship
After months of build, AEW finally started with their 7-team tournament to crown the first tag team champions. SCU was originally going to be represented by Frankie Kazarian and Christopher Daniels, but before they could compete in the opening round, the Lucha Bros ambushed them on the ramp and took Daniels out of action. Scorpio Sky took his spot and SCU not only defeated Best Friends, but they eventually went on to defeat the Lucha Bros in the finals with a surprise pin.
Rather than just give Pentagon and Fenix a rematch, it was decided that it would be a triple threat where the third spot would go to the winner of Private Party vs. the Dark Order (both teams lost in the semis). Private Party, who won over many by upsetting the Young Bucks in the first round of the tournament, defeated the Dark Order to earn their spot.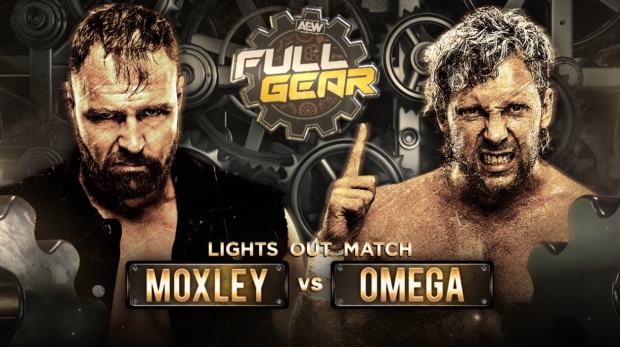 JON MOXLEY VS. KENNY OMEGA
Lights Out Match
At the end of AEW's first show Double or Nothing, Kenny Omega lost to Chris Jericho. Fresh off his WWE run as Dean Ambrose, Jon Moxley appeared from the crowd and laid out Jericho and the ref. The weakened Omega tried to fight back instead of suffering the same fate and brawled with Moxley around the arena. They ended up on top of a stack of giant poker chips, where Moxley knocked out Omega with his Paradigm Shift DDT and then threw him off the stack, where he shattered the floor below.
At Fyter Fest, Omega got a semblance of revenge by attacking Moxley after Moxley's brutal hardcore match against Joey Janela. Omega beat Moxley with pieces of a table, a trash can, and various instruments. Despite being in pain, Moxley seemed rather pumped about the situation.
Initially, the match was made for All Out. Moxley built it up by saying that he wanted to test the legend of Kenny Omega. Part of this was him going to New Japan Pro Wrestling and taking part in their G1 Climax round robin tournament. While Moxley had a bunch of great matches, he also got worn down a lot, lost the tournament, and found out that his staph infection had returned. Due to the infection, he had to back out of All Out.
Omega only discovered this while filming a promo against Moxley. Annoyed, he told them to keep rolling and acted rather dickish about the whole situation. Rather than wish Moxley a quick recovery, he just ran him down for thinking he could walk in Omega's shoes and utterly failing. Omega's opponent at All Out was changed to Pac, who won via referee stoppage.
On the first episode of Dynamite, Moxley appeared during a six-man tag main event to ambush Omega, brawl with him around the arena, and put him through a glass table. In a later episode, Omega wielded a broom covered in barb wire and offered Moxley a bat in hopes of having a little showdown. That's when Pac — complaining on commentary that he wasn't getting any title opportunities despite his win-loss record — decided to take his frustrations out on Omega via a chair to the back of the head. Moxley had enough honor not to attack the downed Omega and instead acted angry at Pac.
A tag match was signed of Omega and Adam Page against Moxley and Pac. Omega once again brought out weapons and Moxley gladly accepted. Pac threw the weapons out of the ring, not wanting to have his record tainted with a DQ loss. Moxley betrayed Pac with a Paradigm Shift DDT and stormed off, leaving Omega and Page to easily get the win. This led to a match between Moxley and Pac that ended in a time limit draw. Moxley took his frustrations out on the referee, but Pac recovered, beat Moxley with a chair and nearly hospitalized him if not for Omega making the save.
Omega, meanwhile, had been proving himself by taking on Joey Janela in a hardcore match that was also "Lights Out" in the sense that it wasn't official and didn't reflect on his win-loss record. Not only did Omega follow in Moxley's footsteps by beating Janela, but he also won in a rematch with normal rules.
Due to Moxley's behavior, the Full Gear match will be Lights Out. Moxley is furious with this, feeling that the company is protecting Omega by having his potential loss not mean anything.
At the go-home episode of Dynamite, Moxley appeared after the main event ended to challenge Omega once more. While there was some brawling to keep the crowd excited, Proud 'N Powerful put the kibosh on it by assaulting the two in the name of showing off the Inner Circle's dominance.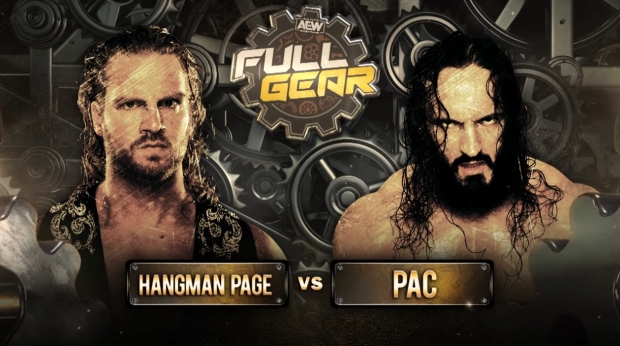 HANGMAN PAGE VS. PAC
"Hangman" Adam Page vs. Pac was supposed to be part of the inaugural Double or Nothing show, but Pac backed out of it. Before that, the two had a match in another promotion where Pac ended it in a DQ with a nutshot. Pac made his AEW debut at All Out against Kenny Omega and won. At the end of the show, he saw Page moping about losing his big title match against Chris Jericho. Pac made it apparent that their business was long from over.
They did have a singles match on Dynamite, but Pac won thanks to an unseen nutshot. Page defeated Pac in a tag match. When Moxley vs. Pac ended in Omega running Pac out of the ring, Page was there to lay him out. Page announced that the two would have one more match at the upcoming PPV.
Page and Omega teamed up against Jericho and Sammy Guevara. Page had things in hand, but Pac ran out to deliver a kick to the crotch, which allowed Jericho to finish Page off with the Judas Effect.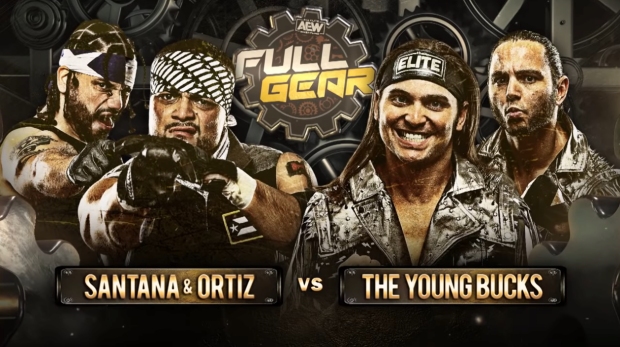 PROUD 'N POWERFUL VS. THE YOUNG BUCKS
At All Out, after losing a ladder match to the Lucha Bros, the Young Bucks were attacked by the debuting Santana and Ortiz. Santana and Ortiz were quick to make allies with Chris Jericho and teamed up with him during Dynamite's first main event against Omega and the Young Bucks. After beating the Young Bucks (thanks to Jon Moxley taking Omega out of the picture), the trio continued to beat down all comers alongside Sammy Guevara and Jake Hager, establishing themselves as a new stable.
While Proud 'N Powerful were not part of the tag tournament to crown the first champions, they still continued to impress in the ring and made a challege to face the Young Bucks (who lost the tournament early on). The Young Bucks accepted, but Proud 'N Powerful have been getting the best of them, whether it's masked ambushes from the crowd or simply beating up the Rock 'n' Roll Express for the sake of making a statement.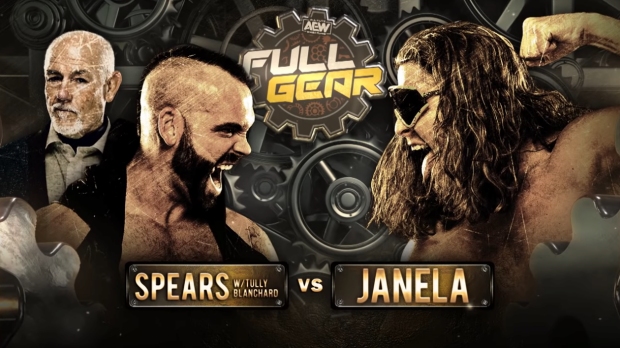 SHAWN SPEARS VS. JOEY JANELA
Having lost his mojo after losing to Cody and later losing to Moxley, Shawn Spears was backstage conversing with his manager Tully Blanchard when "Bad Boy" Joey Janela walked by. In a rather dickish move, Janela took his finished cigarette and threw it into Blanchard's Diet Pepsi, angering the old man. He let it go for a little while, but when Janela was being interviewed backstage over a victory, Spears attacked him. Presumably, Spears pulled Janela's tongue with pliers while Blanchard put out a cigarette on Janela's tongue.
A week later, after Spears defeated Brandon Cutler, an angry Janela ran to the ring and chased Spears off.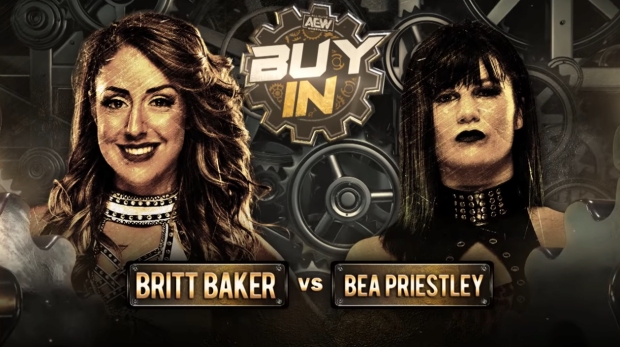 BRITT BAKER VS. BEA PRIESTLEY
At Fight for the Fallen, Britt Baker and Bea Priestley were on opposite sides of a tag match. Upon clashing, Priestley accidentally concussed Baker. Since that match, the two have had plenty of issues with each other. Whenever they're both involved in a match, Baker would go straight for Priestley. She'd later explain that she was pissed that Priestley made zero attempts to check up on her or apologize for causing the injury. She found it purely unprofessional and now intends to tear her jaw off over it.
Check back for more information on AEW Full Gear!
Gavin Jasper writes for Den of Geek and figures Moxley should just get his arm replaced with a cyborg one like Bucky at this point. Read more of his articles here and follow him on Twitter @Gavin4L