News
Activist Witches Protest Trump Immigration Policy at Detention Center
Witches to the rescue. The Coven of the Corvid takes on The Ursula Detention Center in McAllen, Texas.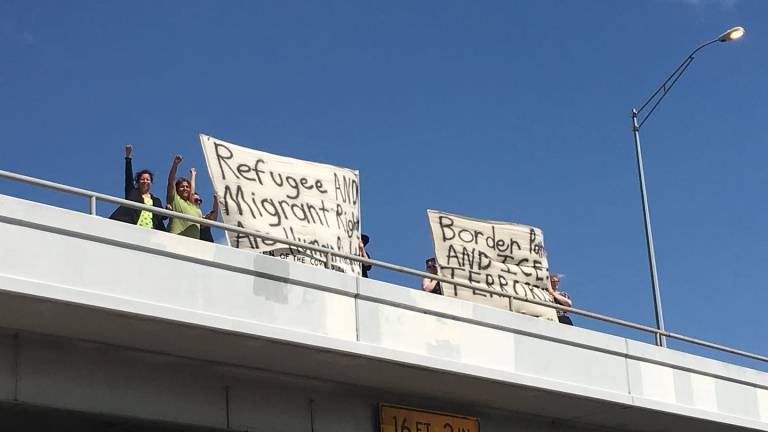 The McAllen, Texas, immigration processing center, better known as "Ursula," is the largest in the U.S. Run by the Border Patrol and the Customs and Border Protection Agency, the facility opened in 2014, housing hundreds of young migrants behind metal wire inside a 77,000 square-foot former warehouse. Children are kept in cages made of chain-link fencing, it was revealed by Elizabeth Warren in June. The center spanned multiple presidential administrations, including President Barack Obama. After controversy spilled over reports that 1,174 children were taken from their parents in the Border Patrol's South Texas Rio Grande Valley sector in May, under an order from President Donald Trump, he issued an executive order halting the separation of immigrant families detained at the border in June. But because of the backlog at Department of Health and Human Services centers for children, many families have yet to be reunified. U.S. policy dictates that no one of any age should be kept in one of these processing centers longer than 72 hours. A gang of grannies recently made headlines for protesting the center, but a coven of crones have already been actively working to alleviate the problem. Local witches are bringing their own magic to this Texas border town.
The Coven of the Corvid is a "small group of dedicated grassroots activists" founded on Ostara in 2018. Consisting of local witches, healers, midwives and herbalists, the group is committed to banish the bad energy of their local community. They were stunned by the reports about the minors confined at the Mexico–United States border, minutes from where they lived. While it took some time for the information to filter into the community, this group of magical workers took immediate action as soon as they became aware.
"So far we staged a protest in front of the McAllen Detention center," Nichole Miller of the Coven of the Corvid tells Den of Geek. "We also dropped supplies to the Catholic charities which assist immigrants in town. I hope to get back down there again, very soon, especially now that there was sadly, a death of child from mistreatment."
"A child and her parent were released Wednesday," explains Samantha Gonzalez, a "freelance warrior" who helps Angry Tias and Abuelas of the Egg, La Union del Pueblo Entero, better known as (Lupe) Food Not Bombs community feeding. "The child died a couple hours after being released there are no detail, not even the age of the child, all is said that it's a toddler, they were released from the Dilley detention center here in Texas. The cause of death is negligence, is all they are saying."
Individuals in the group were horrified by reports of what was happening behind the chain-link fence. "There are several claims and allegations of mistreatment, anywhere from being over drugged, to sexual abuse, solitary confinement," says Miller. "It has often been compared to a prison."
"It's been a struggle educating people about the situation," says Andrea Hughes, one of the Co-Founders of the Coven of the Corvid and the President and Co-Founder of the Texas Reproductive Rights Rally.  "I think it was the Elizabeth Warren report that really galvanized me into acting and making the flock to the border happen."
"The first incident that got my attention was Trump's initial exploitation of the law that requires minor children who are unaccompanied by adults to be separated from their families at the border," Miller says. "I, like the rest of white America woke up to something I had been blind to. These detention centers have been here for a long time and I've learned a lot in the past several months. I feel sad that I didn't know about it before."
Hughes analyzed Warren's report in her blog entry "A Report on Migrant Detention in McAllen TX." "It's been about 3 months or so since the first story broke of the separation of children and the exploitation of the law, so about that much time since I've come to fully understand it," Miller says.
Now that Miller has been educated on the facility, "I feel like non stop protesting/organizing until it ends," she says. Inspired by The W.I.T.C.H manifesto, Nichole first approached her closest magical colleagues. "Andrea is a good friend of mine from previously organizing with the Texas Handmaid's, together," Miller says. "We recently split from the organization and decided to do our own organizing. We loosely based it on the W.I.T.C.H.org, although we are not affiliated. It's not because we don't want to be, but out of respect to their organization and how much they value anonymity inside it."
"We wanted the option of artistic protest and being able to wear masks or hide your face for the anonymity aspect," Miller explains. "It seemed like a great way to invite those who feel like they don't fit in to any one group to join in social activism. We are also very secular and promote religious freedom, but keeping church and state separate."
Andrea Hughes draws much of her community support from the Austin Witches Circle, a "vendor-centered artist market community. The leader had been expressing for some time a desire to get more political and then Nichole suggested we draw inspiration from W.I.T.C.H and I decided it was time to act."
According to their website, the Coven of the Covid is a "non-violent non-religious activist group of witches, wise women, and other magical creatures dedicated to fostering intersectional justice, protecting human rights, and reducing human suffering in the world through art, action, and community."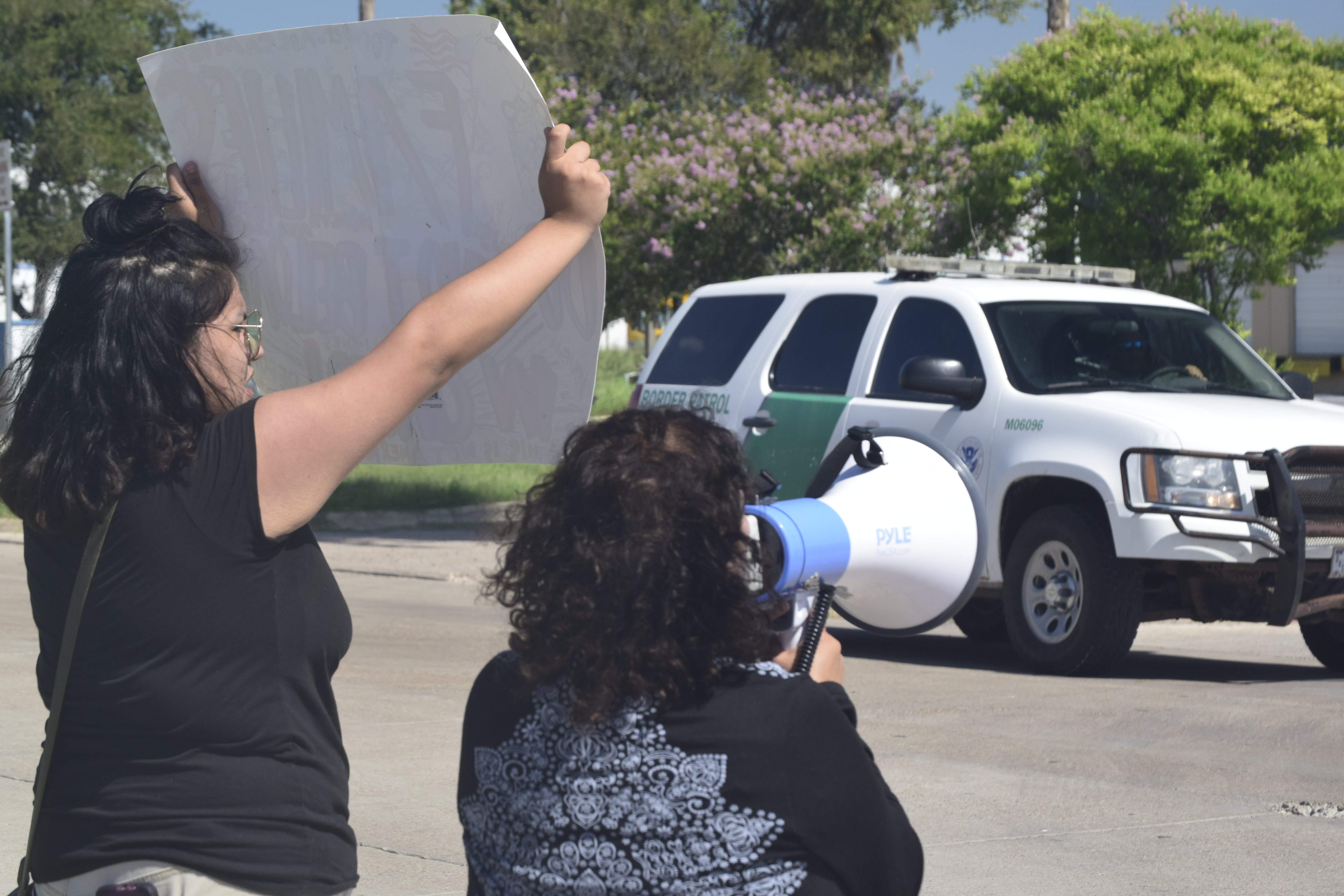 The group staged their first protest in McAllen on July 14th. "We spent all day there," Miller says. "We protested the largest detention center in Texas: The Ursula detention center. We had signs and a bull horn. We let the local activists take over and let them know we were there. We sent a message to the agents standing outside, or those inside who could hear us that what they are doing and participating in is wrong."
"We did what we call a banner drop, we took our banners with our message and stood on one of the major highway overpasses to let the city know and not forget that their city houses the detention center," Miller says. "It is also the largest hub for immigration in Texas." The Ursula detention facility is "named for the street in front of it, not the Disney villain, is what is known as the 'mega hub' where all the migrants and refugees being detained are taken to be sorted essentially," Hughes says. "It's the one notorious for keeping kids in chain link dog kennel type enclosures with nothing but gym mats and Mylar space blankets."
Driven by a stronger commitment to the lives that were being affected than any lip service or sign-waving could do, the Coven took personal actions. And they weren't blocked by any form of religious bias. "We worked to gather supplies like cash donations for calling cards for immigrants to make calls to their family/lawyers, as well as socks, toiletries, underwear etc. and donated them to Catholic charities in town who often assist immigrants after they're released and face court/trial to likely then be deported back to their home country."
Miller says both the people getting out of the centers and the families waiting for them benefit from their efforts.
Hughes is herself a "a survivor of human trafficking," she explains, and when "the media stories about the exploitation of refugee and migrant kids, and the stories of them being abused, assaulted, and dumped in our already overwhelmed broken foster care system to be victimized by human trafficking really hit home with me hard."
"I kind of feel like on some levels I know what these kids are facing in terms of the odds and the kinds of predators out there," Hughes says. "And it's a hell of a lot worse than anyone would willingly admit on the street. People feel much safer when they can pretend the monsters don't live next door."
The situation at the facility is taking its toll on the town itself.  "In McAllen on the weekends families from all over the valley and across the border would come to eat, shop, see relatives, go to mass, etc.," Gonzalez says. "Now no one does it, our spirit is slipping. Slipping because they put up detention centers in front of us and flooded our greyhound station with families who are in crisis and sought help from our government and got raped of their human rights and dignity, they took family members away from here, they threw our veterans across the border, it stains us and I feel it plays a major roll on our silent voice."
"I think it's different living here and especially after visiting the coast because I could literally feel the fear around me," Hughes says. "The atmosphere is not what most media outlets depict.  I was not at all scared of 'gangs' or the locals. It was the amount of militarization on home soil and the atmosphere of terror in the targeted populations that really got to me."
Hughes compares the border situation to the Stanford prison experiment. "The Stanford prison experiment wasn't real, but it got so intense it had to be called off before completion out of concern for the white male participants," she says.
"I think that people who are participating in the detention centers are wholly unaware of the psychology they're falling into and how they are dehumanizing these people to a criminal degree," Hughes says. "I hear stories about kids running away from foster homes and getting dragged into vans and kidnapped and raped or sold into sex slavery from people who work with the local survivor community," Hughes tells us. "If that's what's happening to our own children born here… it's criminal to throw kids who are even more vulnerable into that system."
"When you add in the component that the Texas legislature has been considering privatizing the foster care system and the fact that companies are making millions in profits off the detention of adults already, the motivation becomes clear I believe," Hughes says. "Fear and greed are a powerful and ugly combination. They literally get paid by the day to keep these people in detention."
"People are making money off detention. The people who build the centers, the guards, the contractors that provide supplies, and most importantly the owners of these private centers," Hughes says. "Nichole Miller picketed the home of one of them not too long ago."
Read the latest Den of Geek Special Edition Magazine Here!
"It's been hard in the sense of connecting people to what's happening it's really like they are in a haze," says Gonzalez. "Backlash about immigration situation and the volunteers trying to help are not a problem. It's the lack of response. My people are scared. There are businesses downtown that are closing their doors all the time because the customer flow isn't there anymore."
The work these witchy warriors have done has not gone unseen by the magical community at large. "More people who have celebrity status in the magical and spiritual communities should be doing more work to help their fellow man," says Hoodoo practitioner and rootworker Reverend Payshence Smith, who holds Doctorates in Metaphysics and Religious Sciences from the ULC in Modesto, California. "They need to realized that everyone needs to have an opportunity to be here and the only reason why these poor people had to come over illegally is because of the high price someone has to pay to become an American citizen."
Witches have been stepping up and using their innate power for thousands of years," says witch and Divine Mother expert Laura Lenhard who runs Talisman and Cauldron in Derby, Connecticut. "In relatively contemporary time, we saw Gerald Gardner and his coven utilize "Operation Cone of Power" to hold off a Nazi invasion of England's south coast.  When we, as spiritual beings, tap into our human hive mind with the collective goal of raising consciousness to a place of kindness change occurs. Every time.  But the responsibility of saying 'enough,' of not standing idly by while abuse is occurring – that rests on the shoulders of the collective, witch or no, as well."
"Many supposed 'lightworkers' are staying silent on this issue," says angel communicator Morgana Starr, author of Angel Whispers, A Journey into the World of the Earth's Oldest Guardians and Angels Legacy. "It is time for them to wake up and make a stand! Doing lightwork means to shine light into darkness. This is one of the darkest issues in our country….profiting by human lives. The battle the angels have fought since the beginning of time is over the rights of humans to have free will and to become enslaved. Archangel Anael, who carries the Feminine Divine energy, is justifiably angry over this issue, as she is a strong warrior protector of women and children. Let's start spreading this information and sending financial help. Time for action is now." 
"As Shakespeare once wrote," says Marie Bargas, the Hollywood Witch who brought the group to our attention. "'The quality of mercy is not strained.' Today, as the politicians and even the media strive to separate this country, I applaud these witches for crossing party lines and political agendas to help other human beings. Because it is the right thing to do and not because it furthers an agenda or a specific platform but because it is simply humane."
Miller says they aren't finished. "We have future plans to connect back with the local activist we connected with there to get a resource fair going in town for help connecting families to resources locally and nationwide," she details.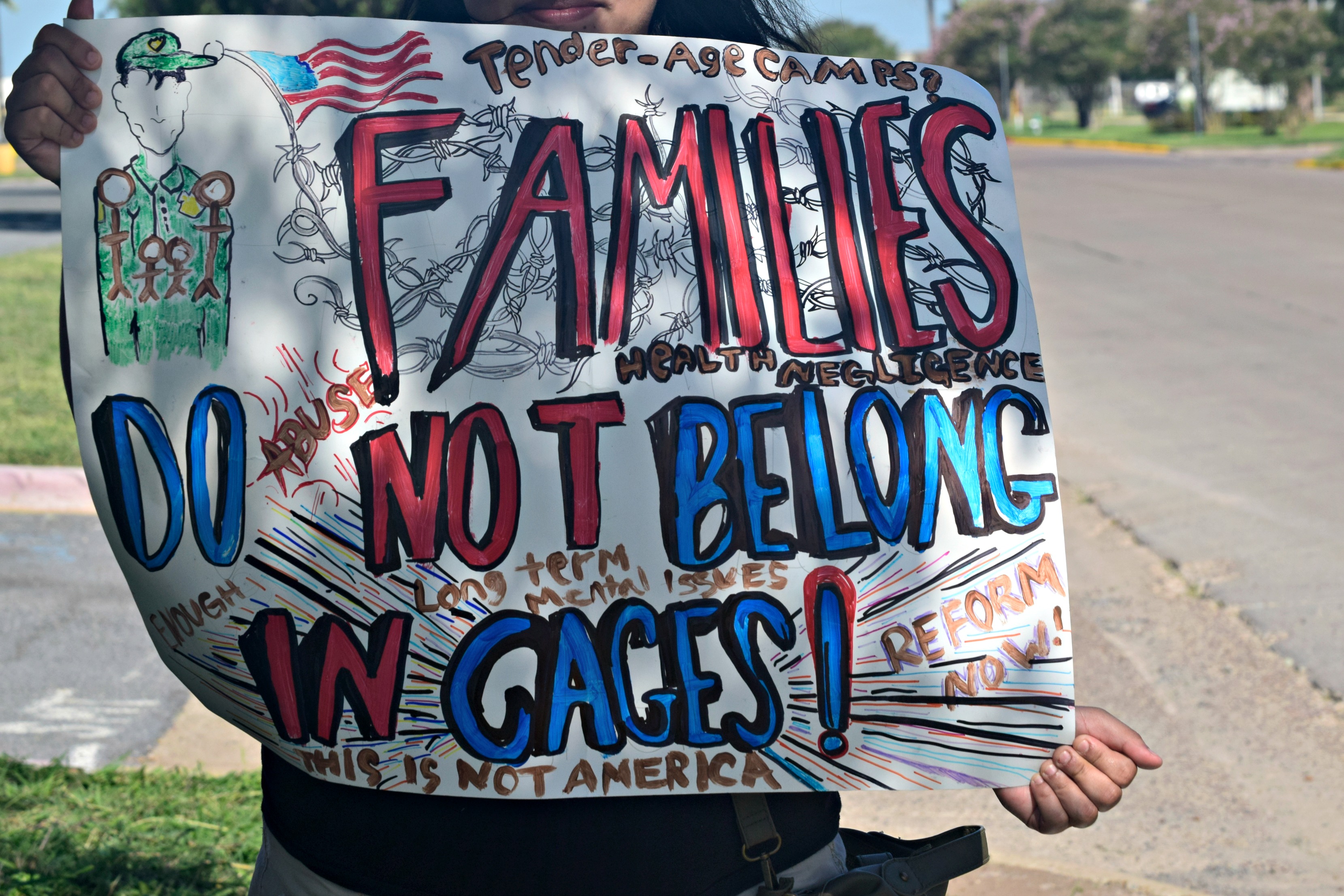 The group also hopes "to do another 'We Are Not Complicit' protest at the Port Isabella detention center," Miller adds.
"I don't have any details yet but I'm talking to Samantha about putting together a community event to bring together local community organizations working on the issues around this topic and members of the community," Hughes says. "Basically I'll be using the same formula I use for my reproductive rights events where I attract the crowd with speakers and music and performers and give them the chance to wave signs and then bring in voter registrars and have a bunch of community organizations do information tables and send representatives to meet and greet. We are also considering a march of some sort."
"It looks like the action needs to be centered in McAllen and anyone that wishes to directly aid migrants and refugees should focus on monetary donations to the relevant organizations right now rather than physical goods," Hughes says. "The authorities are interfering with the flow of those goods from organizations to the migrants because the local businesses have objected to the impact they perceive this will have on their businesses."
Spells, charms and enchantments work through the laws of manifestation. The witches believe they can cause a major transformation in Texas. "They could very well turn those centers in to a place of peace and assistance," Miller concludes.
*** Main Image by Andrew Posner, images of protests by Danielle High ***
Culture Editor Tony Sokol cut his teeth on the wire services and also wrote and produced New York City's Vampyr Theatre and the rock opera AssassiNation: We Killed JFK. Read more of his work here or find him on Twitter @tsokol.