News
A Hotel Accident Got The Moonwalker Video Game Signed Off
The bad videogame of Moonwalker required official sign off from Michael Jackson's "people." It took a hotel accident to make it happen.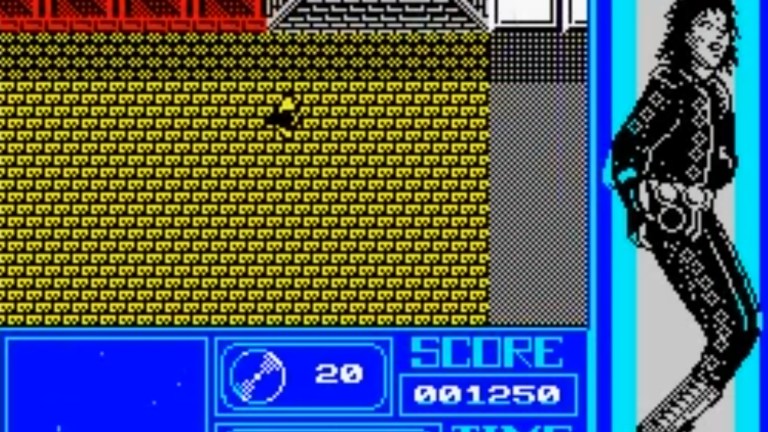 Videogaming has come a very long way in a very short time. Now? It's an industry arguably as big as the movies, with major studios sinking tens, even hundreds of millions of dollars into developing big franchises. Yet it's easy to overlook the fact that just 25 years ago, the licensing of videogames was a very different proposition. Back then, major stars and movie studios hadn't fully woken up to the size and impact of computer games. As such, in the 1980s in particular, major movie and arcade machine licences were being picked up for home game conversion, for surprisingly modest sums.
In the UK, the company U.S. Gold made a multi-million dollar business out of doing so. Its bosses would scour arcade machine shows, American publishers and popular movies as potential properties to hinge games on. And in February 1989, the videogame press of the time revealed that the company had picked up the rights to make a game based on the Michael Jackson-headlined movie, Moonwalker.
U.S. Gold had thus hired an Irish development firm called Emerald Software in 1988 to start work on the game. A release was planned across many different platforms, such as the Commodores 64 and Amiga, the Atari ST, the PC, and the ZX Spectrum.
The problem, though, was that Michael Jackson's 'people' had a final sign off on the game itself. It became clear that this would present a problem. As U.S. Gold founder Geoff Brown recalled, "it was an abysmal game." He thus was nervous about presenting it to Jackson's team, and with good reason. The chances of getting sign off were apparently slim.
So what to do?
He hatched a fairly basic plan. He decided to send his project manager, Mike Wilding, on a trip from U.S. Gold's Birmingham base in the UK to Los Angeles, to get the sign off in person. Wilding was put up in a "fantastic hotel" and on the night before he was due to attend the pivotal meeting, he decided to take a photo of his luxurious surroundings. In fact, he had a go at taking a selfie, 1989-style.
As Chris Wilkins and Roger M. Kean's excellent book The Story Of U.S. Gold recalls, "[Wilding] put his camera on the balcony [and set the timer], ran around through the living room and through the bedroom door and got a photo of himself." 
The problem? Wilding forgot that his bedroom door was actually glass, and he didn't see it. He certainly noticed it though, as he crashed straight through, covering himself in blood and shards of glass. Naturally, the camera timer still counted down, and it took his photo.
Wilding went to hospital, and reported back to Geoff Brown in the UK that he had sustained a cut head, a slash on his nose, that he was covered in blood, and was due to see Michael Jackson's lawyer the following day for the crucial meeting.
Brown, desperately needing the sign off on the project, ordered Wilding to discharge himself and attend the meeting. He thus walked into the room, "covered in bandages and blood all over his head," with blood reportedly dripping onto the expensive carpet.
Jackson's lawyer took pity when he saw the state of Wilding. After admitting that he didn't have a computer that could run the game he was supposed to be approving, nor anywhere he could play it, it turned out that he was feeling sorry for the injured man in front of him. Thus, he abandoned the plan to actually try the game out. Instead, he signed off the tepid Moonwalker videogame without even playing it. Without that signature, it would never have made it into shops. Had said lawyer gone with his original plan to play it? It's a fair bet that U.S. Gold may have had some problems. If he'd had played it on a ZX Spectrum though, it wouldn't have mattered if it was black and white. It's okay, I'll get my own coat.
The critical reaction to the Moonwalker computer game was far from generous when it landed in UK shops. Middling reviews meant that U.S. Gold scored a minor hit in the end, rather than the chartbusting smash it had hoped for. But still: in this instance, it probably felt like it had got away with it…
You can find more information on The Story Of U.S. Gold at Fusion Retro Books, here. 
One more thing: if you're interested, here's a full play-through of the Moonwalker game itself…
Image: U.S. Gold
This article comes from Den of Geek UK.