Features
10 Action Figure Lines we Really Want to See!
You know what we need? A line of Firefly action figures from Hasbro. Or a comprehensive Game Of Thrones line from NECA.
There is always that action figure or toy that you pined for as a kid but they just never got made or never quite right. Maybe the show was not popular enough to warrant a toy line. Maybe they were only produced overseas and there was no Internet for you to pick one up on eBay. However the more years that go by, the more licenses are picked up for our favorite TV shows and movies  and we all get a chance to finally see (and collect) the plastic version of our favorite characters. It is tough to limit a wish list of what toys the big companies will produce and every year brings new surprises.
We saw lots of cool stuff back in February when Den of Geek visited Toy Fair NYC, but below is the stuff we are still dying to see.  We compiled a TOP 10 wish list of some properties that need to be made or ones that have been made but require some improvement. Although some of the following on this list have been produced before, they failed miserably. Now that we've got the technology it's time to make these properties into action/collectible figure form and get them on the pegs at specialty shops and big box chains!
1. Firefly/Serenity Figures
In 2005 Diamond Direct tried to capitalize on the feature release of Serenity, the film spun off from Joss Whedon's rabid, Firefly TV series fanbase. They only released a few of the figures including: Captain Malcolm "Mal" Reynolds; Jayne Cobb; and a Reaver. They were shoddily put together and really poor likenesses compared to today's new laser imaging. These pieces still sell for a tidy sum on eBay but they are more for keeping in the box because the ones I have seen out of the case have stiff joints and are not ideal for posing. Some maquettes have been made for Shepherd Book and River Tam, but those are not traditional action figures and they cost quite a bit. In a perfect world I would love to see HASBRO get the license for Firefly and Serenity and put 1 percent of the effort that they put into their cash cow Star Wars franchise. Here is a wish list of what we want to see:
– Regular
Serenity
Captain Mal
– Battle of Serenity Valley Fatigues Mal
– Variant without Browncoat (but with suspenders)
– Chase figure—Mal in future "Steampunk" type tux from the episode "Shindig"
– Regular
Serenity
First Mate Zoe Washburne
– Battle of Serenity Valley Zoe with Fatigues
– Variant with bullet-proof vest from Pilot Episode
– Hoban "Wash" Washburne Regular
Serenity
Pilot version
– Variant Wash figure with Mustache from when he was first hired as pilot -of the Serenity
– Pilot Wash with Hawaiian shirt and mini-dinosaur accessories
– Inara Serra in various companion outfits (short-packed in just 1 of every -4 cases)
– Inara's Companion Shuttle
– Work suit Kaylee Frye with engine dirt on face
– Peresephone Kaylee with umbrella and Chinese jacket
– Kaylee in ball gown from the episode "Shindig"
– Dr. Simon Tam wearing a white long sleeve button up shirt and a black vest
– Dr. Simon Tam figure with sunglasses per the Pilot episode where he takes passage on The Serenity
– Chase Simon figure dressed up as an Alliance member with cane and slicked back hair from opening of
Serenity
movie when he kidnaps River back from the Alliances evil clutches
– Naked River Tam inside storage unit smuggled onto
Serenity
: I am sure they can make it tasteful…or not
– River Tam with handgun from the episode "War Stories" where they take revenge on gangster Adelei Niska
– River Tam with knife staff and battle against Reavers in
Serenity
film
– Shepherd Derial Book in regular outfit with Bible
– Shepherd Derial Book with automatic weapon from episode "War Stories"
– Shepherd Derial Book from
Serenity
feature film with cornrows hairstyle
– Assorted Reavers: The scary looking guys that the Pax on Pandora caused are vile creatures, cannibals and rapists who feed on people that are a crucial part of the
Firefly
mythos.
Everyone
is afraid of the
Reavers, so I would love to see a bunch of iterations of these half human, half monster people. I think that McFarlane Toys could really do this line of toys justice.
– Low-level crime boss Badger is real scum but he also provides some much needed comic relief to the show. He is also a Sci-Fi favorite from a slew of different shows in the genre. It would be cool to see him get his due in plastic form!
– Adelei Niska
– Chase Saffron figure (played by
Mad Men
's busty Christina Hendricks)
– Fanty and Mingo 2-Pack
– Mr. Universe with Life-Model Decoy wife accessory and voice action saying "You can't stop the signal."
– Various Alliance members in their
Spaceballs
-like uniforms in 3-Packs (These would be equivalent of
Star Wars'
Storm Troopers so that you can build an army)
– The Serenity, Firefly-class ship toy vehicle (As big as the old Millennium Falcon)
– The Mule Vehicle seen in
Serenity
film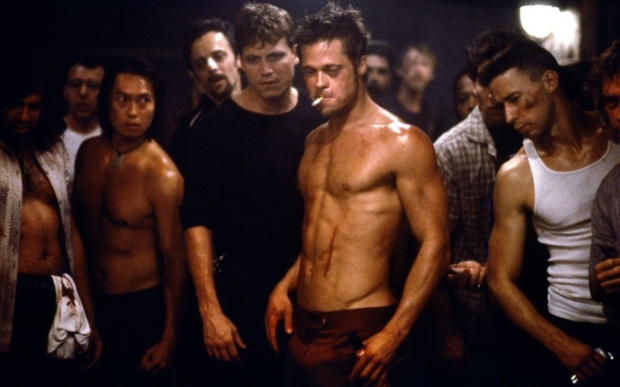 2. Fight Club
When Fight Club premiered in 1999, just months before we entered the 21st century, it created a whole new type of movie going experience. With The Game and Seven already under his belt, director David Fincher found his magnum opus in Fight Club. It was a film that was (and still is) remarkably different; with a screenplay Jim Uhls adapted from controversial author Chuck Palahniuk's novel about an underground fight club and its two creators. One is an insomniac with a go-nowhere job and an IKEA furnished apartment; while the other is a devil may care soap maker who uses the fat plastic surgeons suck out of women. The film struck a chord mostly with disillusioned 20 and 30-somethings who were sold a bill of goods about what their lives were supposed to be due to media and pop culture oversaturation. Edward Norton's "Narrator" and Brad Pitt's iconic Tyler Durden, the ultimate anti-hero, are superb. With the film's 15th Anniversary on the horizon it is time to see the members of Fight Club get their plastic due.
– Tyler Durden (Tyler with Brown Leather Jacket, wide collar shirt, sunglasses and cigarettes
– Tyler with shaved head and tank top from the end of the film
– 

Variant of same figure, but with fur coat
– 

Tyler with
Hustler
logo long-sleeve t-shirt
– 

The Narrator (Edward Norton) with shirt and tie
– 

Narrator with shirt, tie, cigarette in mouth and bruises on his face
– 

Marla Singer in black outfit/tank top blouse with cigarettes and 
sunglasses.
– 

Robert "Bob" Paulson with man-boobs
– 

"Angel Face" wearing all black along with a "pummeled face" variant.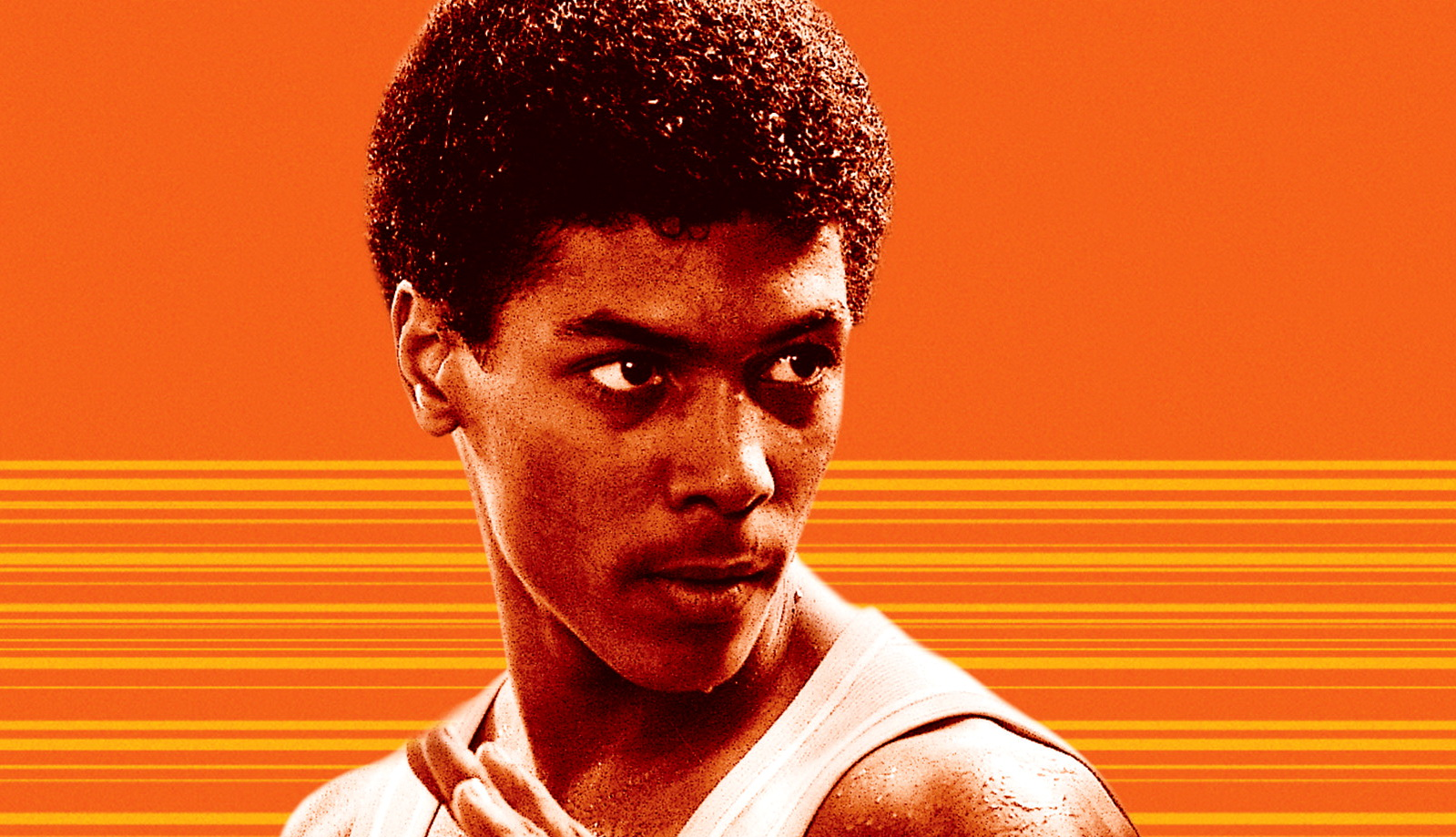 3. The Last Dragon
One of my favorite 80's films has finally reached cult status. When I sent out a query to my most trusted action figure junkies of what Movie/TV properties they want to see in plastic form; more than half wrote, "The Last Dragon." Could it be possible after all these years that so many fanboys and girls still have or want to reach "The Glow?" The answer to this was a resounding "yes." While "The Glow" can only be acquired after coming full circle in Kung-Fu training, the movie is still a blast. I only achieved a white belt with a red stripe, which is lower than a yellow belt but still higher than just a white belt. But I firmly believe in the power of elevation that "The Glow" will bring should I ever start taking classes again! In fact, most of my action figure inner circle wrote that this is one 80's movie property they would love to see rebooted and given another go round for a 21st century audience. Here is my toy wishlist for one of my favorite guilty pleasures.
– 

Leroy Green in opening dojo scene karate gi with crest patch
– 

Leroy in Ninja costume with removable mask and Ninja star accessories
– 

Asian pedestrian Leroy with hat, popcorn and chopsticks (from movie theater scene)
– 

Leroy in yellow and black Bruce Lee unitard
– 

Final battle Leroy with glowing action
– 

Chase figure of Leroy in final battle with bullet in teeth
– 

Red Sho'Nuff with 80's sunglasses
– 

Sho'Nuff in Black outfit
– 

Final battle Sho'Nuff with glowing action
– 

Laura Charles in Blue sequin dress with 80's hair
– 

Final scene Laura in white Chase figure
– 

Eddie Arkadian (Eddie in tuxedo and Eddie from final scene with vest 
from suit and gun)
– 

Rock (Eddie Arkadian's "muscle" Rock in wide collar 70's shirt, brown leather jacket and heavy on the gold and silver neck wear)
– 

Johnny, Karate student
– 

Richie Green
– 

Sho'Nuff's acolytes in matching karate uniforms
– 

Chase 2-pack of Bruce Lee and Leroy Green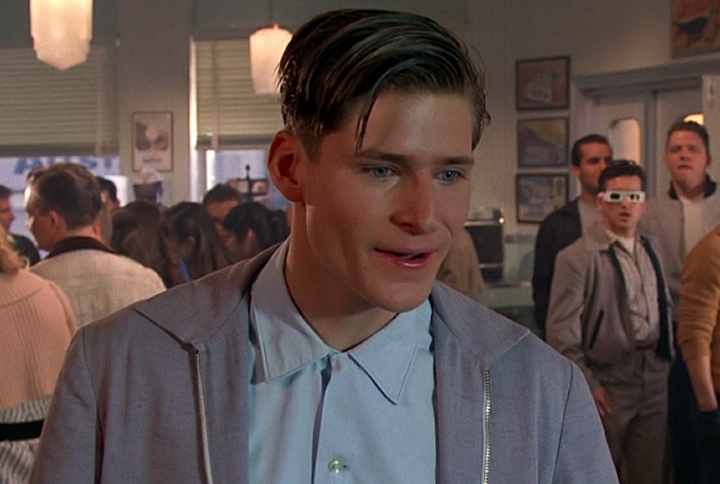 4. Back To The Future
In the last issue of the now defunct Toyfare Magazine, there was a blurb three sentences long that filled me with giddy, fanboy delight. The brief article let readers know that Mattel had picked up the license to my favorite trilogy: Back to the Future. My toy junkie heart leapt at the thought of the toy giant starting a specific club on mattycollector.com, in the same way they did for Masters of the Universe, Ghostbusters and Voltron. And then the Hoverboard replica debacle of 2012 happened.
It was a toy collector's version of The Great Depression, as we united with ire at the expensive and very inaccurate prop replica. I actually like mine and it makes a great conversation starter but I know they could have done better (see Mattel's Ghostbusters PKE Meter and Ghost Trap). Now it seems that a "Club Hill Valley" is a long way from going into production. Hot Wheels and Diamond Select continue to churn out DeLorean's in all sizes, but no figures. The closest thing we saw was at Toy Fair with Factory Entertainment's "Shake 'ems" featuring Marty on a Hoverboard and Doc Brown with the DeLorean remote that controls the time machine. Other than that the only figures you can find are custom made 1/6 scale pieces made by brilliant figure makers like Dan Chung and Alan Cheung, but those can go for a good deal of coin.
Don't get me wrong, I think they are absolutely worth every penny but we need Mattel to step up on a mass-production scale. Then there are the old McDonald Happy Meal figures from the shortlived BTTF animated cartoon. The dream is for Mattel to go the Ghostbusters route and devote them to the same detail they showed to Club Ecto-1 members, even though said club did not last as long as we would have liked. With just two years until the 30th anniversary of the original film, maybe the action figure line is closer than we think. I am also giving warning to scientists everywhere that you have less than two years to make real Hoverboards. Fair is fair.
– 1985 Marty McFly in jean jacket, jeans, Nike's, headphones from
      opening scene with skateboard
– 1985 Marty in jean jacket, red/orange/maroon-ish vest, suspenders,
      Shah Safari button up shirt, calculator watch, Nike's, JVC Camcorder
      and skateboard
– 1985 Yellow Radiation suit Marty with JVC Camcorder
– 1985 Jennifer Parker (Claudia Wells version)
– 1985 Jennifer Parker (Elizabeth Shue Chase figure)
– 1985 48-year old Biff Tannen
– 1985 48-year old George McFly
– 1985 Dave McFly in Burger King work clothes
– 1985 Linda McFly in 80's wear
– 1955 & 1985 Match, 3D & "Skinhead"
– 1985 Doc Emmett Brown in white jumpsuit with DeLorean remote
      control, belt and Einstein the dog
– 1955 Biff Tannen
– 1955 3D (part of Biff's gang)
– 1955 Match (part of Biff's gang)
– 1955 "Skinhead"  (part of Biff's gang)
– 1955 & 1985 Mr. Strickland
– 1955 Doc Brown with tie, long coat and "Brain Wave Analyzer"
– 1955 "Rock 'n Roll" Marty at the Enchantment Under the Sea Dance
      with guitar accessory
– 1955 Enchantment Under the Sea Lorraine Bates
– 1955 Enchantment Under the Sea Biff Tannen with "OO-LA-LA"
      magazine accessory
– 1955 Enchantment Under the Sea George McFly in white jacket tuxedo
– 1955 Marty in school outfit that includes jeans, shirt, and brown &
      maroon jacket with wooden skateboard from chase scene
– 2015 Marty McFly from 1985 with Nike Mags and Power Laces, Self-
      adjusting jacket, hologram hat and Hoverboard accessory (pockets
      of jeans should be out too)
– 2015 Doc Brown with silver visor, tie and future outfit
– 2015 48-year old Marty McFly
– 2015 48-year old Jennifer Parker-McFly
– 2015 Marlene McFly
– 2015 Marty McFly, Jr.
– 2015 Griff Tannen
– 2015 Rafe "Data" Unger (Griff's Gang)
– 2015 Leslie "Spike" O'Malley (Griff's Gang)
– 2015 Chester "Whitey" Nogura (Griff's Gang)
– Alternate/Better 1985 Dave McFly in suit
– Alternate/Better 1985 Linda McFly in ladies professional wear
– Alternate/Better 1985 George McFly with "A Match Made in Space" Book  
       accessory
– Alternate/Better 1985 Lorraine Bates McFly
– Alternate/Better 1985 Biff in Adidas jumpsuit with car wax accessory
– "Biff Universe" 1985 Biff Tannen as gambling mogul
– "Biff Universe" 1985 Lorraine Bates McFly Tannen with fake boobs
– Eric Stoltz as Marty McFly Chase Figure
– 1885 Time-Travelling Marty in faux Western garb from 1955
– 1885 Western Marty with gun belt, hat, long jacket (Chase figure with
      metal plate underneath shirt from final gunfight with Buford "Mad
      Dog" Tannen
– 1885 Buford "Mad Dog" Tannen
– 1885 Doc Brown as Blacksmith with telescopic rifle accessory
– 1885 Seamus McFly
– 1885 Maggie McFly
– 1885 Clara Brown
– 1985, 2015 & 1885 DeLorean's big enough for 6-inch figures
– 1985 Train Time Machine with Doc, Clara, Jules & Verne
5. Top Gun
The testosterone fueled slice of Americana has never had an action figure line. After its recent release in IMAX 3D, the movie proved that close to thirty years later fans still have "the need for speed." So where are the action figures for mega-star Tom Cruise's ultimate 80's flick? The possibilities are endless for this property and since the death of director Tony Scott last year put the kaybosh on any Top Gun sequels, this is a great time to capitalize on said need for speed. At its core Top Gun is the all-American movie that was pure 80's adrenaline with flight sequences we had never seen before.
The "dogfighting" scenes from Tony Scott's film were landmark and still hold up against any of the CGI nonsense we have seen in theaters some three decades later. The Top Gun logo and iconography has become a worldwide brand and is ready made to be in 6-inch plastic form. I just do not think that 3 & ¾ inch figures will do this line justice. Here is DoG's wishlist of Top Gun action figures and vehicles.
– Maverick in Top Gun flight suit with helmet accessory
– Goose in Top Gun flight suit with helmet accessory
– Iceman in Top Gun flight suit with helmet accessory
– Slider in Top Gun flight suit with helmet accessory
– Merlin in Top Gun flight suit with helmet accessory
– Jester in Top Gun flight suit with helmet accessory
– Cougar in regular Naval Aviator flight suit
– Wolfman in Top Gun flight suit with helmet accessory
– Hollywood in Top Gun flight suit with helmet accessory
– Sundown in Top Gun flight suit with helmet accessory
– Viper in Top Gun flight suit with helmet accessory
– Charlie in business suit
– Maverick with Top Gun Bomber Jacket and Aviator shades
– Stinger in Naval Officer outfit
– F-14A Tomcat  & Enemy MiG-28's (they were really single seat Northrop
       F-5E's) This would be a two pack of vehicles big enough to fit the 6-
       inch
Top Gun
figures.
– Charlie's Porsche Speedster
– Maverick's Kawasaki Ninja 900 Motorcycle
– "Cocktail" Brian Flanagan Chase Variant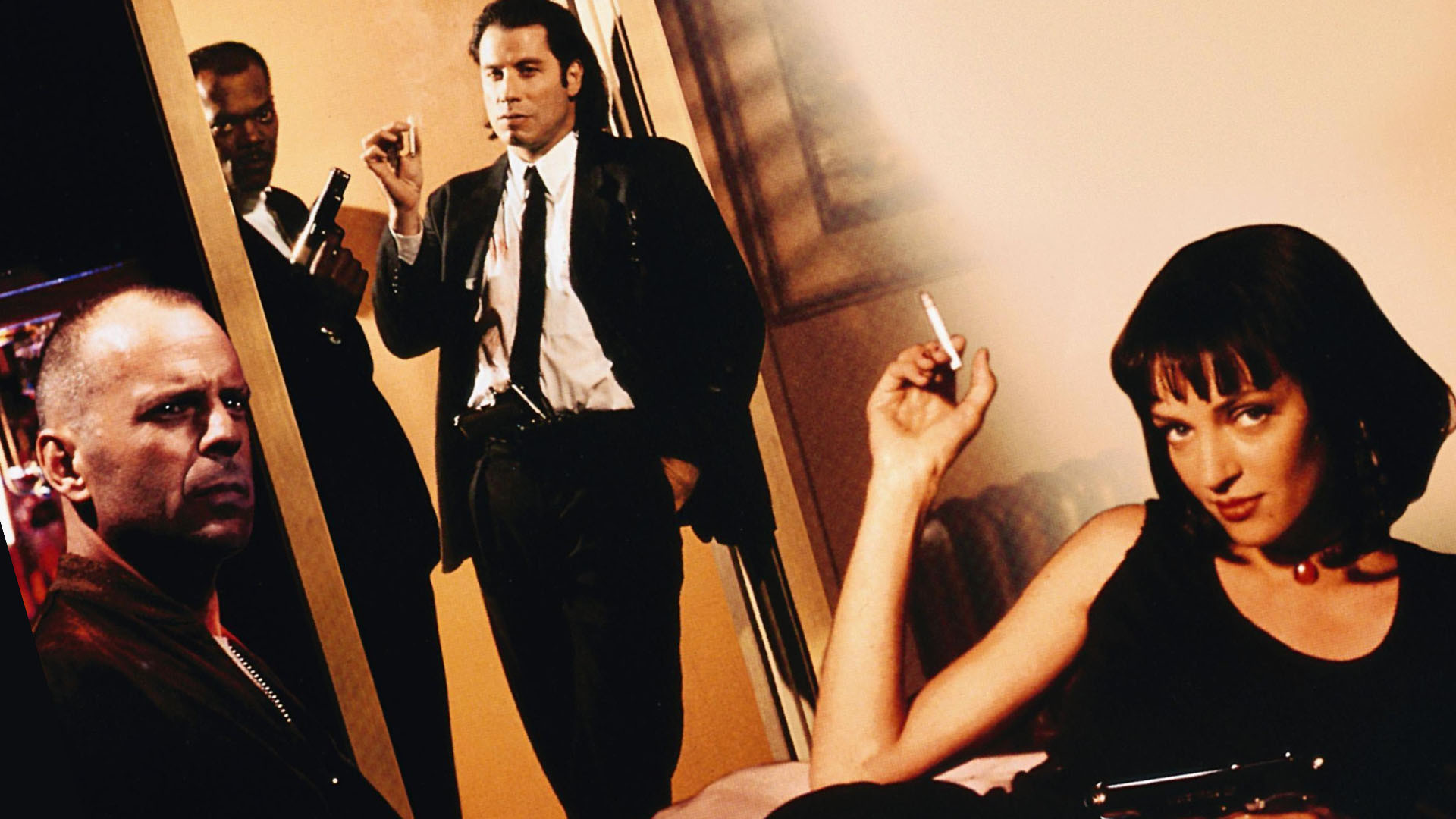 6. Pulp Fiction
As I was putting together this list I had to go through my mental Rolodex to try and remember what properties have and have not been made into toys before. So when I got to Quentin Tarantino I realized that Reservoir Dogs, Kill Bill, Death Proof, Inglorious Basterds and Django Unchained all had their day in the plastic sun. However QT's magnum opus, the film that changed the way I looked at movies forever; only got two sets of Kubrick figures which are kind of like high-end Lego's or MiniMates. But that's it!
That being said, the market is wide open for a new generation who are seeing the film for the first time. A toy line seems like the best natural progression of product as we rapidly approach the film's 20th Anniversary in 2014. The characters in the classic film are ready made for a 6-inch figure line that Tarantino himself would approve. After the Django Unchained fiasco earlier this year and the embargo on the film's figures, I think that it is high time for a full line of Pulp Fiction action figures in several waves rolled out in three to six month intervals. Below is the big wish list of what die hard Pulp Fiction-ites like me would love to see on the pegs at specialty shops.
– Vincent Vega in
Reservoir Dogs
hit man suit with gun accessory
– Jules Winfield in
Reservoir Dogs
hit man suit with gun accessory
– Vincent Vega in Jams shorts with University of California Santa Cruz
       Banana Slugs tee
– Jules Winnfield in Jams shorts and Krazy Kat t-shirt
– Winston Wolfe aka "The Wolf" in tuxedo
– Chase Figure of Phil LaMarr as Marvin who gets shot in the bumpy ride
       when Vincent accidentally shoots him in the face
– Frank Whaley as Frank with Big Kahuna Burger and soda accessory
– Ms. Mia Wallace in white shirt and black pants
– Vincent Vega in black suit and bolo tie and hand-rolled cigarettes
       accessory
– Chase Figure of Steve Buscemi as Buddy Holly waiter from Jack Rabbit
       Slims
– Jimmie Dimmick (Quentin Tarantino) in robe and t-shirt
– Chase Figure of Jimmie's wife Bonnie in nurses outfit
– Christopher Walken as Captain Koons  in full military garb with watch
       accessory
– Boxer Butch Coolidge in gold boxing robe and gloves
– Butch Coolidge in post-fight jeans, white tee and brown jacket
– Variant Butch Coolidge in post-fight jeans, bloodied white tee and
       brown jacket
– Pumpkin/Ringo in Hawaiian shirt with gun accessory
– Honey Bunny/Yolanda in coffee shop outfit
– Ms. Mia Wallace in twist contest, no shoes
– Mia Wallace after snorting heroin complete with drool coming out of her
       mouth and bloody nose. Shirt should be open and comes with
       adrenaline needle.
– Vincent Vega in twist contest, no shoes
– Ed Sullivan Chase Figure from Jack Rabbit Slims
– Lance the drug dealer in robe and Speed Racer t-shirt
– Zed in mall cop uniform and Chopper accessory
– Maynard in Pawn Shop duds with shotgun accessory
– Jody complete with all of her piercings
– Marcellus Wallace in suit and shirt (band-aid on back of neck)
– Variant Marcellus Wallace with billiards ball strapped in his mouth
– Variant Butch Coolidge with billiards ball strapped in his mouth
– The Gimp in full leathers
– Cab Driver Esmarelda Villalobos
– Fabienne in long t-shirt covering her undies
– Bartender English Bob (Chase)
– Zed's Chopper vehicle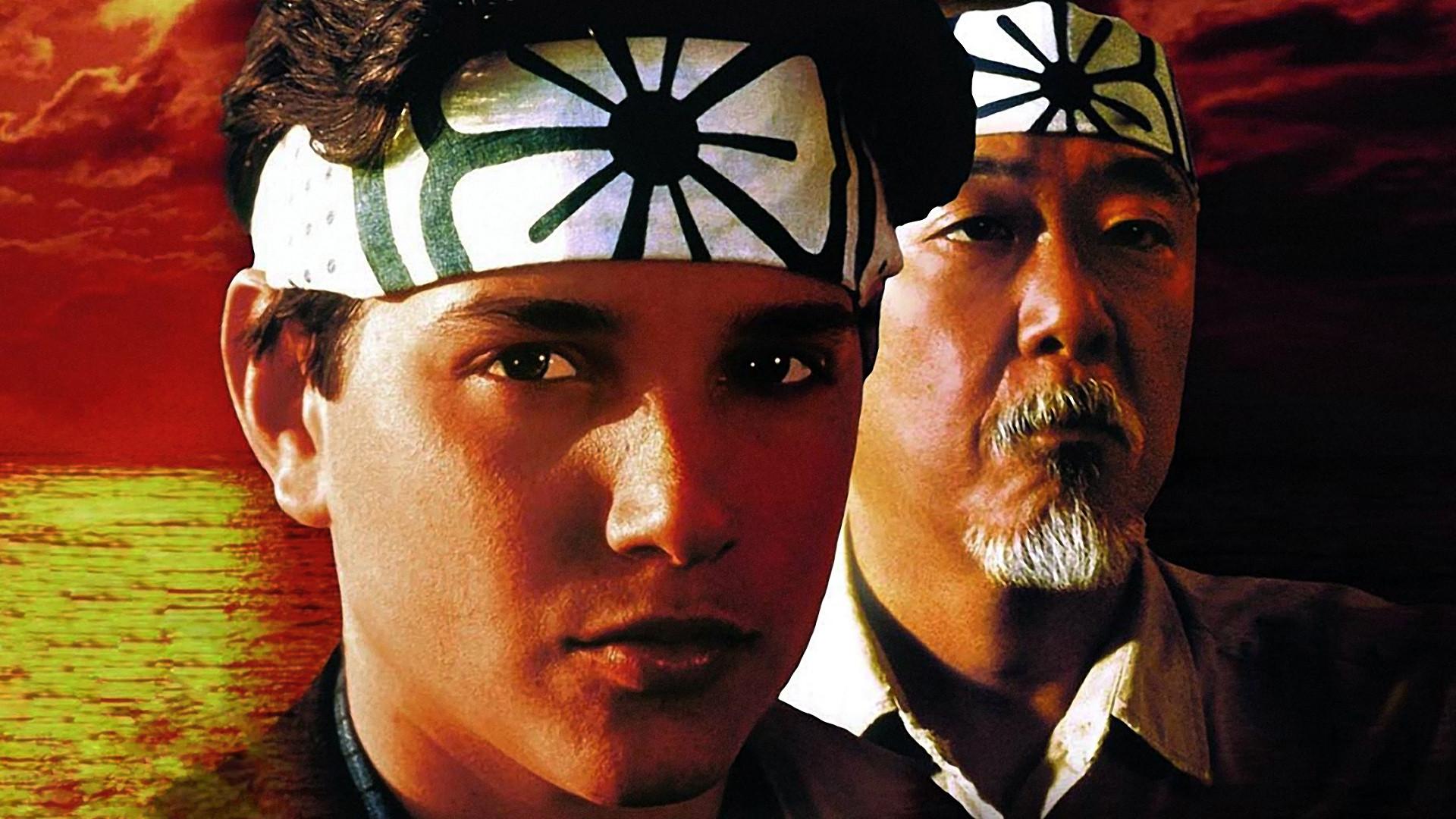 7. The Karate Kid
The Karate Kid figures flat out sucked back in the day and it is high time to reboot the original franchise with some new toys. And no, I am not talking about the totally sucky 2010 Karate Kid with Jackie Chan and Jaden Smith. I am talking the original Daniel-san and Miyagi from 1984.  The new 2010 Karate Kid film was utterly ridiculous in my opinion. The original was helmed by Rocky director John G. Avildsen, so it is no wonder that The Karate Kid became an 80's classic that still holds up close to thirty years later. I challenge you to watch the final All-Valley Tournament without getting goose bumps.
The simple story of new kid in L.A. Daniel Larusso and his quest to fit in is more relevant in today's bully-centric society. Daniel-san becomes the target of the Cobra-Kai, a group of karate crazies who have it out for the new kid. Apartment handyman and karate expert Mr. Miyagi played by the late Noryuki "Pat" Morita befriends young Daniel and the Obi-Wan like teacher imparts his martial arts wisdom to the new kid in town.
Enrollment in karate classes exploded after the movie was released back in 1984 and it is still relevant today, especially with all of the bully nonsense that makes the evening news on a daily basis. Now it is time to get the molds for the unforgettable characters that had a country collectively saying "wax on, wax off" for years. Again, the 6-inch Marvel Legends style format is appropriate for the classic film. However I do believe that a MEGO-like cloth costume line could be cool as well and will lend a greater realness to the line, rather than an all-plastic mold.
– Daniel Larusso in arrival to LA outfit
– Lucille Larusso
– Mr. Kesuke Miyagi in handyman outfit and Bonsai Tree accessory
– Mr. Miyagi with authentic Asian tenegui head wrap (in other words the
        awesome headband)
– Beach Daniel with soccer ball accessory
– Mr. Miyagi practicing Crane on wooden stump on beach (wooden stump
       included)
– Cobra Kai's with motorcycle accessories and jackets with Cobra Kai
       patches including (Johnny Lawrence, Dutch, Bobby, Jimmy and
       Tommy)
– Beach going Ali Mills with swimsuit and sweats accessory for evening
       scene
– Chase figure of Daniel at Halloween Dance as "invisible" man in shower
       costume
– Ali in Halloween costume
– Cobra Kai's in Skeleton costumes (Johnny Lawrence, Dutch, Bobby,
       Jimmy and Tommy)
– Daniel-san with BMX bike accessory beat up on Halloween night with
       bruises on face
– Stealth Mr. Miyagi figure who beats up five Cobra Kai's on Halloween
– Training Daniel-San variant 3-pack including: Wax on, Wax Off, Sand
       the Floor and Paint the fence garb (all wearing tenegui headband)
– Chase figure of Mr. Miyagi in catcher's outfit with chest plate with
       white circle target and catcher's mask
– Daniel-San with ringer tee and sweats punching Miyagi's chest plate
– All-Valley Tournament Daniel-san with Miyagi-Do Karate logo on back
       and signature headband
– Cobra Kai's in All-Valley Tournament outfits (Johnny Lawrence, Dutch,
      Bobby, Jimmy, Tommy and Jerry)
– Master John Kreese in Cobra Kai black gi
– Ali Mills at Tournament in short skirt and sweater
– Final Match Daniel-San with busted leg
– Mr. Miyagi doing the clap and heal motion
– Final Match Daniel in The Crane position
– Final Match Johnny Lawrence
– All-Valley Tournament Referee
– All-Valley Tournament Play set complete with main stage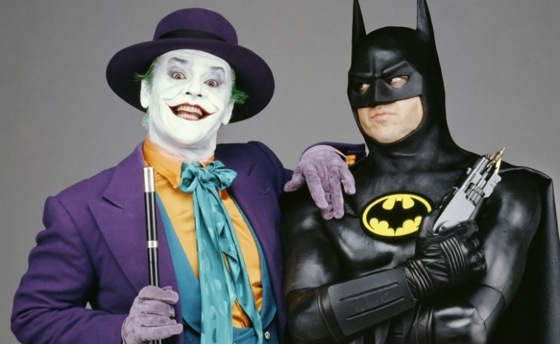 8. Pre-Nolan Batman Movies
Mattel's Movie Masters figures are some of the nicest out there and the toy giant did a bang up job of producing solid figures for Christopher Nolan's Bat-Trilogy. Now that Nolan and Company are done with their groundbreaking trilogy and are moving on to bigger and better, Bat-Fans are going to need their Bat-Fix as we wait to see the fate of the Caped Crusader. So my suggestion is that the pre-Nolan Bat-flicks take a cue from Mattel's Movie Masters line on the Tim Burton and Joel Schumacher directed Bat-Movies.
Starting with 1989's Batman from Tim Burton, all the way to the abysmal nipple-fest that was 1997's Batman and Robin, hardcore Bat-Fanatics will buy anything related to the Dark Knight. Below is our wish list of just exactly which figures we would love to see in plastic form as we await the news of when the Bat-Franchise will get yet another reboot. Sure Hot Toys makes beautiful, but obscenely expensive, quarter scale replicas; but for those looking for a cheaper option, Movie Masters from Mattel is the way to go. Hopefully if these are ever produced they will go easy on the nipples and codpieces that brought down the franchise!
– Michael Keaton Batman with grapple gun accessory
– Michael Keaton Batman with wings spread
– Jack Napier before falling into the vat of chemicals
– Bruce Wayne in tuxedo at benefit
– Alfred Pennyworth in butler dressing
– Vicki Vale in ball gown
– Commissioner James Gordon
– Boss Carl Grissom
– Bob the Goon
– Harvey Dent (Billy Dee Williams)
– Lt. Eckhardt
– Jack Napier as Joker
– Joker in full costume
– Batcave Playset
– Batman Returns
Batman with "smart" Batarangs
– Batman Returns
Oswald Cobblepot/Penguin
– Batman Returns
Selina Kyle/Catwoman
– Batman Returns
Max Shreck
– Batman Returns
Alfred Pennyworth
– Catwoman in tattered and torn outfit
– Penguin with special umbrellas including helicopter umbrella
– Batman Returns
Bruce Wayne in black turtleneck
– Batman Forever
Val Kilmer Batman
– Batman Forever
Bruce Wayne with glasses
– Batman Forever
Tommy Lee Jones Harvey Dent/ Two-Face
– Batman Forever
Jim Carrey Edward Nygma/The Riddler
– Batman Forever
Nicole Kidman as Dr. Chase Meridian
– Batman Forever
Chris O'Donnell as Dick Grayson/Robin
– Batman Forever
Michael Gough as Alfred Pennyworth
– Batman and Robin
Arnold Schwarzenegger as Dr. Victor Fries/Mr. Freeze
– Batman and Robin
George Clooney as Batman/Bruce Wayne
– Batman and Robin
Chris O'Donnell as Robin/Dick Grayson
– Batman and Robin
Alicia Silverstone as Batgirl/Barbara Wilson
– Batman and Robin
Uma Thurman as Poison Ivy/Dr. Pamela Isley
– Batmobile to fit 6-inch figures from
Batman
and
Batman Returns
– Batmobile to fit 6-inch figures from
Batman Forever
– Batmobile to fit 6-inch figures from
Batman and Robin
– Batwing to fit 6-inch figures from original '89
Batman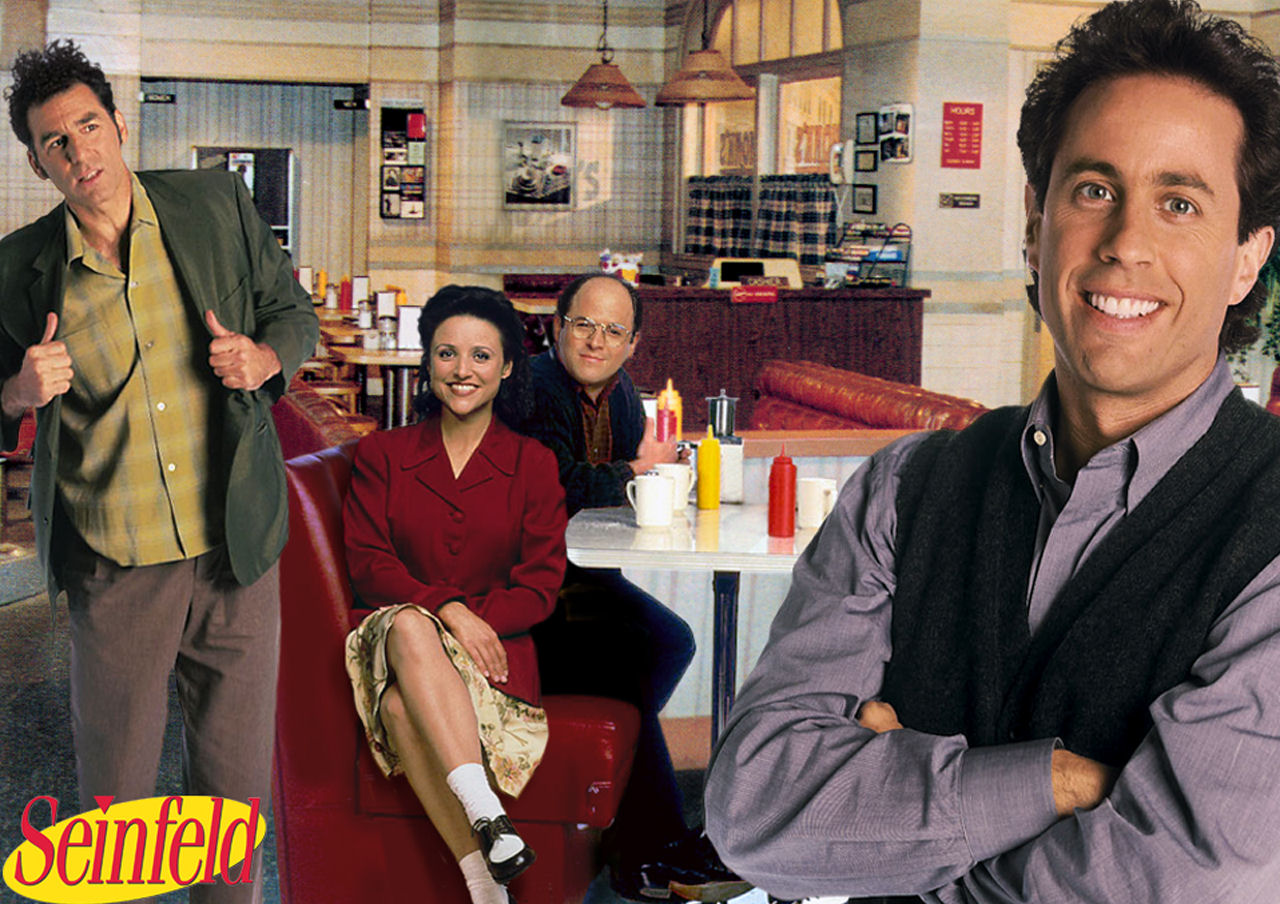 9. Seinfeld
It has been 15 years since we said goodbye to Jerry, George, Elaine and Kramer, but their popularity remains as strong as ever. The groundbreaking sitcom is still far more entertaining than 75% of the programming out there and has continually showed that the comedy has "legs" well into the 21st Century. What is it about four people in an NYC apartment doing nothing that fascinates us so? Who cares! As long as it lives on in syndication for decades to come, Seinfeld will remain relevant for generations. If I was forced to put one show in a time capsule, Seinfeld would be it. And I would not just include the main four characters; I would include all the amazing guest stars who somehow became a part of the pop culture vernacular. From Newman to the Soup Nazi, these babies would sell themselves. Not that there's anything wrong with that.
– Jerry Seinfeld in classic jeans, sneakers and tucked in button up shirt
– Comedian Jerry Seinfeld in sports jacket, funky tie and microphone and
       mic stand accessory
– Jerry in the "Puffy Shirt" Variant Figure
– Jerry in turtleneck/mock turtleneck
– Elaine Benes (early episodes) in work clothes including shoulder pads,
       "wall of hair" and giant purse/bag
– Elaine Benes working at J. Peterman with Urban Sombrero accessory
– Later Episodes Elaine Benes with straight hair
– Cosmo Kramer in Lobster shirt, slacks
– George Costanza in Plaid shirt and cotton Dockers-like pants
– George Costanza in Polo shirt with giant wallet accessory
– George Costanza Chase figure in boxers for photo shoot taken by 
       Kramer
– George Costanza Latex Salesman suit
– George Costanza in full body stocking at Yankee stadium
– Elaine in cleavage-centric black outfit trying to prove to the guys that
       she can put "asses in the seats"
– J. Peterman and Co. Dancing Elaine Variant (Cry, Cry Again variant)
– Babs Kramer
– Kramer in lucky jacket, wide collar shirt and too short slacks
– Calvin Klein model Variant Kramer
– Variant Pimp Kramer in Technicolor Dream coat
– Kramer in jacket with Cigar Store Indian Accessory
– Jerry's Apartment Playset, complete with miniature Superman Figurine
– Monk's Café Playset with regular booth
– Newman in Postal Uniform
– The Soup Nazi with ladle accessory
– Delores aka Mulva
– The Drake
– Kenny Bania in Sports Jacket and slacks
– Morty Seinfeld in beltless trench coat
– Helen Seinfeld (Jerry's Mom)
– Jack Klompus
– Larry David
Curb Your Enthusiasm
Chase figure
– Uncle Leo
– David Puddy
– David Puddy in N.J. Devil's face paint Variant
– Mr. Pitt
– Keith Hernandez
– Keith Hernandez Chase Variant figure in '86 Mets uniform
– Dr. Tim Whatley, DDS
– Jackie Chiles, Esq.
– Sue Ellen Mishke, heir to the OH, HENRY candy bar fortune (no bra)
– Babu Bhatt, restaurateur
– Frank Costanza
– Estelle Costanza
– Mickey (little person)
– J. Peterman
– Sidra (They're real and their spectacular!)
– Mr. Littman (Elaine's Boss)
– Little Jerry Seinfeld cockfighter
– Marla the Virgin
– "Crazy" Joe Davola
– NBC Exec Russell Dalrymple
– Susan Ross with Toxic Envelopes Accessories
– Jerry, George and Kramer in Prison Fatigues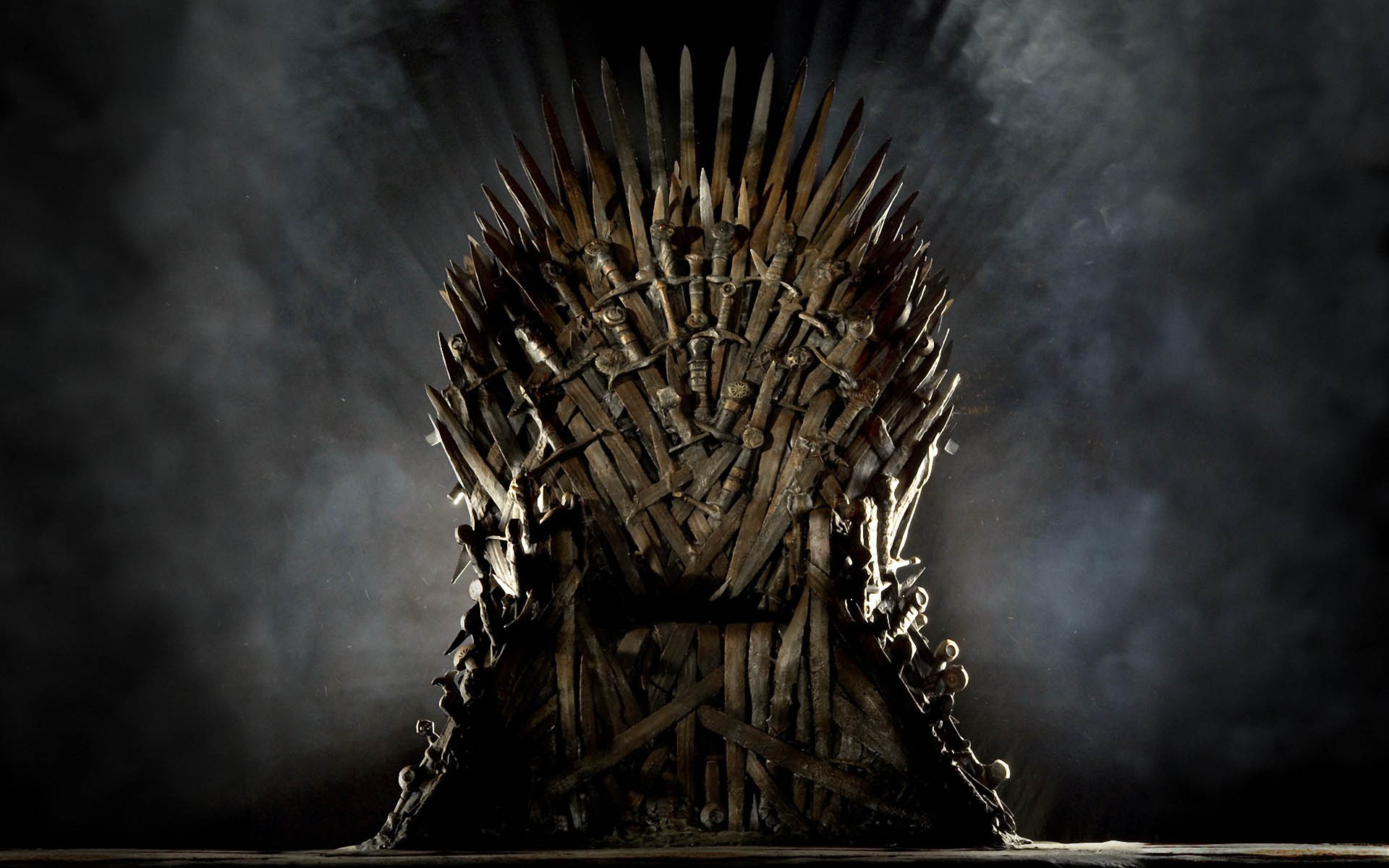 10. Game of Thrones
HBO's new flagship show has taken must-see R-rated TV to a whole new level with plenty of violence, language and a whole lot of nudity. Game of Thrones has taken the cable world by storm, establishing a top tier show based on George R.R. Martin's wildly popular book series. Die-hard fans continue to watch both the show and read the tomes, spending hours debating which format is better, causing the launch of new message boards to argue the show's and book's merits. If ever there was a TV show that required multiple viewing, Game of Thrones is it. It contains a web of characters so deep that you (and I) are bound to leave one out, but for now we at DoG are just going to give a basic primer on which action figures we would like to see in their first wave of say eight figures should HBO ever decide to make our Medieval heroes and baddies into plastic re-creations.
Followed by that there will be another eight and so on. I have reviewed GoT since its first season and its enormous cast can be daunting to remember. But thank God for the IMDB that helps keep track of the ever growing group of players. For the "completeists'" sake of action figure collectors I included pretty much every character that has had a recurring role. There are also some characters that have been offed but I will not spoil it for those who have not gotten on the GoT bandwagon. Winter is coming and hopefully toys will follow!
– Cersei Lannister
– Tyrion Lannister
– Tyrio Lannister Variant with scar
– Catelyn Stark
– Daenerys Targaryen (With Dragons)
– Arya Stark
– Ser Jorah Mormont
– Jon Snow
– Sansa Stark
– Theon Greyjoy
– Littlefinger Baelish
– Maester Luwin
– Robb Stark
– Bran Stark
– King Joffrey Baratheon
– Sandor "The Hound" Clegane
– Ser Rodrik Cassel
– Lord Varys
– Grand Maester Pycelle
– Hodor
– Jaime Lannister
– Jaime Lannister Prisoner Variant
– Irri
– Grenn
– Shae
– Doreah
– Ros
– Eddard "Ned' Stark
– Osha
– Khal Drogo
– Mance Rayder
– Tormund Giantsbane
– Beric Dondarrion
– Jeor Mornmont
– Gendry
– Hot Pie
– Rickon Stark
– Jojen Reed
– Renly Baratheon
– Stannis Baratheon
– Loras Tyrell
– Tommen Baratheon
– Lancel Lannister
– Myrcella Baratheon
– Ser Davos Seaworth
– Yoren
– Breienne of Tarth
– Pypar
– Rast
– Rakharo
– Barristan Selmy
– Jaqen H'ghar
– Talisa Mergyr
– Septa Mordane
– Qotho
– Gregor Clegane
– Viserys Targaryen
– Margaery Tyrell
– Mielisandre
– Ygritte
– Jory Cassel
– Xaro Xhoan Daxos
– Lady Orenna Tyrell (aka Queen of Thorns)
– An army of Whitewalkers in all different shapes and sizes
– Winterfell and King's Landing playsets