News
Wonder Twins and the Search for Meaning
Zan and Jayna are looking for their place in the DC Universe in Wonder Twins.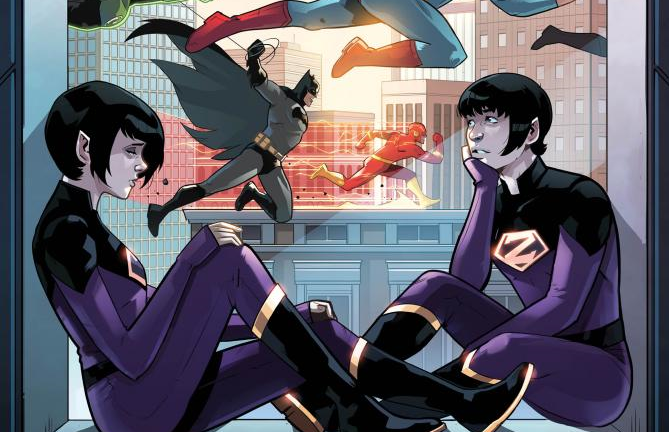 There are two things that make Wonder Twins #7 really stand out. Its storytelling elegance, and the way it juxtaposes delighting in its own lowbrow humor while also finding grace in those silly jokes. Mark Russell and Stephen Byrne's book started out as a six-issue mini about the Super Friends twins, whose previous greatest character development came in a one-off joke on Harvey Birdman. And when the guy who was nominated for an Eisner for turning Snagglepuss into a queer history icon run wild in an out-of-the-way DCU proper book turned out to have something meaningful to say about superheroes, the book was naturally extended for another six. The latest issue reads like it was a surprise to the creators, but therein lies the elegance of the storytelling: they lean all the way into it, pushing Zan and Jayna past the natural endpoint of their story and exploring what happens to them and their world after they're stripped of what they thought was their meaning.
After the climax last issue, with the Scrambler's plan of swapping everyone's brains foiled by the Wonder Twins, there's nothing left for Zan and Jayna to do. So they end up running tours at the Hall of Justice. There are a couple of tour-related mishaps on their first day that lead to a general public panic, so the Justice League brings in a guy they have saved for problems like this: Repulso, the subject of the book's extended and most lowbrow bit.
Repulso stinks so bad we get a full six pages of comedy out of it. I think it's safe to say that Russell is brilliant, one of the sharpest minds working in comics today and a thoughtful person in all of his writing. He's also very funny, and it's been my experience that someone that smart who's also that funny can never pass up the low hanging fruit. "His superpower is he smells" is just about the lowest. The team unsurprisingly knocks it out of the park. Byrne does a great job of selling the acting and staging the scenes so the jokes land, and Russell keeps the comedy coming. Like the campfire scene in Blazing Saddles, the stink jokes start quickly and just keep hitting and hitting and hitting until you're getting yelled at by your wife for shaking the bed while she's trying to sleep.
Repulso is also the subject of the story's most graceful notes. There is a real elegance to the structure of the issue – he seems like a B-plot when Repulso is introduced, but he's woven into the larger point of the tale smoothly by the end. By making Zan and Jayna the people through whom the public interacts with the Justice League, it lets the story examine both sides of the relationship – the League, who handles big, extinction-level drama twice a week; and the public, that only finds out about that extinction-level drama after the fact and half the time. And all of it sets up a conversation between Jayna and Superman that is magnificent in how quickly it gets to the core of what seems to be Russell's conception of the DC superhero universe.
Byrne's art is perfect and utterly necessary to pull something like this off. Comedy is hard in any medium, and doubly so in comics, where the staticness of images can mute jokes that would otherwise land in prose or a more mobile medium. Byrne nails the quick jokes, sneaks reference work in all over the place, and has a terrific grasp of subtlety of expression that heightens whatever emotion each page is meant to accomplish.
It's impossible for me as someone who spent eight years in Catholic school who has read Russell's earliest comics work to not see this comic drawing from a pool of Christian philosophy, but it's refreshingly works-based rather than being ostentatious about its faith. This whole book is about kindness and what you put out into the world. It's a wonderful storytelling accomplishment that a book that wouldn't have existed six months ago AND is a quarter stink jokes to be this earnest and meaningful. Here's what DC has to say about it…
WONDER TWINS #7 written by MARK RUSSELLart and cover by STEPHEN BYRNEvariant cover by NICK BRADSHAWNow a 12-issue series! The Wonder Twins are heroes, and the world is saved! Or is it? As Jayna learns how to deal with loss, Zan finally gets his varsity letter in hockey—will he finally gain the popular social status he craves?
And here are the images. Take a look.