News
X-Men: Grand Design Streamlines 30 Years of X-Men History
Ed Piskor of Hip Hop Family Tree fame streamlines X-Continuity in December.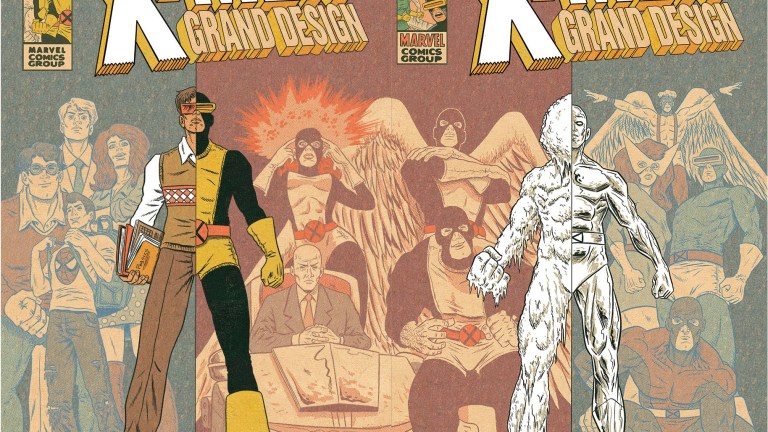 Ed Piskor, the guy who took about 500 pages to sum up the first ten years of hip hop history in Hip Hop Family Tree, has set his sights on the first 30 years of X-Men continuity with X-Men: Grand Design. 
The series is set to run as six 40-page issues, with two coming out each year and being packaged as a trade, sized similarly to Hip Hop Family Treeand containing a classic X-Men comic recolored by Piskor. His plan is to summarize the first 280 issues of X-comics which, if you take out the reprints that happened leading up to Giant Sized X-Men#1, should give him about a page an issue.
"X-Men: Grand Design is a tribute to everything comic book fans love about the X-Men from Stan Lee and Jack Kirby's original run and Chris Claremont's, epic 16-year stint as the series' writer," said Piskor. "It's a compelling and complete story with a beginning, middle and an end, featuring everything from Xavier's School for Gifted Youngsters, Cerebro and the Danger Room to the Mutant Massacre, the Reavers, Gambit, and Genosha."
This book should be a sales juggernaut (HA!) based on the projected quality. The greatest success of Hip Hop Family Treeis that it immediately conveys two things: that Piskor loves hip hop, and that Piskor loves '80s Marvel comics (and '50s EC comics). The press release sent by Marvel is telling in who it quotes: in addition to Piskor and Axel Alonso, Jim Rugg of Street Angel fame, Ben Marra of All Time Comics: Crime Destroyerand Terror Assaulter: O.M.W.O.Tand Michel Fiffe of perennial best comic Copraall sent love Piskor's way. So even if it doesn't sell in obscene numbers, it should be very creatively successful.
The first issue of X-Men: Grand Design comes out on December 9th, and the first collection is due out on April 17th, 2018. For more on Piskor's X-Men condensation, stick with Den of Geek!