News
X-Men: Days Of Future Past Clears $8.1 Million Thursday Night
X-Men: Days of Future Past earned a franchise-best $8.1 million Thursday night, up from The Wolverine and First Class.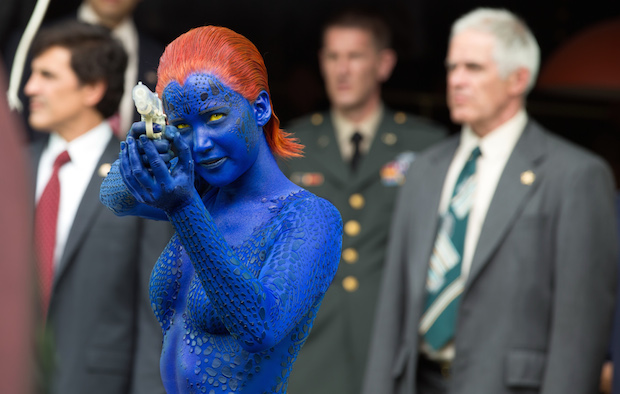 Despite the ominous title, it would appear that the X-Men's future may be very bright indeed, because studio 20th Century Fox is reporting that X-Men: Days of Future Past raked in a cool $8.1 million Thursday night at 2,900 screens.
The numbers indicate that demand is much higher for X-Men: Days of Future Past, the second installment in the series to enjoy a 3D release, than it has been for X-films in years. Comparably, 2011's X-Men: First Class grossed a relatively anemic $3.37 million during its Thursday midnight shows in 2011, and last year's The Wolverine cut off a slightly more palatable slice of $4 million from its Thursday screenings. It would appear that Fox's gamble of combining the old casts with the new is at least serving the mutant franchise well this Memorial Day Weekend where it is forecasted to gross between $115 to $120 million in the four-day holiday.
However, this number is slightly below other recent blockbuster films that have been released since the "summer" season began in May, and one from even before that. In contrast, last week's Godzilla roared into its late night Thursday showings for a monstrous $9.3 million, and The Amazing Spider-Man 2 webbed itself up a nifty $8.7 million. But the most impressive has so far been Captain America: The Winter Soldier's $10.2 million from Thursday night screenings alone.
However, the X-Men franchise has the advantage of not coming off the inflated expectations of precedence that helped weigh down The Amazing Spider-Man 2 along with its weak word-of-mouth and underperforming numbers from its second weekend. The only previous X-Men film to cross $100 million in a single weekend has been 2006's X-Men: The Last Stand, which set the then-Memorial Day Weekend record with $122.9 million for the four-day weekend and a $102 million over the traditional three-day barometer. Since that film's overall less than flattering reception from audiences and word of mouth, X-Men has not been posting in the same box office stratosphere of many other superhero contemporaries. And with the added advantage of a three-day weekend at its back, Days of Future Past will be the first May 2014 release to cross $100 million in its opening weekend.
Plus, if audiences react to it as well as our review did, then the future very well may belong to the mutants.
Like us on Facebook and follow us on Twitter for all news updates related to the world of geek. And Google+, if that's your thing!