News
X-23 Spinoff Movie: Logan Director James Mangold Updates
Logan breakout character Laura, a.k.a. X-23, has been eyed for a spinoff movie and director James Mangold updates on that process.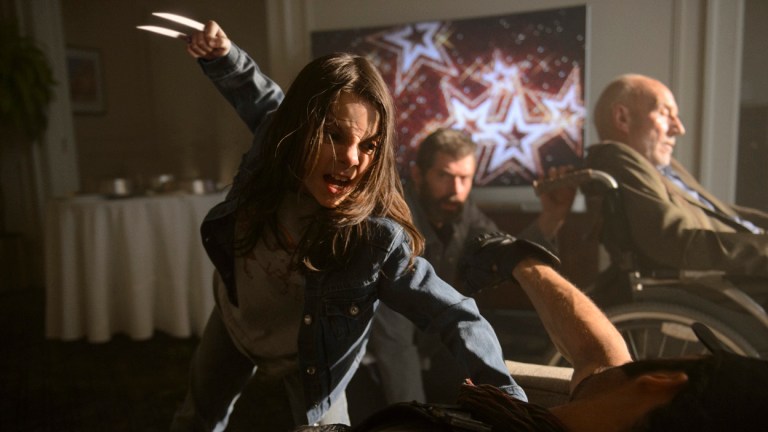 Logan, Hugh Jackman's claw-swinging coda to his legendary 17-year onscreen X-Men tenure as Wolverine – which hit back in March – opened a wellspring of poignant possibilities for the still-pumping comic book movie genre. It also left the Fox-Marvel cinematic continuity with a prodigious gift in the form of Dafne Keen's Laura, a.k.a. X-23, the newly-discovered young cloned daughter of Wolverine/Logan, with whom the title character forms its central dynamic. Now, James Mangold provides an intriguing update on the speculated X-23 spinoff project.
In an interview with THR, Logan director James Mangold and star Hugh Jackman sit down to discuss the state of the film, since speculation is high that its powerful, surprisingly accessible drama, along with its financial success of $616.8 million worldwide off a budget of $97 million (the lowest-budgeted of all three Wolverine spinoffs and the lowest-budgeted X-Men movie since 2000's original,) makes it a legitimate contender for awards season accolades, even Oscar nominations. Indeed, Mangold (credited for developing the Logan story,) reaffirms that a Laura/X-23 spinoff project is still in the works, stating, "We're just working a script."
While the Laura/X-23 spinoff talk started immediately after Logan's release, it has been a consequential seven months in the comic book movie world, notably for projects looking to tout female protagonists, since the June release of director Patty Jenkins's Wonder Woman ended up becoming a $821.6 million global-grossing runaway hit, undeniably proving that action, reverence and pathos can make female heroes into bankable blockbuster headliners, contrary to industry stubbornness. Thus, the market is more auspicious for this spinoff than it was, even back in March when Logan first hit. As Mangold continues of the Wonder Woman phenomenon:
"Patty's success with that film only solidifies more for studios that there's less to fear with a female protagonist. The more that keeps getting hit home, that ends up giving me more space turning around and going, 'Well here we are with a female protagonist. That's incredible. And what are we going to do with her?' And that's where we are with that [the Laura script] right now, dreaming."
However, don't look for the prospective X-23 spinoff to continue the gritty, moody, arid atmosphere of Logan, since it does appear that the creative coalition is looking to branch out from that approach. Laura/X-23, who was first introduced in a 2003 episode of animated series X-Men: Evolution (and later absorbed into the Marvel Comics continuity,) was designed to replicate the appeal of Wolverine for younger fans. She subsequently became a popular character in her own right, who has run the comic book gamut, notably with a tenure as a member of (the film adaptation-imminent) super-team, X-Force. Indeed, X-Men movie series producer Hutch Parker also chimes in on the spinoff conversation, implying that Laura/X-23's individual story will be bear different influences, stating:   
"Yes, there are other facets of that character and some others potentially to explore in their own way. It may not be in the same exact tonality or with the same genre orientations as Logan, but I think part of what has been opened up in this universe to all of us now is, drawing on different genre traditions, there are new pathways to be opened for new characters that populate this universe."
As for star Hugh Jackman, whose Wolverine was the center of an emotionally heartbreaking exit in Logan, don't expect him to be back for the X-23 spinoff, either onscreen or creatively, since the actor himself reaffirms his retirement of the character (at least, his version, anyway,) and his involvement in the X-Men franchise. As Jackman clarifies:
"No, I won't be a producer on a Laura sequel. But I will be lining up on the Thursday night at 10 pm to watch it though. She [Dafne Keen] is just phenomenal."
Of course, we're still a long way from knowing the exact date of that Thursday night, since, as Mangold mentioned earlier, the untitled X-23 spinoff film is still in its earliest of scripting stages. However, we do know that 2018 will be a promising year for the X-Men movie mythos, with team spinoff The New Mutants arriving on April 13, followed by X-Men: Dark Phoenix on November 2.
Read the full Den of Geek NYCC Special Edition Magazine right here!