News
Wonder Woman: Steve Trevor Will Be a Man for All Seasons
Patty Jenkins on why Chris Pine's Steve Trevor will be the perfect kind of love interest to Gal Gadot's Wonder Woman in the new film.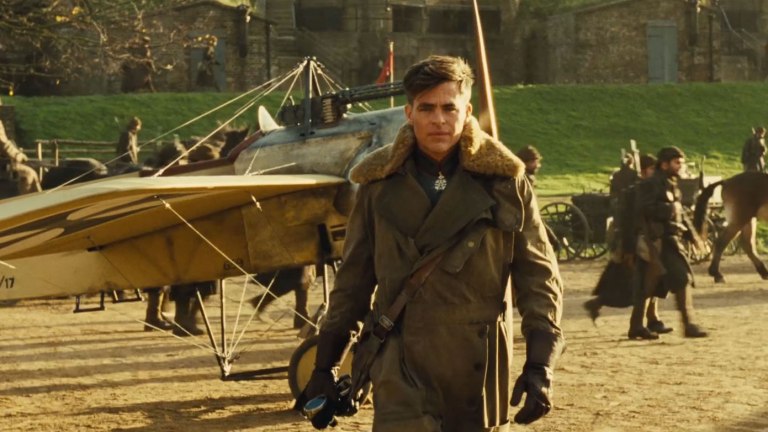 During our visit to the Wonder Woman edit bay in London, one not-so-surprisingly important aspect that was repeatedly underscored was the desire for Steve Trevor to be presented as a winning sidekick to Gal Gadot's Princess Diana, and certainly a likable, secondary hero in his own right. Director Patty Jenkins particularly stressed she wanted a character she could fall in love with but also not feel sorry for. This also seems to be a crucial element for the filmmakers, who are likely aware of some audiences' prejudgments about an action movie where the male lead is also the supporting love interest (such as when Chris Pine was asked by Jimmy Kimmel, "Who talked you into this?")
"He is actually very difficult, but also very easy in a way," Jenkins says. "So he hasn't changed, not at all, since I've ever been interested [in the movie from 2004]. I didn't want him to be a damsel in distress. I didn't want to make an issue out of it, I didn't want to make a feminist statement with him. I wanted the guy who you wanted [her] to be with, who you wanted to be with, and who's also trying to do something else at the same time. And I wanted to live up to that emotionally myself."
Jenkins also rejected the other argument where some might suggest that Wonder Woman should reject having a male partner in action during the war, or that she should constantly tell him off.
Says the director, "Like if we would ever have this, 'Well, she can't need his help.' I'm like, so if Superman was like, 'Fuck you, Lois, man!' How satisfying would that be to anybody?" For Jenkins, it's about having a character who can carry his own weight and complement Wonder Woman, but also not threaten to overshadow her from being who she is: the big hero of her own story. As with Lois Lane or Gwen Stacy, "It's important that all of those people have their people in the world who believe in them and love them and help them, yet understand their lives are complicated."