News
Wonder Woman's Connie Nielsen and Robin Wright Will Return in Justice League
Connie Nielsen confirms that she and Robin Wright will reprise their Wonder Woman roles in Justice League.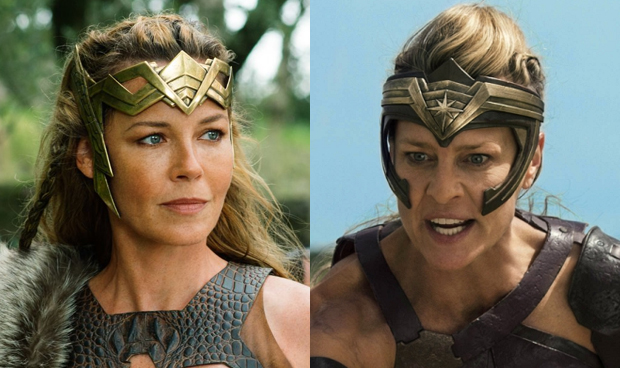 Warning: Spoilers for Wonder Woman ahead!
Wonder Woman thankfully gave comic book movie fans some things that were long overdue, namely the first (modern) female-led solo superhero film and a redemption-achieving entry in Warner's burgeoning DC Comics film continuity that finally managed to live up to its dramatic hype. Upon a successful $103 million domestic opening weekend comes news that we'll be seeing more from two of the film's memorable supporting players in this fall's film crossover event Justice League.
In an interview with the LA Times, the Wonder Woman cast trio of star Gal Gadot, Connie Nielsen and Robin Wright provided some perspective on the film's impact, namely in their scenes together in the film's first half, taking place on Themyscira, the mythical island of the Amazons; a gorgeously scenic setting shot in the 9,000-year-old city of Matera in Italy. However, Nielsen, who plays Hippolyta, Queen of Themyscira and mother of Diana/Wonder Woman, divulged an intriguing tidbit about the character's future, namely that she and Robin Wright's Antiope will have a role in Justice League. With the trio discussing the onscreen mother/daughter relationship between Diana and Hippolyta, the exchange occurs as such:
Gadot: Of course; the mother and daughter relationship is always a beautiful but complex relationship. I think that there's a lot more to explore.

Nielsen: And [Wright and I] got to do more in Justice League as well. As sisters as well. Kind of badass as well. We can't say much, but …

Wright: And more of the story, you get some of the history.
While the idea of a character intrinsically connected to one of the Justice League ensemble film's main characters returning is hardly a surprise, the overall news remains intriguing since Wright's scene-stealing badass legendary warrior Antiope – the sister of Hippolyta and aunt/sensei to Diana/Wonder Woman – was memorably martyred early in Wonder Woman, killed in a battle with invading German soldiers, fulfilling the Joseph Campbell-esque death of the mentor stage in the Hero's Journey for Diana.
While Justice League might undergo some structural changes with Joss Whedon stepping in for Zack Snyder as relief director, the already-shot film will likely cover its character exposition via flashbacks for Gal Gadot's Wonder Woman, Ben Affleck's Batman, Jason Momoa's Aquaman and Ray Fisher's Cyborg, with the looming presence of Henry Cavill's Superman, who is prospectively set for a "Reign of the Supermen" style resurrection after his "death" in 2016's Batman v Superman: Dawn of Justice.
Indeed, with backstory characters in Diane Lane's MARTHA! (okay, Martha Kent) and Amber Heard's Queen Mera also confirmed to appear in Justice League, it does seem that the Hippolyta/Antiope scenes will be similarly flashback-related, expanding what we know of the familial relationship depicted in Wonder Woman, before Chris Pine's Steve Trevor fatefully pierced the magical veil and crashed his stolen plane off the coast of Themyscira, pursued by some scared/angry Jerrys.
Wonder Woman is very much in theaters right now. Justice League will see the heroes of Warner's DC Comics movie universe come together to tackle interdimensional evil from Apokolips when it arrives on November 17.