News
Wonder Woman Meets the Dark Gods and the Star Sapphire Corps
Diana gets pulled out of her war with the Dark Gods for a new spacefaring one in Wonder Woman Annual #2.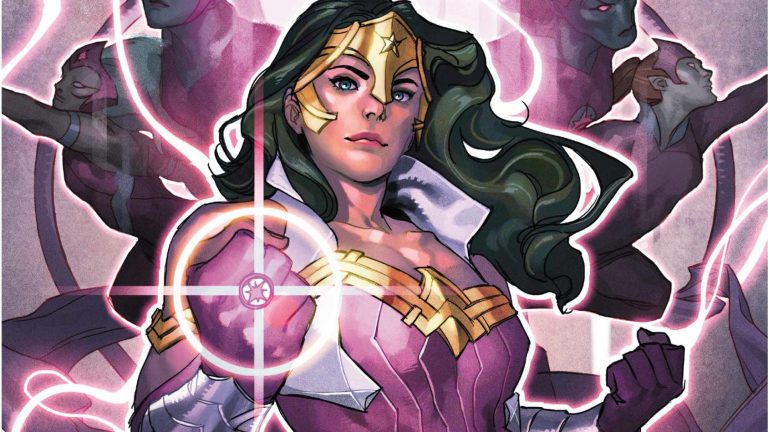 Frazer Irving should be put on a Green Lantern comic immediately, please. This is not to say that the crew working on the Lantern books is bad or anything. They're doing a very good job, in fact. But some people are born to draw space epics, and Irving is one of them. Especially because of the fact that he inks and colors himself, putting him on literally any Lantern Corps book seems like a no-brainer.
Apparently someone at DC agrees. In this exclusive preview of Wonder Woman Annual #2, the Star Sapphires pull Diana out of her conflict with the new Dark Gods who emerged on Earth following the events of Dark Nights: Metal.They bring her to Zamaron, with their busted central power battery and new, ominous dark god monolith floating over it. Here's what DC has to say about the issue:
WONDER WOMAN ANNUAL #2Written by JAMES ROBINSON Art by MARC LAMING Cover by YASMINE PUTRI "Star Light"! An enormous, divine threat has the Star Sapphires in its sights—and only Wonder Woman can protect them! She's wielded their ring before, but the Corps has changed since then…is even their combined power enough to stop a god?
Take a look at this gorgeous flashback.
[gallery:0]