News
Wonder Twins Brings More Jokes to the DC Universe
Mark Russell & Mike Norton bring a LOT of funny to the new issue of Wonder Twins. Check out an exclusive first look.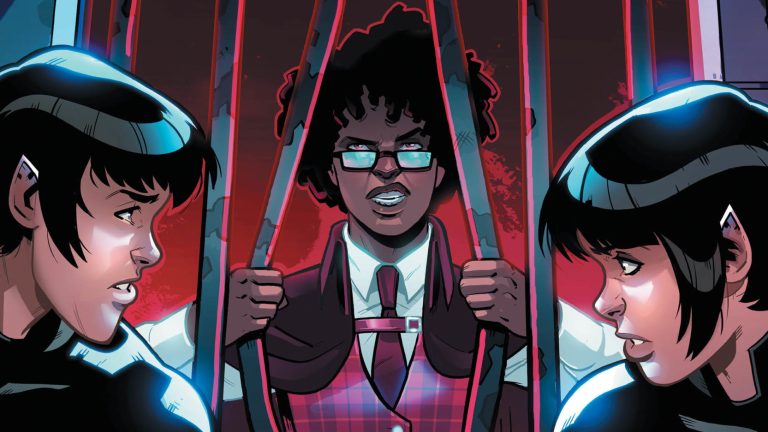 Wonder Twins#8 is the funniest issue of the series. 
We've been singing Mark Russell's praises 'round these parts for some time, so it's not particularly shocking to hear more of the same. But in a series that has been really funny to this point, it was still surprising to see the eighth issue go so far beyond its predecessors. 
It's pretty soul-crushing, as you can see from the exclusive preview pages below. Most of the issue is about regret – the principal's regret on the occasion of his 30th high school reunion as it relates to failed relationships and his lack of success on the Sad Dads Dating App, or Jayna's regrets about how she's handled her friendship with Polly Math later on. It has a lot to say about coping with that regret and moving forward, and it doesn't really sugar coat anything. There isn't a forced happy ending to make you feel like everything came together in the end. There's just…closure.
There's also Zan in a fake mustache running the casino night at the reunion like a real pit boss.
Seriously, this issue is blazing fast and silly in a way that the series hasn't been at all. Wonder Twinshas been brilliant and funny, but most of the humor has been satire and sarcasm, with very little "cops leaving the prison gate open to chase an ice cream truck" silliness. 
Mike Norton steps in on art duties for this issue and the transition is pretty seamless. Norton is a pro and very experienced on absurdity, what with him making his bones drawing his creator owned project, Battlepug. He's doing a great job of fitting into Stephen Byrne's style here. You can tell if you look closely that it's not Byrne, but a quick glance isn't enough to show substantial differences. He also does as well as Byrne at jamming in background gags. Byrne sneaks in so many good bits on posters in the school or on gates or shirts, and Norton has all of that in this issue.
read more: The Hilarious Return of the Wonder Twins
There's never really a bad time in this series to start reading. Even though this issue moves the plot forward for Jayna and Polly Math, it's thematically self-contained and, again, stupid funny. If you haven't picked it up yet, it's worth grabbing this one and then going back for old issues. 
Here's what DC has to say about the issue:
WONDER TWINS #8written by MARK RUSSELLart by MIKE NORTONcover by STEPHEN BYRNE The Wonder Twins are charged with their most important mission yet—planning the 30-year reunion for Morris High School! As it turns out, the Class of '89 is full of unresolved conflict and unrequited love, and if that alone doesn't ruin the event, Jayna's former best friend Polly will!
Take a look!