News
WildCATs Reboot Coming From DC
Following on the success of The Wild Storm, DC is bringing back WildCATs.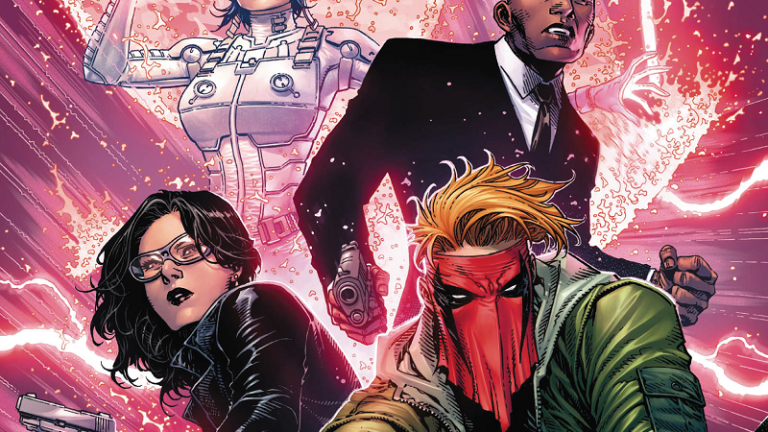 Warren Ellis and Jon Davis Hunt's The Wild Storm has been one of the best comics of the last couple of years. It is at the same time a reboot of a much loved comic universe that uses its spreading tendrils as a line to plant it firmly within the broader DC multiverse AND a deconstruction of both the form and substance of an entire era of comics. But it's also coming to an end, a planned 24-issue series that was only intended to weave the threads of a broader world for others to pick up.
DC announced the next thread to be picked up, and it is very exciting: Ellis and Ramon Villalobos relaunch WildCATs this August.
"The first line I wrote down for WildCATs was: 'Saving the human race from the human race,'" says Ellis.  "It's a team made up of people who have seen the worst in everybody and everything, and yet still put themselves in frankly absurd amounts of jeopardy just so tomorrow might be a little bit better. And it's a short series, so I might just kill them all. Come and see what happens. The art is great."
Villalobos is the former artist on Marvel's beautiful and vastly underrated Nighthawk and author of perhaps the greatest Twitter thread of all time. He's got an indie comix crossed with Frank Quitely vibe, which makes him a fascinating choice to pair with Ellis on this book.
"From the jump, WildCATs has always represented to me the most modern and cutting-edge approach to superhero comics," says Villalobos. "I'm excited for the opportunity to draw fun and fashionable comics for the coolest and smartest audiences in comics. WildCATs has a heritage of genius creators who have worked on these characters, so it's pretty cool to be able to awkwardly put my name among theirs."
Ellis is the architect of the new Wildstorm universe, but he was also a pillar of the old Wildstorm continuity, writing an extended run on Stormwatch and introducing The Authority to the world. Which made his latest run all the more fascinating: it was a musing on the work he originally brought into the world and the way he did it: the slow burn deconstruction and "widescreen" art style that became a trend in comics largely because of his work on with Bryan Hitch on The Authority turned here into methodical pacing and a shattered grid of mini panels with Hunt.
This is not the first spinoff to come out of The Wild Storm. Bryan Hill and N. Steven Harris spun Michael Cray (Deathblow) out of the original book and sent him on black ops missions to kill alternate versions of popular DC heroes.
WildCATs is the original Wildstorm team book. The new version features Grifter, Savant, John Colt and Adrianna Tereshkova battling Skywatch, a secret space program that has been experimenting on kidnapped humans for decades. They discover one such secreted experiment and rush to tackle it.
"Warren has created something truly spectacular with the relaunch of the WildStorm universe over the past two years," says DC Chief Creative Officer and Publisher Jim Lee. "There are few visionaries in our business and few still who can elevate mythos with such vitality and spectacle. Paired with Ramon's extraordinary artwork, I'm thrilled for fans to check this out come August."
For more on The Wild Storm, WildCATs, The Authority, Stormwatch, or me shouting "NOW DO GEN 13", stick with Den of Geek!