News
Who Shot the Watcher? A First Look at Original Sin #1
The death of Uatu the Watcher brings forth this summer's big Marvel comic event. We have the preview to get you started.
The saying goes that you never see the bullet that gets you. This May, Marvel is supporting that theory by taking out the one being who sees all. In Original Sin, Uatu the Watcher will be found dead at his home on the moon, leading to a major sense of urgency and many questions that need to be answered.
First appearing in Fantastic Four #13 back in 1963, Uatu has traditionally been a cosmic being tasked with doing nothing more than watching over the planet Earth and never interfering with what's going on. Unlike his Watcher brethren tasked with watching other planets, Uatu has broken his vow, or at least bent it, many times before, usually through warning various heroes of impending threats such as Galactus. While he rarely actually did anything other than act like a guide, Uatu's mere silent presence was an ominous tipoff that something incredibly important was going down.
Despite being inactive almost all of the time, Uatu's death is a big deal in Marvel. First off, he's actually incredibly powerful. He's a cosmic force capable of challenging Galactus if he truly wanted to. Coincidentally, one of Uatu's final appearances has shown he and Iron Man looking over the dead body of infinitely powerful being the Living Tribunal with no explanation of how he died. Is there a connection? It's very likely, although it might just be a red herring.
Most importantly, Uatu has seen practically everything. He knows everyone to ever live and die on planet Earth. He has records. That means he knows too much and whoever iced him now knows all of that too. This is a major threat potential to the Marvel Universe, which is why the strange bedfellows of Dr. Strange and the Punisher are on the case. Funny, considering a few months ago in Thunderbolts, Punisher was sent on a mission to kill Strange.
While the details of Uatu's murder are still yet to be explained, one can't help but compare it to the situation in Earth X from 15 years ago. In that alternate future, a meaner Uatu was blinded by an unknown assailant, making him worthless at his job. The culprit turned out to be Black Bolt, who needed to cover his tracks so nobody would know that he spread the Terrigen Mist across the planet.
…Which also just happened in the last Marvel event. Interesting.
Here's a first look at Original Sin #1, which will come out early next month.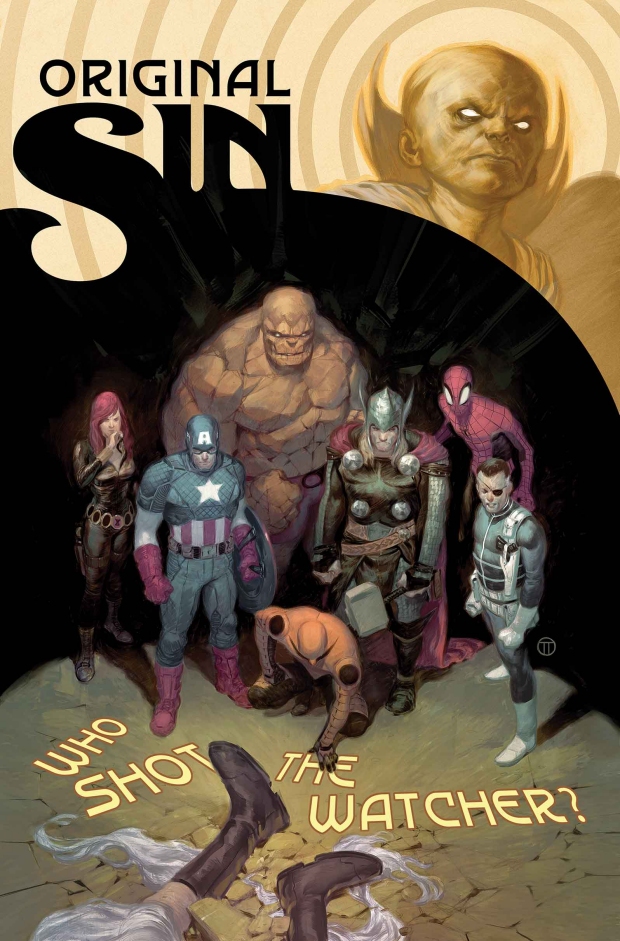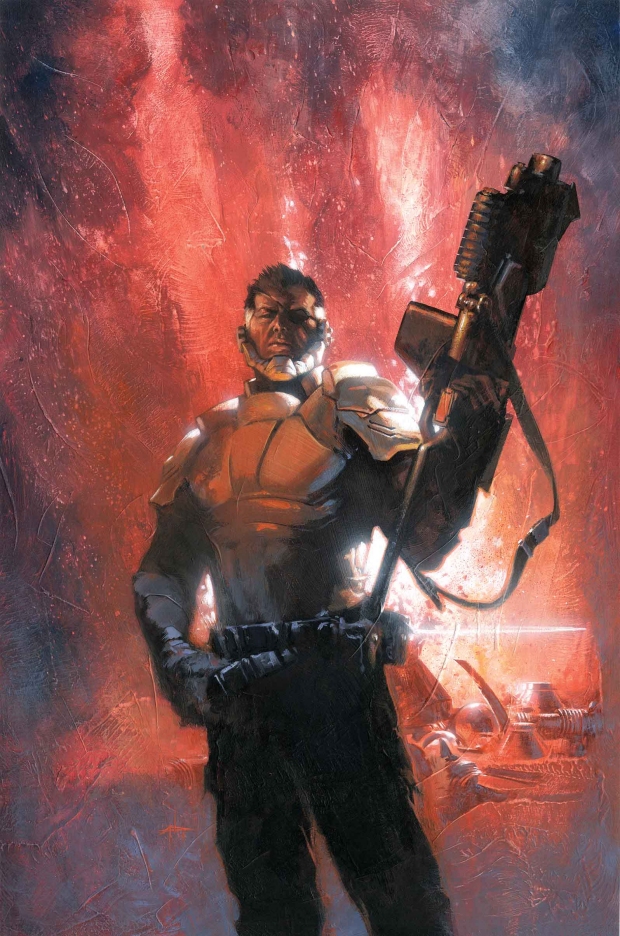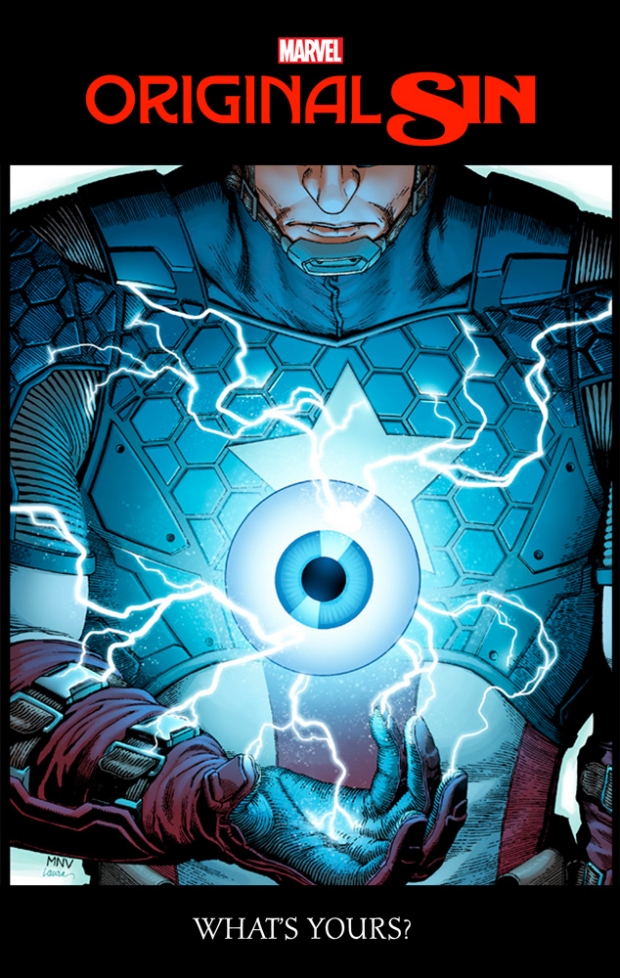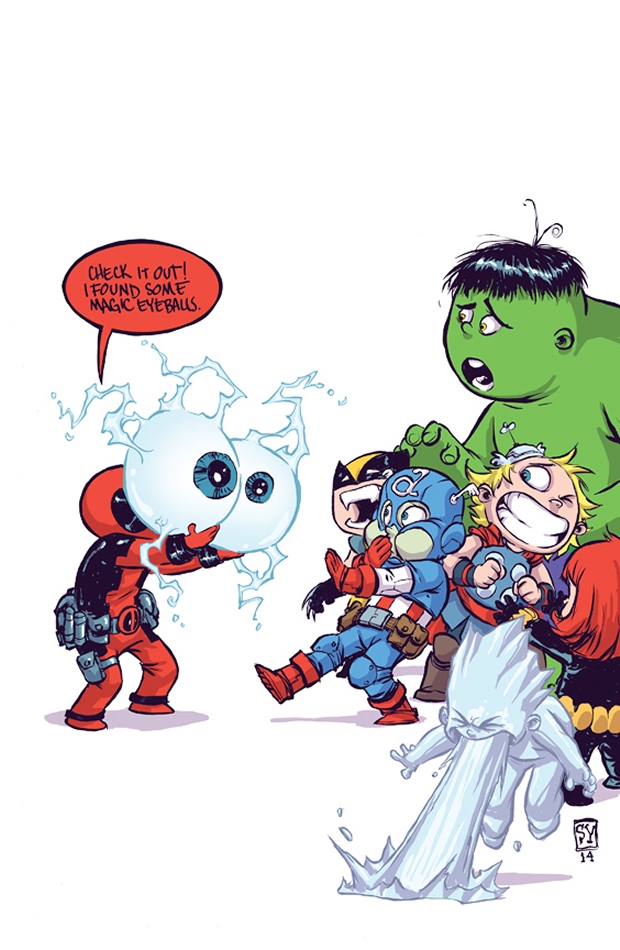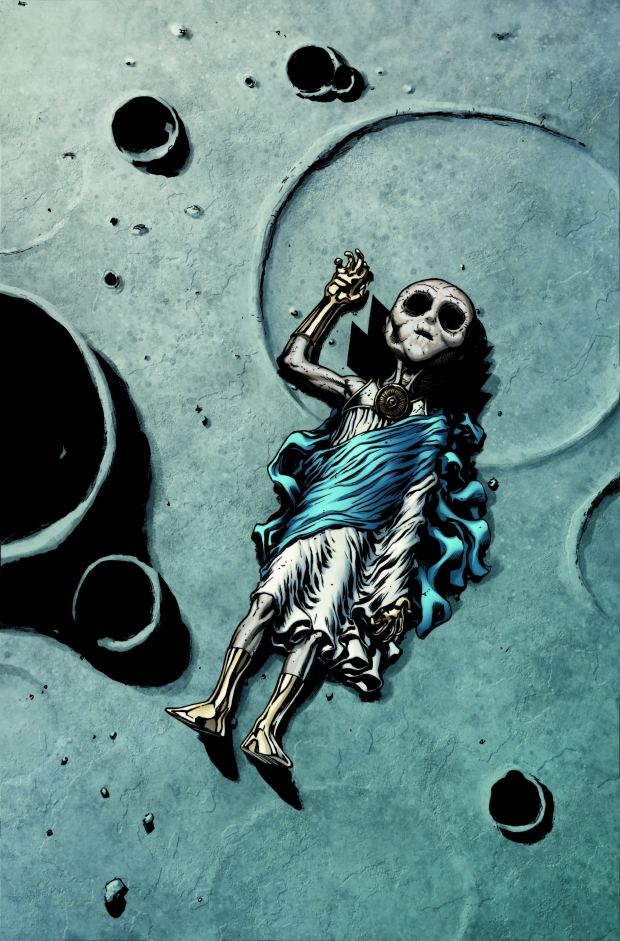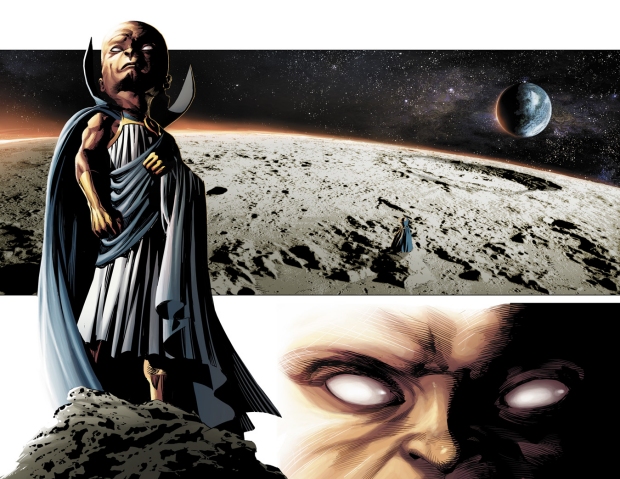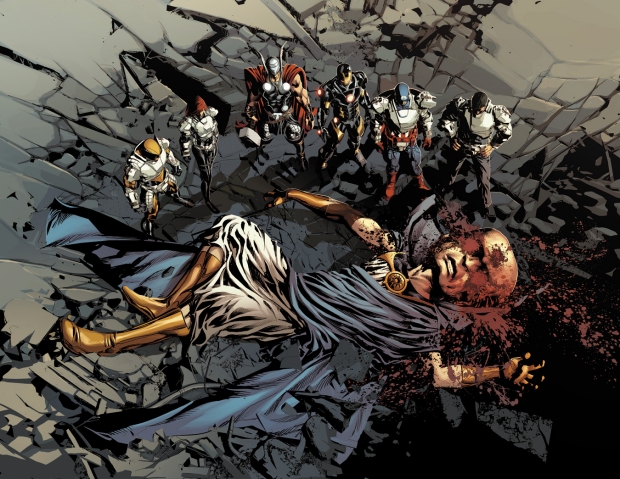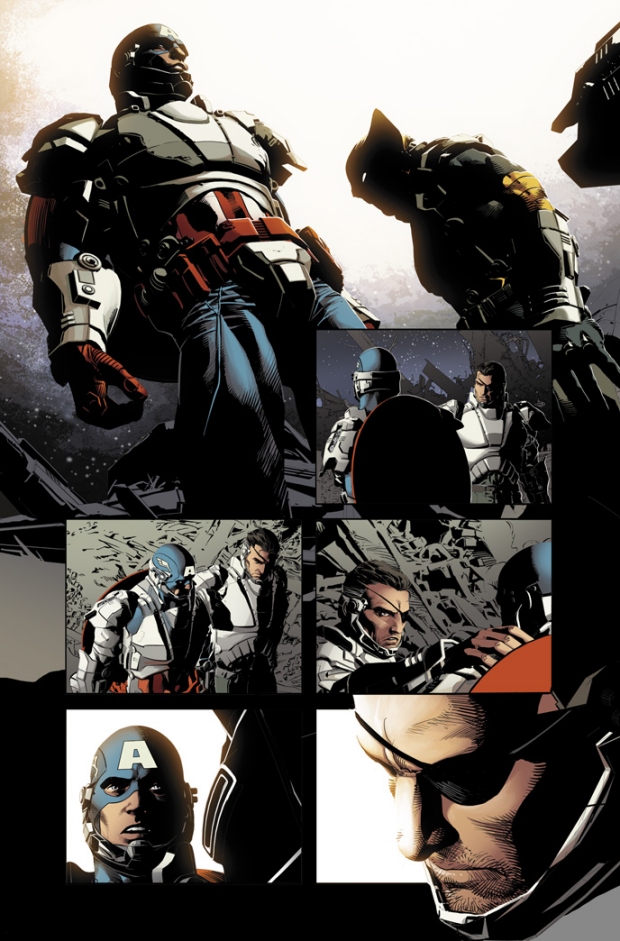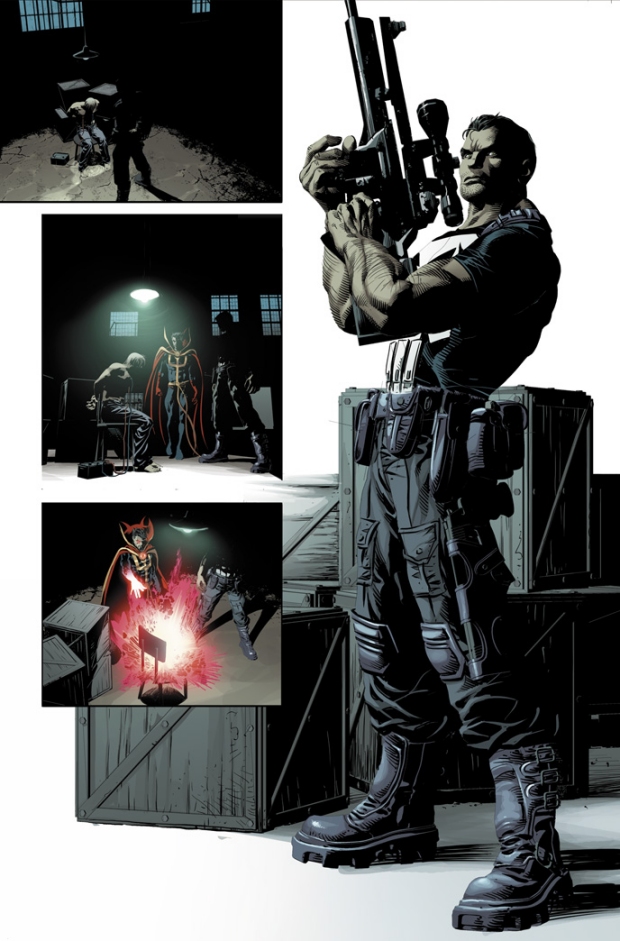 This May, the secrets come out. Today, Marvel is proud to present a fuller look at beautifully rendered interior pages from ORIGINAL SIN #1 – the 8-part blockbuster event from New York Times Bestselling writer Jason Aaron and critically acclaimed artist Mike Deodato!

On the moon, the dead body of Uatu, The Watcher is discovered. His home destroyed. Looted of its valuable alien technology. His death sends shockwaves through the superhero community. The Watcher has borne witness to every event, every skeleton and every secret history of the Marvel Universe. Secrets that are now in the possession of the killer!

The manhunt is on as the Avengers, the X-Men, Spider-Man, the Fantastic Four and everyone in between desperately search for the Watcher's killer – but with the killer in possession of all the skeletons in their closets, are they ready for their sins to be revealed?                                                                                                                                                                          

As they unearth the motive behind The Watcher's murder, they'll uncover a shocking truth that will shake the Marvel Universe to its core. What did The Watcher see that made him a target? And it's only a matter of time before more bodies start popping up!

"This is a murder mystery on a Marvel Universe scale, so the suspects and motivations span all of space and time, and even the nature of existence itself!" says Executive Editor Tom Brevoort. "And in fact, there are two possibilities: first, that the Watcher was killed because of some grudge or slight, or to gain possession of his secrets. Or, more menacingly, the Watcher was killed in order to prevent him from seeing what comes next—to prevent him from interceding as he has so many times before! Neither is a particularly comforting thought to the heroes of the Marvel Universe! Nor is the notion that the being who could murder a nigh-omnipotent, eternal figure such as the Watcher must rank among the most dangerous and powerful individuals in existence!"

You thought you knew the whole story? You we're wrong! The next stage of the Marvel Universe begins in May's blockbuster ORIGINAL SIN #1!                                                                                                                                                  

Everybody has one. This is Marvel's ORIGINAL SIN!

Every issue of ORIGINAL SIN includes a code for a free digital copy of that same comic on the Marvel Comics app for iOS and Android devices. Additionally, each issue of ORIGINAL SIN features special augmented reality content available exclusive through the Marvel AR app – including cover recaps, behind the scenes features and more that add value to your reading experience at no additional cost.

ORIGINAL SIN #1 (MAR140615)

Written by JASON AARON

Art by MIKE DEODATOCover by JULIAN TOTINO TEDESCO           

Variant Cover by GABRIELLE DELL'OTTO (MAR140616)

Variant Cover by ED MCGUINNESS (MAR140618)

Young Variant by SKOTTIE YOUNG (MAR140619)

Teaser Variant by STEVE MCNIVEN (MAR140621)

Blank Cover Also Available!

FOC – 04/07/14, On-Sale 05/07/14                   
Like us on Facebook and follow us on Twitter for all news updates related to the world of geek. And Google+, if that's your thing!