News
What To Expect From Comic Book Men Season 7
We sit down with the Comic Book Men ahead of their NYCC panel.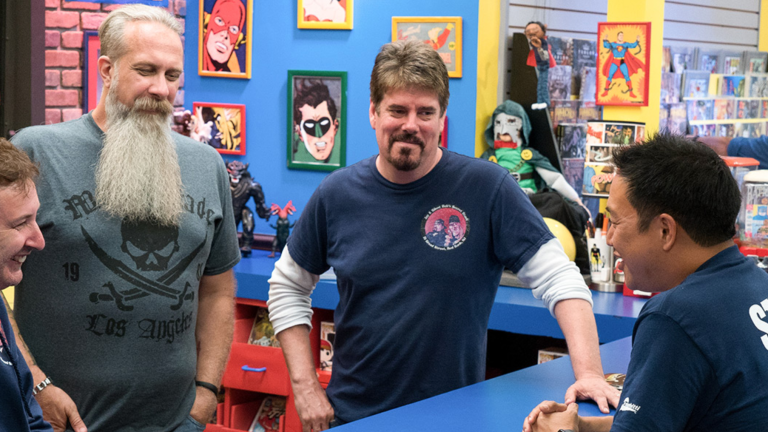 New York Comic Con! "The super bowl of all cons!" exclaims Ming Chen of AMC's Comic Book Men. It may seem like San Diego Comic-Con is bigger, but Chen says that San Diego is "more of a spectacle and less about conning."
We were lucky enough to kick off our four-day extravaganza of NYCC with a sit-down interview with the Comic Book Men. Three out of the five joined Den of Geek; Ming Chen, Michael Zapcic, and Bryan Johnson.
Between interviews, autographs, selfies, and panels, do the guys get to enjoy comic con at all?
"For the most part we're stuck doing interviews, we've got a panel at the Hammerstein Ballroom, couple of roundtables and then they cut us loose but by then it's 4 o'clock and the floor kind of starts to smell," Zapcic explains. Chen on the other hand goes to the booths, walks the floors, and tries to "get all the free stuff."
Watch the full interview here!
Comic Book Men Season 7 is about to air Sunday, October 22nd after the premiere of The Walking Dead. Chen has a new podcast called The Coral Sword, and Zapcic hosts a weekly podcast called "I Sell Comics" with Chen on Kevin Smith's radio network S.I.R.: SModcast Internet Radio. Johnson hosts the popular award-winning podcast Tell 'Em Steve-Dave, with Walt Flanagan and Brian Quinn of TRU TV's Impractical Jokers.
Yet, they all (minus Kevin Smith and Johnson) still work at Jay and Silent Bob's Secret Stash. "Do people come into the shop looking for you?" I ask. "Yea, absolutely" Zapcic nods. "People come in wanting a sketch from Walt or a picture with Bryan, Ming… just to get a picture with the Comic Book Men. They're always surprised to see either Walt or I at the counter. They're like "Oh my god! You guys work here!" and we're like… well yeah, we've got bills we got to pay."
Before they had to be whisked away to their next round of interviews, they told us what they're personally geeking out about nowadays. For Johnson, "Drug Cartels," Zapcic, "Rick and Morty," and Chen, "Star Wars and Parks and Recreation." With that their handlers gave me the wrap up sign and they were off. You can catch Comic Book Men on AMC on October 22nd.
Follow Bevin!