Features
What now for the Star Wars comics?
As the news that Disney's acquired Lucasfilm, James looks at what it all means for the future of Star Wars comics...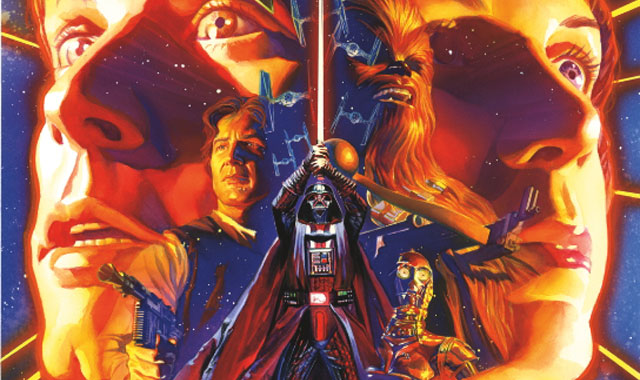 Disney's purchase of Lucasfilm and the subsequent announcement of new Star Wars movies to come has, without hyperbole, rocked the world of pop culture in multiple ways. Perhaps most unexpectedly, this is a move that could dramatically alter the face of the US comics industry. How? Keep reading. First we have to go back in time a little – not quite long, long ago, and certainly not very far away.
Because this isn't the first time Disney has rocked the world of comics. Three years ago, they bought Marvel for $4 billion dollars, gaining access to its library of characters and material. The effects were far from immediate nor particularly dramatic in the short term, but it's safe to say that without Disney's licensing and marketing machines to rely on, the Avengers brand and characters wouldn't be the household names – or guaranteed money spinners – that they are today. Indeed, it may even have been the success of the Marvel acquisition that convinced Disney to make a move on Lucasfilm.
But why does this matter to comics readers when Lucasfilm doesn't make comics? Well, it may not do so directly, but it does license them – to Dark Horse, the fifth biggest publisher in the industry following Marvel, DC, Image and IDW. For over 20 years, the company has consistently produced Star Wars tie-ins, from faithful movie adaptations to more offbeat material such as Tag And Bink Are Dead. They even recently announced that critically acclaimed writer Brian Wood would be writing a new ongoing series set in the Star Wars universe launching in January next year – titled simply Star Wars.
But here's the rub: As you're aware, Disney already owns one of the two biggest publishers of comics in the US market. So why would they continue to license material to one of the smaller players when they've got the talent to do it in-house?
There is precedent for this logic. In 2009, when Disney bought Marvel, the licenses for several properties (including The Muppets and various Pixar entities) resided with BOOM! Studios. By 2011, the material has been transitioned to Marvel, who republished it alongside previously-produced but unpublished issues.
The situation isn't identical – after all, Dark Horse has 20 years of experience publishing Star Wars comics that Disney may not be eager to throw away – but it seems as though the writing is on the wall for that particular deal. It could have far-reaching effects for the company, because it isn't just monthly sales that will be affected, but backlist sales too. It's not unreasonable to assume that bookstore sales of Star Wars tie-ins provide the company with a guaranteed income that will presumably dry up if the license is yanked.
Dark Horse's President, Mike Richardson, has been quick to react, saying that Star Wars "will be with [Dark Horse] for the near future." Which, let's face it, is hardly a bullet-proof reassurance. Dark Horse doesn't rely on Star Wars, to survive – as well as its own line of critically acclaimed genre material, it also has the lucrative and prestigious Buffy license – but it isn't going to help the company.
It's important to remember that any change will probably be a gradual one. If this is anything like the Marvel acquisition, then contracts that are in place are going to be honoured to their conclusion rather than forfeited. Dark Horse presumably has a contingency in place ready for this eventuality, and plenty of time to start preparing for the departure of the license if that is indeed where this is going.
At this point, though, renewal seems unlikely, not least because Star Wars comics aren't exactly burning up the charts at Dark Horse. If they were strong sellers, Disney might stay hands-off – but the most recent titles are selling around 20,000 copies to the direct market – numbers which would see them cancelled as unprofitable at Marvel.
If Marvel does pick up the license, we'll likely see fewer Star Wars comics, and certainly less niche material. It may even mean the end of the current Extended Universe line, with books tying into Disney's new movie continuity instead. At the very least, Disney will be looking for Marvel to replicate the success of their Stephen King/Dark Tower tie-ins, which were catapulted to the top of the charts and sold well in bookstores.
The prospects, then, seem good for Marvel, but bad for Dark Horse and fans of Dark Horse's Star Wars comics. And, let's face it, a weaker Dark Horse isn't going to benefit the comics industry in any way either (although if that means they put their books on Comixology, we can be grateful of that…). The comics industry is currently in a precarious place, and further increasing Marvel's powers at the expense of Dark Horse isn't going to help things.
Still, there's one other thing we can learn from Disney's acquisition of Marvel, and that's this: Star Wars is going to be fine at Disney. Three years ago there were a lot of fears about the potential Disney-fication of Marvel, none of which were realised. The actual result is that Marvel's characters are stronger and more well-known than ever – so if it's at all possible, Disney's purchase of Star Wars might just make it even more popular. And let's face it, if you're a Star Wars fan, that can only be good news.
Follow our Twitter feed for faster news and bad jokes right here. And be our Facebook chum here.