News
Watchmen prequels officially announced
Seven new miniseries under the Before Watchmen umbrella this summer! We've got preview images and Alan Moore's reaction...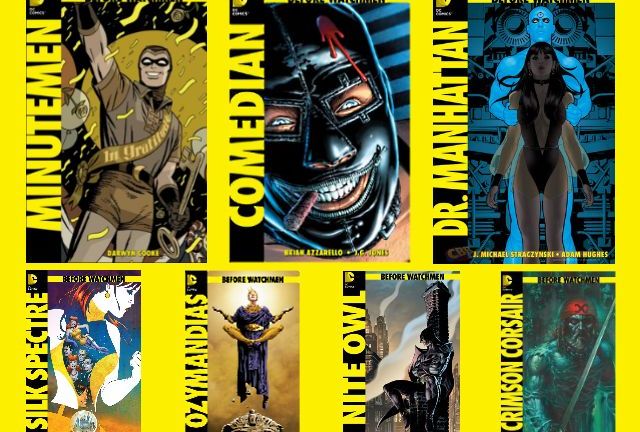 As day breaks over in the US so does DC Comics' long-awaited and long-dreaded official announcement of a Watchmen follow-up scheduled for this summer. Only it's not just one series – feast your eyes on the seven covers that you thought would never happen.
The Before Watchmen project will be overseen by the original series' editor Len Wein, co-creator of not-so-traditional superheroes Wolverine and Swamp Thing. Wein, a seasoned veteran of comics from the Bronze Age, noted that Dave Gibbons was invited to contribute but declined the offer. DC Co-publishers Dan DiDio and Jim Lee were open about the company's use of writer Alan Moore and artist Gibbons' characters.
"It's our responsibility as publishers to find new ways to keep all of our characters relevant," stated DiDio and Lee. "Collaborative storytelling is what keeps these fictional universes current and relevant… After 25 years, the Watchmen are classic characters whose time has come for new stories to be told. We sought out the best writers and artists in the industry to build on the complex mythology of the original."
The creative teams lined up for Before Watchmen's seven miniseries are a comics reader's dream – not counting the absence of the legendary Moore and Gibbons. On inspection each book seems to have a good fit of talent assigned to it – our call of DC: New Frontier's Darwyn Cooke for The Minutemen was on the ball.
Cooke's partner for Silk Spectre, Amanda Conner, is a great choice too. Babylon 5-creator J. Michael Straczynski will take the lead for the sci-fi weirdness of Dr. Manhattan and Batman-artist Andy Kubert is pencilling Straczynski's Nite Owl with his father Joe Kubert. 100 Bullets' Brian Azzarello will be writing both Rorschach and The Comedian, with art by Lee Bermerjo and J.G. Jones, respectively. Wein will tackle Ozymandias together with Jae Lee, the dark and broody penciller of Marvel's Inhumans and The Dark Tower. 
Each issue will receive a two-page back-up story from Wein and original Watchmen colourist John Higgins, which features the pirate tales of the Crimson Corsair. Anyone familiar with Watchmen outside of the movie will remember that pirates replaced superheroes in the comics of Moore's alternate 1980s.
In a move designed to generate the widest interest possible, DC went public with the news through major media channels including USA Today, LA Times, The New York Times, Entertainment Weekly, The Hollywood Reporter, Wired, Comic Book Resources and Associated Press.
It's not too much of stretch to suggest that Before Watchmen is targeted squarely at the non-comics reading general public aware of the 2009 movie, rather than existing comics fans. With the company-wide New 52 relaunch of all DC's comics last September and January's new apple-sticker logo, DC has declared an obvious emphasis on digital comics in their business strategy.
Those of you familiar with Watchmen's fervent fanbase won't be surprised to find out that Cooke turned DC down when he was first approached about the project. "I said no out of hand because I couldn't think of a story that would measure up to the original ," commented Cooke. "But what happened is, months after I said no, the story elements all just came into my head one day; it was so exciting to me that, at that exact moment, I started seriously thinking about doing the book ".
As DC proudly kit out their homepage with Before Watchmen images and a snazzy yellow version of their new logo, what did comics' godfather Alan Moore have to say about the creative gazumping? 
"I tend to take this latest development as a kind of eager confirmation that they are still apparently dependent on ideas that I had 25 years ago."
Ecstatic then, as you'd expect. As we mentioned before Christmas, Moore's Watchmen, League of Extraordinary Gentlemen and V for Vendetta dominate DC's biggest selling trade paperback collections. It already looks like today's announcement will make 2012 just as high profile a year for DC as 2011.
What's your reaction? Fan of the movie, the comics or both, we'd like to know.
Links to interviews with the writers and artists of each series are over at DC's The Source blog.
The Source and io9