News
Watch The First Amazing Spider-Man 2 Trailer Here
The first trailer for Amazing Spider-Man 2 is here, and there's a lot more happening than just Electro and the Rhino, that's for sure!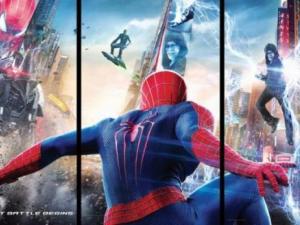 Sony's Spider-Man franchise looks like it's going to expand in a hurry if the first trailer for Amazing Spider-Man 2 is anything to go by! While we all know that Jamie Foxx as Electro is billed as the big main villain for the film, we sure do get good looks at an armored up Rhino AND Harry Osborn's Green Goblin in this. Oh yeah, and hints of plenty of other Oscorp sponsored baddies, as well.
The trailer also hints at the continuation of the mysteries of Peter's parents that was so central to the first film…and it looks like Richard Parker may have had a hand in the creation of Oscorp's less charitable works. We'll see how this all plays out on May 2nd when Amazing Spider-Man 2 hits theaters!