Features
Warner Bros. may Finally be Ready to Lean on the DC Universe
Edge of Tomorrow has underperformed at the box office, and Jupiter Ascending has been bumped. Is the DC Universe stepping up?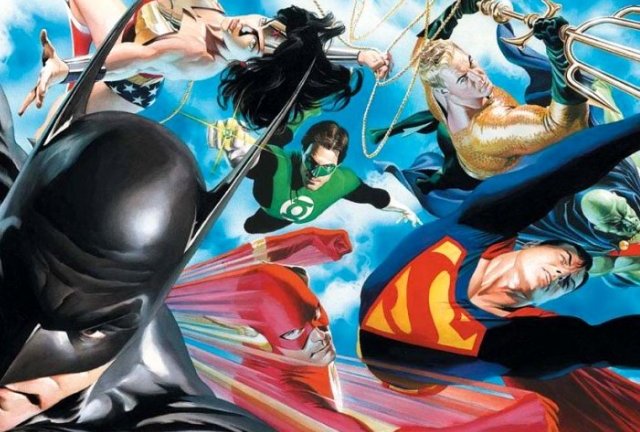 Warner Bros. has been trying to make a go of it over the summer with big budget, standalone, ambitious science fiction films. But Edge of Tomorrow didn't make the kind of money that it was expected to this past weekend (opening a staggering $20 million below The Fault in Our Stars), and the Wachowski's Jupiter Ascending was pushed back from its slated July release date to February of 2015. With no single franchise to hang their hat on now that Harry Potter is long gone and The Hobbit isn't far behind, is it finally the Justice League movie and the other DC Comics superheroes to the rescue?
"It's not so easy post-Harry Potter," an observer told The Hollywood Reporter, opining that the studio is "facing a strategic crisis."
If a report on the recently launched (how recently? as in…today) NikkiFinke.com is to be believed, Warner Bros. is looking to remedy this with a flurry of superhero movies that rival Marvel's. Supposedly, this plan will be revealed at this year's San Diego Comic Con.
May 2016 – Batman v Superman
July 2016 – Shazam
December 2016 – Sandman
May 2017 – Justice League
July 2017 – Wonder Woman
December 2017 – Flash and Green Lantern team-up
May 2018 – Man Of Steel 2
Ms. Finke's source indicates that the delays on Batman v. Superman: Dawn of Justice had less to do with any trouble with the production and more to do with lining up all the pieces necessary for this film to effectively give WB's DC franchise a running start. 
While there's no doubt that Nikki Finke is well-connected, there are a number of problems with the schedule laid out here. For starters, the timeline itself seems extraordinarily ambitious. Outside of the odd curveball (the Flash/Green Lantern team-up, the presumed dead Shazam movie), every name on this list is plausible enough, but it's that release schedule that would seem to be a potential stumbling block. 
Warner Bros. has studiously avoided trying to duplicate the "Marvel model," instead preferring to release a superhero movie every two years or so. Since 2005, they've only managed Christopher Nolan's wildly successful Dark Knight trilogy, two relative duds in Superman Returns and Green Lantern, and last year's Man of Steel. While Man of Steel did well enough, it certainly didn't do the Avengers-like numbers that Warner Bros. may have been expecting.
[related article: 7 Potential Stories for the Justice League movie]
The red flags on this timeline being with the presence on that calendar of a Shazam movie in July of 2016. Shazam had been in fairly active development at one point with Peter Segal set to direct. However, it sounded like Shazam was dead when he told ComingSoon in December 2013 that "I think it's difficult for DC to figure out how to launch this character in the wake of Superman's resurgence…I don't know if it's going to see the light of day anytime soon." Segal had been working with Geoff Johns on the project, who recently revamped the concept via the Justice League comic series as a more potentially movie-friendly character.
However, Shazam did seem to show signs of life when the Justice League movie was officially announced and Warner Bros.' president of worldwide production, Greg Silverman, spoke to the Wall Street Journal in April. That article referred to titles that included Shazam, 100 Bullets, and Fables. It's quite possible that Shazam could be the superhero that Dwayne "The Rock" Johnson is planning to play, however.
Sandman is happening, with Joseph Gordon-Levitt on board as producer, and quite possibly as director and star. This project has little to do with a "DC Cinematic Universe" however. Still, this is the first rumblings we've heard of a release window for it, so it's still an interesting piece of info.
The idea that Justice League could hit a May 2017 release date is plausible enough, especially given the buzz that Batman v. Superman: Dawn of Justice and the Justice League movie will film back-to-back. The idea that Warner Bros., who have been notoriously shy about a Wonder Woman movie at all, will then release a Wonder Woman solo film two months after a Justice League movie seems a little unrealistic. Even with Batman v. Superman shooting back to back, this would also require Gal Gadot to shoot a Wonder Woman movie in the same span of time. That's a fairly punishing schedule, and quite a bit to hang on the relatively untried actress.
The Flash/Green Lantern team-up film for Christmas of 2017 seems at least as unlikely as Shazam, if only because Warner has historically been nervous about having competing live-action versions of their characters in other media, and The Flash TV series is just months away from premiering. The presence of Lois & Clark on broadcast television was one of the many factors that helped keep Superman Lives (later, Superman Returns) in development hell for so long. That same reticence kept Smallville from using Batman in any form while they were re-establishing the character with the Nolan films. Given the poor response that the last Green Lantern film got, Warner Bros. may want to see how audiences respond to a new version of the character before pressing on with another film. But if this one is real, they'd better call it The Brave and the Bold.
And then there's Man of Steel 2 in May 2018, which is the first time we've heard any Man of Steel sequel referred to in such a fashion since the big Batman v. Superman reveal at last year's SDCC. But speaking of that big reveal, let's not forget that in the hours leading up to it, otherwise reliable sources dropped a "scoop" involving a Batman-less Man of Steel 2 for 2015 and a Flash movie for 2016. How did that end up turning out?
Notably absent from this list is any hint of a standalone Batman film, as well as Guillermo del Toro's long discussed Justice League Dark movie (sometimes known as Dark Universe). As recently as November of 2013, Mr. del Toro sounded confident that not only was the movie happening, but that it was part of the larger tapestry. One quote in particular, though, did seem to indicate that despite Warner's apparent lack of forward momentum, they were "making plans for the entire DC Universe…all the superheroes, all the mythologies" and that his film "would have to fit in that plan."
[related article: Batman v. Superman: Everything we Know]
Assuming any of this is true, there's still a key piece of the puzzle missing for Warner Bros. Marvel have been building their in-house superhero infrastructure under the careful supervision of Kevin Feige for the last eight years. Warner Bros. has no real equivalent of Feige in place to guide their superhero universe. But there are several candidates who might be able to make such an ambitious plan work. 
One thing that could be working in Warner Bros. favor is their recent hire of Drew Crevello, the man who helped rescue the X-Men franchise with X-Men: First Class. Crevello is now Warner Bros. senior VP of production, and could potentially be the man to give this shared universe the kick it has seemingly lacked for the last few years.
There's also the continued presence of David Goyer at the studio, who signed a three year first-look deal for his own projects. This could have been an incentive to keep him in the fold to write, produce, and potentially direct more DC Comics related features. 
We shouldn't leave out Geoff Johns, the celebrated comic book writer who is serving as executive producer on both Batman v. Superman: Dawn of Justice and The Flash TV series. Johns is generally beloved by fans, and has spent much of his career streamlining DC Comics continuity and characters into versions more easily adaptable into other media. 
And there's still Zack Snyder. The director's Man of Steel is ground zero for the newly minted DC Cinematic Universe, and before a frame of Batman v. Superman: Dawn of Justice was shot, he was already confirmed as the director of the Justice League movie. That's quite a handful, but it's clear that Snyder's sensibilities will run deep in any potential expansion of Warner's superhero universe.
"I have done really well in my career betting on Zack Snyder," Greg Silverman told The Hollywood Reporter. "If I can bet on him once or twice a year, I'd love it." It's quite possible that Mr. Silverman may get his wish.