News
War of the Realms: Massive Thor Story Coming From Marvel
Jason Aaron's six-year Thor run climaxes in War of the Realms from Marvel.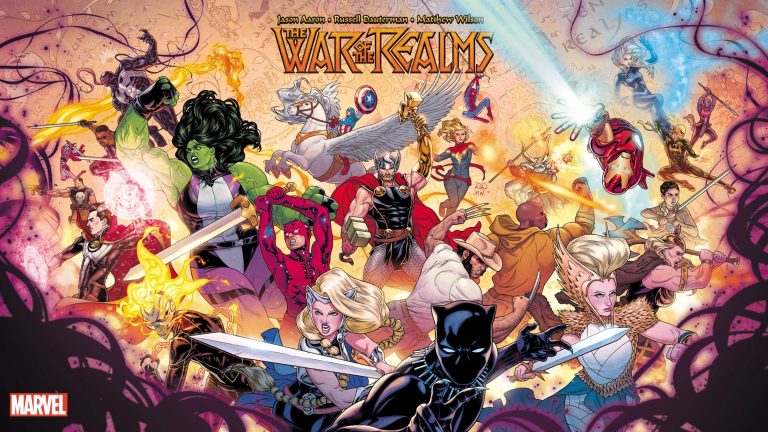 Jason Aaron's first issue of Thor: God of Thunder came out almost six years ago to the day, and since that issue, his entire Thor epic has been leading to this: a newly announced miniseries from Marvel, The War of the Realms.
"I have been building towards War of the Realms for the entire duration of my Thor run. So we're talking six years and 80-something issues and counting. This is a war that covers the entire globe and involves the biggest heroes of the Marvel Universe," said Aaron in a statment from Marvel.
The series gets the creative team of The Mighty Thor back together – Aaron writing, the amazing Russel Dauterman drawing, and perennially jobbed Eisner nominee Matt Wilson coloring.
As you can see from the preview art, there are some not-surprising characters involved (Odin and All-Mother Freyja; the Avengers team also being written by Aaron) and some surprises (Cap riding a Valkyrie's horse; the Marvel Knights; what at first glance looks like a Uni-power enhanced Daredevil but upon closer inspection appears to be a Daredevil/Heimdall hybrid; Jane Foster with a sword).
Aaron's run on Thor, through its various incarnations and crossovers, has been nothing short of incredible. The best runs on the Asgardian always examine what it means to be a god and build out the world of Asgard. It easily ranks as one of the greatest runs on the character ever, up there with Walt Simonson, Jack Kirby, or Michael Avon Oeming's time with the character. The trick with his story has been to turn Odinson into Peter Parker – not by making him quippy or cursed with the Parker luck, but by making him a point of view character. Aaron's Thor is wracked with self-doubt but inspired to do better (mostly by the women in his life but shhh don't tell anybody or Twitter will get mad). This hasn't typically been the case, and it's a huge part of the success of this run.
Of course, he has also been blessed with artists who can match the grandeur of the tales – Esad Ribic, Mike Del Mundo, Christian Ward, and of course Dauterman. This series should be a blast, and this omnibus is going to look great on my shelf.