News
Trinity War, Forever Evil Take Center Stage at DC All Access
There's a TON of information from DC's All Access...So, uhh, try not to get overwhelmed...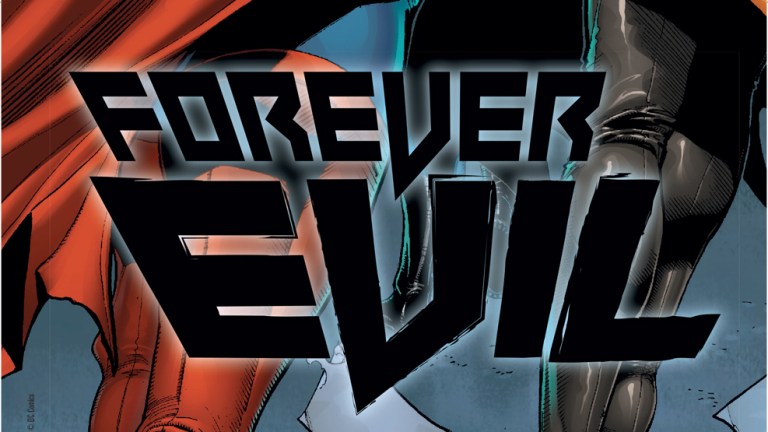 DC Kicked off their San Diego panel schedule with DC All Access, which featured some of their top talent talking about current goings on in the DC Universe. However, it was Trinity War and its follow up, Forever Evil, which revealed the juiciest bits. They kicked things off with Geoff Johns' Trinity War video, before Johns and Jeff Lemire got down to business about the Justice League crossover, and the upcoming Forever Evil event.
Johns and Lemire are keeping most of the specifics of the Trinity War follow-up, Forever evil, under wraps for now, but they did show off a few pages of preview art from Forever Evil #1, with art by David Finch. It's worth noting that these pages prominently featured Nightwing, and given the recent teasers DC released about the major role that Dick Grayson will play (and the rumors that surround it), it seems like he'll be front and center from the start. Johns did reveal that the main villain of Forever Evil is Lex Luthor.
In a brief break from the Forever Evil and Trinity War talk, the conversation turned towards current Aquaman story, "Death of a King." Johns mentioned that people have been asking him all week "if Aquaman is going to fight Sharknado." Johns answered quite earnestly, "He's not going to…but he would win."
Flash writer, Brian Buccellato, showed up wearing a custom made Flash mask, and even revealed a Flash tattoo. Buccellato is writing the Forever Evil tie-in series, Rogues' Rebellion, which deals with the Flash's villains. "The rogues are ummmm…they're going to rebel against something." Said Buccellato. "Everyone knows the Rgues aren't a typical supervillain team. They're not into world domination, they're just about stealing and the job, and they want to drink beer at the end of the day."
Geoff Johns went on to clarify that "Something happens in Forever Evil where some villains say, "this world is ours now" but not all the rest of the villains are alright with that." Rogues' Rebellion is a five issue series and Johns compares it to the movie The Warriors. "They come out and play," said Buccellato.
Buccellato may have revealed a spoiler about the Reverse Flash story currently running through the ongoing Flash title, when an image was shown with Doctor Elias looking into a mirror, and seeing the Reverse Flash as his reflection. "It's only a spoiler if we explain what they're seeing," joked DC's VP of sales (please check this title for me) Bob Wayne.
Jeff Lemire teased the upcoming Green Arrow crossover with Batman: Zero Year, which will detail Oliver Queen's first meeting with Batman. "We'll get to see a crude, early version of Green Arrow," he promised. He also described his Count Vertigo special as part of DC's Villains Month event as " the darkest thing I've ever written. It kind of creeped me out, actually."
Lemire also revealed that Raphael Albuquerque (American Vampire) is taking over as the new artist on Animal Man. "He's gonna bring a whole new tone to the book," he promised. 
Preview pages were also revealed for Trillium, Lemire's 8 issue "sci-fi love story" for Vertigo, which he is writing, drawing and coloring! The preview pages look really gorgeous, and each issue is a flipbook, telling the same story from different points in time. The "flipbook" format won't be replicated when the book is released in collected form, so monthly readers will have a different reading experience than those who wait for the trades.
Fables artist Mark Buckingham came on to briefly discuss the Fables/Unwritten crossover which kicks off with the recently released Unwritten #50. It's "not an "event," he reassured fans. "Our two worlds were really compatible because we're both dealing with mthi fiction, folklore, and literary creations."
Gail Simone talked a bit about the current "Batgirl: Wanted" story currently running through the Batgirl title.  "Coming out of everything that happened with James Jr, everyone is at the edge of what they can take. Barbara doesn't know if she can be Batgirl anymore because of the toll it's taking on her father, and Gordon has had it with Batgirl because of the murder issue."
Adam Hughes, who was the artist on Before Watchmen: Dr. Manhattan was brought out to talk about the recently released hardcover. "Dr. Manhattan is easy to draw…he doesn't have hair or pants. But it was extremely intimidating, and I aged "president years' working on that book." Hughes' wraparound cover for the Fables Encyclopedia was unveiled. "It was just awesome drawing pants again," joked Hughes.
Derek Fridolfs, the writer of DC's All Ages digital first offering, Lil' Gotham, revealed that this Sunday's chapter is a San Diego Comic Con tie-in! "The Gotham Comic Con rivals the San Diego Comic Con in size…and Batman finds difficulty getting tickets, just like everyone else."
Tom Taylor, the writer of the popular Injustice: Gods Among Us series took the stage (and paused to take a photo of Brian Buccellato in his Flash mask) and unveiled the cover for Injustice: Gods Among Us Annual #1, featuring Lobo and Harley Quinn. "Those two are going to mix in ways you never would have expected," he promised.
A few other little bits of info came to light during the Q&A session that ended the panel. Geoff Johns promised that we'd learn the names of all of the new Shazam family members soon enough.
A fan asked if there were plans for a New 52 Doom Patrol book, but Bob Wayne immediately brushed him off and gave him a Superman hat as a consolation prize. That sure sounds like a yes! Another fan asked about the possibility of Jeff Lemire drawing an issue of Animal Man, which he wasn't allowed to answer…this also sounds like a yes!
When asked about the chance of bringing Black Canary into Green Arrow, Lemire was hesitant, stating that keeping them apart leaves more story possibilities open. "Once I put the two of them together, that's it, they're together." So don't expect a Green Arrow/Black Canary reunion any time soon.
Tom Taylor, who is taking over Earth 2 once James Robinson departs, was asked about his approach. "James has established something enormous, and of course we're going to be following that," he said. "We are going to be focusing more on the Batman of Earth 2. We're doing both, building on what he's created and going beyond as well."
Expect more from DC in the coming days, as DC All Access was just the beginning!
Like us on Facebook and follow us on Twitter for all news updates related to the world of geek. And Google+, if that's your thing!