Features
Top 5 Marvel Comics Releases for Week of 3/06/13
Reviews of Avengers #7, Superior Spider-Man #5, Winter Soldier #16, All-New X-Men #8, and Daredevil: End of Days #6,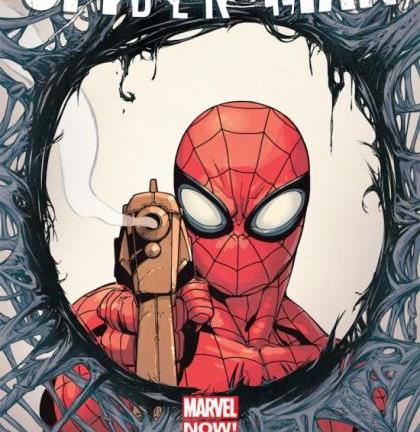 We've got some goodies from just about every corner of the Marvel Universe this week, and things are pretty intense. Two books by Brian Michael Bendis, solid offerings from heavy hitters like Dan Slott and Jonathan Hickman, and the new crew over on Winter Soldier just keeps on delivering! Here we go!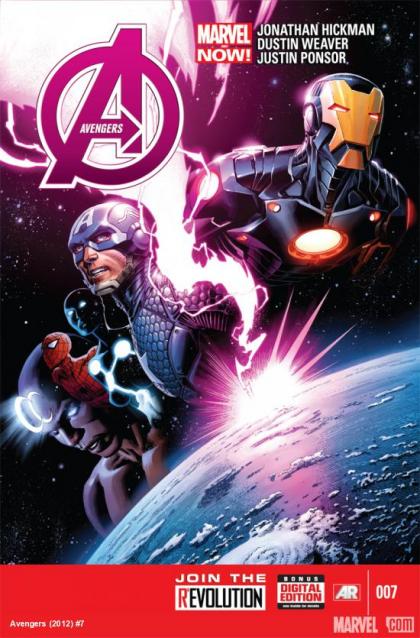 Avengers #7
"The Last White Event"
Writer: Jonathan Hickman
Artist: Dustin Weaver
Color Artist: Jason Posner
One of the most challenging aspects of writing any Avengers title is the idea that a writer can never really change the core Avengers. At the end of a story, no matter how high the stakes are, Thor, Captain America, Iron Man, etc., have to stay alive and relatively unchanged no matter how intense the challenges and conflicts thrust before them. So any writer worth his salt must create tertiary characters that will be strong enough that readers will care about them because, at end of the day, they are the ones who will take the full brunt of a storyline's fallout. Bendis did this with Jessica Drew and Luke Cage. Fans knew that Captain America was never in any danger, but what about Jessica and her baby? It gave Bendis' stories a feeling of danger and immediacy. Jonathan Hickman is working this same trick as, in recent issues, he has added Captain Universe, Smasher, Manifold, and Hyperion to the mix, and fleshed them out so audiences care about and relate to them, so when danger hits, readers will have a connection to characters that WILL be in real danger.
The last few issues, Hickman has focused on his new characters, but this issue he abandons that track to provide background on the White Event. Old school fans will remember that the White Event was the catalyst of Marvel's New Universe. A cosmic mishap that caused the birth of the super-powered beings in that world (yes, old-schoolers it was 27 years ago. YIKES!) This issue was filled with exposition explaining what the White Event is and what it will do to the Avengers' world. Despite some compelling hardcore sci-fi concepts, there is a sense of severe decompression in this is issue as the first quarter of the book is literally people just saying  "White Event" over and over again. It started out as awe-inspiring, but plummeted towards silly territory rather quickly, a rare misstep by the usually technically perfect Hickman.
In fact, the book seemed like an abject failure until Hickman began to set up the new New Universe characters. For those not in the know, the original White Event led to the origins of Nightmask, Starbrand, Justice, Psi-Force, Spitfire, and many other short lived characters. Hickman plays a brilliant hidden-in-plain-sight narrative sleight of hand where he exploits the tropes of the genre in order to shake expectations. According to the only-there-to-explain-stuff character Nightmask, the White Event targets altruistic individuals for super-powers. In this case, something went wrong and the powers go to an unexpected place.
The way Hickman pulls this off is masterful as he begins to origin build some characters with varying degrees of quirks and conflicts. But these characters serve as a distraction to the real chosen. It takes a master to pull off a shock of this magnitude, and Hickman does, hiding his real intent till the perfect moment for the reveal. This issue is all set up with the reader learning plot points through the Avengers. The success of this issue will depend on what follows, but Hickman has yet to disappoint.
Review by: Marc Buxton
Story: 6/10
Art: 6/10
Overall: 6/10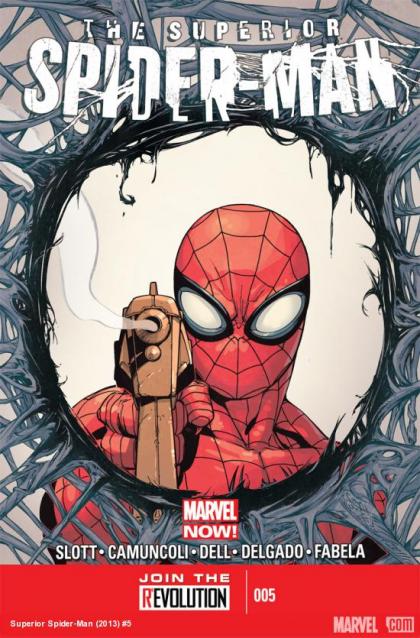 Superior Spider-Man #5
"Emotional Triggers"
Writer: Dan Slott
Penciler: Giuseppe Camuncoli
Inkers: John Dell & Giuseppe Camuncoli
Color Art: Edgar Delgado & Antonio Fabella
How the heck does Superior Spider-Man keep getting better and better? Hey, does anybody remember Knightfall/Knightquest/SayGoodKnightGracie or whatever it all was back in the nineties? That was when they replaced Bruce Wayne with Jean-Paul Valley better known as Azrael ("better known" in this case being a supremely relative term), and ol' Jean-Paul put himself in the most ridiculously nineties costume imaginable and became Batman for a year or so. It wasn't great. ANYWAY, the whole point of that was to kind of show how important Bruce Wayne was by taking him out of the equation, and kind of defining Batman by opposition. Yeah. It didn't exactly work.
So why is it working so darn well with this whole "Doctor Octopus is Spider-Man" concept? I mean, just typing that out: "Doctor Octopus is Spider-Man" just reinforces what a completely ridiculous, out of control, awful idea that is…when taken out of context. But in the hands of Dan Slott, it's actually quite brilliant. But why? This shouldn't be any good, I tell you!
I hate to say it, but it's because, deep down, whether you want to admit it or not, we're all a little tired of Peter Parker's crap. You just wanna be like, "Dude, get it together, already." Look, I know Peter's coming back, and so do you. But it's kinda nice seeing someone, even if it's a tool like Otto Octavius, using Peter's powers and abilities to their full potential. The fact that it's Ock, and you know he's gonna make some gruesome mistakes down the road (something tells me that we ain't seen nothin' yet), just has to sit there and gnaw at the back of your brain while you enjoy the ride.
And this is one of those issues where you may as well just buckle up. Aside from introducing a really interesting supporting character with Anna Maria Marconi, we also get to see Spidey do the right thing but for the wrong reasons. We also see him do the wrong thing for the right reasons, and the whole thing wraps up with Spidey getting the better of somebody really awful in a really cool way. And even though it's kind of unnerving that he's using his powers like this, you can't help but get a sense of satisfaction on that last page. The last panel in particular would be right at home in an old EC horror or crime comic from the fifties. So, while it will certainly be a feel-good moment when Peter Parker is back in control, he doesn't exactly have to hurry back, either.
Review by: Mike Cecchini
Story: 8/10
Art: 7/10
Overall: 7/10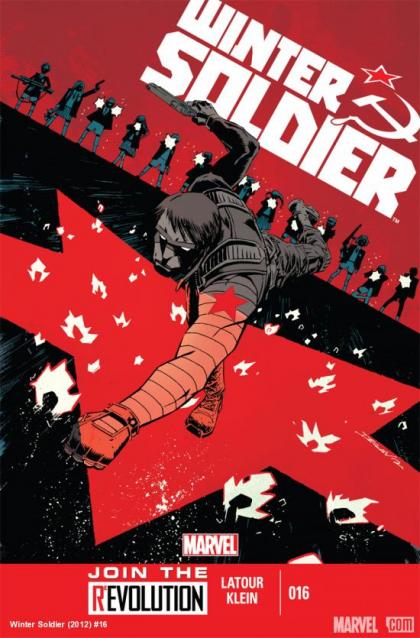 Winter Soldier #16
"Closer Than Enemies"
Writer: Jason Latour
Art & Colors: Nic Klein
Jason Latour continues to deftly fill the shoes of Ed Brubaker as he guides the Winter Soldier's attempts to, as a great man once said, wipe the red from his ledger. Proper espionage-type stories can be tough in a comic. They require a subtlety not usually found in the passion plays of the Marvel Universe. When Jim Steranko, Jack Kirby, and Jim Steranko did S.H.I.E.L.D. and Captain America, they made up for this by filling the book with over the top locales and gadgets. They knew they would have a rough time doing subtle political thrillers in the Marvel universe, so they played to their strengths and packed the books with big action and big ideas. Latour does both.
Last issue, Bucky was sent to protect rouge S.H.I.E.L.D agent Joe Robard. The only problem is that, as the Winter Soldier, Bucky killed Robarb's lover and handler, Gina Autry. Latour effectively contrasts Latour and Barnes, with the world weary and bitter Latour as a model of what Bucky could become. Robarb is a constant reminder to Bucky of his past, a past filled with lives that have been broken because of things he did while being controlled by the Russians. Bucky's past further bites him as he and Robarb must journey to an island where future Winter Soldiers are being trained by the man who forged Bucky into a killer, Agent Hammer.  This is like a journey into Bucky's own subconscious as he is forced to face his past to insure his future, a future he is not sure he wants any part of because of the loss of his relationship with Natasha Romanov. On the island, Latour stops the naval gazing and brings the action as Bucky must fight a killer with a bear trap for a jaw being manipulated by a group of children brain washed by Hammer. The whole thing has a feel of mystery and danger, as Latour has found the perfect voice to take this book in new and disturbing places.
It's clear that Latour gets Bucky. Other writers have written the character as a brash, sarcastic, almost bratty character. Many seem to think they are writing Jason Todd, not Bucky Barnes. Bucky is as altruistic and hopeful as Steve Rogers, but with a deeper air of tragedy and exhaustion. Bucky has been used and forced to become the thing he hates the most many times, but he still finds the will to fight. In this story, he still fights to save Robarb and make up for killing Autry despite his fragile state of mind.
"Closer than Enemires" explores familiar themes of manipulation, redemption, and violence, but with a unique voice. The pacing is a little off as the story doesn't progress that far, but it seems petty to complain of decompression in this case when so much happens internally with an already deep and fascinating character. Latour climaxes with quite the kicker as it is revealed that Autry was not alone when the Winter Soldier killed her, and the loose end of the past is manipulating events in the present to get back at Bucky. Good stuff from Marvel that shouldn't be overlooked!
Review by: Marc Buxton
Story: 8/10
Art: 6/10
Overall: 7/10
All-New X-Men #8
Writer: Brian Michael Bendis
Penciler: David Marquez
Bendis slows things down in the eighth issue of All-New X-Men and it was a less satisfying read than the first seven issues that I voraciously tore through. The 1960s Warren Worthington and the current Warren are having a bizarre "I'm you, you're me" session. "Old" Warren has a ton of questions for "New" Warren as they fly around when Madame Hydra and company are attacking the new X-camp. Outgunned and outnumbered, Cap and the Avengers show up unexpectedly and put the Hydra people in their place.
Captain America would like a word with Hank McCoy for a minute as the other mutants play that silly "what are they saying game" that we have all done at one time or another. While Hank is discussing the current confused state of the X-Men to Cap, a teenaged Scott Summers walks over to the iconic American and tells him that "I just wanted you to know that I plan on doing everything I can to make it right, I hope you give me the chance." It is rare to see Cap visually shocked but you know how these time travelling jaunts can go.
As the Warren of the 60's is flipping out and wanting to transport back using the Time Cube, the X-Men realize what is going on. As they try and calm Warren down, he goes completely postal before a young "Laugh-In" 60s style Jean Grey soothes him back to normal. Confused, the other X-Men look on as Jean says, "He just needs to calm down. So I helped him calm down. Everything is fine. I can read your minds. Stop worrying. I am in total control." In the background are both past and present X-Men looking on in disbelief. It is all happening again.
I very much liked this issue as it was prescient in that history repeats itself. But for the X-Men, that can be a very dangerous proposition. Bendis and David Marquez work exceptionally well on this book and I really dig the latter's pencils. As we have gotten to the heart of All-New X-Men, it continues to get trippier with its time-travel past angle and a very dangerous present.
Review by: Jarrett Kruse
Story: 8/10
Art: 8/10
Overall: 8/10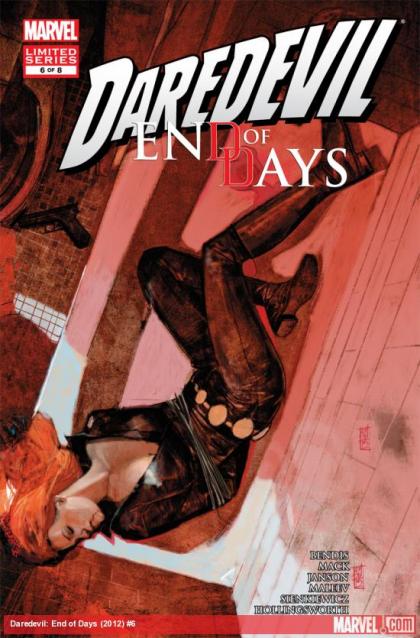 Daredevil: End of Days #6
Writers: Brian Michael Bendis & David Mack
Pencils: Klaus Janson
Finished Art: Bill Sienkiewicz
Art: David Mack & Alex Maleev
Color Art: Matt Hollingsworth
The work of Frank Miller resonates so loudly in the world of Daredevil that many writers tend to ignore anything that came before the Kingpin/Bullseye/Elektra years. The truth is, there was over twenty years of history, supporting characters, and villains before the central conflicts of Matt Murdock's life were explored by Miller, and in this issue Bendis and Mack shine the spotlight on some of these lesser known rogues.
The Owl and Killgrave, the Purple Man are two villains that Bendis has used very effectively in the past. Killgrave in particular, in the pages of Alias, went from a one note Silver Age joke to a fear inspiring sociopath. These are villains Daredevil fought long before Bullseye, and these are the villains Ben Urich must confront in order to find the truth behind Matt Murdock's violent death and about who is now wearing Daredevil's costume. Bendis and Mack use the Owl as an example of the type of evil that runs rampant now that Daredevil is gone. He exists above the law, and there is no one to take him down as he sits in his gilded tower getting rich by selling Mutant Growth Hormone. The Owl even keeps Murdock's mask, taken off Daredevil's corpse, as a reminder of how the vigilante can no longer touch him. Everywhere Ben looks, Daredevil's memory is being profaned which adds weight to Urich's journalistic mission. With these villains controlling the fate of Daredevil's memory, only Urich's story will serve as a reminder to people of how great a hero Murdock was. Through Ben, Mack and Bendis serve up a reminder of just how important true journalistic integrity is in keeping symbols and truth alive, even in a decaying landscape like the one presented in Daredevil: End of Days.
The most effective scene in the book is Urich discussing Daredevil's importance to his own son, while trying to convince his son why Daredevil's killing of Kingpin was wrong. His story about the true nature of Matt Murdock will show future generations the meaning of heroic integrity, no matter how people like the Owl try to taint Murdock's memory. It seems, unfortunately for Killgrave and the Owl, Frank Castle feels kind of the same way, and the issue's conclusion unveils the Punisher as an even bigger player in the Murdock mystery.
Daredevil: End of Days serves as a who's who for Daredevil villains, but also as a who's who for Daredevil artists as five true greats all deliver the goods. This series is certainly delivering the goods for Daredevil fans of every generation.
Review by: Marc Buxton
Story: 8/10
Art: 8/10
Overall: 8/10