Features
Top 5 Marvel Comics Releases for Week of 1/30/13
Reviews of Superior Spider-Man #2, Hawkeye #7, Journey Into Mystery #648, Avengers #4, and Punisher: War Zone #4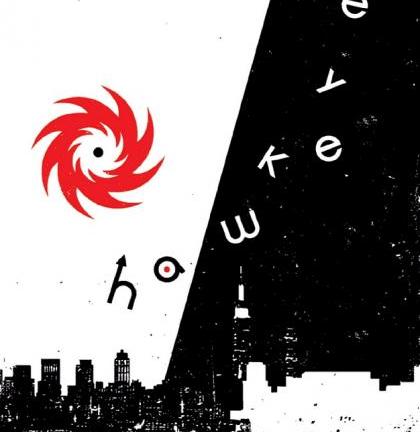 You know what the problem is with these top five lists? There simply aren't enough slots. Sure, it ain't always about the BEST books we read this week…it can be more like the books we just need to talk about. But this was an exceptional week. Between the never boring (and somehow controversial) Superior Spider-Man #2, the Hurricane Sandy-themed Hawkeye #7, the new creative team continuing to own it on Journey into Mystery #648, another solid issue of Avengers (with Andy Kubert on art) and a downright exceptional Punisher comic (yes, those actually happen), Mike and Marc got their money's worth this week.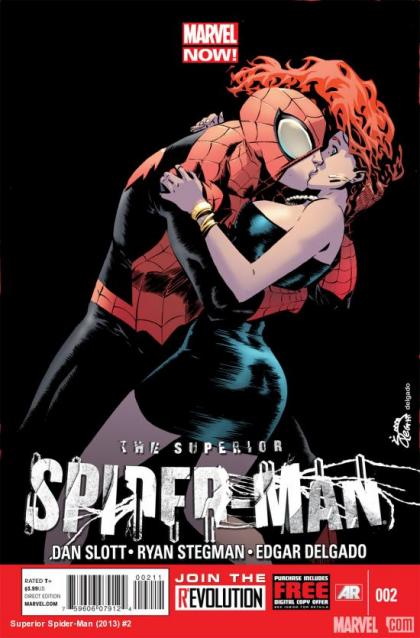 Superior Spider-Man #2
"The Peter Principle"
Writer: Dan Slott
Artist: Ryan Stegman
Color Art: Edgar Delgado
You may have read a thing or three about this comic. With Superior Spider-Man #2, it's time to let the book speak for itself instead of allowing fans to perseverate on patchwork predications. Here's the thing, leading up to this issue, probably because of the stolen smooch on the cover, fans assumed that MJ and OctoPeter would be having the sex. "Rape!" the fans cried, in message board tirades usually reserved for gun control debates and Yankees/ Red Sox fan clashes. Slott and the Spidey team were vilified all over the nerdospere as fans assumed that OctoPeter would trick MJ into bedding down with him. Visions of Sue Dibney's plight rekindled righteous anger months before the book shipped.
Well, the issue is finally here and…Ock…never…touches…her. Not once. Oh yeah, he wants to. He really, really wants to. Slott knew that this issue would have to be addressed early if he was going to pull off the body-swapping shtick, and Slott pulls it off with taste and style. Sure, there is an icky moment where Ock uses Peter's memories to satisfy his carnal urges for Mary Jane, but this is more akin to a violation of Peter than Mary Jane, and Ock has already violated Peter at the deepest of levels. Slott uses Ock's pursuit of MJ to create another contrast between Ock and Peter. Ock uses his cold logic to see something that Peter never could: the idea that Spider-Man and Mary Jane together prevents Peter from being the best Spidey he can be. So, Ock turns his back on the romance in order to truly be a "superior" Spider-Man. There you have it! A logical, plot-driven reason that OctoPeter and MJ won't be together. It's a concept that reveals Peter's innocence and naivety, and Ock's cold devotion to reason. There was no rape, no violation of MJ, all the fan panic was much ado about nothing. In fact, Slott went out of his way to find a logical story reason for the book not to go down that dark road.
This is the first issue where readers witness Peter's commentary as he is forced to be a disembodied passenger in Ock's brain. Ghost Peter voices the reader's concerns, anger, and surprise as Ock leads Peter's life, sometimes better than Peter himself. OctoPeter speaks through hilarious super-villain clichés, and it's a load of fun to watch Peter's consternation. The light tone allows the story to flow and not get bogged down by melodrama. The whole issue takes a potentially tasteless powder keg and deals with it tastefully and satisfactorily, and Slott once again ends on a zinger as readers find out what the dying Ock told Carlie. Every issue ends with a twist that changes the perception of the plot. Slott has mastered the art of the cliffhanger, particularly for this story. Maybe it's time for readers to put away their knee jerk moral indignation, and enjoy the ride.
Ryan Stegman's art is reminiscent of early Todd McFarlane. His design sense is exemplary, but some of the more human moment seems overly rendered. That being said, the art does not serve as a distraction at all. The verdict is still out on whether Slott will pull this off, but with this issue, he took one of the story's biggest potential pitfalls, and nailed it.
review by: Marc Buxton
Story: 9/10
Art: 6/10
Overall: 8/10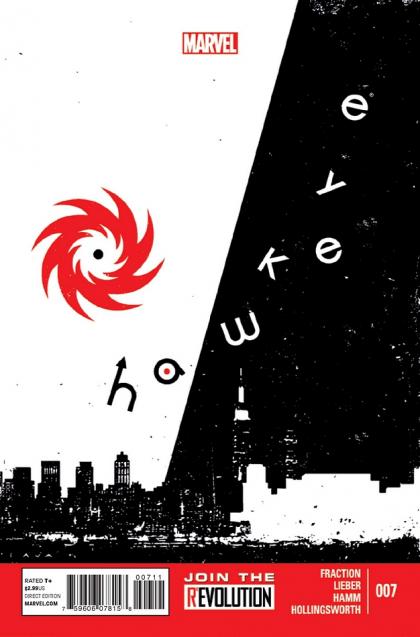 Hawkeye #7
Writer: Matt Fraction
Artists: Steve Lieber & Jesse Hamm
Colorist: Matt Hollingsworth
So, there's this little comic called Hawkeye that might just be the one of the best superhero comics out there. It's smart, it's got style, it's funny, and it feels just removed enough from the rest of the Marvel Universe that it isn't tripping over its own continuity all the time. At the same time, it's nice to know that all the big guns are lurking just off-panel, and makes the relative "realism" of this book that much more interesting. Hawkeye #7 takes a slight detour and focuses on the events that surrounded the devastation of much New York and New Jersey brought on by Hurricane Sandy. Matt Fraction pledged that he'd donate all his royalties from sales of Hawkeye #7 to Sandy relief, and really, that should be enough incentive for you to buy the book.
Seriously. Don't even bother with the rest of this review. You've been looking for an excuse to give Hawkeye a shot, right? Everyone's been raving about it for ages, you're wondering what you're missing, but you've just been waiting for the right issue to jump on with, right? Good news: Hawkeye #7 is tells you everything you need to know on page one, delivers a nice little story, and encompasses much of what fans of the title love about it…without either of our heroes putting on a costume or successfully firing an arrow even ONCE.
Is Hawkeye #7 the BEST issue of the series? No. But it has its moments. The tone is a little more "sincere" than I've come to expect, but really, what exactly did I expect considering the subject matter? Hurricane Sandy was no joke. As one of the millions who sat, helpless and frightened, as my city flooded, my basement windows shattered, and everyone's lights went out, it was somehow comforting to see some of these things happen on a comic page. Is that weird? Absolutely. But I never claimed to be normal, kids. Fraction, Lieber, Hamm, and Hollingsworth manage to capture a little bit of the horror and a little bit of the humanity with their snapshot of two of the hardest hit areas.
Neither Clint nor Kate put on their costumes, gets off a shot, or throws a punch. There's no sign of the rest of the Avengers. Hawkeye #7 is about people helping people. I witnessed countless small acts of kindness in the wake of that storm, and now, months later, I almost find myself nostalgic for the mindset we all adopted in the days and weeks that followed. It's in those small, unheralded acts of kindness where real heroism lives. In a way, it's nice to be reminded of what matters. Hopefully it won't take the storm of the century to do it next time. Buy the comic. Don't borrow it from a friend, and, seriously (I can't believe I even have to say this) don't download it illegally or read it in the store.
review by: Mike Cecchini
Story: 7/10
Art: 7/10
Overall: 7/10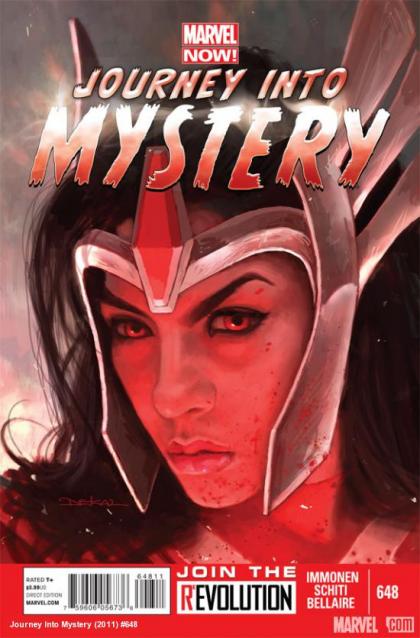 Journey into Mystery #648
"Stronger Than Monsters: Part 3"
Writer: Kathryn Immonen
Artist: Valerio Schiti
Color Artist: Jordie Bellaire
Kathryn Immonen didn't have any easy task ahead of her. Journey into Mystery wasn't a swift selling title to begin, but those that did buy it were swept away by Keiron Gillen's adventures of Kid Loki. As Gillen exited and took Kid Loki over to Young Avengers, Marvel decided to continue the book with a new creative team and a new star. Lady Sif has been a member of Thor's supporting cast for around fifty years, and finally, Journey into Mystery allows her to step into her long-overdue spotlight.
Gillen's Kid Loki story was adored because it combined lots of laughs with high adventure and higher stakes. Immonen continues this tone as Sif's tale contains some very funny moments, but the core story is violent and serious. Journey into Mystery #648 centers around Sif's attempts to become the perfect warrior. She is given berserker powers and exiled to a berserker dimension, a place where berserkers were once sent centuries ago to keep monsters from entering Asgard. Here, she is forced to see the fates of those that previously sought the berserker powers, and in them, see a reflection of what she has been twisted into. The story is a study on the difference between being a warrior and being a hero. Sif has lost her moral center in order to match the might of her male counterparts. She needs a challenge, and in doing so left her heart behind to build her strength of arm.
When Sif springs into action, the reader feels the sense of a lack of control thanks to the unique visuals of newcomer Valerio Schiti on art. His panel designs have a fever to them that gives readers a sense of Sif's might. She's like a force of nature with no regard for anything that gets in her way. The only evident drawback is the fact that Sif never really had a chance to shine on her own, and now that she is given that chance, she is drained of nuance in order to make her a weapon. This transformation happens for all the right reasons as it seems Immonen is focusing on issues involving the use of power and violence. It's not a simple tale and one hopes that Immonen has the chops to use this arc to strengthen the character through a moral lesson of violence versus selflessness.
Like Kid Loki's tale, Sif's story is a look at a Thor cast member in a new way. It is a huge story that has intimate moments of humanity and humor, and it will hopefully end with Sif as a stronger character than when it began. All in all, Gillen set a very high bar for this title, and while the verdict is still out on whether Immonen will reach it, she and Sif are certainly on the right track.
review by: Marc Buxton
Story: 7/10
Art: 7/10
Overall: 7/10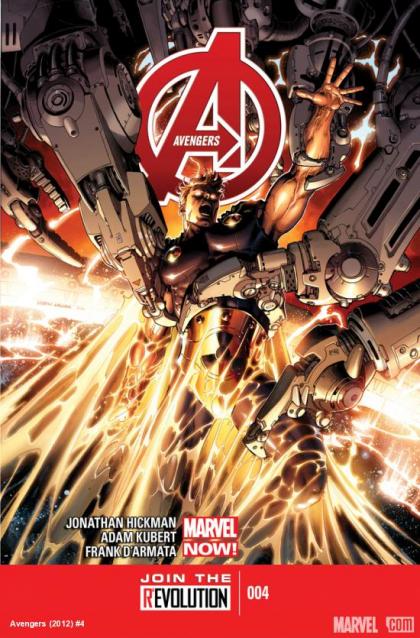 Avengers #4
"The Death and Resurrection of Major Titans"
Writer: Jonathan Hickman
Artist: Adam Kubert
Color Artist: Frank D'Armata
Wasn't there just another issue of Avengers last week? I tell ya, that was fast. While Avengers #3 seemed to wrap up the story of Ex Nihilo and his crew of godlike, would-be world creators, but it looks like they weren't really the story. Y'see, this Avengers series opened up with five cities getting hit with one of those terraforming gene bombs, and, as one might expect, the cleanup would take some time. In Avengers #4, it's revealed that there was another, undetected one that hit an undisclosed location, and so, of course, the Avengers are dispatched to investigate.
That's only part of the story. Woven throughout Avengers #4 are bits and pieces of Hyperion's origin, highlighting his deliberate similarities to Superman as well as the more "out there" sci-fi elements of his origin that differentiate him. There's even a brief interlude where we see his "discovery" by the Avengers. It seems very likely that this focus on Hyperion and allusion to how he joined the team is, in fact, a calculated attempt to parallel the ORIGINAL Avengers #4, better known as the comic book which re-introduced Captain America to a modern comic reading public way back in 1964.
 Kubert's art is lovely, particularly during the Hyperion sequences, and, I tell ya, he draws a great Thor. I love the look of the A.I.M. troops, as well. But did anyone else notice that they all talk like various henchmen from the Venture Bros. cartoon? Again, I doubt this was accidental. If we know anything about Jonathan Hickman, it's that little in his stories ever happens by accident.
There are, of course, some serious implications about the last page of this comic, and this should come back to haunt the team in future issues. It's interesting that Hickman has stepped away from the "team building" exercise of recent issues in order to give us this little interlude. Avengers #4 is less of a pure story than it is a means to get readers acquainted with Hyperion, and I suspect that this is a technique that Hickman will use again in future issues to familiarize us with other lesser-known characters on what's sure to be an immense roster of Avengers. 
review by: Mike Cecchini
Story: 6/10
Art: 7/10
Overall: 6/10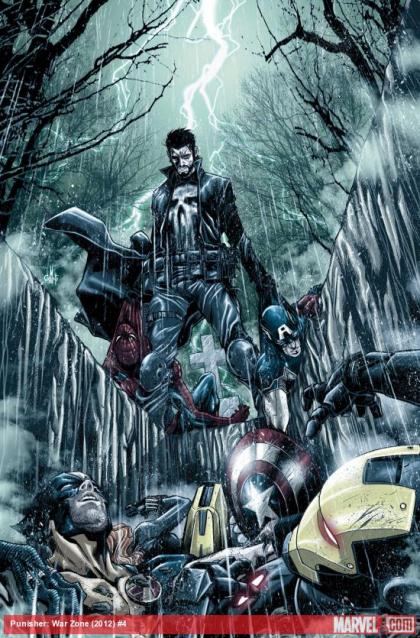 Punisher War Zone #4
"Guilty!"
Writer: Greg Rucka
Pencils: Carmine Di Giandomenico
Color: Matt Hollingsworth
Not many writers can pull off an effective Punisher story centered smack dab in the middle of the Marvel Universe, but Greg Rucka has never backed away from a challenge. It's hard to combine the cordite and broken knuckle world of Frank Castle with the over the top conceit of the Marvel Universe. Greg Rucka specializes in intense action combined with even more intense characterization and it is this combination that makes these two opposing worlds work together so well.
The Punisher has come to the attention of the Avengers as Marine Sergeant Rachel Cole-Alves is in danger of being sentenced to death for crimes committed by the Punisher. Half the Avengers want to bring him down while the other half wants to appeal to his humanity so he will step up and help free Alves. Rucka understands that the best Punisher stories focus on other characters. The skull makes the Punisher more than just a nut with a gun, it makes him an idea, one that Cole-Alves adopts for her own mission of vengeance. The real threat is more people taking up the skull rendering the Avengers' brand of justice inert.
Less Punisher is more Punisher, and by focusing on the Avengers, Rucka is able to explore their morality through their views on Frank Castle. Captain America is certain Frank will do the right thing because he understands the mindset of a soldier. Cap needs to believe that one's actions in war do not completely wipe away all traces of humanity. Spider-Man takes the opposite view, as Peter is so morally outraged by Castle's actions that he cannot view the Punisher as anything less than a monster. Wolverine completely understands Frank and refuses to help the Avengers take him down. Meanwhile, the threat of the Punisher is ever present. He hides in plain sight, and even though he is vastly overpowered by the Avengers, Cap's crew knows that his cunning and will still make him a dangerous enemy. Black Widow is used in a fascinating way, as she is able to tell the others how a trained killer is able to blend. The Avengers skill sets are all deftly used to counter the inevitable but unseen threat of the Punisher.
Somehow, Greg Rucka totally sells that the Punisher as a legit threat to the Avengers, both physically and morally. His nature creates conflict within the team, and when the Punisher finally does step out of the shadows, he manages to use one of the Avengers most powerful weapons to, not only completely fool them, but to also go toe-to-toe with them. By pulling off the seamless insertion of the Punisher into the Marvel Universe, Greg Rucka has proven himself as one of the best writers to ever guide Frank's story.
review by: Marc Buxton
Story: 9/10
Art: 6/10
Overall: 8/10