Features
Top 5 Marvel Comics Releases for the Week of 1/23/13
The Den of Geek Staff reviews some notable Marvel releases this week, including Winter Soldier #14, Deadpool #4, FF #3, Uncanny X-Force #1, and Avengers #3.
A strong week from Marvel comics! This week, we bid farewell to Ed Brubaker's superhero work with Winter Soldier #14, thoroughly enjoy Deadpool facing off with zombie presidents in Deadpool #4, wrap up an Avengers story in Avengers #3, bask in the pop-art perfection that is Mike Allred's art in FF #3, and welcome a fresh take on a certain mutant team with Uncanny X-Force #1!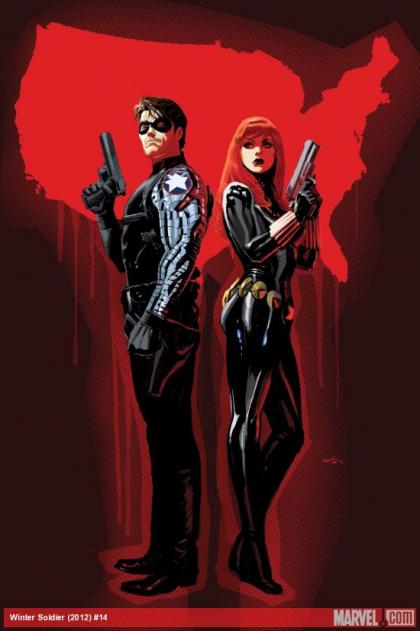 Winter Soldier #14
"Black Widow Hunt: Conclusion"
Writer: Ed Brubaker
Penciler: Butch Guice
Winter Soldier #14 brings to an end not only the "Black Widow Hunt" storyline but also the end, hopefully just for now, of Ed Brubaker's current run with Marvel. Brubaker is stepping away from the Marvel Universe to focus on his Image book, Fatale, the Criminal film, and two new TV projects. While this is good news for living rooms and cinemas, it also, sadly, takes a masterful voice away from the Marvel Universe. It has been a unique pleasure watching Brubaker at his craft the last eight years on Captain America, and he did something that so many creators try and fail to do, add a new, key element to the Marvel Universe. Seriously, the dude resurrected Bucky! AND IT WORKED! Hopefully others will be able to pick up on the brilliant character development of Bucky Barnes and ensure he is a vital part of the Marvel Universe for a long time to come.
But on to Winter Soldier #14! Bucky must race to save his lover, the Black Widow, from the hands of former Soviet agent, and Bucky's former protégé, Leo Novokov. The thematic core of the book is how Natasha has given Bucky an emotional center again and again, both as the brainwashed Winter Soldier and in his current incarnation. Natasha is the thing that drives Bucky to greatness, despite his fears and doubts. She's his strength.
Butch Guice is the perfect match for Brubaker's somber story. His pencils match the grace of Natasha when she springs into action. He renders so much emotion on his characters' faces that Brubaker's dialogue is not needed, but be happy it's there because it is masterful. The climax takes place as Novokov plans to blow up Arlington National Cemetery. The ultimate forgotten soldier, Bucky, must fight to save the soldiers who were not lucky enough to be resurrected like he was.
With the help of Hawkeye, Wolverine, and Captain America, Bucky defeats his former protégé but the price is high. Since the beginning of Brubaker's run on Captain America and continuing into Winter Soldier, brainwashing and mind control have been the writer's pet motif. Brubaker masterfully uses it again to exit Winter Soldier on a somber note. S.H.I.E.L.D. is able to give the mind wiped Natasha her memories back, except one, creating a sense of tragedy and sacrifice that serves to make Bucky even more noble and heartrending than when the story began. Brubaker does what a great writer is expected to do; he leaves his character, Bucky, in a great narrative place for the new writer Jason Latour. In addition, the mind wipe leaves Natasha in a thought-provoking place for wherever she pops up next.
All in all, this issue is a worthy farewell to Ed and Butch, as they bow out with style. Bucky is left as a vital part of the Marvel Universe, and Natasha is freed of her supporting character status so she can be creatively exploited in the future. As always, Brubaker has left these characters in a better, albeit darker, place than when he found them.
review by: Marc Buxton
Story: 9/10
Art: 9/10
Overall: 9/10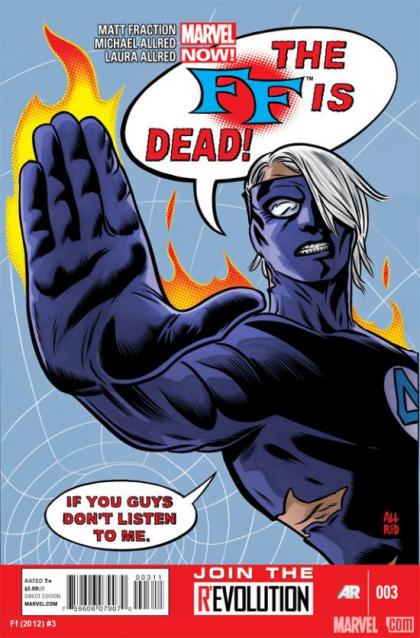 FF #3
"Old John Storm"
Writer: Matt Fraction
Artist: Mike Allred
Colors: Laura Allred
The Fantastic Four are dead. A grey haired, one eyed, part cybernetic Johnny Storm believes that, anyway. As the sole member of Marvel's first family to reemerge from the trans-dimensional portal, Storm explains how what was supposed to be a four minute excursion into "unrecognizable time and space" became a decades-long battle for survival. While searching for a cure for Reed's cancer, the Fantastic Four ran afoul of Doom the Annihilating Conqueror, a physical amalgam of Doctor Doom, Annihilus, and Kang. Storm is convinced that this threat will soon find its way to Earth and that a proper defense must planned. Ant-Man, the new leader of the Fantastic Four, is forced to deal with this dire news, while attempting to convince Ms. Thing to reconsider her resignation from the team.
Matt Fraction somehow keeps this complicated plot organized and highly entertaining. I can't say I'm a fan of his work because I haven't really read much of it, but he does an excellent job of balancing plot, humor and character development. A book with this much going on and with this large a cast of characters could easily collapse under its own weight, but Fraction never lets it get out of hand and the result is a well-paced slice of comic sci-fi.
For my money, Mike Allred can do no wrong. His Dark Horse run of Madman almost single-handedly kept me interested in comics when mainstream books degenerated in the mid-nineties. His pop-art style may not appeal to everyone, but to me, his look represents everything I want to see in sequential art storytelling. The characters have weight, express emotion and move across the page with astounding fluidity. You absolutely cannot mention Mike Allred's art without also giving equal credit to Laura Allred's colors. Her work is bright and beautiful and perfect. The color leaps from the page and crashes into your eyeballs with such force, you'd swear the comic in your hands was backlit.
If you decide to give this book a try, I suggest that you track down the previous two issues as well. FF #3 is part of a developing story that is being enriched as it moves forward. You will be able to enjoy this issue on its own, but there are worthwhile rewards for following it in its entirety.
review by: Bob Chamberlain
Story: 7/10
Art: 9/10
Overall: 8/10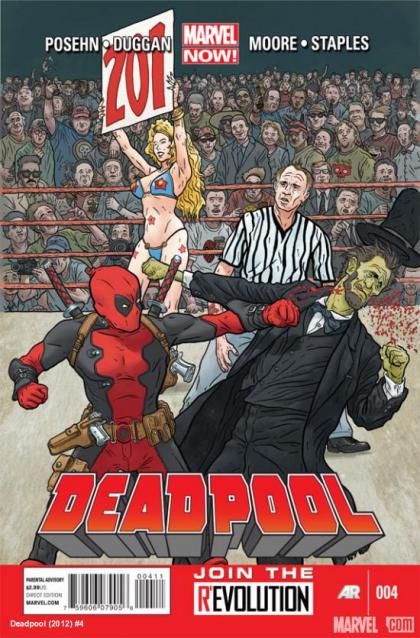 Deadpool #4
Writers: Brian Posehn & Gerry Duggan
Artist: Tony Moore
Colors: Val Staples 
What's not to love about a new Deadpool issue? It's got zombie presidents, katanas, great artwork and Marilyn Monroe. Before Posehn & Duggan's current run, fans were getting bored with Wade Wilson. Placing two stand-up comedians in charge of writing a comic book may not seem like the best of ideas from Marvel, but they hit the hammer right on the head of the nail by putting comedians in charge of Deadpool.
In Deadpool #4, Posehn & Duggan provide just the right amount of comedy, without it overshadowing the story of Deadpool killing zombie presidents. Posehn and Duggan's comical wordplay is what makes Deadpool #4 a good read, because it's not only funny but it's intelligent as well. The issue is a borderline history lesson in the presidents of the United States, but doesn't feel forced or unwarranted. Posehn & Duggan bring Deadpool into the ring, or rather an MMA octagon, with the undead Abe Lincoln.
Tony Moore's artwork throughout the issue shines again, literally. I love the look of the "enchanted" katana slicing through the dead presidents and electrocuting them with a light show of pink and purple lightning. Moore still hasn't topped the electrocuted elephant from Deadpool #2, but his artwork in Deadpool #4 isn't far behind. Each panel is very detailed, and the dead presidents look amazing throughout the issues. The best page is the full page spread of Deadpool in the octagon with Abe Lincoln, and I can't help but wonder if Dana White of the UFC would make them a main event in the UFC.
Val Staples' coloring also looks great, with the dead presidents glowing a yellowish green. The full page of Deadpool versus Abe Lincoln looks bright and colorful with bursts of flashing lights (cameras) surrounding the ring. Seriously, check it out. This Deadpool run definitely re-sparks my interest in Wade Wilson. I've been a follower of Brian Posehn's stand-up since first seeing his act live, and I knew if anyone could revive Deadpool, it would be him. 
review by: Robert Bernstein
Story: 8/10
Art: 8/10
Overall: 8/10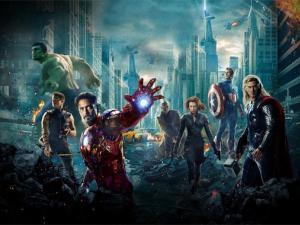 Avengers #3
"The Garden"
Writer: Jonathan Hickman
Artist: Jerome Opeńa
Avengers #3 wraps up the first storyline from the Marvel NOW! initiative's Jonathan Hickman helmed relaunch of the title. Wait…what? An introductory story in a major team book that gets completed in anything less than six issues? What year is it, again?  Strange as it may seem, it's true, and best of all, it works!
"The Garden" refers, of course, to the Garden of Eden. Ex Nihilo and his crew of godlike creatures are obsessed with recreating and repopulating worlds. It's not a big deal when it's a barren world like Mars with no indigenous life-forms to complain, but when they want to do it to Earth, there's a problem. Thor, Hulk, and Iron Man have been imprisoned by this crew of aliens for the last couple of issues, and Captain America had been sent back to Earth as a kind of cautionary tale. I guess they didn't count on him coming back with reinforcements. Serious reinforcements.
Hickman's made it clear since the start of the book that this comic would feature a massive roster of Avengers, and here, we start to see what he meant. Cap shows back up on Mars with Sunspot, Cannonball, Wolverine, Captain Marvel, Spider-Woman, Spider-Man (apparently this is pre "Superior" Spidey), The Falcon, Shang Chi, Hyperion, Manifold, Smasher, and, most importantly, the mysterious new Captain Universe. While not quite everyone gets a real moment in the spotlight, we do get a pretty nifty Hulk/Hyperion rumble, which Jerome Opeńa really does a lovely job on. Who is this new Captain Universe, anyway? She looks like she's gonna be a pretty major player in this book going forward. Ex Nihilo's reaction to her showing up on the scene is pretty interesting, and while the ultimate resolution to the story isn't necessarily a violent one, it's pretty clear that you don't want to mess with Captain Universe.
Avengers is definitely a "big ideas" book, which suits Hickman's style just perfectly. The threat level in this introductory story has actually reminded me of the early days of The Authority (the Warren Ellis incarnation) before it went down the ol' nihilism rabbit-hole and spent all its times putting shock over substance. Now that the roster is getting set to expand, it'll be interesting to see how the creative team handles all of the new members, many of whom have never been Avengers at all.
review by: Mike Cecchini
Story: 8/10
Art: 7/10
Overall: 8/10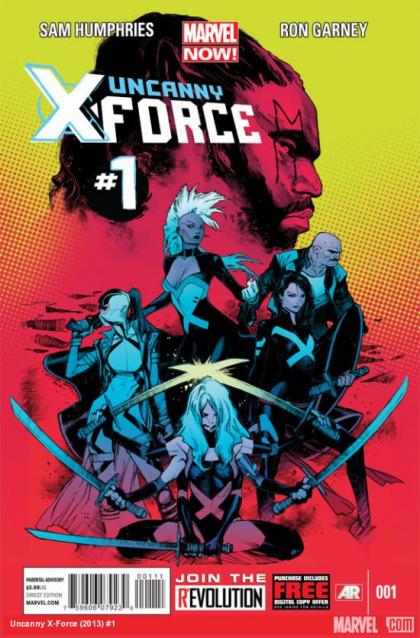 Uncanny X-Force #1
"Let It Bleed"
Writer: Sam Humphries
Artist: Ron Garney
A few years ago there was no X-Force comic. That title was relegated to fond or bitter memories of 90s excess depending on where a reader's taste ran. The word "X-Force" gave readers visions of feetless, snarling mutants with belt pouches and no pupils, until Chris Yost and Rick Remender made the title a modern mainstream hit by ratcheting up the star power and the violence and combining those elements with sweeping and unpredictable storylines. Now Marvel is trying to extend the franchise by introducing a new X-Force title in addition to Cable & X-Force currently spearheaded by Dennis Hopeless.
Uncanny X-Force #1 opens with Psylocke trying to pick up the pieces of her life after quitting X-Force, and Storm trying to do the same after splitting up with Black Panther. Both heroines act as the point-of-view characters for a wild adventure. Psylocke is broken by her experiences with X-Force, the violence she was forced to endure left her with a case of mutant PTSD. In the ultimate of ironies, Wolverine, complete with shirt and tie, asks her to leave his school and find meaning elsewhere. Logan provides her with this meaning by giving her a mission to find and stop the stream of a new drug seemingly sold by the six armed Spiral. Psylocke shines in this book. Humphries sells her as an angry and broken individual trying to move past her time with X-Force. Her anger drips off the pages, as Psylocke and Storm try to bring down Spiral.  
Humphries establishes a compelling mystery to what the drug actually is, and how responsible the uncharacteristically concerned and panicked might be Spiral for its creation. The drug was brought to Wolverine's attention by his former running buddy Puck. Humphries clearly loves this character, and any old school Alpha Flight fan will love how the dwarf is utilized in this title. His inclusion in the book, along with the deftly handled characterization of Psylocke and Storm gives the title enough of a different edge that justifies this second X-Force title's existence.
The only knock on the book is that an already packed issue has two additional plots slapped unto the end. The reader is whiplashed away from the conflict with Spiral to witness the arrival of Bishop back to the present, and as soon as that is introduced, we're snapped over to see what Fantomex and his female clone are up to. What follows is the strangest lip-lock in Marvel history, which opens many strange directions for this book to travel in.
The plot potential of the return of Bishop (not to mention some clone nookie) is so compelling that readers may find themselves wishing that Humphries would linger on the implications of each plot thread instead of bounding around between the characters. I'm all for losing decompression, but some ideas are strong enough to spend time with, and this book presented three of them. There's a danger of one being lost if not carefully without careful pacing. Overall, this is a really good start, and a stronger dedication to focus will allow this book to realize its potential.
review by: Marc Buxton
Story: 7/10