Features
Top 5 Marvel Comics for Week of 3/27/13
Reviews of Guardians of the Galaxy #1, Uncanny Avengers #5, Superior Spider-Man #6AU, Age of Ultron #3, and Young Avengers #3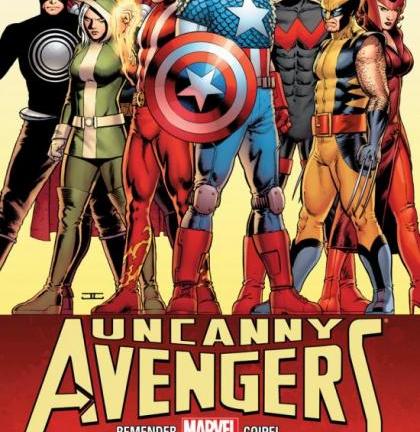 Goodness gracious! It's absolute chaos in this week's Marvel list. We're all over the place! TWO Brian Michael Bendis-penned books, Guardians of the Galaxy #1 and Age of Ultron #3. Not to mention an Age of Ultron tie-in with Superior Spider-Man #6AU. Ane let's not forget the Uncanny Avengers #5 and the absolutely ridiculously good Young Avengers #3! Clobberin' time, indeed!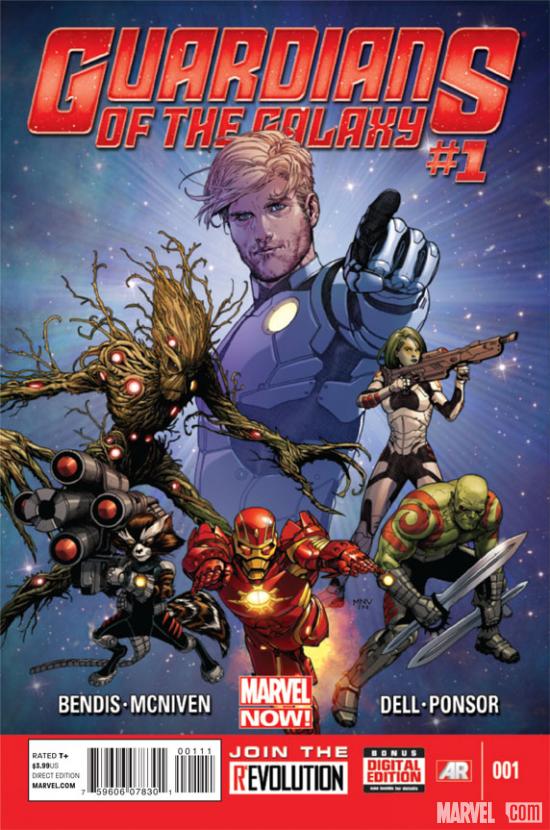 Guardians of the Galaxy #1
Writer: Brian Michael Bendis
Penciler: Steve McNiven
Inker: John Dell
Colors: Justin Ponsor
If there's anything that's characterized the Marvel NOW! initiative, it's been one word: accessibility. Virtually every book in the Marvel line these days can be grabbed with the first issue, and understood. With very few exceptions, if it features characters who have been getting some screen time, then you'll be well situated enough to enjoy the comics, with a minimum of ridiculous backstory. But what happens when one of the re-launches is of a relatively obscure property, who are still over a year away from making a mainstream mass media debut? Well, if you're doing it right, you end up with a comic kinda like Guardians of the Galaxy #1.
Understandably, Guardians of the Galaxy #1 feels like an extension of the preceding issue, last month's #0.1, which focused entirely on the origin of Peter Quill, Star-Lord. This issue opens with Peter Quill, now an adult, in a seedy bar somewhere on the edge of the galaxy. Quill is getting a talking to from his father, who just so happens to be the king of the galaxy, and it would appear that Earth has been declared "off-limits" by various alien races in order to let it develop into something that can be a suitable contributor to galactic society. That sounds fishy, of course, but that's his story and he's sticking to it.
We get an obligatory conflict with interstellar thugs, the Badoon, which Iron Man shows up at for some reason or another. As strange as it feels to type this, Iron Man showing up in the middle of full-throttle space opera was pretty disorienting, and it took me right out of the narrative. Why IS Iron Man here, exactly, other than because he's got a high-profile movie coming out in four weeks? I suspect that Bendis and McNiven will prove me wrong about this in future issues, but in the meantime, this kinda felt like when Marvel used to just throw Wolverine or Venom into every other comic they published in the nineties.
Steve McNiven's art is terrific, and he draws a pretty cool "dive bar at the end of the universe" just as easily as he draws ridiculous space battles. The double page spread where he introduces the core Guardians team of Gamora, Groot, Drax, Rocket Raccoon, and Star-Lord is absolute bliss, and it may as well be the movie poster when the time comes. For a property with a pretty ridiculous, complicated publication history (which you can read about right here), Guardians of the Galaxy manages to be pretty friendly for an inexperienced reader, and should help get you excited for a film that's still sixteen months away!
Review by: Mike Cecchini
Story: 7/10
Art: 8/10
Overall: 8/10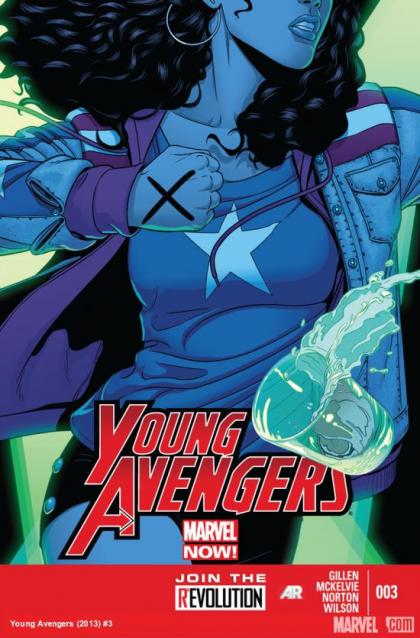 Young Avengers #3
"Parent Teacher Disorganization"
Writer: Kieron Gillen
Artists: Jamie McKelvie with Mike Norton
Color Artists: Matthew Wilson
Y'know that cute girl (or guy) in your life that you think would really get into funny books if you could find the perfect book to initiate them into the world of comics? Young Avengers is that book. This is the book that perfectly represents the feel and tone of the Marvel Universe while maintaining a completely original voice and purpose. This is book that is hip and funny, poignant and tragic. This is the book that gives just the right size helping of realism and combines it with over-the-top exaggerated chaos that can only be found in a Marvel comic. This is the book (along with Hawkeye) that is teaching the next generation of creators how it should be done.
This book is about being eighteen, which fundamentally means never trusting anyone over thirty. This book is about the rift between parents and children when the child takes his first steps into the adult world, and in the Marvel Universe, where EVERYONE has daddy issues, that conflict takes on a grander meaning. Last issue, Hulkling and Wiccan went on the run from Hulkling's newly resurrected mom who is secretly a mind controlling alien parasite. With the help of Kid Loki, the two heroes manage to escape only to run smack into Loki's father, the frost giant king Laufey. There is an undercurrent of child abuse in this issue, as Laufey takes a disturbing glee in administering a beat down to his smart-mouthed son and his friends. Instead of being just another fight, there are allusions to the assertion of martial power by an overbearing parent. It has the same feel as watching a drunken dad in a wife beater taking the belt to his smart mouthed son.  There is a sense of powerlessness as no adult in this story, including the Avengers, can be trusted. When Miss America arrives to save the day, her own super moms track her and demand she return home adding to the evil adult motif that permeates this title.
The interactions between the Young Avengers are worth the cover price alone. In an awesome sequence, to get the Young Avengers to trust him and understand his layers of motivations and machinations, Loki tells them to think of him as Tyron from Game of Thrones. The book has its own language, filled with pop culture references that combine with established Marvel continuity to form a unique reading experience unlike anything on the market today. McKelvie and Norton perfectly capture the humor and character subtleties of each of the book's players. Marvel is breaking new ground with this title, a title that needs to be on the top of every reading list.
Review by: Marc Buxton
Story: 9/10
Art: 9/10
Overall: 9/10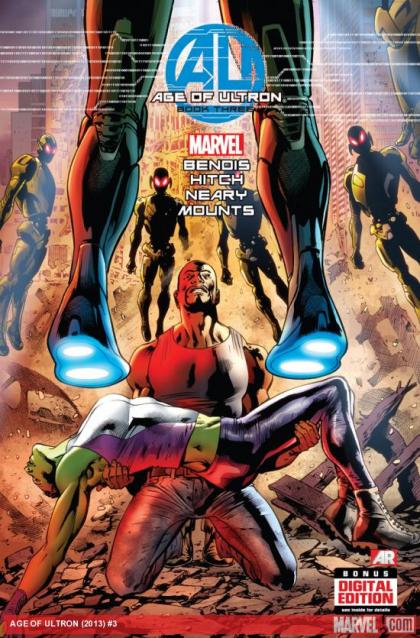 Age of Ultron #3
Writer: Brian Michael Bendis
Penciler: Bryan Hitch
Inker: Paul Neary
Colorist: Paul Mounts
Whoa. I did not see this one coming and I'm glad I didn't. Bendis' magnum opus hits its stride in Age of Ultron #3. The fallout from #2 leads to a group of defeated warriors and confusion amongst the good guys. Hemorrhaging losses all over the place, for the first time in a while I see how vulnerable our heroes are. They fear Ultron and do not know how or what to do next against the adamantium-laced Pym creation. While loss is bringing some solidarity to the group, the tension is palpable and they are scrambling about just what exactly to do. They need to hit back at Ultron in a way that the entity will somehow feel. While volunteers are plenty to go after the big U, it is difficult to see who really is willing to step up to bat.
Stark is humbled for a very brief time and keeping his mouth shut about the whole megillah because God knows he has his hand in this whole thing. Tony's obsession with the advancement of technology has overtaken his better judgment and people are angry now. Why? Because people are dying. Super-people. Good people. Jessica Jones, Hulk, Ben Grimm, and Thor are on the list of casualties and that is quite the feat on the cyber part of Ultron. A decision must be made to try and bargain with the robotic presence. Even Peter Parker's positive spin on the situation has the kibosh put on as he realizes that even his winning humor is failing in this troubled time. I never realized how difficult it would be to see such massive losses on the good guys' side until it actually happened. I guess that is what happens when you get used to peace in the big bad superhero world.
It is crazy to think that they could handle any more but the heroes have no time but to step up to the plate and make Ultron an offering. They all decide that She-Hulk will be the sacrificial lamb that they will offer up to Pym's mighty and practically unbeatable machine. However when Luke Cage shows up with She-Hulk in a relatively defenseless manner giving the green lady as penance to the digital nightmare, it hits the man with unbreakable skin like a truck; Ultron has created their very own model of Vision! And the green and yellow dynamo is "hungry" for lack of a better word. Whoa! I am loving this series!
Review by: Jarrett Kruse
Art: 8/10
Story:9/10
Overall: 8/10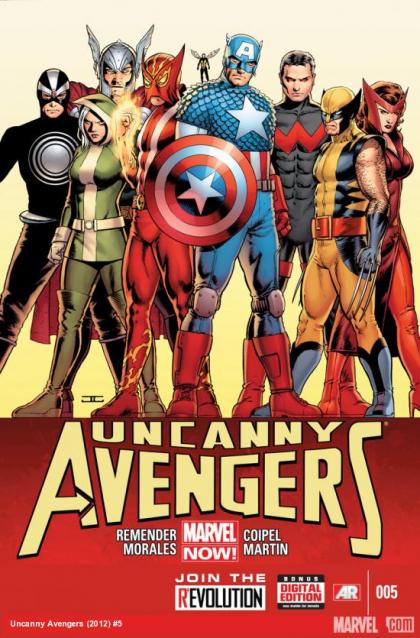 Uncanny Avengers #5
"Let the Good Times Roll"
Writer: Rick Remender
Penciler: Olivier Coipel
Inker: Mark Morales
Colorists: Laura Martin with Larry Molinar
Uncanny Avengers is an X-Men book. Make no mistake. Don't be fooled by the presence of Captain America, Thor, Wonder Man, or the Wasp. The themes explored, the general tone of the book, the relationships of the characters…it's an X-Men title, not an Avengers one. This isn't a bad thing, it just takes a little getting used to, especially when you've got a bunch of first and second generation Avengers running around on every page.
Uncanny Avengers #5 spends a good deal of its time picking up the pieces of issue number four, and with good reason. "The Avengers Unity Division" has gone public via their very public battle with the the Red Skull and his S-Men which took up the first story arc, and now it's time to settle in and get acquainted with the public. While this isn't the most exciting outline for an issue of a superhero comic, Remender makes it compelling. Ever wonder how Rogue and Wasp would get along? Or what Scarlet Witch and Captain America have to talk about? Or what happens when Wolverine meets a very drunk Sunfire in a dark alley? Yeah, it's all stuff you never knew you wanted to read about until you did.
Still, considering how the first story arc wrapped up, and the strength of the Red Skull as a PRESENCE in those first four issues, there's still kind of a comedown here. It's inevitable. It's probably necessary. The presence of a certain Kang the Conqueror indicates that things won't be too quiet for too long…not to mention the fact there's still the little issue of the Red Skull and his new abilities that hasn't been resolved yet. Oh, I don't think Uncanny Avengers is going to get boring any time soon, that's for sure.
What's great to see here, and what Remender handles beautifully, is the question of how anyone, let alone Alex Summers (who has always been a second-stringer), can hope to lead an Avengers team when Captain America, the consummate leader, is in the room. Alex steps up, though, not only putting his foot down about how the members with more checkered pasts should be handled publically, but he also delivers a rather controversial speech on the steps of the mansion. It's a speech about tolerance and acceptance. Told ya this was an X-Men book.
Review by: Mike Cecchini
Story: 7/10
Art: 7/10
Overall: 7/10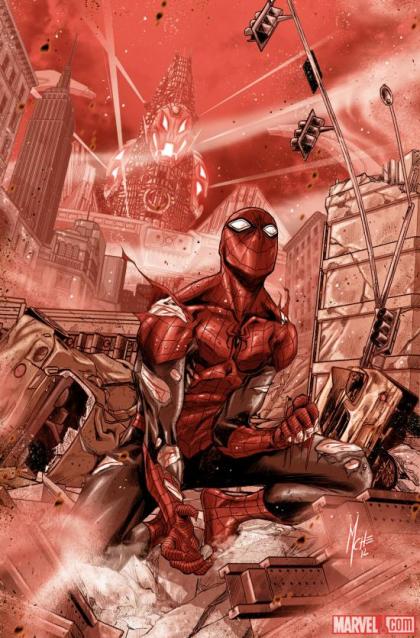 Superior Spider-man # 6AU
"Doomsday Scenario"
Writer: Christos Gage
Artist: Dexter Soy
Oy, that numbering is going to give the OCD collectors fits. I approve. The complicated thing about Age of Ultron is that Brian Michael Bends wrote the story a year ago, giving Bryan Hitch lead time to work at a pace the artist was comfortable with. Well, in that year, things have changed. Characters are different, costumes have changed, and y'know, Peter Parker is now secretly Doctor Octopus. The core book can get away with that, just don't make Spider-Man the point-of-view character and readers, present and future, will never know what is going on in Spidey's head. The story is equally served with Spidey's presence no matter who is piloting the body. But wouldn't it be fun to read an Age of Ultron story that did acknowledge the Doc Ock issue? This is that story.
The cool part of Octo-Spidey's role in this story is that, to him, the greatest tragedy about Ultron destroying human civilization is that it happened on Ock's watch. Ock's entire reason for being is to prove himself to be a superior Spider-Man, yet, after all the times Peter succeeded in saving the world, Ultron destroyed everything while Ock slept. Gage plays this up as a blow to Ock's ego as the villain/hero has trouble dealing with the specter of the idea that maybe Peter would have had what it took to stop Ultron, and that the mechanical apocalypse is a constant reminder of Ock's failures.
Superior Spider-Man #6AU is action-packed; in fact, there is more action here than in the first two issues of Age of Ultron combined…which consisted of the riveting narrative of Captain America laying down and then standing up. Instead, Superior Spider-Man #6AU shows great character growth for Ock, while serving to flesh out the world of Ultron, something the main series itself has, so far, failed to do. During the course of his struggle to bring down Ultron, Ock learns how to be a team player and gains a measure of respect for Tony Stark.
The book also charts a course tracing the history of Ock and Ultron, a history that stretches back to the original Secret Wars. This gives the story a definitive time and place, something the disorienting regular series has failed to do. Bendis has plenty of time to stick the landing on his story, but Gage should get credit for getting it right in the space of one issue while engaging the reader with critical character moments. This issue also makes Ultron seem like a more awesome threat, as Gage deftly establishes Ock as a master of robotics and mechanics, and still has Ultron easily dispatch hm. All this while establishing what has happened to Spidey's supporting cast and defining Ock's relationship with the Avengers. It's not often that an extraneous cross over book surpasses the core title, but Gage nails it here.
Review by: Marc Buxton
Writing: 7/10
Art: 7/10