Features
Top 5 Indie Releases for 3/6/13!
Reviews of: Sex #1 (Image), Snapshot #2 (Image), Colder #5 (Image), Mara #3 (Image), and Lost Vegas #1 (Image)
We didn't plan this, it just worked out that way. This sure was a banner week for Image Comics, wasn't it? Luckily, Dark Horse's Colder wrapped up and that was enough to break up Image's monopoly on our list for the week! Don't worry, Dynamite, IDW, and so many of the rest…Den of Geek hasn't abandoned you! 
Sex #1 (Image)
"The Summer of Hard"
Writer: Joe Casey
Artist: Piotr Kowalski
Despite the rather eye-catching title, Image Comics' Sex #1 isn't really what you think it is. As a matter of fact, just based on this first issue (which, I know, is a mistake) it's actually a fairly straightforward post-Watchmen superhero story. You know the kind I'm talking about: aging superhero getting on with his life, even though we all know that the forces at work in his city probably don't care one bit that he's moved on. People swear a lot. There's some nudity. This isn't to say that Sex isn't entertaining (God, I loved typing that) or well-written, because it absolutely is. It's just more than the sum of its practically designed to cause controversy one word title.
Sex #1 is the story of Simon Cooke, formerly known as The Armored Saint, as he returns to his old stomping grounds of Saturn City to run his multinational corporation, the Cooke Company. There you have it, folks! We don't get any impression that Cooke has any extra-normal abilities, although he is in terrific shape, nor do we even get a glimpse of him in costume. His superhero past is alluded to but never expounded on, and for all intents and purposes, he just seems to want to get on with his life. In the background, we meet some of his current associates, and a handful of folks who may have been former enemies, and may be future enemies as well.
Don't go by my summary, though. Sex isn't nearly this pedestrian. In fact, it's restrained pacing, natural dialogue, and terrific, understated art are all a real joy. Piotr Kowalski draws PEOPLE with clothes that don't fit right, and wrinkles in their slacks, and who actually talk to each other. Crowd scenes are crowded with figures that actually have lives. Saturn City is a huge, cramped, sprawling, bustling place, but incredibly clean and sleek. You look out the enormous windows in the background while characters are having conversations and you see the city behind it. Remember when I dropped the Watchmen reference in that first paragraph? Well, y'know what? There's some vintage Dave Gibbons in Mr. Kowalski's artistic DNA, and not one bit of it feels like a rip-off. He's brilliant.
Alright, so there's ONE graphic sex scene in the comic. Big deal. The rest of the comic waits nearly half the book before somebody even drops a swear word. Apple, in their infinite "wisdom" have used this sex scene as an excuse to block Sex from being sold on their version of the comiXology app, but for some reason, it's still okay to buy it on their (vastly inferior) iBooks app. Incredibly weak, and fairly lame grounds for controversy, but that's life, I guess. In the meantime, you should enjoy Sex any way you can, regardless of format. Don't discriminate. It's fun.
Review by: Mike Cecchini
Story: 6/10
Art: 8/10
Overall: 7/10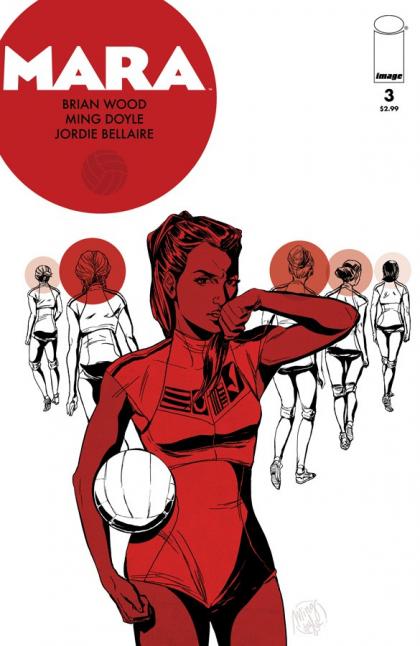 Mara #3 (Image)
Story: Brian Wood
Art: Ming Doyle
Colors: Jordie Bellaire
This is why Image rules. Because Marvel and DC do what they do best, with a few notable exceptions, most of the big two's output consists of building up their own complex universes. While the two major companies hold the market on their backs, Image can experiment. Sometimes their experiments become The Walking Dead, and the world changes. Sometimes their experiments become Mara, and while a book like this doesn't resonate through the industry, it becomes a hidden gem in the comic market, a discovery awaiting the discerning reader that wants something new.
Mara is a mirror. A mirror held up to a society that loves celebrity, but also loves to rip celebrities down at the slightest provocation. Mara is a reflection of society's love of pro-athletes, and how they are cheered until they prove themselves to be imperfect. In this story, when Mara was believed to be cheating, the same society that deified her now vilifies her. Think Lance Armstrong, if Armstrong didn't actually cheat. Would the world accept someone that was actually profoundly better than those who cheered him? Now, add a fun house distortion to this mirror, as Mara lives in a world where celebrities are treated like religious icons.
Mara begins displaying abilities that set her apart from humanity and she is fundamentally rejected. In a world where volleyball players are as important as papal candidates, Mara cheating would be akin to the Pope doing coke while watching kiddie porn. The conflict arises from the fact that Mara has super human abilities. When she finally comes clean about her powers, she loses her lover Ingrid, and also loses the love of her worshippers. Mara was a woman that anyone from her world could dream of being, but now that she stands apart from them, stands as their better, she is rejected, losing her life's purpose of being a role model.
Brian Wood structures this tale as a classic tragedy. Mara is a woman who cannot rise higher in society, so when she falls, she falls from heights so great, that her loss is almost unimaginable. This issue centers on a number of assassination attempts on Mara that only serve to expose the truth: that it isn't drugs that allows Mara to achieve her great athletic feats, it is her natural state of super-human superiority. At issue's end, Mara falls into the hands of the military, where Wood leaves it open whether her entering the violent world of war while heighten her tragedy or allow her to seek salvation.
Image should be praised for taking a chance on a book like this. A tale of a super-powered volleyball star doesn't sound like the most marketable idea ever invented. But if a reader gives this book a chance, he will be rewarded with a thought-provoking morality play.
Review by: Marc Buxton
Story: 8/10
Art: 7/10
Overall: 8/10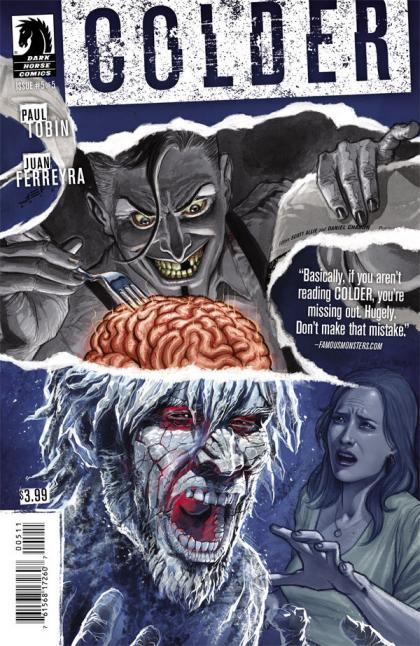 Colder #5 (Dark Horse)
Writer: Paul Tobin
Artist: Juan Ferreyra
Color Artist: Eduardo Ferreyra and Laura Binaghi
Insanity is a dish best served cold. And that dish is delicious if you're Nimble Jack and you just so happen to have finally caught up with Declan! Colder #5 starts with Nimble Jack taking Declan on a dinner date. Of course Declan is the main course. Nimble Jack is planning on having Reece for dessert. I really enjoy all the food metaphors used here. Nimble Jack goes on and on about how Declan's insanity will taste. He compares his mind to a truffle. It makes me think of Hannibal Lecter with all of the cannibalistic metaphors. It's delightfully creepy.
Nimble Jack then reminds Declan of how he ended up in the asylum in the first place. This is a little bit of back story and I didn't find it to be terribly interesting. It does reveal exactly how Nimble Jack is able to travel between worlds, which is interesting, I guess. We then get a scene where Declan attempts to kill Nimble Jack only to find that Nimble Jack has a limitless amount of clones to send off to be killed. Nimble Jack reaches into Declan's mind (no really, it's VERY graphic) and we get a glimpse at Reece's relationship with Declan…because love is the most insane thing of all. Which brings us to the climax of this nasty little tale of insanity, love, and monsters. Just being reminded of love seems to have raised Declan's temperature (which had been hovering at zero). He is all the way up to a cool 52 degrees. In their final battle Declan turns Nimble Jack's monsters right back on him. And we all live happily ever after.
I was a bit disappointed in how this story ended. Most of Colder #5 was a wrap up of the previous issues. Which is fine but I was hoping for more. Still, the story is incredible, from the multiple references to Nietzsche to the incredibly creepy and delightfully horrifying language about cannibalism.
But really, the darling in this issue is the art. I'm obviously a huge fan of Juan Ferreyra (and you can read my interview with him right HERE), but this issue is just incredible. Ferreyra is a master of detail and every tiny inch of this art was created with care and consideration. The locusts are created to look like Nimble Jack. The multiple murders of Nimble Jack are enough to send chills down your spine. And don't get me started on Nimble Jack reaching into Declan's brain and the finger that comes out of his eye! I can only hope that Ferreyra gets more work within the horror genre because he does such a wonderful job of creating the images nightmares are made of. I look forward to seeing more work from everyone involved.
What did you guys think? And what comic should I be reading to fill the hole in my life that Colder was filling?
Review by: Ethan Lewis
Story: 6/10
Art: 10/10
Overall: 7/10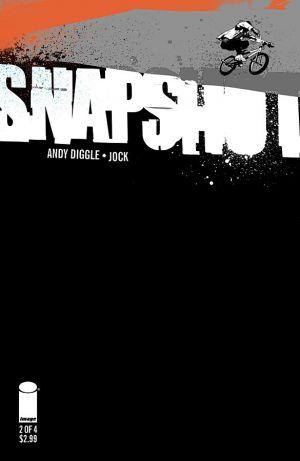 Snapshot #2 (Image)
Writer: Andy Diggle
Artist: Jock
Snapshot is one of those books that's kinda begging to be made into a movie, but at the same time, it's so firmly rooted in the comic world that you don't want to risk messing with it too much. There's something almost perverse in Snapshot's black and white world on the comic page, despite the story itself being anything but "black and white." It's like an old noir film brought into the present day, complete with harried police officers, unfortunate witnesses to murder (with some victims who just won't seem to stay dead), and cases of mistaken identity.
For those who don't know, I'll avoid spoilers as best I can. Snapshot's protagonist is Jake Dobson, a nineteen year old comic shop employee, who found a cell phone with some incriminating photos of a murder on it. When the phone's owners come looking for it, things don't really go well for him. Now, he is, depending on where you are in the story and who is looking for him at any given moment, a suspect, an accessory, or a target for the killers, whose motives are unclear.
Snapshot just keeps winding you up as things get worse and worse for Jake. Considering how, at every turn, he finds himself in the wrong place at the wrong time, the kid can't win. If it's not the cops out to get him, it's the people who either own the phone or want it back for their own nefarious purposes. As a result, by the time Jake finds an ally (about halfway through this issue), you can't help but wonder how this will eventually go wrong for him as well.
Lest we forget, this is the same Andy Diggle who's gonna be taking over Action Comics once Grant Morrison leaves next month. If he can handle the kind of heavy sci-fi stories that the Superman books seem to favor these days as deftly as he's handling the noir-ish paranoia of Snapshot, then we're in for a treat. Jock's pen-and-ink minimalism allows you to really get a sense of each character. You can almost feel the bottom drop out from under you when Jake realizes that, once again, things aren't what they seem. Backgrounds appear and disappear as necessary to highlight whatever it is that he wants you to see, and the page layouts are imaginative, sometimes bleeding all the way to the edge of the page, while other times using the lack of background as the borders themselves. Fantastic stuff!
Review by: Mike Cecchini
Story: 8/10
Art: 8/10
Overall: 8/10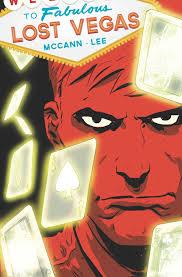 Lost Vegas #1 (Image)
Writer: Jim McCann
Artist: Janet Lee
I read Lost Vegas several times in the hope of actually understanding just what the narrative of the story actually is, but unfortunately, I am still at a loss. Apparently, a degenerate with no name is a professional gambler (and cheater) that is extricated to Lost Vegas, some type of prison for cheaters in space where, like any prison, there are all sorts of scams going on to get out or at least figure out a way off the rock.
I scoured the book for the main character's name but eventually gave up on the venture. "The Gambler" as I have decided to call him is assisted by a woman named Ink that I think is some kind of card dealer on Lost Vegas and who is sweet on The Gambler. She and the long-time con are able to communicate in a Cronenberg Existenz kind of way that I fully do not understand. However as an intern on that movie, how many chances am I going to get to mention that film in a comic book review?
While Jim McCann's plot is confusing, Janet Lee's pencils are a space-age delight. I really just kept wishing that I understood what this book was about besides a guy in the future going to a Running Man type prison where you have to wear a collar that can mean freedom or death. Maybe the second issue will explain a little more but unfortunately, I need a solid debut issue for me to jump onboard a new series. But because of the stellar art, I may actually see what issue number 2 has in store for readers.
Review by: Jarrett Kruse
Story: 5/10
Art: 8/10
Overall: 6/10