Features
Top 5 Indie Comics Releases for Week of 2/6/13
Reviews of Red Team #1, Son of Merlin #1, Teenage Mutant Ninja Turtles #18, Snapshot #1, and Colder #4
We had ourselves a few first issues this week! A strong new offering from Garth Ennis with Dynamite's Red Team #1, Jock and Andy Diggle's Snapshot #1 from Image, Son of Merlin #1, IDW's Teenage Mutant Ninja Turtles #18, and Dark Horse rounding it out with another great issue in Colder #4!
Red Team #1 (Dynamite)
"The First Timers: Part 1"
Writer: Garth Ennis
Artist: Craig Cermak
The prospect of a new Garth Ennis comic is always an exciting one. It's safe to say that Ennis changed the landscape of horror comics with Preacher, changed the face of super-hero satire with The Boys, and was the writer of the most enduring and memorable Punisher runs of all time. When Ennis has a new idea, that idea is always compelling and masterfully developed. It appears that Red Team is no exception.
Red Team centers on a group of four highly decorated cops who decide to take the law into their own hands. Clinton Days was an untouchable drug lord who dabbled in prostitution, murder, and kiddie porn. The four cops who make up Red Team decide to step outside the confines of the law and kill Days after he murders an undercover narcotics officer. The only problem was that the Days' murder went off without a hitch, and Red Team saw how effective they would be in cleaning up the streets.
Always a master of the blackest humor, Ennis plays it serious with this series. There is no over the top mayhem, just a realistic portrayal of the consequences of real world violence. Ennis has explored the idea of vigilantism in the Punisher, but Frank Castle is not a realistic portrayal of the consequences of real world bloodshed. Punisher is a power fantasy, but Red Team is an ethical look at the moral costs of murdering even the most heinous individual. When Days is murdered, Ennis shows the effects on the four cops. They are not prepared to watch the life drain from his eyes, or the ease in which they can snuff out a life. The understand they now possess power perhaps no one should possess, the power to override the system and decide who lives and who dies. The Punisher easily squeezed the trigger, but the Red Team doesn't have the luxury of living in the Marvel Universe. They live in a world of cold reality where power corrupts and murder is a decision that will stay with them forever.
The four are not very fleshed out in the first issue, but fans familiar with Garth Ennis' work know that each of these cops will have a complex backstory that brought them here. When that happens, this series will shine, as readers learn the reasons and motivations that turn highly decorated cops into vigilantes. Red Team is a realistic police procedural about the costs of ignoring the system. The story is told in flashback as one of the cops has been caught and is confessing their crimes. This provides the book with an ominous tone, as readers know that things will go wrong. How will society react? Who else did they murder? What went wrong? And how corrupt can the once good cops become?
This is Garth Ennis at his finest, playing with complex characters and exploring morally ambiguous themes. He is ably aided by Craig Cermak who's simple and realistic style sets a tone for Ennis' exploration of the morality of power, and how a thin line of judgment can break both the justice system and the individuals that work to maintain it. This issue is mostly set up so there are some growing pains, but it sets up a series of with great potential.
review by: Marc Buxton
Story: 8/10
Art: 7/10
Overall: 7/10
Son of Merlin #1 (Image)
Writer: Robert Place Napton
Artist: Zid
Son of Merlin #1 doesn't waste any time putting you in the thick of the action. We have a rather dapper and well-groomed Merlin in a pin-striped suit using his magical powers to find a secret warehouse which belongs to (of course) La Fey Industries while on his way to rescue his niece, Gwen. He promptly encounters the pencil-skirted Morgana La Fey and her immaculately tailored thugs. Merlin, as one might expect, runs into some trouble, and sends his book of spells off to find his son, a young professor at M.I.T. who has no idea that he's the offspring of the most powerful sorcerer of all time.
And there you have it. Ever get the feeling you've seen this movie or read this book before? That's kind of what Son of Merlin feels like. The comic feels like the first fifteen minutes of the pilot episode of a new television series. And, if you're like me, you know that pilot episodes rarely impress and have to spend too much time on convenient set-up. The two text-pages in the back of the comic help set up the world a little bit, but honestly, if you need to explain it to the reader as a bonus feature, perhaps something was missing from the meat of the comic.
Zid's art is a little too clean and a little too static for my tastes, although, the books rendering of magical energy is pretty neat and unique. There are some imaginative rune-like page layouts (and some intricate spell designs) throughout that are pretty easy on the eyes, but there's something missing from the characters. The clean-cut, Peter Parker-esque, handsome Simon Ambrose (the titular "Son of Merlin") is a little, well…too clean cut and handsome for me to buy his "first hot girl to ever speak to me" line.
I'm not saying that Son of Merlin isn't entertaining or doesn't show any promise. It does. It's the first of five issues, so there's still plenty of time (I hope) for this to get moving. The basic premise of the comic is sound: "Can you believe in magic if you're a man of science?" If this conflict is explored and developed, we may have something here. If not, well, we're just kinda left with an assortment of archetypes running around and acting just like we'd expect them to.
review by: Mike Cecchini
Story: 4/10
Art: 5/10
Overall: 5/10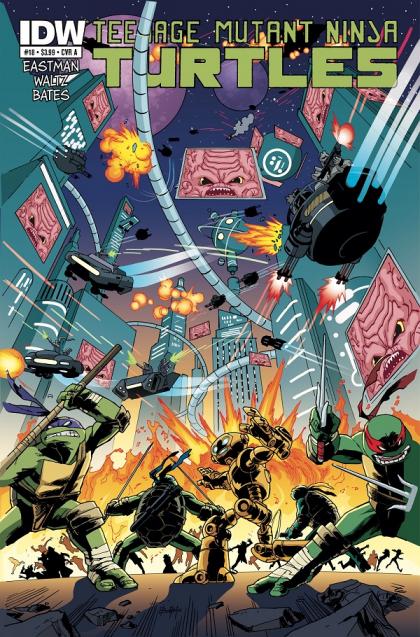 Teenage Mutant Ninja Turtles #18 (IDW)
Writer: Tom Waltz
Artist: Ben Bates
Colors: Ronda Pattison
If you are a fan of the Teenage Mutant Ninja Turtles and you decided to skip IDW's re-launch of the franchise, you've made an error. You've made a triple cheeseburger with bacon-sized error, with a side of whoops and tall glass of duh. This comic is made specifically for you, the longtime fan. The fan that has seen every television episode, every film and knows which issue of Archie Comic's Teenage Mutant Ninja Turtles Adventures features the suicide of Adolf Hitler (issue #64, look it up).  This series incorporates any and every detail established along the Turtle's 29 year history and presents it with added logic and clever reinvention.
This current arc has the Turtle's zapped away to the planet Neutrino, where they join the rebellion against the Krang empire. Meanwhile, back on Earth, April O'neil, Casey Jones and Splinter attempt to solve the case of the vanishing turtles and delve deeper into the mutant testing going on at Stockgen labs. The issue also deals with the importance of the Fugitoid robot, but if you are not already somewhat familiar with the concept of the Fugitoid, no words I type here will help clarify it. If you feel lost while reading, a two minute trip to Wikipedia will get you up to speed.
Tom Waltz really gets what makes the Teenage Mutant Ninja Turtles an un-killable franchise i.e. clearly defined characterization, great humor and wacky sci-fi plots, usually revolving around ninjitsu, stomach-brains and space dinosaurs. Simple. His dialogue is snappy and the pace races along, but never feels rushed. All of this makes for a satisfying read every fourth Wednesday.
Ben Bates' art style really gels with the subject matter of the current arc. The inhabitants of the planet Neutrino pop with anime style and he keeps the action clear and kinetic. The book has four nearly-identical protagonists, but he varies their facial attitudes and body postures enough to give a sense of who's who, even if the different color sashes weren't there to make it clear.
I can't stress this enough. If you've been a fan for as long as you can remember, add this book to your pull-list and track down the last seventeen issues in whatever format suits you. You will be rewarded for your loyalty with fantastic storytelling and the utmost respect for your (now adult) reading level. Cowabunga, thirty-somethings.
review by: Bob Chamberlain
Story: 7/10
Art: 6/10
Overall: 7/10
SNAPSHOT #1 (Image)
Writer: Andy Diggle
Art: Jock
Critics are usually tough if the story you are reading is about exactly what you are reading. To make it clearer, a lot of Hollywood critics are harsh on movies about moviemaking as it is a film about the film industry. However I really dig when the final product that we love, in this case comic books is set in the comic book world. So for those that have ever been a regular at a comic shop for years on end, anxiously waiting for Wednesdays every week; Snapshot is the new must buy book to add to your pull-list. Diggle & Jock's new 4-issue mini-series far exceeded anything I expected and Snapshot #1 packs a wallop that made me instantly wish they had released all four issues immediately as a graphic novel.
Set in San Francisco, the story revolves around Jake Dobson; a comic shop employee at the "Nearmint Rhino." Biking to work he stumbles across an abandoned smartphone in Golden Gate Park. What luck for the minimum wage worker, right? When he gets to the shop, the Rhino's most loyal customer Steve is camped out outside jonesing for new books. Clearly Jake and Steve are pals despite a considerable age gap but comics are the ultimate equalizer in the fanboy world. After some goofy comic shop rapport, Jake shows his pal the new hi-tech toy he found in the park but Steve his called away on his own cell by his wife. When Jake scrolls to the picture section on the phone he gasps as he finds several pictures of dead people in professional hit style slayings. The phone rings and it is a Homicide Detective that assures Jake everything is going to be OK and to put the phone in the store's safe.
When the formidable Detective Warren shows up to retrieve the item, Jake rushes to the back safe but sees that the cop is putting rubber gloves on and putting a silencer on his pistol. Phone in hand, Jake bolts to the back alley and naturally books to the SFPD. While telling the situation to a beat cop, the mysterious Jonathan Twain shows up to claim his phone explaining that his friends were playing a "murder mystery" game and the pics are all fake. After stating his address and phone number, Twain is given the phone and that's that. Still shaken, Jake rushes to Steve's apartment to tell him the tale and insists that they go to Twain's residence to demand an explanation and that's when things really go south.
It would be criminal to fill this review with spoilers but this is a must-have book for anyone looking for a great new series to jump onto. The Diggle/Jock combo has always packed a punch but I think this is some of their best work to date. While I'm not usually a fan of black and white when I am forking over three or four bucks a book; it really works in Snapshot. It's almost like a "modern noir" tale and has a Brubaker-lite feel to it. The idea that our whole lives are stored on our smartphones is scary and Snapshot plays on our worst fears of losing our own precious phone. A month is too long to wait for issue #2 of this new gem.
review by: Jarrett Kruse
Story: 9/10
Art: 7/10
Overall: 9/10
Colder #4 (Dark Horse)
Writer: Paul Tobin
Artist: Juan Ferreyra
Color Artist: Eduardo Ferreyra and Laura Binaghi
Declan Thomas continues to suffer from the worst cold ever in this issue of Colder. He is on the hunt to desperately save the woman he loves while also battling a madman who wants to feed off of his insanity. So we meet up with Declan while he attempts to purchase a thermometer. He needs this in order to track how cold he is getting. Once he reaches zero, he dies. He starts out the comic at 34.6 degrees Fahrenheit. He is aware that if he attempts to reach into the same dimension that Reece his temperature will go down even further. He uses a stranger's insanity to get into this other dimension. He finally battles evil for the life of his dear love Reece. And Nimble Jack seems to be winning when Declan is able to find Reece. And we find out that love, of course, is the most powerful form of insanity. He finally rescues her and takes her back home to care for her, but something seems off and different. We find out that he didn't quite grab Reece and has now likely unleashed Nimble Jack onto the world.
The art in this issue is absolutely incredible. Colder is known for its incredible horror covers and this one certainly does not disappoint. The intricate details of the cover are only matched by the incredible art on the inside. Juan Ferreyra really knows how to capture a combination of fantasy and horror. And they are wonderfully blended together! Everything from the giant dogs to the terrifying monsters that seem to come from the world of Pan's Labyrinth are beautiful and horrifying at the same time. I love that kind of thing.  
Though the plot was a little lacking in this issue, the ending completely made up for it. I'm really excited to see what kind of havoc Nimble Jack creates in our world. I love Nimble Jack, and there's so much for him to feed on in our world! I also like the element of tension surrounding Declan's temperature. By the end of the issue he is 29 degrees Fahrenheit and quickly approaching zero. I've already gushed about the wonderful art, but let's gush some more. It really helps to carry the story and it makes Colder #4 a visual buffet.
review by: Ethan Lewis
Story: 6/10
Art: 9/10
Overall: 7/10