Features
Top 5 Indie Comics Releases for Week of 1/30/13
Our weekly rundown of the coolest indie releases includes Doctor Who: Prisoners of Time #1 (IDW), Flash Gordon: Zeitgeist #9 (Dynamite), Mara #2 (Image), Nowhere Men #3 (Image), and The Shadow #9 (Dynamite)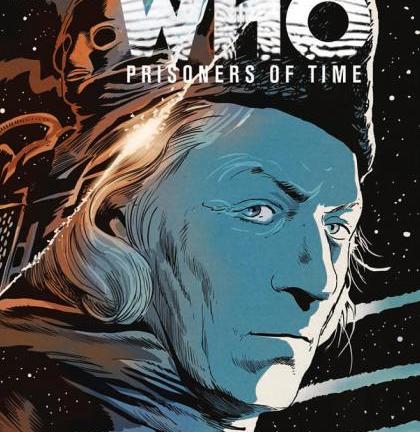 Well, it was a big week for licensed properties, with IDW and Dynamite leading the way with solid releases featuring Flash Gordon, The Shadow, and a series that's gonna showcase all eleven incarnations of Doctor Who. Luckily, to make things even more interesting, we've got two superb creator owned titles from Image, with Mara and Nowhere Men.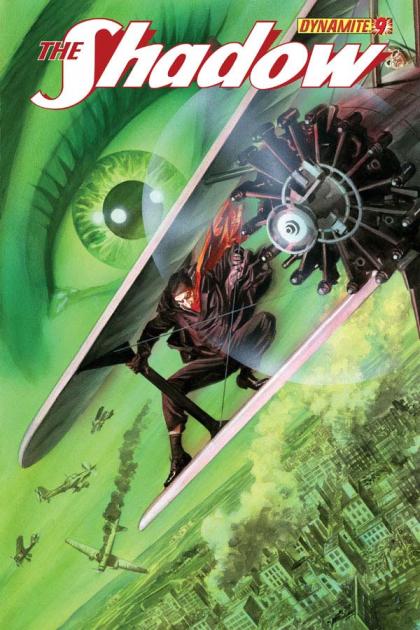 The Shadow #9 (Dynamite)
Writer: Victor Gischler
Art: Aaron Campbell
The Shadow #9 opens with Lamont Cranston having drinks with George Orwell. Yes, THAT George Orwell. You see, Victor Gischler has decided to take The Shadow to the Spanish Civil War for his inaugural arc on the title, so why shouldn't our favorite fedora-d anti-hero meet some literary luminaries? Could Hemingway be far behind? Waitasec…wasn't there an issue of Wolverine that featured Hemingway in the Spanish Civil War? Am I imagining things? Ah, but I digress…
Gischler, of course, is following Garth Ennis, who opened Dynamite's Shadow series with a terrifically Ennis-ian burst of bullets and blood. While Victor Gischler isn't exactly the fanboy household name that Ennis is, the guy "gets" Lamont Cranston and his world pretty darn well. It could be a thankless job following a comics celebrity like Ennis on a title like this, but so far, Gischler is crafting a terrifically authentic Shadow story.
Is the book flawless? No. But then again, what is? I remain unconvinced about the Black Sparrow, a leather clad, bullwhip wielding, femme fatale, who the Shadow can't "read" and who he's already had (ahem) "intimate relations" with in their civilian identities. I'll leave the reader to draw the seemingly obvious parallels here, but it's worth noting that the Black Sparrow is a particularly bloodthirsty individual.
"Bloodthirsty" is a word one can certainly use to describe the Shadow, as well. What Gischler has done quite well (and which the entire Dynamite Shadow title hasn't shied away from) is capture the malevolence and moral ambiguity which surrounds Lamont Cranston. The Shadow isn't Batman, and Lamont Cranston isn't Bruce Wayne. Many of the best Shadow stories (both on the radio and in the pulps) focused heavily on Lamont Cranston, and blurred the line between his investigations and those of his alter ego. One gets the impression that his "secret identity" is irrelevant…mostly because he wouldn't hesitate to kill any unfortunates who find out.
The overall feel is appropriately pulpy, and the art deserves a good chunk of the credit for this. Aaron Campbell (who I've loved since Green Hornet: Year One) loves these (ahem) shadowy characters and the seedy underbelly of the superhero world. I've been missing this character in my comic reading life for far too long and Dynamite hasn't disappointed me yet.
review by: Mike Cecchini
Story: 7/10
Art: 7/10
Overall: 7/10
Mara #2 (Image)
Writer: Brian Wood
Art: Ming Doyle
Colors: Jordie Bellaire
A dystopian future seen through the eyes of a celebrity debutante volleyball player accused of performance enhancement? Yup, must be Image. Lately, no concept is too strange and no risk too great for the little company that could. Marvel, Vertigo, and Dark Horse star Brian Wood is just the latest mainstream success story to take an odd concept to Image and, hopefully, strike gold.
Mara is a story ripped from today's headlines (literally today, I'm looking at you A-Rod and Ray Lewis), as it centers on a celebrity volleyball star who exhibits super-human abilities during a live match. Suddenly, she is shunned by a public that once religiously adored her. The book is a meditation on the fragility of celebrity. Mara, like Lance Armstrong, is beautiful, successful, and the best in her game. In Mara's world, she is at the pinnacle of human achievement, but soon to be brought down by the very public who once raised her to the heavens. Mara #2  introduces the idea that there are volleyball boot camps around the world that forge young girls into beings like Mara. This idea may seem crazy, but with the abundance of football camps, where kids risk brain damage and debilitating injuries to hopefully, one day, make it to the NFL, is it really?
The Greeks defined tragedy as an avoidable event that topples a human being of great power and importance. Mara takes the role of Oedipus as her entire culture worships her and sees her as the embodiment of human potential. It's not clear whether she actually cheated or if something else is going on, but as soon as a moral chink appeared in her deified armor, Mara's public begins to turn on her. Mara sleepwalks though the issue, trying to maintain her composure, but at every turn an aspect of her world crumbles as she cannot control the strange powers that are manifesting in her.
Wood renders Mara is a nice girl, naïve and easily manipulated by sponsors and her P.R. people, so there is a sense of sympathy for her. She isn't afflicted by her celebrity nor does she treat anyone poorly. She thrives on perfection and competition, and as those things are taken from her the tragic nature of her story truly sets in.
As usual, Wood's setting is a vital aspect of his narrative. DMZ, The Massive, Northlands, and even Conan all have unique and memorable locales, with their own sets of rules that assist Wood in world building. It is these settings that define Wood's characters and Mara is no different. The art is powerful in its simplicity, establishing a future world that looks both familiar and fantastic. The big draw of the book is the question of whether Mara is a cheater who betrayed her public, or is she a victim of events beyond her control. Today's marketplace is tough, and Image and Brian Wood should be praised for daring to create a book about a dystopian volleyball obsessed future culture with a strong female lead. It works, and I'm intrigued to see where this one-of-a-kind experience goes.
review by: Marc Buxton
Story: 9/10
Art: 6/10
Overall: 8/10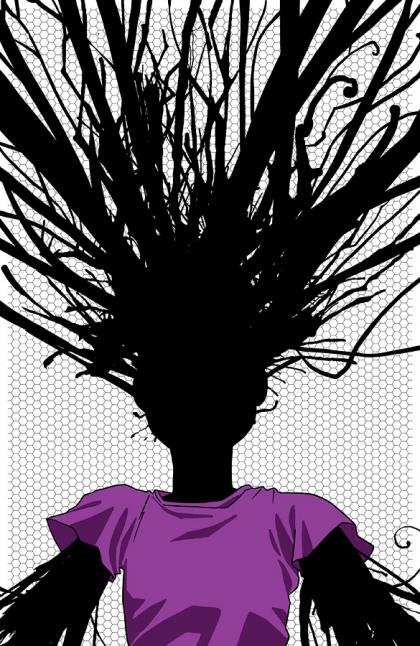 Nowhere Men #3 (Image)
Writer: Eric Stephenson
Art: Nate Bellegarde
Colors: Jordie Bellaire
Nowhere Men #3 is definitely the comic book you should be reading this week. The book took a turn for the better with its third issue, after two issues of what we now know to be just set-up. Now, I realize that Nowhere Men isn't a journey into the mad scientist story that I thought it would be, but instead a mutant superhero story unlike anything we've seen from Image Comics before, with sort of an X-Men meets Dynamo feel to it.
At its core, Eric Stephenson's story is good, although it does take a couple read-throughs to completely follow the many threads that Stephenson has interwoven between the multiple characters, as the story flips back and forth in time. There's also some curveballs thrown in there (such as magazine articles) that cause a brief moment of confusion. But, once you immerse yourself in the book, there's so much more to it than just "good." For one, Stephenson is showing mastery in pacing the story, each new piece of information makes me want the next bit, and there are no wasted pages to be found. Secondly, characters are complex and not just simple slabs of mutant meat for us to look at.  Also, Kurt has turned into some sort of huge Hulk/Hellboy hybrid that looks fantastic, much better than the pile of goo he was in Nowhere Men #2.
Nate Bellegarde's cover is, again, noteworthy here, as the purple on black and white makes the cover pop and stand out in the crowd.  The covers for the series have been strong so far, and the next two issues also have awesome cover artwork. Bellegarde's creations are greatly detailed and unique. Kurt's new form looks great, and Susan and Holly's mutations have turned the once sexy into the horrific. More importantly, Bellegarde shows the diversity of his pen by bringing us to the arctic and to the desert in the same issue.
The book is solid all around, and we cannot wait to see what's next for our newly-mutated characters. With great design and an intricate story that has the potential for a truly expansive universe, Nowhere Men #3 has given the series an electrifying jolt straight to the top of my list of must-read monthly titles. Seriously, if you aren't reading Nowhere Men, pick up the first three issues before it's too late and you're missing out on the conversation.
review by: Robert Bernstein
Story: 9/10
Art: 8/10
Overall: 9/10
Flash Gordon: Zeitgeist #9 (Dynamite)
Plot and Script: Eric Trautmann
Plot and Art Direction: Alex Ross
Art: Ron Adrian
Dynamite's Flash Gordon: Zeitgeist has been a mixed bag. On the one hand, this is the most concerted effort I've ever seen to blend all of the most recognizable elements of the Flash Gordon franchise, from the Alex Raymond strips to the movie serials to the Filmation cartoons to the Mike Hodges film into one, definitive take on the Flash Gordon legend. On the other hand, it's added a somewhat superfluous subplot involving the rise of Hitler into the background of the book, which has served as little more than a distraction. Flash Gordon: Zeitgeist #9, however, wisely foregrounds some cool, previously unknown Flash Gordon mythology, and that makes for a fun ride.
This issue is still dealing with the fallout of the first major arc, which wrapped a few issues back. Essentially, Zeitgeist has been a retelling of the most famous Flash Gordon story, involving his arrival on Mongo with Dale Arden and Dr. Zarkov, and their battle with (and eventual overthrow) of cosmic dictator, Ming the Merciless. With covers and character designs by Alex Ross, himself a huge fan of both the Raymond strips and the famous feature film, readers have been treated to sleek updatings and redesigns of a number of recognizable and colorful costumes and concepts. In fact, in this issue, Flash is sporting a costume that is based heavily on his look from the spectacular Filmation cartoons, only with a more practical bent. If you're a fan of this world, then Zeitgeist has been a "can't miss" book. If you're not, I'm not sure it holds together.
The thing is, I'm a HUGE fan of all of these elements, so my objectivity on this matter is virtually impossible. I've wondered, for almost my entire life (no, seriously, I have), why nobody has attempted such a comprehensive take on these characters. In theory, Zeitgeist should be the Flash Gordon comic of my dreams. But again, precious pages are spent on this subplot involving Hitler as Ming's surrogate on Earth, and I'm not exactly sold on the concept.
For fans of that film, though, this issue in particular is a dream. You see, we're treated to the secret origin of Klytus, the golden armored head of the secret police who so dominated the 1980 flick that he very nearly (but not quite) stole the show from Max von Sydow's Ming. Klytus was created for the film, and, to the best of my knowledge, Zeitgeist has marked his first use in comics, and he's exactly what we'd hope for him to be. Getting his background, as unsurprising as it may be, is…well, I'm almost embarrassed to admit it, but it's almost a dream come true for those of us who love that movie. While Zeitgeist may not hold together for everyone, for those who are already immersed and in love with this particular Flash Gordon aesthetic, it's almost impossible to ignore.
review by: Mike Cecchini
Story: 7/10
Art: 6/10
Overall: 7/10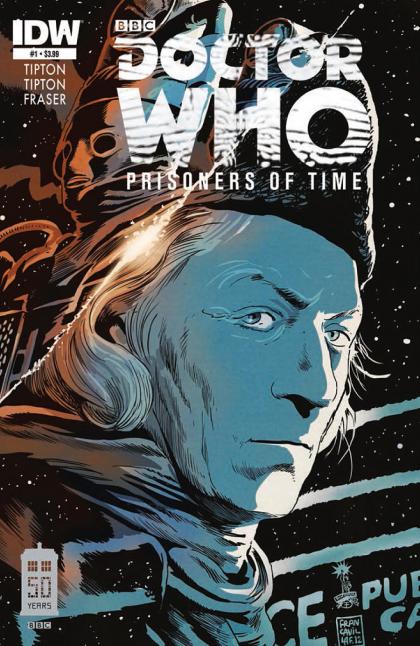 Doctor Who: Prisoners of Time #1 (IDW)
Writers: Scott and David Tipton
Artist: Simon Fraser
Color Artist: Gary Caldwell
There has never really been a better time to be a Whovian than right now. With the 50th anniversary upon us, there are so many amazing and fun Doctor Who releases. And this week we had our first look at the new Doctor Who comic book series, Doctor Who: Prisoners of Time. If the first issue predicts how the series will go, we're in for a heck of a treat.
Doctor Who: Prisoners of Time #1 starts out with some nefarious plan to strip the Doctor from his companions. For those of you who aren't into the Doctor Who universe, The Doctor is an alien from a planet called Gallifrey. He's the last of the Timelords. And when faced with death, he will regenerate into a new Doctor. And this is why we get 11 Doctors who are all really the same character, but all slightly different. He travels with human companions in order to avoid loneliness. They also help maintain his sense of humanity. Without them, he tends to start making morally ambiguous judgment calls, a bad thing for an incredibly powerful time and space traveling alien.
This issue focuses on the adventures of the very first Doctor. If you haven't watched his episodes, don't worry. You can definitely enjoy this issue without too much background information. The first Doctor is, by nature, a teacher. He's very interested in some of the more fun historical parts of traveling through time. He's also very picky about time paradoxes. Unlike some of the future Doctors (we're looking at you Matt Smith) he cares very much about dressing the part. And in this issue they are going back to 1868. And he demands that his companions dress appropriately. So off they go in their top hats, bonnets, and cumbersome dresses. They have arrived to visit Thomas Huxley (the great scientist and defender of Darwin). After enjoying one of Huxley's lectures they meet with Huxley alone and learn of some disturbing news. A few of his students have gone missing after exploring the brand new/still under construction London Underground.
While the first Doctor talks big about time paradoxes and avoiding changing his history, he usually immediately forgets these things when presented with a chance at adventure. They all travel down to help Huxley find his missing students, and discover giant alien insects underground that have been enslaved by a giant alien spider creature. Of course, the giant alien spider wants to take over the Earth (bwa ha ha ha), so we're treated to some amazing fight scenes. There really is nothing better than watching people in top hats punch giant insects in the face. They are finally saved with one of the most iconic pieces of technology from this era, a train. In the train vs. alien spider competition, the train wins. Then they all leave on the TARDIS. The Doctor seems to sense that something isn't quite right with this situation and swears Huxley and his students to secrecy (and emphasizes that no one is likely to believe them anyway).
What a wonderful homage to Doctor Who. Everything about this issue is a beautiful homage to our very first Doctor. He is the teacher, the scholar, and the protector. And we have to give the first Doctor a lot of respect. He's the first one who fought the Daleks. He's the first one to have shown us how the TARDIS was bigger on the inside. And he was the first Doctor to help save humanity. The one thing I have to rave about is the art. The cover is absolutely beautiful. We get the first Doctor looking very serious (as he often looks). Their choice to focus each issue on one of the 11th Doctors is making me very excited for future issues. 
Besides a wonderful cover (and we have to give credit to Simon Fraser for making that piece of art) but the interior is also great and really captures the image of our very first Doctor. We also get a sneak peak of the Doctors right in the beginning, and a wonderful view of all of our favorite companions! And the colors are wonderful. The blue of the TARDIS pops in a way that makes me tingle. So I also have to give a shout out to Gary Caldwell.
This was a fun and beautiful comic. Doctor Who fans will enjoy this series. They've done an amazing job of portraying William Hartnell's Doctor. All of my Whovian feels have been ignited. This was a wonderful introduction to the series. I'm excited for the next issue dedicated to the Second Doctor.
review by: Ethan Lewis
Story: 8/10
Art: 7/10
Overall: 8/10