Features
Top 5 Indie Comics for Week of 3/27/13
Reviews of: Mark Waid's Green Hornet #1 (Dynamite), Doctor Who #7 (IDW), East of West #1 (Image), Red Team #2 (Dynamite), and Fatale #13 (Image).
It's a fine week for indie comics, and there's some serious a-list talent writing this week's books! Whethr it's Mark Waid's Green Hornet #1, Jonathan Hickman's East of West #1 (an immediate sell-out, by the way), Joshua Hale Fialkov's Doctor Who #7, Garth Ennis' Red Team #2, or Ed Brubaker's Fatale #13, this week felt like it was written by a stack of potential Eisner Award nominees! A seriously strong week from Dynamite, Image, and IDW. Love when that happens!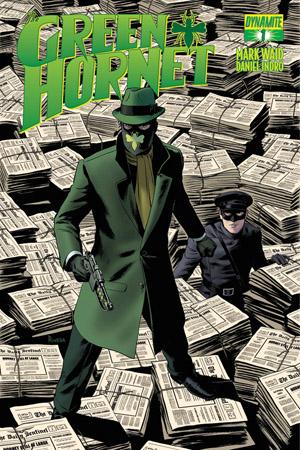 Green Hornet #1 (Dynamite)
Writer: Mark Waid
Artist: Daniel Indro
It's pretty safe to say that nobody does pulp comics like Dynamite. Alright, technically Green Hornet isn't really a pulp character in the strictest sense of the word, as his roots aren't in that particular prose format, but rather in radio shows, film serials, Golden Age comics, and, perhaps most famously, television. I'm splitting hairs, though, as the Hornet is a fedora clad, trench coated, two-fisted, hero in the Shadow mold, and his aesthetic is PURE pulp. Dynamite captured this perfectly with Matt Wagner and Aaron Campbell's Green Hornet: Year One, and it looks like they've hit the jackpot once again with Mark Waid's take on the character in this series.
These days it seems like if Waid is writing it, I'm reading it. Waid has always been famous for getting right at the heart of what makes classic characters tick, and Green Hornet is a guy who could use some exploration. When you think about it (and what Waid manages to articulate brilliantly in the first four pages), the Hornet is one of the most fascinating characters of that era. While the Shadow could be a malevolent creep, he was unquestionably a hero. The Green Hornet may be a hero, but he goes out of his way to make the world see him as a villain. A supervillain, even! Waid explores that balance quite nicely here, all while making it clear just how crucial his secret identity of Britt Reid is to helping the Hornet bring criminals to justice. It might just be the most remarkably symbiotic secret identity set-ups in superhero history, with Matt Murdock/Daredevil a distant second.
This isn't an origin story. If you've read Green Hornet: Year One, great (and it was terrific), but really, the mark of a great pulp hero is that his origin is generally unimportant. There was a time, you know, when it was perfectly okay to be a fan of something even if you didn't have an origin story spelled out for you. Regardless, even if all you know of the Green Hornet and Kato is what you may have caught in re-runs of the brilliant and underrated TV series from the sixties, you'll be just fine here. If you lack even that rudimentary knowledge, you'll know everything you need to know by page five.
Daniel Indro's art is perfectly evocative of the era (it's the autumn of 1941, so we can assume that Green Hornet and Kato have been active for about five years at this point), and it looks like he's really done his homework as far as clothing and hairstyles go. Dynamite has done some really interesting things with the Green Hornet license over the last few years, but this looks extremely promising. All in all, Green Hornet #1 is a perfect introduction to a layered character with almost eighty years of history behind him. You can't go wrong with that!
Review by: Mike Cecchini
Story: 8/10
Art: 7/10
Overall: 8/10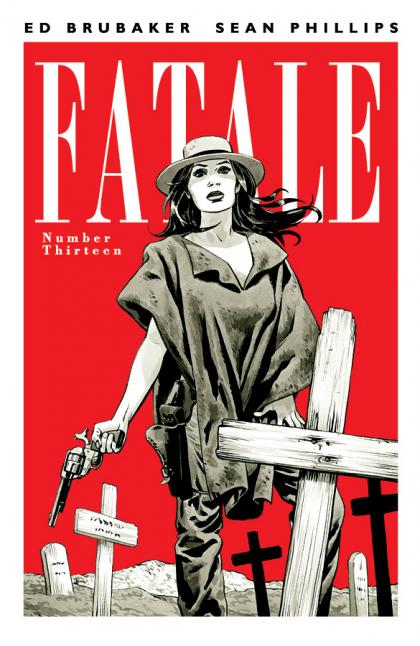 Fatale #13 (Image)
"Down the Darkest Trail"
Writer: Ed Brubaker
Artist: Sean Phlliips
Ed Brubaker, frequently with Sean Phillips riding shotgun, seems to redefine any genre he dips his toe into. Starting out at DC, Brubaker perfected the super-hero noir with Sleeper and Gotham Central. At Marvel, Brubaker took those lessons and combined them with the frenetic energy of Kirby and Steranko to craft, arguably, the greatest Captain America run of all time. In the meantime, Brubaker and Phillips unleashed Criminal for Marvel's Icon imprint and left a profound mark on comic book crime fiction. Now, for Image, Brubaker and Phillips have defied all convention in unleashing the horror noir, a mash up of Chandler and Lovecraft, in a completely original title that is part private eye story and part chilling gothic romance. Fatale is a completely original take on a plethora of genres that utilizes the most effective tropes of each to create a wholly original experience. In the latest issue, Brubaker adds the western genre to the mix to prove to the world he is an insane literary alchemist who can do just about anything.
The last few issues of Fatale have stepped away from the main story to focus on femme fatales of other eras that add history and flavor to some of the events and people of the main story arc. These issues add more detail and texture to the word, but also can stand on their own. Fatale #13 focuses on "Black" Bonnie, an outlaw who can, like all the fatales featured in this book, control the wills of men. Brubaker does not provide any answers to who these women are or why they are hunted throughout by a Lovecraftian cult, but he does provide insight into their lives and the consequences of their powers. The thing that blew my mind the most is how deeply I cared for Bonnie, her Indian protector, Milkfed, and the strange old alchemist who at first kidnapped Bonnie but then served as Bonnie's mentor.
Brubaker establishes in a few pages what most creators take a few arcs to accomplish. There is a humor in the character interactions that offsets the chilling horror and visceral violence of the cult that hunts Bonnie. Like all good horror, the answers to the story's riddles lie beneath the surface. Readers aren't told much about the reasons for the cult or Bonnie's powers, but we are left with an insatiable curiosity on how she connects to the characters of Brubaker's main arc, which seemingly will return next issue.
Brubaker and Phillips are as comfortable in the western setting as they are in the urban landscapes of the book's main arc. Last issue, the duo set their story in a primordial French forest in the Middle Ages, from which they seamlessly shift in the American West. This kind of locale shift gives readers the idea of the scope of Brubaker's story and of the centuries old stakes that exist between the cult and the fatales. Fatale is hard to describe but easy to love as Brubaker and Phillips break rules, kick ass, and scare the crap out of you month after month.
Review by: Marc Buxton
Story: 9/10
Art: 9/10
Overall: 9/10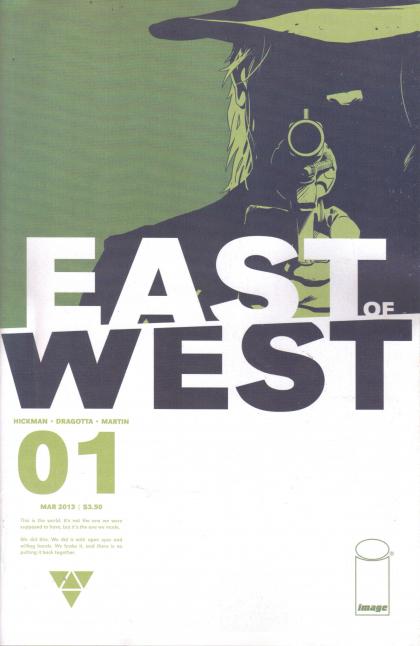 East of West #1 (Image Comics)
"Out of the Wasteland"
Writer: Jonathan Hickman
Artist: Nick Dragotta
Colorist: Frank Martin
Have you ever read something that kicked you in the knee, punched you in the gut, and then smacked you across the face…but in a good way? No? Then check out East of West #1 from Image Comics.
I have no idea what I just read; is it a western? Is it sci-fi? Is it present/past/future? Is it an alternate reality? While I'm not sure what direction the writing is going to take, it really doesn't matter to me, because this first issue is awesome!  Jonathan Hickman's East of West #1 is the most unique comic I've read so far in 2013. There are so many different aspects of East of West that make the first issue a winner; there's a story of revenge, some western elements, some mystery, and of course, some great art. 
It appears as though East of West is about the Four Horsemen of the Apocalypse. Three of the Four Horsemen are introduced in the first few pages via reborn children, while the fourth's whereabouts are unknown. The story takes place in a post-apocalyptic world where sci-fi meets western elements. Hickman's writing shines here, especially through his natural-sounding dialogue. The book contains a delightful blend of historical characters and an alternate story in a way that doesn't feel cheesy or forced.
Nick Dragotta's art in East of West #1 is undeniably incredible. Dragotta must've spent an incredible amount of time on these panels, some of which feel like standalone pieces of artwork.  I thought Dragotta may have put all of his eggs in one basket with a very well-done full page spread of the night sky and a campfire. Then, as I kept turning the pages, I noticed just how diverse his artwork can be. The panels that are steeped in history also look incredible, but then Dragotta continues to impress with the bar scene. There is also heavy emphasis on larger panels, which is enjoyable because it makes the story feel that much more epic.
Frank Martin's use of colors compliments Dragotta's artwork very well. I love that Martin decided to make death an all-white cowboy, traveling with an all-white Native American chief, and an ebony female warrior with white highlights. The contrast between the three characters made the panels pop off of the page, as the figures were surrounded by color. The night sky I wrote about above was also another highlight of Martin's use of color.
A sci-fi western with an alternate version of history about the Four Horsemen with a racial war apparently coming into play appears to be what East of West is, and I LOVED every minute of it.  Hickman, Dragotta and Martin have crafted a quality introductory issue and the fact that they chose to use Image Comics to express themselves is fitting, being that Image has an extensive catalog of unique comic books. A second printing of East of West #1 has already been ordered, so you had better go out and grab this one while you can!
Review by: Robert Bernstein
Story: 9/10
Art: 10/10
Overall: 9/10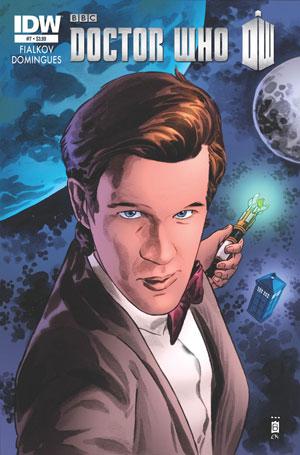 Doctor Who #7 (IDW)
"Space Oddity, Part 1 of 2"
Writer: Joshua Hale Fialkov
Penciller: Horacio Domingues with Adres Ponce
You know who had never read a Doctor Who comic before today? This guy, right here! I had actually considered giving IDW's latest Doctor Who series a try, especially since they've had a certain gentleman by the name of Andy Diggle doing some writing, but it somehow slipped under my radar. But how could I pass up Doctor Who #7? Featuring everyone's favorite former Green Lantern Corps writer, Joshua Hale Fialkov, and a story named after one of the all-time great David Bowie songs, I had a feeling that I was going to check this out.
Ah, but in today's continuity obsessed comics market, how could I possible jump into a Doctor Who comic series with issue number 7? Simple! Continuity is meaningless if you're a Doctor Who fan. You know the basic concept (which IDW kindly outlines in three sentences on page one), and then off you go on all manner of timey-wimey adventures (this one takes place in 1965). The Doctor in question for this issue (and this entire series, really), is the Eleventh Doctor, as portrayed by Matt Smith. Domingues and Ponce do a good job with Smith's rather unique, difficult to duplicate features. What's more, the art is delightfully spare, almost cartoony, which highlights the off-kilter nature of the Doctor's world, and the Eleventh Doctor in particular. I can't imagine I'd be terribly interested in a "realistic" looking Doctor Who comic.
There are only two characters in this issue, the Doctor and a Russian cosmonaut. Well, technically, there were three characters, but the other cosmonaut didn't last very long. The shadowy, unseen threat that hangs over the issue is that of the Vashta Nerada, who are kind of like shadow piranha. You don't want to be on their bad side, which, unfortunately, this cosmonaut and his buddy are. The Vashta Nerada are best known as the menaces from the Tenth Doctor's days, so it was a nice surprise seeing them pop up here.
Fialkov gets Matt Smith's "voice" right, and the pacing and tone are very similar to what you would expect out of the first twenty minutes or so of a solid Doctor Who episode. Kick in that theme tune at strategic moments, and you're all set. While I can't judge IDW's entire Doctor Who output on this one issue, it does appear that if the wait between episodes is too much for you to bear, the comics might just be the thing to get you through between seasons!
Review by: Mike Cecchini
Story: 7/10
Art: 7/10
Overall: 7/10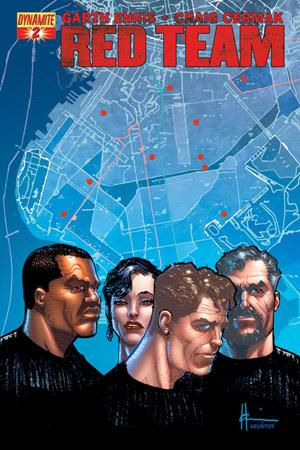 Red Team #2 (Dynamite)
"The Rules"
Writer: Garth Ennis
Artist: Craig Cermak
Ennis and Cermak continue to show the real-world consequences for four elite and highly trained cops who take the law into their own hands by using their skills to murder what they consider irredeemable perpetrators. After the successful killing of a brutal drug lord, the book's four protagonists are surprised about the positive effect the killing has on the streets. They're even more surprised about how untroubled their own consciences are after committing an act they know is wrong.
Ennis creates the complex concept of the four's guilt over not feeling guilty about their crime. It's as if a curtain was peeled away that reveals what society says is morality is just an illusion. They see that stepping outside the bureaucracy has done some real good in their world. Red Team tracks the consequences to society if someone decided that the Punisher had the right idea. There is no glorification of the cops' acts, just an examination of the real world ramifications of giving into wish fulfillment.
Ennis delves into the complex relationship between two of the Red Team, Detectives Giroux and Mellinger. Giroux is a beautiful and capable cop, and Mellinger is trapped in a marriage with a wife given to jealousy over the two cops' partnership. Ennis reveals that Mellinger's wife has suffered a number of miscarriages, and this hard marriage has perhaps made him more prone to embracing the profane act the four committed. It's these types of complex and adult character nuances that have always set Ennis apart from other writers. He did it in Preacher, he did it in his more serious-minded issues of the Punisher, he's doing it in Marvel's criminally overlooked Fury Max series, and he does it in Red Team. This issue sets the rules for Red Team as the group decides what type of criminal is acceptable for them to hunt. The four set a Dexter-like code for themselves and go after a Russian mobster. There is no epic fight scene or dramatic dialoguing between hero and villain, just a cold operation set to remove a bad person from a good world.
The book calls into questions society's morals and the idea of how power can corrupt. But is it so bad if corrupt power brings down the cancerous vermin that infect this planet? Ennis is doing a good job differentiating the motivations and skill sets of each team member. Red Team is a stark reflection of reality, part warning, part wish fulfillment of the true consequences of vigilantism. This is the Punisher in the real world, and I'm equally anticipating and fearing what happens next.
Review by: Marc Buxton
Story: 8/10