Features
Top 5 Indie Comics for Week of 3/20/13
Reviews of Five Ghosts: The Haunting of Fabian Gray #1 (Image), Doctor Who: Prisoners of Time #3 (IDW), Conan the Barbarian #14 (Dark Horse), Star Trek: Countdown to Darkness #3 (IDW), and All-Crime Comics #1 (Art of Fiction)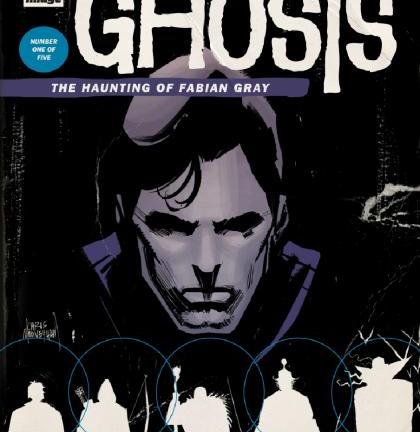 Quite a grab bag this week, including two very strong debuts in the form of Five Ghosts: The Haunting of Fabian Gray #1 and All-Crime Comics #1, and then three fine licensed comics that do their source material justice: Doctor Who: Prisoners of Time #3, Star Trek: Countdown to Darkness #3, and Conan the Barbarian #14. It is also, in case you hadn't noticed, the week of very long titles.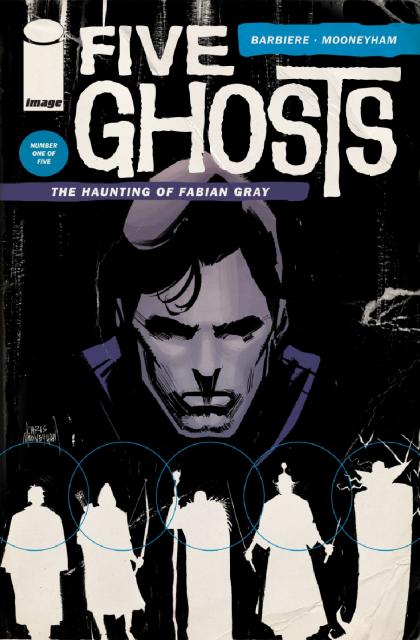 Five Ghosts: The Haunting of Fabian Gray #1 (Image)
Writer: Frank J. Barbiere
Artist: Chris Mooneyham
When is a pulp adventure not a pulp adventure? When it's a brand new concept, I suppose! Frank J. Barbiere and Chris Mooneyham's Five Ghosts: The Haunting of Fabian Gray is equal parts fabulous original concept and perfect callback to heroes and antiheroes of genres past. The first issue of this five part miniseries is a wonderfully moody peek into the world of an adventurer who appears to be part Henry Jones Jr. and Lamont Cranston.
This ain't no origin story. We're dropped right into the thick of the action with Fabian Gray. And what, pray tell, is it that Fabian Gray does that makes him at all interesting? I'm glad you asked! Fabian Gray had a "tragic encounter with an artifact known as The Dreamstone" and now he's been possessed by "five literary ghosts." LITERARY ghosts, people! These aren't common ghosts who only ever look at a newspaper to catch a glimpse of the funnies and the box scores. No sir. But really, it's like the five archetypes of perfect pulp fiction are embodied in Fabian: The Wizard, The Archer, The Detective, The Samurai, and The Vampire. Throw a barbarian and a space explorer in there and we'd really be all set! Fabian gains the power of each of these archetypes as necessary, but he's paying a painful and mysterious price for these abilities as well.
As a single issue, particularly as a first issue, Five Ghosts #1 does its job admirably. We learn much of what we need to know about our protagonist in the first few minutes without any unnecessary exposition or set-up. Think about how the first few minutes of Raiders of the Lost Ark established Indiana Jones with a bare minimum of dialogue and a whole load of action. That's what Barbiere and Mooneyham do here. Mooneyham's art is evocative and moody, and as perfect a realization of this character and his world as you could hope for.
The fact that Five Ghosts is a limited series, despite this being a character with seemingly endless potential is intriguing on its own. While obviously this isn't meant to be Fabian Gray's first mission, there is a certain feeling, given his current predicament, that it could turn out to be his last if things don't all break exactly right. Which is, in a way, kind of how it goes for new characters these days, ain't it? But if this first issue (and the buzz surrounding it) is any indication, I don't think we have to worry too much about Fabian Gray. I think we'll be hearing a lot more from him, Frank J. Barbiere, and Chris Mooneyham in the future!
Review by: Mike Cecchini
Story: 8/10
Art: 9/10
Overall: 9/10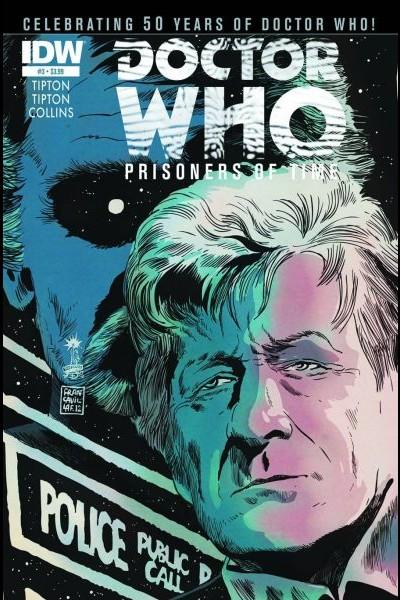 Doctor Who: Prisoners of Time #3 (IDW)
Writer: Scott and David Tipton
Artist: Mike Collins
Color Artist: Charlie Kirchof
I wasn't sure how I was going to feel when I picked up Doctor Who: Prisoners of Time #3. I thought I was pretty familiar with the first two doctors so I knew I would be able to show off my Whovian knowledge. But what did I know about Jon Pertwee's portrayal of the boy from Gallifrey? When I did the research it all dawned on me: This was the first Doctor to encounter The Master. He's the one who joined U.N.I.T. And he was the first Doctor to meet the wonderful, intelligent, and courageous Sarah Jane Smith. Sarah Jane is widely considered the best companion from Classic Who (and some would argue of all time). Plus, the Third Doctor kicked ass and took names. So hats off to this badass…even if he dresses like Prince. What's more, he begins a new age. He's the first Doctor to appear in color and he ushered in the 1970s!
The Third Doctor always did enter the room with a bang and this comic is absolutely no exception. Sarah Jane Smith represents a new found sense of feminism. She doesn't want to be just an awestruck companion of the Doctor's. It's clear that she thirsts for knowledge and acknowledgment and demands to be introduced upon entering the room, and The Doctor is happy to oblige. They find out that the Brigadier has been acting erratically and ordering troops around the world in a seemingly random pattern. And of course the Earth seems to be in some kind of horrific environmental crisis (cue the clear metaphor) and is flooding. Now when dealing with Doctor Who, it's always important never to ignore a coincidence…unless it's inconvenient. Well it turns out that the Brigadier (did we mention his importance to the Third Doctor? He's one of the Third Doctor's only remaining friends) is infested with some kind of strange parasite that's attempting to flood Earth and take it over. What is with the alien races in Doctor Who wanting Earth so badly? Doesn't anyone want Mars?
Anyway, the Doctor does was he always does and he investigates this alien attack. Of course when the CIA decides destroy Great Britain in order to stop the infestation from spreading, shit gets done. I mentioned before that the Third Doctor kicks ass. That wasn't just a compliment. It's Doctor Who so let's not get to caught up in details. Of course it ends with more companion kidnapping. To which I say "You took Sarah Jane? YOU BASTARDS!"
I really enjoyed this issue. It is definitely the kind of fun Doctor Who adventure you expect when you open up the comic. My only real disappointment with the story is that they didn't focus on The Master. He's such a great villain and a foil to The Doctor in many ways. He's also a villain that ties Classic Who to New Who. Including him may have helped connect the New Whovians to the classic series. On the other hand I am so happy they put Sarah Jane Smith in here. Next issue is Tom Baker. I clutch my ridiculously long scarf in anticipation.
Review by: Ethan Lewis
Story: 7/10
Art: 6/10
Overall: 7/10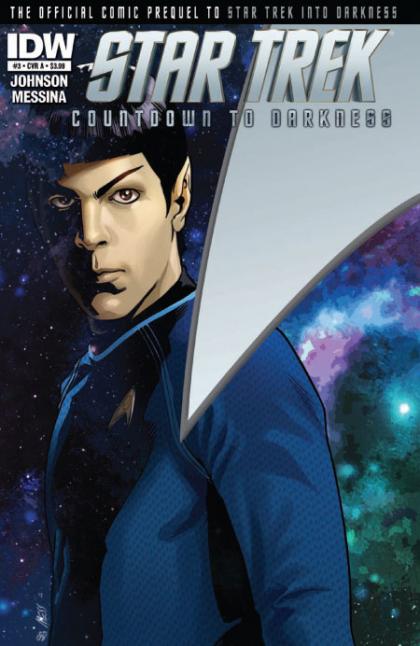 Star Trek: Countdown to Darkness #3 (IDW)
Story: Robert Orci & Mike Johnson
Script: Mike Johnson
Artist: David Messina
I'm a bad Star Trek fan. I mean, I'm a ridiculous Star Trek fan, but I guess I'm not a pious one or anything. As I write this, yesterday was March 22nd, and more significantly, William Shatner's birthday. You know how I spent his birthday? Watching episodes of Star Trek: The Next Generation and reading a Star Trek comic that features, not his likeness as Captain Kirk, but rather the likeness of his replacement in the ol' gold shirt and captain's chair, Chris Pine. I should be ashamed of myself.
But damn it, Bones…I'm not ashamed. You know why? Because far more than it did in the modern big-screen versions of Star Trek that it's based on, this entire Star Trek: Countdown to Darkness mini-series feels like it takes place during Shatner's glory days. Sure, it's Robert Orci, one of the architects of the new Star Trek universe helping to plot the book: after all, Countdown to Darkness is intended as a direct lead-in to this summer's highly anticipated Star Trek: Into Darkness (the latest trailer, I should add, blew everyone's minds). But maybe it's the way that Mike Johnson has scripted this, but I still hear the voice of the original cast, not the younger cinematic versions, speaking when I read these word balloons.
The big question is how exactly this ties in to Star Trek: Into Darkness. Paramount's PR department, not to mention a remarkably tight-lipped cast and crew, have done a terrific job keeping the villain's true identity and motivations under wraps. What do we know? Very little, other than the fact that he seems to have some superhuman abilities. Maybe that's what Countdown to Darkness is getting at. While most of this mini-series has dealt with the re-emergence of Captain Robert April (and it takes a fairly hardcore Trek nerd to get excited about a Robert April appearance…in this case…me) and some pretty hefty violations of Starfleet's Prime Directive. But one side of this conflict has apparently received an "evolutionary boost" and maybe that's what accounts for Benedict Cumberbatch's "John Harrison" character exhibiting seemingly superhuman power in the footage we've seen!
There are other, slightly more subtle ways, that Countdown to Darkness might be leading in to the film, particularly in the evolving relationship between Kirk and Spock (which, at least on the page, is beginning to resemble more of their familiar dynamic), and in terms of how Spock is dealing with the loss of his homeworld. Anyway, Star Trek: Countdown to Darkness is just what I need to hold me over until the film hits in May, and it's filling in the blanks without giving too much away.
Review by: Mike Cecchini
Story: 7/10
Art: 6/10
Overall: 6/10
Conan the Barbarian #14 (Dark Horse)
"The Woman on the Wall: Part 2"
Script: Brian Wood
Art: Mirko Colak
Colors: Dave Stewart
Every week I seem to be reviewing a different Brian Wood book. Seriously, the man changes genres like other men change socks, and he does it with a seamless panache that makes his Star Wars work seems as different from the X-Men as his Mara is from his Conan, but all carry his signature solid craftsmanship. It's not a stretch to say that Wood is the single most eclectic and hardworking writer in the field today.
Conan has been forcefully conscripted into a siege army as he is searching for his lost love, Belit. While laying siege to an immense desert city, Conan spots Belit walking the ramparts. Now, what else can one ask from a Conan comic? There's an immense battle as Conan leads his men to take the city, because once he does, he will be reunited with his lost love. This is sword and sandals fantasy at its finest, with an unstoppable hero fighting for his love, and plenty of the old ultra-violence as set dressing. Wood makes Conan's journey very personal. This is a young Conan that Wood is writing, and the barbarian's inexperience is evident even though his might is unquestioned. Any Conan fan knows that Belit is Conan's love eternal, and it is fun to watch Wood explore this romantic part of Conan's life, a time that no writer has really touched since Roy Thomas in the seventies.
As compelling as Wood's Conan is, his Belit is even more fascinating. She is a woman who will not be possessed, a pirate queen who sees the world as booty just waiting to be plundered. With all this power and hunger, she is still a woman who has been wounded, as Belit tragically suffered a miscarriage two issues ago. Belit seems lost as reality has conspired to humanize her, and the young Conan is equally lost in trying to bring the passion and fury of his lost love back.
Wood creates a conflict where every man sieging the city with Conan sees Belit as a prize to be taken once the city falls. She is the great symbolic promise of victory, but to Conan, she means so much more.  In battle, Conan can find predictability and confidence, something he cannot find with Belit as she deals with her newly discovered vulnerabilities. He fights to get to Belit's side so he can fix the pain that spilt them apart. Don't think this is all hand ringing emotional drama. Oh, no, there is more blood spilled than tears, as Conan leads a daring raid over the walls and into the city.
Wood writes incredible battle sequences of intimate brutality and controlled chaos. Mirko Colak is a new name to me, but Crom can he draw! His settings are detailed and lush and his action is ferocious and primal. He was an artist born to draw Conan. Wood combines a rousing fantasy setting with brutal action to form an emotional and classic Conan tale.
Review by: Marc Buxton
Story: 8/10
Art: 9/10
Overall: 8/10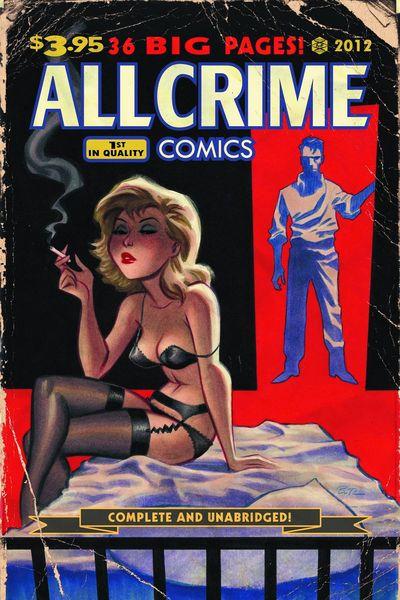 All Crime Comics #1 (Art of Fiction)
Writer: The Art of Fiction
Illustrators: Ed Laroche and Marc Sandroni
Colors: Tony Fleecs and Andrew Siegel
I bought All Crime Comics #1 off the rack, knowing not one thing about the contents. That ridiculously sexy Bruce Timm cover just couldn't be ignored. It looked properly beat up, like an old pulp novel, with some nice square binding, with thick interior pages and an exaggerated Ben-Day dot effect on some of them. I naturally assumed, given the "vintage style" title that this was an anthology (I was wrong), similar to the one-shots DC has been producing under the names of their old sci-fi titles (I was really wrong). Regardless, at $3.95, it was too good a deal to pass up, so I dropped it in my stack.
Much to my surprise, the interior of All Crime Comics owes a lot more to the films of Quentin Tarantino than it does to the aesthetic of old EC crime comics or trashy mid-century dime novels. Then again, maybe that isn't so true, after all. I mean, what is Reservoir Dogs but a cinematic version of those same pieces of mid-century sleaze? And what is Pulp Fiction but an issue of a crime anthology comic come to life? So while perhaps it's natural that any comic that explores these themes in the modern era (well…not really…the story takes place between 1969 and 1989) is going to get comparisons, to the more familiar and recent iterations of the crime genre. But really, all that All Crime Comics #1 is doing is reclaiming this aesthetic for the page.
There's enough implied illicit sex and drug use, not to mention explicit violence in All Crime Comics #1 that it certainly never would have made it through the comics code back in the day, and it's hopefully giving the ghost of Fredric Wertham fits, even as I type this! The bookending chapters, illustrated by Ed Laroche with colors by Tony Fleecs, are set in 1989, and set up an interesting mix of revenge, capers, escapes, and double…even triple crosses.
But it's the middle chapter, with art by Marc Sandroni and colors by Andrew Siegel which really distinguish themselves. Sandroni goes straight for the romance comic jugular and perfectly evokes the comic art of the sixties that existed mostly outside of the superhero books. All Crime Comics promises that the main character, Dodger, "will return in All Crime #2." I don't know if they mean it or not, or if that's just the kind of thing you're supposed to say at the end of this kind of book. If it's true, I'll definitely be back for more.
Review by: Mike Cecchini