Features
Top 5 Indie Comics for the Week of 2/27/13
Reviews of Five Weapons #1, The Answer #2, Doctor Who: Prisoners of Time #2, Angel & Faith #19, and Rocketeer: Hollywood Horror #1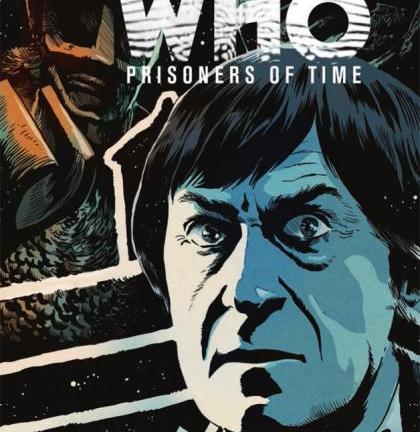 Kind of a mixed bag this week between licensed properties and creator-owned material, but that's usually what we get with our indie list, right? Read on for the goods on: Five Weapons #1 (Image), The Answer #2 (Dark Horse), Doctor Who: Prisoners of Time #2 (IDW), Angel & Faith #19 (Dark Horse), and Rocketeer: Hollywood Horror #1 (IDW)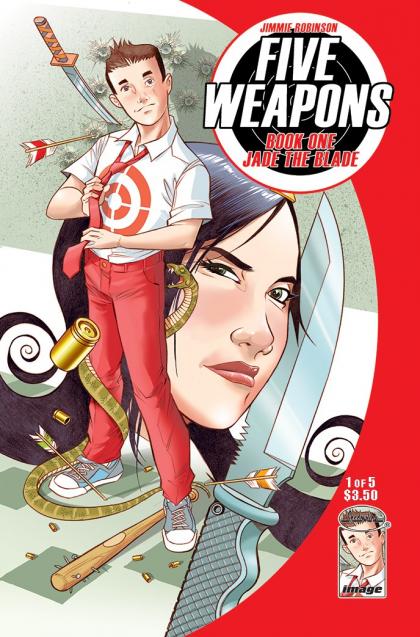 Five Weapons #1 (Image)
Story and Art: Jimmie Robinson
Jimmie Robinson's new book Five Weapons is an ambitious new project for the writer and artist. When I read the description in Previews, I made sure to reserve it because a high school for future assassins just sounds cool. I immediately thought of Mark Millar's Wanted and the similar concept of "the family business" of assassins. There is something inherently interesting about families and their kids that choose the same life they swore they would get away from. Unfortunately, Five Weapons #1 doesn't hit any marks that we haven't seen before.
Tyler Shainline has just been enrolled in The School of Five Weapons, an elite school where the rich and powerful go for an education that combines "personalized weapon instruction giving your child the tools for a career in personnel elimination." The institution offers five exclusive clubs for the kids to master their skills in either knives, staves, archery, exotic weapons and guns. Obviously because of the current climate of U.S. schools and weapons specifically guns, Five Weapons may turn off some casual comic fans that don't realize these are written months in advance. Still, I don't see the book being on any top ten lists even though it is a mildly enjoyable read.
The Shainline family is legendary for their work in the assassination field. Tyler's parents have nary been seen by the people of their world but everyone knows of them. Upon arriving at the Five Weapons School, Tyler is met by Principal O, a monocle wearing woman that we learn is relatively new on the job. Immediately she wants to know what weapon he has chosen as it is customary to select one when you arrive at the school. Principal O encourages him to choose wisely (and quickly) as Tyler is arriving late in the semester and doesn't want to risk failing a class. The president of the knife club is a student named Miss Jade with whom Tyler immediately verbally spars before she brings him to "the range," the Five Weapons equivalent of a regular school's football field.  Jade points out all of the presidents of the clubs and they all have cheesy names like Rick the Stick, Daryl the Arrow, Joon the Loon, and Nat the Gat.
Tyler fakes an injury to avoid choosing a club and sees "The Nurse," a woman whose face is wrapped in gauze like a domino mask but over her nose instead of her eyes. The new student gets a reprieve from Principal O for one week to choose his "major." After leaving the Nurse, Tyler heads to knife class where he again encounters Jade. By the way, I'm not kidding, the door of the class just says "Knife." After being baited, Tyler challenges Jade to a duel and the winner takes the position of President. Jade has no intention of losing her title and is ready to do anything to maintain her status at Five Weapons.
The story then cuts to two days earlier where the real Tyler Shainline is playing with the family servant's son Enrique. Tyler's parents have matching vertical scars on their eyes and the father reveals that someone named Vera has escaped and will be coming for them. They must go into hiding and the real Tyler cannot go to Five Weapons School. In order to keep the ruse alive that everything is ok, Enrique takes Tyler's place at the school, and Enrique's parents, as servants to the Shainline's, stay on at the estate as their employees while they flee. Apparently in their world there are just servants and assassins. Confused? Me too.
Immediately, Five Weapons reminded me of the only other high school comic that I am currently reading, Morning Glories. While there is room for improvement in Five Weapons and it's very difficult to judge the debut issue of a new series, there were just no characters that I really cared about. With Morning Glories I was hooked right out of the gate, but Five Weapons just feels "blah."
Review by: Jarrett Kruse
Story: 5/10
Art: 5/10
Overall: 5/10
The Answer #2 (Dark Horse)
Writer: Dennis Hopeless
Artist: Mike Norton
Sometimes it's great to be thrown right into the thick of a superhero story without a ponderous origin. Dark Horse did exactly that with The Answer #1 and the breakneck pace continues here in the second issue. How fast-paced is The Answer? How about this? Virtually all of The Answer #2 takes place in the middle of a high-speed chase. Every bit of exposition that we get happens in the back of a speeding limo with the Answer in hot pursuit. It's like an 80s action flick only with a guy who looks a little like Snake Eyes with an exclamation point on the front of his mask in pursuit. And we see that the Answer isn't always the most graceful crimefighter…perhaps he's just inexperienced.
The plot revolves around Devin Mackenzie, a thirty year old librarian who suddenly found herself a target of masked gunmen after registering the highest scores anyone had ever seen on an obscure logic puzzle website. The Answer came to her rescue, only to find himself separated from her when she's loaded into a limo by another mysterious group…who claim to have no knowledge of the first crew who were after her.
Devin is told by her "rescuers" that they use the puzzle site as a recruiting tool for a think tank of futurists ("The Brain Trust") aiming to make the world a better place. However, their own crew of armed guards (and Devin's intuition) seems to indicate that this isn't the case. What's more, the media is portraying the Answer as a dangerous lunatic (which, to be fair, there's not a helluva a lot to make you think otherwise if you're just kinda watching from the sidelines), and that the men who first attempted to kidnap Devin were, in fact, federal agents. To make things even more interesting, floating around behind all of this lunacy is a faintly cult-like self-help guru named Chip Carney talking about philosophy and puzzles.
Between the timeless, sleek design of the Answer's costume, to Mike Norton's clean, perfectly comic book-y art, The Answer reads like almost a pure distillation of the superhero genre. There's a little bit of Silver Age simplicity in the frenetic approach, but there are plenty of twists and turns to mark The Answer as a thoroughly modern superhero comic.
Review by: Mike Cecchini
Story: 7/10
Art: 7/10
Overall: 7/10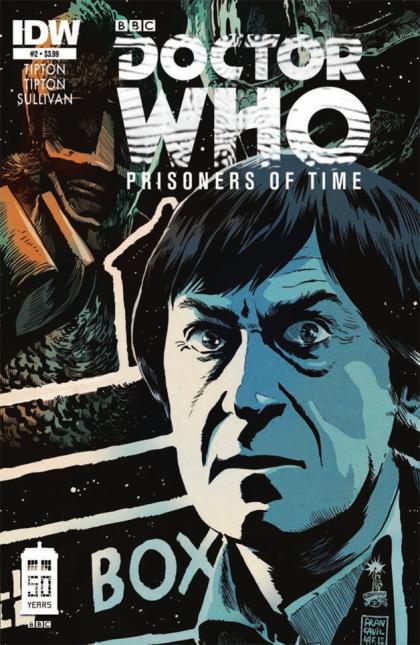 Doctor Who: Prisoners of Time #2 (IDW)
Writers: Scott and David Tipton
Artist: Lee Sullivan
Color Artist: Phil Elliott
You know you've written a great story when the fans look forward to the next issue, and that's certainly how I felt when I picked up Doctor Who: Prisoners of Time #2. This series is, of course, part of the build up to the fiftieth anniversary, and each issue is dedicated to a regeneration of The Doctor.
This issue is dedicated to the amazing Patrick Troughton. Go ahead, make fun of his hair. But let's be real. The Second Doctor was emo before it was cool, and we have to give him some credit. This was the first time they had ever done the regeneration thing. so Troughton had some big shoes to fill. At this point we're used to our favorite doctors leaving, some before their time (looking at you, Christopher Eccleston) but early on it must have been odd. So you have to respect Patrick Troughton and his first regeneration of The Doctor!
In this adventure, the Doctor and his two companions, Jaime and Zoe, find themselves at an intergalactic trading post. Before there was Amy and Rory there was Jaime and Zoe, both with their very own fashion sense. Zoe is very Mod while Jaime is forever kilted. The three wander around the market while the Doctor explains a little about the dealings that take place there. There are a couple wonderful scenes in the shops, where they land inside a police box store (yes, they sell police boxes) and then end up in front of a hat shop. The hat shop is clearly a nod and wink to Doctor Who fans, especially the shot where it looks like the Second Doctor is wearing the Eleventh Doctor's fez (fezes are cool).
The trio of time travelers end up sitting down and eating lunch. It's here that the Doctor reveals that there is a far darker side to this market than the beautiful outside would suggest, referring to the black market and a group of slave dealers. I really appreciate that the Doctor is beginning to evolve in character and it's evident in this discussion. The First Doctor was very much about the "prime directive." He didn't get involved in other cultures (or at least he pretended not to). The Second Doctor fights injustice. So as they begin to investigate the slave traders we are totally aware that the Doctor has some tricks up his sleeve. When the slave traders offer to buy Jaime (maybe they're into kilts?) The Doctor refuses.
Later Jaime goes missing and it's apparent what has happened, but that's ok, since the Doctor has planted a tracking device on him. They follow the signal and find him. Using the power of three (Eleventh Doctor reference) they manage to free the slaves and take down the entire operation. Of course then Jaime and Zoe disappear…
Scott and David Tipton clearly love Doctor Who and have once again managed to really capture him in all of his forms. I was concerned going into this issue that they wouldn't really capture the differences between The Doctor's regenerations but I they did this quite well. They made him subtly different without it being over the top. My fez comes off to you two! The intensity in the Doctor's eyes on the Francesco Francavilla's cover is amazing. It makes a Whovian tingle. Lee Sullivan's interior art was really fun! I loved the homage to the hats of the other Doctors. Easter eggs like that keep Doctor Who fans coming back for more!
Review by: Ethan Lewis
Story: 7/10
Art: 8/10
Overall: 7/10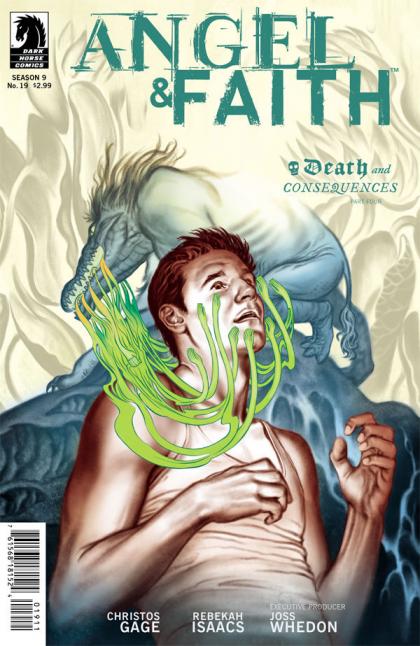 Angel & Faith #19
"Death & Consequences: Part 4"
Script: Christos Gage
Art: Rebekah Isaacs
Executive Producer: Joss Whedon
Angel's quest to resurrect Rupert Giles is an engaging, emotional, personal story that delves deeply into the history of the Buffyverse. And it's evidently a never-ending story.  For nineteen issues Angel, with the help of Faith, has been seeking a means to resurrect Giles in a world now devoid of magic. Angel's reasons for doing so are strong because it was Angel who killed Giles and left the world without sorcery. Angel's motivations have been carefully mined, and then mined again, and then once more for good measure, and then beaten to death with a meat tenderizer,  Meanwhile, Faith struggles with her own insecurities as a leader of the next generation of slayers. Add, rinse, stab, repeat.
In this issue, the zombiefied corpse of Giles teams up with a creature with the ability to possess others, and a bunch of vampires to go against Angel, Faith, the Slayers, and the surprisingly returned Spike. And they fight, and fight some more, and Angel is wracked with guilt, and Faith struggles with her role as leader, and Spike makes jokes, and the good guys win, but Angel goes comatose with guilt, again. Actually, he goes comatose because now he shares his consciousness with Angellus AND Giles, which is actually an effective twist for the series, but the guilt wracked Angel is so played out after nineteen issues that a well-conceived plot twist is lost in the mire of predictability. It's not that the plot is a failure; it's just that there is too much of it. It's a good story, one that effectively uses characters and concepts of the Buffyverse; it's just not strong enough for nineteen issues. 
Where the series succeeds is in the resurrection of concepts that were to be used in Whedon's aborted Ripper series. Back in the day, our lord and master Joss Whedon wrote a treatment for a possible series starring a young, punk rock Rupert Giles aka Ripper. Gage utilizes the concepts and characters conceived by Whedon for this series, and it's fun to play "what if" with Giles' eccentric Absolutely Fabulous inspired Aunt and his kick ass granny mentor. In fact, if this series ended seven issues ago and was replaced by a Young Giles monthly, the Buffyverse would be better served, because retreads of Angel's guilt and Faith's insecurities just aren't cutting it anymore.
Gage understands these characters, and their characterizations are spot on to what Buffy fans expect, but this series has been spinning its wheels for almost two years now. The art is as stiff as the pacing, as Rebekah Isaacs wonderfully renders each characters appearance, but her figures and action are stiff. She sacrifices backgrounds in many panels and, at times, it's tough to discern where each character is in relation to the setting. But she can draw the heck out of those actors.
Review by: Marc Buxton
Story: 5/10
Art: 4/10
Overall: 5/10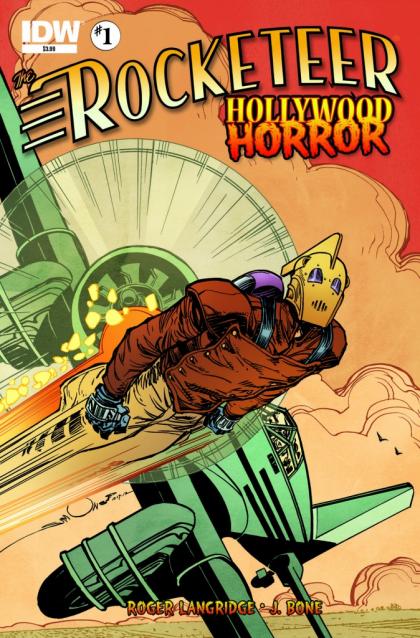 Rocketeer: Hollywood Horror #1 (IDW)
Writer: Roger Langridge
Artist: J. Bone
Like every other kid on the planet growing up, I was obsessed with having a jetpack and the possibility of being able to fly. Besides Christopher Reeve's Superman and the lame 80's movie The Boy Who Could Fly, there was not much in the way of flying on the big screen. Sure there was The Greatest American Hero, and Condorman will always have a special place in my heart but they are no sons of Krypton. 1991's totally underrated Joe Johnston film, The Rocketeer, changed all that. While the film is not like the blockbusters of the 21st century, it struck a chord with fans and developed a solid cult following, making writer/artist Dave Stevens' creation a solid mainstay on comic book shelves since the onset of Con-Culture. Writer Roger Langridge and artist J Bone give the Rocketeer a go in Rocketeer: Hollywood Horror and it's a fun read for those that love old Hollywood adventure or pulp-based comics.
You know the story, nice guy pilot Cliff Secord stumbles upon a rocket jetpack that was stolen by the mob for the Nazi's to win World War II with a fleet of flying men. Back to the book: Cliff receives help from his faithful mentor Peevy, an aviation engineer that knows Cliff's secret identity. Also in the fray is Cliff's gorgeous actress girlfriend Betty, who puts up with Cliff's constant tardiness (hey, it's not easy being Hollywood's only hero). Betty's reporter roommate, Dahlia, is hot on a story about a missing scientist being held captive by the mysterious Mister Rune.
Cliff encounters all sorts of trouble in this first issue and it definitely hits the mark for its target audience. This is a book that everyone can enjoy and artist J Bone's grasp of the female form is outstanding in a Frank Cho Pin-Up kinda way. After blowing another date with Betty by forbidding her to be a part of his Rocketeer life, Cliff returns to Peevy's where two thugs are muscling in looking for the Cirrus X-3 Jetpack. Cliff narrowly escapes just as the phone rings long enough to distract the hoods. It was Betty on the other line calling to tell Cliff that Dahlia is in a fix and has been kidnapped. Before Dahlia can get her last words out a tentacle appears and the line goes dead.
In his rush to retrieve the X-3, Cliff bumps into a couple that just happen to be on their way to question Peevy about the missing scientist, Augie Lowcroft. The man and wife are a pair of detectives and Peevy knows something is wrong because it seems that everyone is looking for his old friend. Lowcroft is being held against his will at Mister Rune's lair and is able to take an unconscious Dahlia to the desert so that she wakes up confused. Rune has some major dirt on Lowcroft and is aiding Rune in unleashing horrible monsters upon Hollywood. Our last glimpse is a mad scientist moment as Rune admires the tentacle creature in his basement.
I've always loved The Rocketeer and the era in which it takes place. Langridge and J. Bone are able to capture that swingin' feeling of 1939 with ease and they don't take themselves too seriously. It reads like an Archie comic but with a superhero as the centerpiece who's really just a cool guy with a sweet jetpack and a badass helmet. After all, what comic book reader doesn't want to fly? Believe me when the first jetpacks are released, I assure you it will be at a comic con. Pick this one up for yourself or for the little geeks. The Rocketeer is as fun as it always was.
Review by: Jarrett Kruse
Story: 6/10
Art: 7/10
Overall: 7/10