Features
Top 5 DC Comics For Week of 3/20/13
Reviews of Action Comics #18, Supergirl #18, Nightwing #18, Justice League #18, and Justice League of America's Vibe #2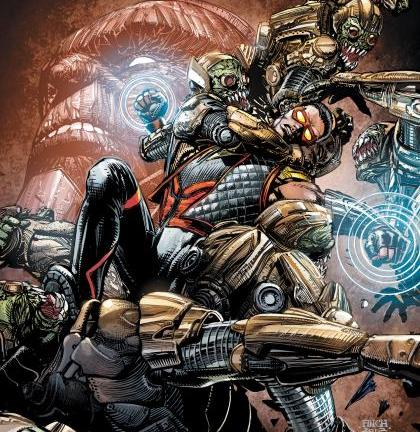 A darned fine week for DC Comics if we do say so ourselves. Well…on the page at least. We won't get into whatever the mess is that's brewing behind the scenes over there. Sheesh. In the meantime, enjoy our reviews as much as we enjoyed this week's stack of comics! Dig into Grant Morrison's final issue of Superman with Action Comics #18! Mourn with Dick Grayson in Nightwing #18! Wonder who the actual creative team is on Supergirl #18! Don't spoil the surprise about Justice League #18! And try to figure out how the heck Vibe #2 is actually a REALLY GOOD COMIC!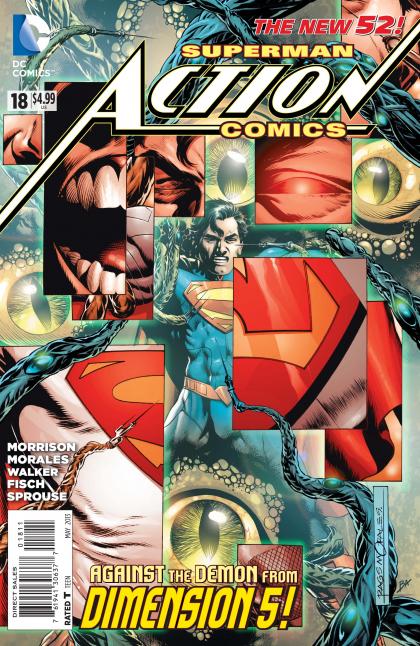 Action Comics #18
"Superman's Last Stand"
Writer: Grant Morrison
Pencillers: Rags Morales and Brad Walker
"Never-Ending Battle"
Writer: Sholly Fisch
Penciller: Chris Sprouse
Grant Morrison's Action Comics run has been at once breathtaking and infuriating. It is, in true Grant Morrison style, a breathtaking inversion of expectations, both in terms of the characters involved and the generally linear nature of superhero storytelling conventions. The earliest issues, which featured a younger, tougher Superman than most modern fans were accustomed to, with an eye for social justice and no patience for bullies, were refreshing and showed tremendous promise. The "infuriating" part of this equation has come from a general impenetrability of the story, which, as it progressed, occupied several timelines, often at the same time, some inconsistent art, and the dashed expectations of fans expecting a feel-good narrative akin to Morrison's superheroic masterpiece, All-Star Superman.
All of this being said, Action Comics #18 isn't going to convince you if you haven't been enjoying the book, but if you have, then it's one of the best issues of the series. Morrison's detractors (assuming they're still reading, and really…who sticks with a book they don't like for EIGHTEEN ISSUES?) will cite "Superman's Last Stand" as another obtuse mess, while fans (like me) will appreciate the psychedelic sensibility which seems to inform the proceedings. It doesn't matter, though. As a single issue, Action Comics #18 simply doesn't work, but as part of the tapestry that Morrison, Morales, and friends have been weaving for the last year and a half, it's a terrific capstone, and the last page of this story is about as much fun as we've been allowed to have with Superman since the reboot. I look forward to revisiting this entire run in one extended sitting in the very near future.
The backup story, "Never Ending Battle" by Sholly Fisch and Chris Sprouse, is worth mentioning for a couple of reasons. First of all Fisch and Sprouse manage to sneak in two references to Superman: The Movie, as well as subtle nods to the Max Fleischer cartoons in the background of the Superman exhibit at this museum in the 23rd century. I can't help but wonder if the message of this story, which involves not only standing up to bullies, but standing up for equality and tolerance, played on Chris Sprouse's mind at all when he decided to walk away from his duties as artist on Orson Scott Card's currently shelved story for the upcoming Adventures of Superman title. Regardless of my own speculation, it's a charming little tale, reminiscent of the Superman stories of Elliot S. Maggin, and would have felt right at home as one of the short stories in 1984's Superman #400.
Review by: Mike Cecchini
Story: 7/10
Art: 8/10
Overall: 8/10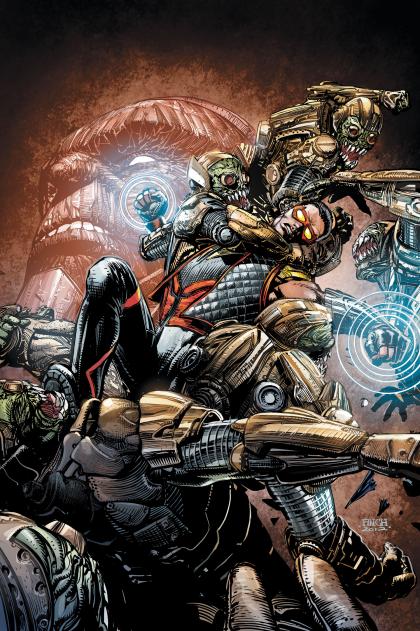 Justice League of America's Vibe #2
"Why Me?"
Writers: Geoff Johns and Andrew Kreisberg
Pencils: Pete Woods and Andres Guinaldo
Inks: Sean Parsons, Pete Woods, & Bit
Well, there has certainly been a bit of turmoil in the land of DC this week, hmmm? Any fan should have great concern when creators go without a steady paycheck because they find editorial too ponderous to work with. These kinds of things do not bode well for the future. What does bode well for the future of DC are books like Vibe. Vibe is providing Johns, Kreisberg, and soon Sterling Gates with an opportunity to reimagine a character, who in the old DC was a joke, and give him new motivations and story elements that make the rebooted DC feel like a very different place.
There's a really cool meta-fictional feel to Vibe. Readers will either know Vibe as the former breakdancing member of the Justice League Detroit, or they won't know him at all. Either way, the creators have their work cut out for them making apathetic readers care about a character that is considered a punch line but most readers that are familiar with him. Getting a reader to embrace a character or characters outside the usual comfort characters like Superman and Batman has been a challenge for creators for decades. This book is about a hero proving himself, both to the fictional universe he resides in and the literary universe he exists in in the real world. Having Johns' name attached certainly helps matters, but will the book and character excel once Johns steps away? This book is a unique dichotomy where the creators and characters are trying to prove the same thing: that Vibe belongs.
As far as the narrative is concerned: so far so good. Vibe makes characters like Hawkman and J'onn J'onzz seem more impressive and alien while giving readers some insight to the inner workings of this new universe. Including Gypsy as part of these opening issues was a shrewd move by Johns and Kreisberg as older fans will have a connection to Gypsy, who shared the pages of Justice League with Vibe back in his original, less interesting incarnation. This is a perfect companion book to Justice League of America, as Vibe navigates his way through his first days of being a hero connected to the larger tapestry of the DCU. As readers of JLA know, Vibe was recruited to take down the Flash, and this confrontation looms large over the book. The last page is quite the tease and promises the further growth of the new DCU, and perhaps a return of an old fan favorite Flash character!
Review by: Marc Buxton
Story: 8/10
Art: 6/10
Overall: 7/10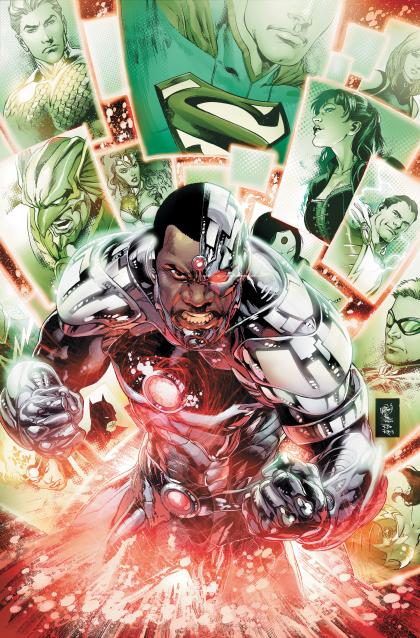 Justice League #18
"The Grid"
Writer: Geoff Johns
Artist: Jesus Saiz
"Shazam! Chapter 10"
Writer: Geoff Johns
Artist: Gary Frank
Whew. About time the Justice League got a breather in this book. Between the pressure of being the flagship title that launched an entirely new DC Universe, the generally high profile that goes along with being written by Geoff Johns and drawn (sometimes) by Jim Lee, a crossover with Aquaman (yes, Aquaman) that was actually pretty darn exciting, and the general pressure of being, y'know, the freakin' Justice League, I was worried they wouldn't ever get a minute to sit down and talk things over.
The League gets to sit down and chill for a few pages here in Justice League #18. You see, it's time to expand their roster. Maybe they've gotten wind of the fact that professional jilted lover and Duke-from-G.I. Joe-surrogate Steve Trevor is building another team specifically to take them out if they get out of hand over in that OTHER Justice League book. I suppose sitting up on a satellite and looking down at everyone all day makes folks nervous. Despite this being a "time to recruit new members" issue, we are (thankfully) spared the traditional "Superman, Batman, and Wonder Woman sit around and look at photos of potential members" sequence. I really don't think I could handle another one of those. I sure do like Jesus Saiz's art, though. His Leaguers look like people, with actual facial expressions and unique body language. Considering how much of Justice League's previous seventeen issues consisted of scowling posedowns, Saiz is a breath of fresh air.
While we do get a brief superhero punch-up, the best part of this issue is how it continues to make the New DCU feel a little more expansive. The advantage to the "old" DC Universe was the sense of history and scope and the idea that there was always more going on off the page than you could possibly comprehend. That's been missing from many DC titles since the reboot, but in recent months, between the events like "Death of the Family," "H'el on Earth," and "Throne of Atlantis," as well as the launch of new books like Justice League of America and Vibe, it feels like there's a little more history here these days. Speaking of which, history DOES kinda get made in this issue, as there is most certainly a new Justice League member, one of the most iconic members of all time, but in a very new, very unexpected identity. I won't spoil it here, but it took me by no small measure of surprise.
I'm still pretty ambivalent about the Shazam backups, as well as the overall "new" Shazam concept. Chapter Ten did little to change my ambivalence. Setting aside my issues with how the character is being handled, which, I'll admit, are not only subjective, but a result of me being a little bit of a Golden Age purist when it comes to Captain Marvel and friends, there's the matter of how this story reads in this format. Things don't flow very well when you're only getting them in irregular ten page installments. Ah, well, I guess I can judge that when it wraps up!
Review by: Mike Cecchini
Story: 7/10
Art: 8/10
Overall: 7/10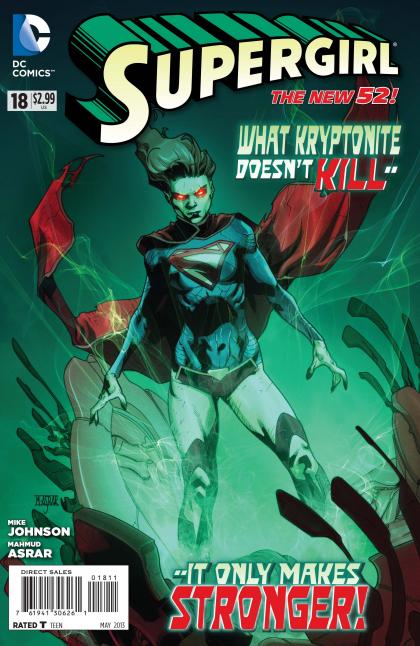 Supergirl #18
"What Kryptonite Does Not Kill…It Only Makes Stronger…"
Writer: Frank Hannah
Pencils: Robson Rocha
Inks: Oclair Albert, Julio Ferreira, & Mariah Benes
Well, the creative team credited on the cover isn't the same creative team who did the interior, that's never a good sign. Anyway, whoever wrote this issue has their work cut out for them. Last week's Superboy failed to reestablish a direction for the character post "H'el on Earth," so it will be interesting to see if Supergirl can find her place, no matter which creative team is guiding her. Oh DC, you just don't make this easy.
To this reviewer's surprise, for a book that seems to be bending under the weight of severe creator duress and confusion, this wasn't a bad issue at all. In fact, it really sets the stage for Kara going forward while shedding some light on where Luthor is in the wake of Grant Morrison's Action Comics. Whoever this Hannah is, he knows his pacing, his characters, and his transitions. He writes a believable Supergirl, whose confusion and anger is palpable as she gets used to her newly powered up state. Kara is still trying to find her place in the world, and when she is attacked by the lava girl, whose mission it is to kill remaining Kryptonians from Superboy #3 the fight is exciting and their conflict is poignant, as Kara is being attacked for possessing a Kryptonian identity she is not sure she wants.
The stuff with Luthor able to shift his consciousness to a board meeting with his super powered cronies while he is in prison is vintage Lex. Lex has something to do with the lava girl, but the issue does not make it clear exactly what. What is clear is that this is a purposeful narrative that has direction and good characterization, something the Superman books (Morrison's excluded, of course) have been lacking of late.
The inclusion of Power Girl is welcome as well. As a fan of Paul Levitz's work on Worlds' Finest, I have been eager to see the two Karas meet. The meeting won't be without conflict, as Power Girl is somehow weakened by Supergirl's presence. This is some intriguing set up by a creative team that doesn't even receive proper credit on the cover! Hannah overuses expository tools like thought balloons and caption boxes, but the guy knows what he is doing. Maybe one day he'll even get credit for it. Imagine the poor guy, now he has a DC Comic under his belt, an issue he will treasure forever, and some other dude's name is on the cover. C'mon DC, we here at Den of Geek really enjoy making you guys look like a million bucks, we are slavering fans, honest. Can you help us out? Just a bit?
Review by: Marc Buxton
Story: 6/10
Art: 6/10
Overall: 6/10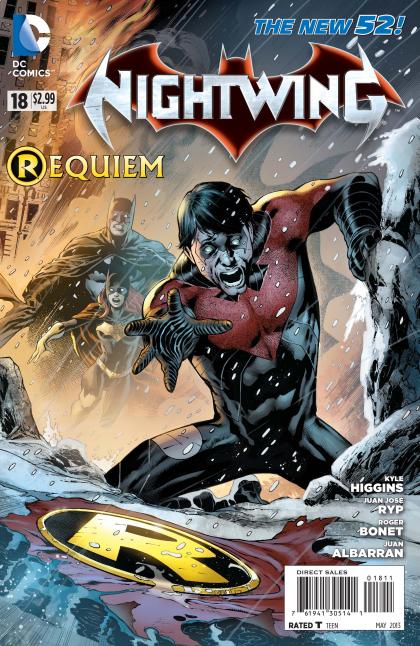 Nightwing #18
"Slow Burn"
Writer: Kyle Higgins
Pencils: Juan Jose Ryp
Inks: Roger Bonet & Juan Albarran
The fallout from Damian Wayne's death continues in Nightwing #18. I feel like I've been saying that a lot lately, and it's only been about two weeks since Damian went bob-bob-bobbin' off to wherever it is that dead Robins go when they die. But there's a grieving process that even superheroes have to go through, and that's why the "fallout continues" in NINE different bat-related books this month. That's an awful lot of mourning.
Let's face it, Damian was an unwelcome problem when it came time to start the DC Universe over last year and compress Batman's timeline into a roughly five year span. But with Grant Morrison's run on Batman Incorporated not yet completed, and his plans for Damian not yet having come to fruition (geez…it sounds like Ra's al Ghul typed that sentence, doesn't it?), the writer of every Batbook was stuck with him. Readers of Morrison's Batman over the years pretty much knew that Damian was destined to die, and I always questioned whether the character ever really worked outside of the unique world that Morrison created in his Batman titles. Well, now he's gone, and all of these other books can move on. But having just come out of the biggest storyline in many years with "Death of the Family" and with Scott Snyder and Greg Capullo set to redefine the parameters of Batman's world in over the next year or so with their "Year Zero" story, it seems like Bats and his cast are stuck in a holding pattern this month, with Damian's death as the excuse.
This isn't to say that Kyle Higgins doesn't do a good job expressing Dick's frustration and sadness in this issue. He absolutely does. And he manages to sneak in some excellent character development involving Dick's honesty, his commitment to preserving human life (even criminal life), and his ability to move on from tragedy in a way that his mentor never could. I'm impressed that Higgins was able to do this in a comic that might otherwise have felt like a fill-in issue before the next "real" story can get moving. Juan Jose Ryp's art is actually rather exciting, and the action sequence/fight scene with The Dealer and his minions is big, loud, action-movie fun.
But I can't shake the feeling that "Requiem" is more of a "required" send-off of Damian. It's an almost forced acknowledgment of the death of an inconvenient character in a "new" DC Universe that never really had a place for him. I'm one of many readers who continues to read Morrison's Batman Incorporated as an extension of the "pre-boot" DC Universe, while the events of the other Bat-titles take place in the "current" DCU. It's best not to think about this stuff too hard. Nightwing #18 is a good comic, and it's as good as can be expected given the circumstances, but now that all of these unfortunate formalities are out of the way, it will be really good to see Higgins and friends move forward.
Review by: Mike Cecchini
Story: 6/10
Art: 7/10