Features
Top 5 DC Comics For Week of 3/13/13
Reviews of Threshold #3, Katana #2, Batman #18, Batman and Robin #18, and Superboy #18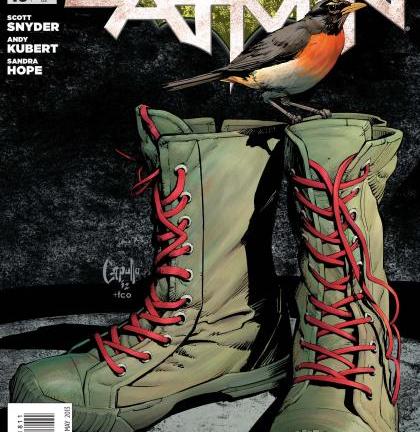 Despite there being two Bat-titles in this week's pile of reviews (something we try to avoid, as it would, on occasion, seem that the entire DC list consists of Batman books), it's still a fairly diverse bunch! Another fine issue of the sci-fi anthology series, Threshold (featuring Larfleeze!), some stellar work from the Bat-crew on Batman #18 and Batman & Robin #18 in the wake of one prominent cast member's untimely demise, and some more varied results from Katana #2 and Superboy #18.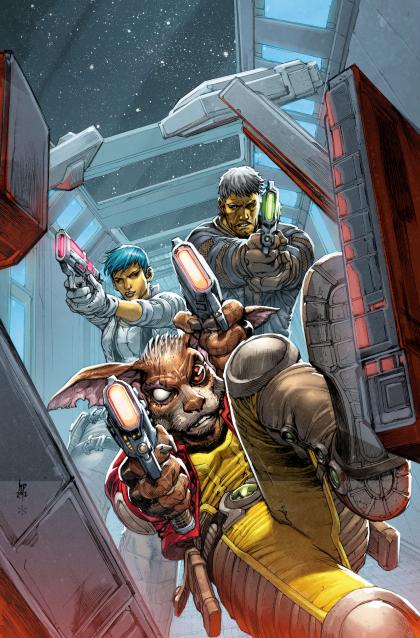 Threshold #3
"The Hunted: Blue Funk"
Writer: Keith Giffen
Artists: Tom Raney and Phil Winslade
"Larfleeze: Awkward Alliances and Other Mishaps of Note"
Writer: Keith Giffen
Artist: Scott Kolins
Does having two stories an issue technically make Threshold an anthology title? What about the fact that Threshold may not even be the same book after the current "The Hunted" and Larfleeze stories wrap up? This is assuming, of course, that Threshold lasts that long. Ah well, none of that matters, as I'm still enjoying this book and its street level view of the cosmic outer limits of the DC Universe.
In case you haven't been paying attention, the main story, "The Hunted" revolves around a crazy, space-age reality show played out in a galaxy far, far away. It's kind of like "Hunger Games in Space" (to use an analogy that's probably already been beaten into submission all over the internet), and the trials and tribulations of one grumpy, currently de-powered Green Lantern by the name of Jediah Caul. Along the way, Caul encounters a host of newly re-invented silver age DC characters, and spends a good chunk of this issue getting chased by the Jaime Reyes Blue Beetle, who is currently without his own title, so fits nicely into the mission statement of this book.
And what, I hear you ask, IS that mission statement? I can't pretend to know, other than to give Keith Giffen an excuse to play with a bunch of generally neglected (but still very cool) toys, aided and abetted by some terrific Tom Raney art (with an assist from Phil Winslade, here). The reinvented "Captain K'Rot" is rather amusing, but I'm not sure how much longer that joke is gonna last. On the other hand, Blue Beetle (and the alien backstory behind his armor) fits right in to this corner of the DCU, and I only just realized that the final few issues of his own title helped set up his role in Threshold, as well. I may just have to track those down…
The Larfleeze back-up story is, as usual, amusing. But Larfleeze is kind of a one-joke character, and this story is already wearing thin. Scott Kolins art is always a treat, and Giffen's sense of humor saves "Awkward Alliances and Other Mishaps of Note" from being completely disposable, but I can't help but wonder how DC thinks Larfleeze is going to support his own title. Then again, the fans do love him, so what do I know? All in all, Threshold delivers some weight for your $3.99, and each issue has been packed with characters, information, and action. Even when they spin their wheels a little (which, I'll confess, this issue did), it's still a fine way to waste an afternoon!
Review by: Mike Cecchini
Story: 6/10
Art: 7/10
Overall: 6/10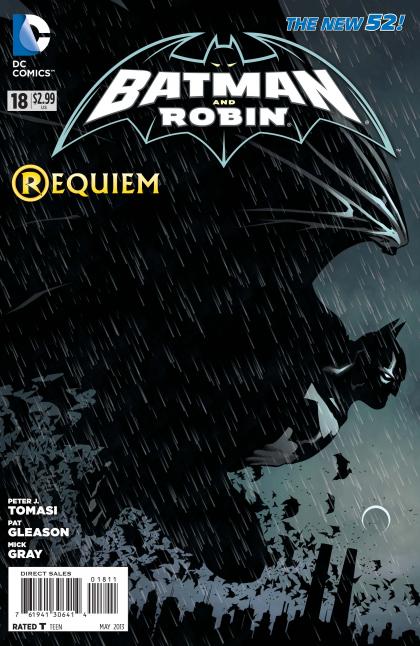 Batman and Robin #18
"Undone"
Writer: Peter J. Tomasi
Penciller: Patrick Gleason
Inker: Mick Gray
Well, that hurt. Tomasi and company deliver a "silent" issue in which Batman and Alfred must deal with the overwhelming loss of Damian Wayne.  Crafting an effective wordless comic is tricky business. Often, these type of projects reek of gimmickry, robbing the reader of the promised marriage of words and images that a good comic promises. A picture may be worth a thousand words, but a thousand words are also worth a thousand words, and comics promise the combination of both, so the absence of either is usually unwieldy. But sometimes words are not enough to express complex emotions, so Tomasi and Gleason let the images of grief replace the descriptions of grief. It works.
Peter Tomasi has been doing a great job defining the character of Damian, and this issue truly feels like a personal good bye from writer to character. When Bruce covers the picture of himself posing with all the Robins, there is a brutal finality to the image, as DC puts away a character that readers were perhaps not ready to say farewell to. Batman tries to find solace in violence, and as he rounds up a small army of criminals and delivers them to the GCPD, it feels like readers will be entering into a new era of Batman, an era where he has had enough of tragedy and loss, and is ready to escalate his war on crime. But it's the final image of an almost fetal Batman embracing Damien's uniform that will really punch the reader in the gut. It shows the rare vulnerable side of Bruce Wayne. This issue effectively takes Bruce through the five stages of grief, and that last panel shows a tragic acceptance of the fact that his son is gone.  
It seems like the murder of Damian was always in Grant Morrison's plans for the character. As his creator, Morrison certainly had the right to decide when the character makes his exit, but it seems the other creators of the DC Universe were not ready to let go just yet. This leads to a great meta-fictional feel for a book that has been nuanced and multi-layered since it relaunched. Fandom should look forward with great interest as Tomasi brings in other members of the Bat family to co-star in lieu of Damian Wayne in this book. If Tomasi works the same magic with Dick, Tim, Jason, Barbara, and Kate that he did with Damian, fans will be in for a great ride.
The star of any "silent" issue is the artist, and Gleason portrays violence with the same acumen as he does intense emotion. The looks of pain on Bruce and Alfred's face turn this book into a very human tragedy, where under the pencils of a lesser artist, the book could have descended into overwrought melodrama.
Review by: Marc Buxton
Story: 8/10
Art: 9/10
Overall: 8/10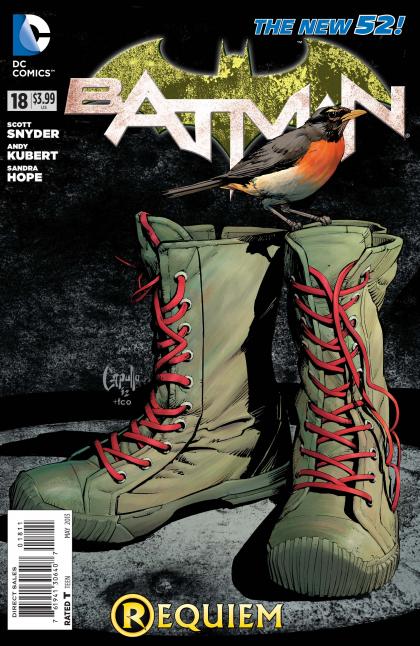 Batman #18
"Resolve"
Writers: Scott Snyder & James Tynion IV
Artists: Andy Kubert & Alex Maleev
Don't be fooled by the cover, Batman #18 has virtually nothing to do with the events of Batman Incoporated #8. Scott Snyder has left the majority of Batman's mourning of Damian to Peter Tomasi to handle over in Batman & Robin #18. Sure, there's some fallout here. Batman is even more driven and relentless than usual here as he carries on kicking ass in an attempt to bury his pain. The bad thing is that Bats is getting tired and sloppy, and if he doesn't find some peace (and get some sleep) he's gonna get got.
But really, this ain't Batman's story any more than it is Damian's. This is a Harper Row spotlight issue, and it's looking pretty clear where she's gonna be fitting into the Batman universe in the future. Do I even have to say it? The thing is, if (and this is, I'll admit, a tremendous "if") Harper is indeed getting fitted for a red vest and yellow cape, it looks like Snyder and friends are going to make her really earn it first. And that's a good thing. We just got rid of one Robin, and one of the things that made Tim Drake such a fan-favorite was that he practically willed himself into the role by sheer competence. Fans had to wait awhile before he appeared, took charge, and had to wait even longer before he was given his own costume and a full-time role in the book. By the time it happened, it felt right, rather than another conveniently dark-haired young man filling out the trademark uniform.
And, while we're on the subject of Batman comics from twenty-something years ago, I'd like to point out just how satisfying Batman #18 is as a standalone issue. Some of it is the dialogue, some of it is the strong on-panel presence of Ms. Harper Row (and her banter with her brother), and some of it is just that terrific sense, absent from way too many comics here in the era of decompression and quarterly events, that ANYTHING can happen. With one high-profile vacancy in the Bat-cast and a high-profile, strong, competent supporting character dominating the story, it's nice to feel engaged…especially if you, like me, haven't been a regular reader of Snyder's Batman (shut up…I know it's good. I've been trade-waiting. Clearly that needs to stop).
Have I mentioned the art? Because holy moley is the art good. Andy Kubert pretty much needs no introduction, but there's a real, almost animated richness to his work here. And I never knew how badly I wanted an ongoing Alex Maleev Batman assignment until I saw him on Chapter Two of "Resolve." Will somebody please put Mr. Maleev on some kind of high-profile Batbook, please?
Review by: Mike Cecchini
Story: 8/10
Art: 8/10
Overall: 8/10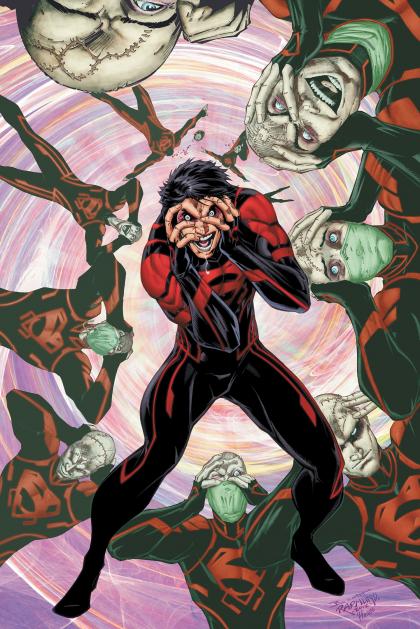 Superboy #18
"Mind Your Manners"
Plot: Scott Lobdell and Tom DeFalco
Dialogue: Tony Lee
Pencils: R.B. Silva and Iban Coello
Inks: Rob Lean and Denis Frietas
So, "H'el on Earth" was, like, what, a three year story arc? It sure felt like it, what with Superman not actually doing anything, and Supergirl looking like a doe eyed tool while being seduced by H'el. At least there were some interesting developments for Superboy, as the creative teams really delved into the idea of clones being hated and feared on Krypton, leaving Superboy in an interesting place when the seemingly endless arc finally reached a conclusion.
Before "H'el on Earth" began back in 1988, Superboy was trying to get acclimated living in the modern world while trying to find a purpose for his new life. He stole a whole bunch of money from a bank vault, but was convinced to return it by his pal, Bunker. That's where this issue picks up as Superboy enters the vault; the bank is attacked by Plasmus. Now, what an evil blob of sentient and acidic protoplasm needs with cash is not revealed, but there he is preventing Superboy from doing the right thing. This serves as the background for a series of flashbacks bringing readers up to speed on where Superboy was before H'el on Earth began. The new origin still works and the creators are very comfortable with Superboy's voice, which makes this mess of a plot at least engaging enough to keep a semblance of a competent story going.
As if things aren't convoluted enough, while Superboy is expositioning his flashback and fighting Plasmus, the new 52 version of the old Wonder Woman foe, Dr. Psycho shows up. This new version of Pyscho seems to be a legit psychic and con-man who uses his powers to bilk people out of their money, because that's so much more effective than the nuanced and terrifying sociopath established by George Perez years ago. Instead of looking like a twisted ventriloquist dummy, this new version of Dr. Psycho looks like Roger from American Dad in one of his trademark disguises. Anyway, somehow this all cuts to the mental plain or something where secrets of Superboy's past or future or whatever are promised to be revealed.
I've enjoyed this new version of Superboy, the idea of cloning being forbidden on Krypton gives the character an edge of tragedy and adds a new layer to a familiar character. Lobdell and DeFalco makes the character likable but edgy, without being smothered by unneeded angst, but the plotting and pacing of this issue are  an absolute mess and killed any momentum from "H'el on Earth," a story where Superboy was the only effectively used character. All the Superman family books are soon to receive a creative shake-up, and it can't come soon enough as this directionless mess is dragging characters with vast potential into the abyss of mediocrity.
Review by: Marc Buxton
Story: 3/10
Art: 5/10
Overall: 4/10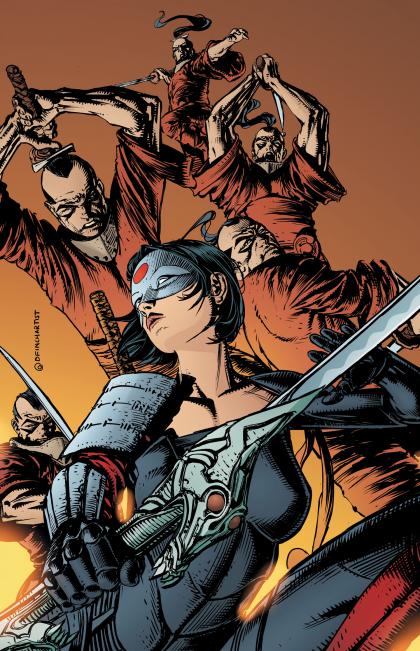 Katana #2
"Hire Your Enemy"
Writer: Ann Nocenti
Artist: Alex Sanchez
After a disappointing first issue, Katana picks herself up, dusts herself off, and, well…kinda delivers a disappointing second issue, too. It's hard for me to pinpoint exactly what it is about Katana #2 doesn't work, but for you, the loyal reader, I shall try. While I wasn't exactly blown away by Katana #1, I try not to judge superhero ongoings by their first issues whenever possible. Needless to say, it's not so much that any one element of the book is bad, it's more that nothing really seems to come together the way it should.
I guess the first real problem here, which is kind of a carryover from the first issue, is that we never really get a sense of who Katana is. I mean sure, she's the honorable wielder of the Soultaker sword, martial artist, all-around bad-ass and…master of disguise? Wait…what? Katana is just kind of there on the page. One minute she's lecturing and gaining the trust of one of her opponents (the ironically named "Thrust"), the next she's let herself get overcome by a beggar doing his best "Drunken Master."
Nocenti is doing her level best to make Katana and her world stand on their own two feet in the DC Universe, hence the "Japantown" setting in San Francisco, and the tailor-made recurring characters like Madame Yoko (who frustrates Katana by not allowing her to see all of the tattoos on the mysterious young Shun…tattoos which hold the secret to some mystery or another), the aforementioned drunken master, Junko, and her landlady/sake bar owner, Nori. I suppose some of these folks could turn into colorful, compelling characters if given the chance, but it's going to take time, and more than the two or three pages each is allotted each issue in order to make it happen. At one point, while asking Nori for a job, Katana points out that a fight is about to break out in the back room of Nori's saloon, in an attempt to illustrate her usefulness. No fight ever materializes, which seems rather abrupt and strange to me.
Alex Sanchez's art is stylish and evocative, but his action sequences are rather static, and difficult to follow. What's more, the abruptness of some of the scene changes make it difficult to follow the action, and I often found myself wondering where I was in the story. The last page comes out of nowhere and seems shoehorned in in an attempt to remind the reader that yes, this is part of the wider DC Universe. Katana has potential, and Nocenti is a more than capable writer, but this title needs a shot in the arm, and quick, if it's going to survive.
Review by: Mike Cecchini
Story: 3/10
Art: 4/10
Overall: 4/10