Features
Top 5 DC Comics For Week of 2/27/13
Reviews of All-Star Western #17, Red Lanterns #17, Batman: The Dark Knight #17, The Flash #17, and Aquaman #17.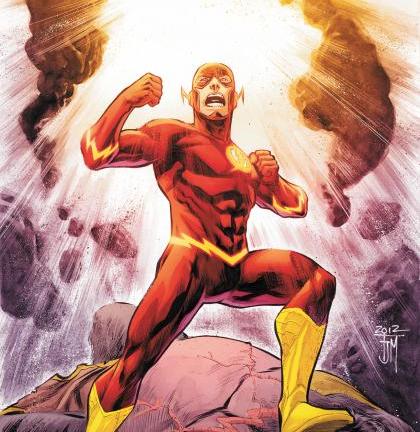 Better late than never, right? Behold! The Den of Geek Staff breaks it down with reviews of  All-Star Western #17, Red Lanterns #17, Batman: The Dark Knight #17, The Flash #17, and Aquaman #17! Hold on to your hats! It's gonna get weird. Maybe not. I'm still looking for that darn catchphrase…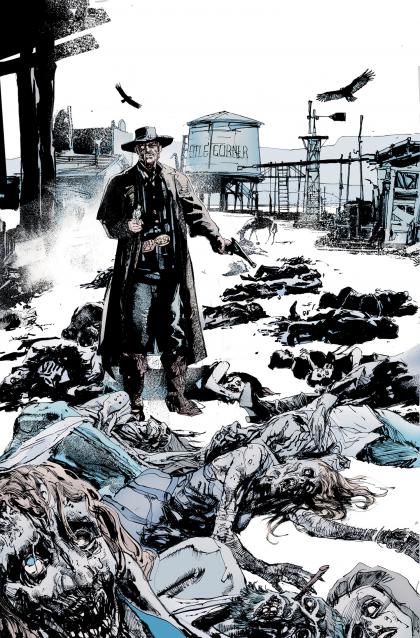 All-Star Western #17
"Standing on Death's Doorstep"
Writers: Justin Gray & Jimmy Palmiotti
Artist: Moritat
Back-Up:
"19th Century Stormwatch"
Writers: Justin Gray & Jimmy Palmiotti
Artist: Staz Johnson
Man, the creative team on this book has it down to a science. Gray and Palmiotti know their characters. They know what makes Jonah Hex tick, and in their capable hands, Hex has become a reliable staple book for DC. Fans know exactly what to expect from a Gray and Palmiotti Hex story, but the duo still always mixes unexpected plots twists along with the violence and mayhem fans have come to expect while mixing in some great DC history and propelling Hex's story forward at a breakneck pace.
This issue is about Gotham City just as much as it is about Hex, which brings a great sense of continuity with the modern DCU. The corruption, disease, and vice infecting Gotham in the past has a palpable feeling that the horrible tendrils of past atrocities in Hex's world carry over into the present. Through the setting, readers can see some events that have corrupted Gotham and turned it into a city that will need a Batman in the future.
The story centers on a cholera outbreak in Gotham. When Catherine Wayne tries to bring supplies to a town full of cholera sufferers cut off from the rest of the city, she is taken hostage. Her frantic husband hires Jonah Hex and Jeremiah Arkham to save her in exchange for a cut of his lucrative casino. Like in Batman, it is Gotham that provides all the conflict the title hero needs. The festering corruption caused by the disease, and the government's non-response to the outbreak, is both terrible and familiar to longtime Batman readers, but a different time calls for a different hero, and unlike Batman, money is Hex's motivation. It's interesting to watch a simple but effective character like Hex face a threat that he can't just shoot. Bullets won't stop disease or corruption.
There's a human threat as well, as this issue features the arrival of one Vandal Savage to Gotham. Another thread to the future of the DC Universe is sewn into Hex with Savage's arrival. Ever wanted to see an anger fueled poker game between Vandal Savage and Jonah Hex? Of course you did.  Savage's arrival shakes things up, as readers now get to see a classic DC villain's evolution. His scenes with Hex are brief but intense, as Palmiotti and Gray just tease the future violent confrontation the two will inevitably experience.
Moritat is a perfect artist for Jonah Hex, he is a gritty storyteller perfectly suited for a Western. His cholera ghetto is as putrid as his rendition of Catherine Wayne is beautiful. Most Jonah Hex stories don't feature much by way of character development; he is always the bad ass, no nonsense, quick-on-the trigger, bounty hunter. Instead, the writers focus on developing Gotham City and the past of the DC Universe.
Speaking of which, the back-up features Jenny Freedom and the old West version of Stormwatch! This brief but exciting tale also creates a sense of history within the DC Universe, something the Stormwatch title has often failed to do. Jenny Freedom is a cool idea, a century child celebrating emancipation. Like the Jonah Hex tale, this story makes the tapestry of the DC Universe a little bit more complete and colorful.
Review by: Marc Buxton
Story: 7/10
Art: 7/10
Overall: 7/10
Flash #17
"Gorilla Warfare: Finale"
Story: Francis Manapul and Brian Buccellato
Art: Francis Manapul
If one more person tells me that "the nineties are back" in comics (let alone music, movies, or fashion), I'm going to sprout pterodactyl wings and fly off screaming into the sunset. The nineties sucked. Hard. But that's not the point. You know how I know the nineties are NOT back in any appreciable, important way in comics? Decompression. In 1993 if you said the word "decompression" it had nothing to do with comics, it was usually preceded by the word "explosive" and it was generally considered fatal. In 1993, "writing for the trade" was kind of an abstract concept, and most stories were finished in two or three issues tops. The ones that weren't were "big deals" and announced on the cover as "Important Story: Part Two of Six" or what have you, and you always knew where you stood.
What does this have to do with Flash #17, you ask? The Flash is arguably the biggest culprit of the decompression phenomenon currently on my pull-list. And for a book based on a character that moves at super speed, that's about as inexcusable as it gets. As a whole, I really like Manapul and Buccellato's Flash. But that's the problem. I "like" it. I should LOVE this comic. I do not. Francis Manapul is probably my favorite Flash artist of the last decade, and if I'm in a good mood you might even catch me mentioning his name in the same breath as Flash luminaries like Infantino and Wieringo. Manapul and Buccellato have managed to take Barry Allen's kinda bland, square (he's a COP, people…and not even the kind who gets to use a gun) personality and make him distinct from any of the countless blonde haired, blue-eyed, square-jawed superhero alter egos out there.
So what's the problem? Flash #17 wraps up a five part story that could have been done in three, and it's carrying around plot threads from at least three issues before that. I don't even remember how "Gorilla Warfare" started. And for a comic wrapping up a big storyline, this final, climactic issue sure does feel like an epilogue that could have been thrown into the last few pages of another issue.
Make no mistake; it's been a GOOD story. Gorilla Grodd is, really, when you get right down to it, Flash's most interesting foe, and Manapul and Buccellato did a great job reinventing him and the whole Gorilla City mythos for the New 52. But "good" isn't good enough for me when it comes to the Flash. These guys have too much talent floating around between them to let poor pacing screw them up. Look, it's not like I'm gonna deny myself my monthly dose of The Fastest Man Alive (raise your hand if you own every issue of Flash published since about 1984! Wait…why am I the only one with my hand raised?), and nor should you. But, y'know, let's move a little faster, please.
Alright, fine…the last page is pretty amazing, too.
Review by: Mike Cecchini
Story: 6/10
Art: 8/10
Overall: 7/10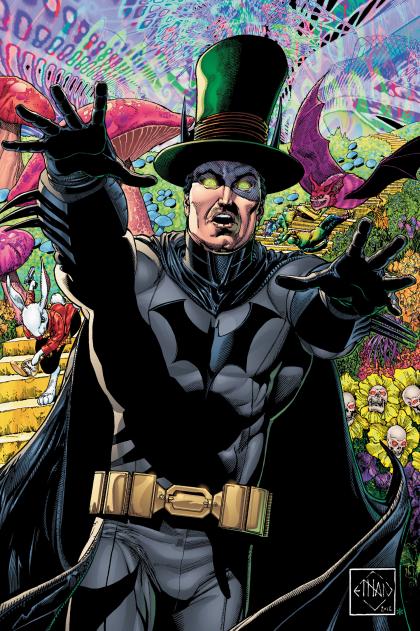 Batman: The Dark Knight #17
"Sweet Obsession"
Writer: Gregg Hurwitz
Artist: Ethan Van Sciver 
Batman: The Dark Knight #17 brings us to the Mad Hatter's lair where he's planning something sinister, or so it would seem. Issue #17 is an attempt to bring The Mad Hatter to the series and make him a prominent villain. Sorry, I don't think even Gregg Hurwitz can do that.
After coming off of one of the best written and best drawn Scarecrow stories, Gregg Hurwitz does too much in this issue (and the previous issue) to try and force The Mad Hatter onto us. For the life of me, I can't figure out why Mad Hatter keeps making appearances in Batman comic books.  He's a clone of the Hatter from Lewis Carroll's Alice's Adventures in Wonderland. I didn't like the book, I didn't like the movies, and I don't like the comic book villain. Injecting the silly Mad Hatter into an otherwise dark tale feels wildly out of place, and it's an unfortunate move that can still be fixed, but only if Hurwitz moves on quickly. Although Hurwitz gives Mad Hatter an almost Joker-like sinister tone, it's hard to take seriously. But, he has created one highlight in this issue with a moment between Gordon and Batman (I won't ruin it!)
The Mad Hatter isn't a villain with a lot of depth to him, due to constraints of using an already-popular book for source material. The world of Wonderland is limited, and adding to its history and Batman's history successfully, at the same time, would be an impossible feat to accomplish.  However, on the upside, Ethan Van Sciver's artwork is the highlight of the issue. The Mad Hatter is one ugly dude, and Van Sciver really lets us know that. Hi-Fi's coloring show exactly how a colorist should follow the direction laid out by the artist.
I hate to trash Gregg Hurwitz this time around because he hasn't let me down in the past, but this issue doesn't get a pass. It was almost saved by the creative artwork and psychedelic cover, but not quite. Hopefully, Hurwitz will limit the Mad Hatter storyline to just one or two more issues, as I'd love to see who he is going to bring to the Dark Knight next!
Review by: Robert Bernstein
Story: 3/10
Artwork: 9/10
Overall: 6/10
Aquaman #17
"Throne of Atlantis: Epilogue"
Writer: Geoff Johns
Penciller: Paul Pelletier
Inker: Sean Parsons
It started with Aquaman, and now it ends with Aquaman. Bringing the "Throne of Atlantis" crossover (which ran through Aquaman and Justice League) to a close is Aquaman #17, which ties up a couple of loose ends, but mostly sets up the new status quo for the book going forward. Geoff Johns has been working towards this since Aquaman #1, using fandom's casual dismissal of Aquaman as "the guy who talks to fish" and mapping it out on to how the actual DC Universe sees him. "Throne of Atlantis" should have put an end to all of that, and Aquaman #17 drives it home.
Arthur Curry is now the King of Atlantis. Make no mistake about that. There may be dissension in the ranks, and it may even be a little while before some of the wounds associated with "Throne of Atlantis" heal, but that throne is Arthur's and he's ready to embrace it. I wouldn't get in his way if I were you.
Aquaman #17 opens with a fairly gruesome whaling scene, which is interrupted by the Sea Devils, the obscure Silver Age adventurers who have now been re-imagined as environmental activists. Things are about to get messy when Aquaman shows up with a battalion of Atlanteans and puts a stop to the whole affair. The rest of the issue is fallout from "Throne of Atlantis" as Aquaman settles into his role as king, and comes to an understanding of the tensions that will continue with the surface world.
But the devil, they say, is in the details, and it's the little moments that make this a good comic. When Aquaman apologizes to the lone survivor of the whaling incident, well, it's kinda heartbreaking. Paul Pelletier deserves a lot of the credit for that, rendering close-ups of the whale's eyes in a soulful, mournful way. And when Aquaman addresses his "kingdom," well, go ahead and make a joke about him being "the guy who talks to fish" all you want, but that's an incredibly powerful moment, and one that will stay with me for a while. The man who may wield the most political power in the entire DC Universe is also this incredibly lonely character who will never be fully accepted by those who live above or below the ocean's surface.
Review by: Mike Cecchini
Story: 8/10
Art: 8/10
Overall: 8/10
Red Lanterns #17
"Wrath of the First Lantern Part Four: Sympathy for the Devil"
Writer: Peter Milligan
Artist: Miguel Sepulveda
Now here's a book that has had trouble finding its legs. The Red Lanterns and Atrocitus make great foils for the Green Lantern Corps. Their rage and the sense of despair that surrounds the intense emotions of the Red Lanterns serve as a balance when compared to the controlled emotional bravery of the Green Lanterns. Yet, by the very nature of their powers, the characters have to be flat. You can't have a well-rounded character that displays one emotion all the time, but that is what the Red Lanterns have been established as being; pissed off powerhouses that are consumed by cancerous rage. That works fine when they are antagonists or allied with a well-rounded protagonist like Hal Jordan or Sinestro, but when forced to serve as an anchor in their own title, it will take some stylistic literary acrobatics to make characters with only one emotion relatable. Peter Milligan, with his history at Vertigo, is not afraid of experimenting, but while Red Lanterns has had some memorable moments, the title has been mostly as static as the emotional range of the title characters.
As part of the "Wrath of the First Lantern" crossover, this issue had potentially more to deliver than just anger, anger, and anger. Before Valthoom can emotionally dissect Atrocitus, the Red Lantern must face the Heart of the Guardians, a device that amplifies all emotions. Atrocitus must navigate a hostile landscape of robotic foes, while the Heart causes his power-fueling hate to be diluted by the arrival of a spectrum of emotions that Atrocitus is not accustomed to.  The whole thing is a bit expository and hysterical, as Atrocitus dialogues his way through his inner turmoil while spraying red vomit everywhere. There is nothing a reader to latch on to. Atrocitus is a monster, there is no humanity to him, which just renders him useless as a protagonist. Accompanying Atrocitus is a group of Manhunters who clumsily act as a Greek Chorus as Atrocitus tries to deal with the emotional tumult the Heart is forcing into him. The Manhunters question their master aloud and drive home the issue's themes with the subtlety of an asteroid strike.
Through Atocitus, Milligan explores that nature of anger, and how it can be a weapon when used correctly, but that's really all the issue explores. It adds nothing to the crossover as Valthoom only pops up at the end; it establishes the threat of the Heart, a threat that is conveniently ended when the emotionless Manhunters encircle the heart to aid their master. Sorry, there just needs to be more to justify this title's existence.
More is potentially there in the form of Rankorr, the human Red Lantern who is struggling to regain his humanity back on Earth. He is trying to suppress his rage and be a hero, but with Bleez stalking him, the whole thing will end in tragedy, of course. Milligan would do well to let him be the stories narrative perspective rather than the alien rage monster Atrocitus. The whole thing is a bit overdone and self-aware, and needs to be toned down and humanized in order to survive. The book does have some amazing art going for it. Sepulveda knows how to create some awesome action sequences, and his alien designs are second-to-none. Sepulveda has a very promising future, which is more than can be said for the book itself.
Review by: Marc Buxton
Story: 3/10