Features
Top 5 DC Comics for the Week of 3/6/13!
Reviews of Earth 2 #10, Insurgent #3, Green Lantern #18, Phantom Stranger #6, Green Arrow #18
Huzzah! It's a week full of DC releases that are not only universally good, but where we don't have to tromp out a stack of reviews of stuff with the same issue number! This could very easily have been five books with #18 in them, but not today! Instead, we get the wonderfully diverse Earth 2 #10, Insurgent #3, Green Lantern #18, Phantom Stranger #6, and Green Arrow #18! Enjoy!
Earth 2 #10
"The Tower of Fate"
Writer: James Robinson
Penciller: Nicola Scott
Inker: Trevor Scott
Man, does Nicola Scott kick ass. She didn't get a typical assignment in Earth 2. This is a whole new world with no standard visual tropes or ideas. Scott had to create the look of this world from whole cloth; each character must be its own unique thing while calling back to past versions of these characters, and man, does she pull it off. Jay Garrick is fundamentally different from the classic Jay Garrick, yet, somehow, through sheer force of artistic will, he feels like Jay Garrick. Robinson is doing an equally great job narratively world-building as Scott is on art.
This book does not feel like a JSA book. There are no legacy connections or threads to the past, this is more like Ultimate DC, which I mean in the most respectful way, as Earth 2 is a world where the DC Universe has moved on. This is a world where the heroes must deal with the fallout of Superman, Batman, and Wonder Woman dying or moving on. Each issue spotlights a character or characters learning the ropes of being a hero in a world that has very deep expectations of its heroes. Robinson must also overcome expectations, because most fans have their own personal view of what a JSA comic should be.
Seemingly every issue, Robinson reinvents the book. In this issue, Robinson turns his attention to Dr. Fate, as Garrick, Garrick's mom, and the new wielder of the mantle of Fate, Khalid, face a familiar foe. The character of Dr. Fate has always seemed like a curse for Kent Nelson or whoever wore the helm. Robinson continues this motif, as every time Khalid wears the helmet, he descends into madness. This adds an element of sacrifice, nobility, and tragedy to the character. Khalid is another great addition to the growing Earth 2 universe, a universe that Robinson adds to every issue. Fate and the new Flash must face Wotan, another Golden Age reinvention, and through this conflict Robinson explores his new character's motivations and powers.
There was a big to-do before the book began regarding the sexuality of the new Alan Scott. This aspect of the character remains a fundamental part of Scott, but Robinson has down played the character's sexuality, instead focusing on big moments and action. Scott is not defined by his preferences; rather he is defined by the tragedy that robbed him of his would-be husband. This issue presents a very tasteful exploration into the nuances of that relationship as Scott meets with his lover's father, a traditional Chinese national who finally accepts his son's sexual identity now that his son is gone. This is a very profound moment for all involved, as Robinson surrounds the moment with a palpable sense of loss, and also creates a sense of hope, as Scott's lover's death has not been in vain, as it created the birth of a hero and expanded the openness of his once close minded father. Sometimes this book tries to do too much in to short a space, and becomes muddled. Not this issue, as Earth 2 remains a bright, well executed, alternative look at the DC Universe.
Review by: Marc Buxton
Story: 8/10
Art: 9/10
Overall: 8/10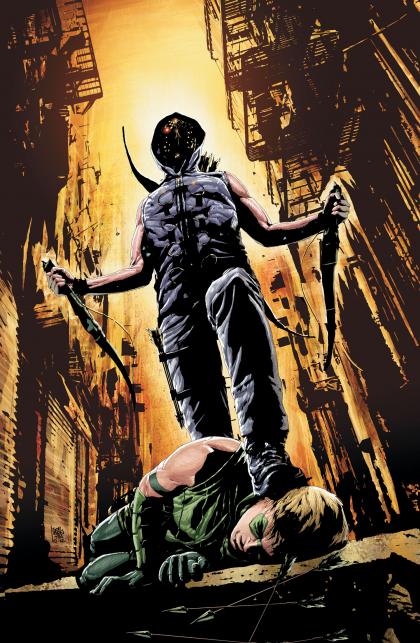 Green Arrow #18
"The Kill Machine: Part 2"
Writer: Jeff Lemire
Artist: Andrea Sorrentino
Who woulda thunk that two of the more interesting superhero books on the market would be about archers? I mean, Green Arrow? Hawkeye? A-list talent? The hell you say! But here we are!
I have a confession to make: I've read about five Green Arrow comics in my entire life, and two of 'em are by Jeff Lemire. For the most part, everything I know about Green Arrow has come via his appearances in Justice League, the Denny O'Neil/Neal Adams Green Lantern/Green Arrow trades, and a handful of back-up stories in some issues of Action Comics from the seventies that I own. I know he's angry, liberal, rich, good with arrows, and not much else. I haven't seen so much as five minutes of the (by most accounts, quite good) Arrow television series, and I knew nothing about the New 52 incarnation of Green Arrow, other than the fact that the book has struggled a bit.
But Jeff Lemire? Now here's a guy I know a little more about. His reputation precedes him, in no small part because of his work on Animal Man and Sweet Tooth. While the previous issue of Green Arrow wasn't exactly a reboot, it was enough of a clean slate for an inexperienced reader (like me) to jump right in and join the party. His job seems pretty simple: make Ollie Queen a distinct enough character that nobody can mistake him for Hawkeye (ironic since Green Arrow predates Hawkeye by many years), make the book accessible to viewers of the show, and make casual readers care. Well, I can't speak for the middle one, but the other two? Home run.
Wanna know one of the many reasons I never cared enough about Ollie to really follow him? You're only as good as your villains. You think Batman would be half as cool if all he did was go after gangsters? Not a chance. Lemire has introduced a terrific "evil archer" with Komodo, who appears to have serious ties to Ollie's past, and a mysterious possible antagonist (with a pretty gruesome design) called Magus. Stripping Ollie of his wealth and status and essentially putting him on the run helps up the interest factor, too.
While I'm sure, if you've been reading me regularly, you've heard me complain about decompression in superhero books, Green Arrow #18 sure isn't guilty of that little sin, as there's a heckuva lot going on. Between introducing a major villain (who looks like he's gonna be around for quite some time), giving the readers hints about Ollie's past, and teaming Ollie up with Microchip from The Punisher (alright, that last part isn't true), you WILL get your three bucks worth out of this book.
Review by: Mike Cecchini
Story: 7/10
Art: 8/10
Overall: 8/10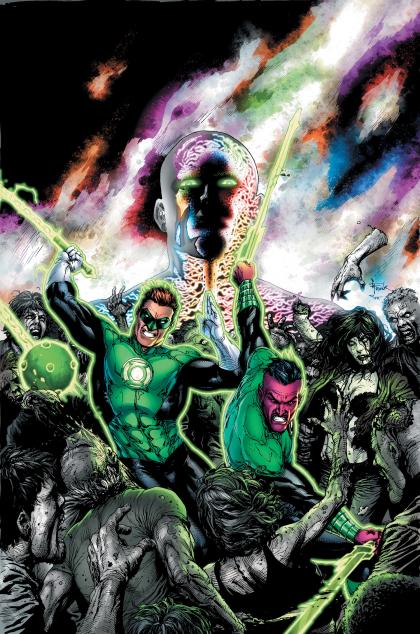 Green Lantern #18
"Dead or Alive, You're Coming with Me!"
Writer: Geoff Johns
Artist: Szymon Kudranski
Penciller: Adrian Syrf
Inker: Mark Irwin
I guess every remaining issue of Geoff Johns' Green Lantern will be filled with a sense of melancholy. Any time Johns guides the adventures of Hal Jordan is a reason to celebrate, but after this issue Johns just has three issues left. If we've learned anything from the last ten years, it's that Geoff Johns doesn't go out with a whimper.
There is a great deal going on this issue, so much so that it requires two artists to deliver the action. Szymon Kudranski handles the art chores in the land of death, while Adrian Syrf handles the "real" world. The bulk of this issue takes place within the Black Lantern as Sinestro and Hal Jordan must find a way to escape with the help of Simon Baz, so they can save the universe from the Guardians and Valthoom, the First Lantern. Got all that? It sounds complex, but Johns' masterful pacing and character work makes what should be an impenetrable story simple and engaging.
Johns juggles the continuing conflict between Sinestro and Hal, while further developing Baz.  Sinestro easily manipulates Hal's fear over Carol Ferris to gain control over Baz's ring, a great moment that reminds readers just what a raging, manipulative prick Sinestro can be. Yet, the question remains: is Sinestro the universe's best bet in defeating the Guardians and the First Lantern? As usual, Johns' character work with Jordan is exemplary, as is the writer's use of mood in the realm of the dead. Baz's reactions to and Kudranki's visual of the death realm are chilling. The ghostly specter of Tomar Re serves as a constant reminder that the heroes are in a cold and unforgiving place where even the altruistic suffer. We have seen Kudranski's art on street-level dramas set in the Batverse, but seeing him working on cosmic horror was a singular treat, and one hopes DC exploits these artistic talents further in the future.
Valthoom doesn't appear much this issue, but his presence gives the issue a feeling of impending doom. If one is reading Green Lantern Corps, one will remember what Valthoom did to Guy Gardner, which makes the coming conflict with Sinestro or Hal that much more anticipated. This is a great example of a crossover where every issue stands strongly on its own, but also enhances the story if read as a whole. As suspected, Johns will go out with a bang. The lingering question is, how many of his beloved characters will survive the writer's exit?
Review by: Marc Buxton
Story: 8/10
Art: 8/10
Overall: 8/10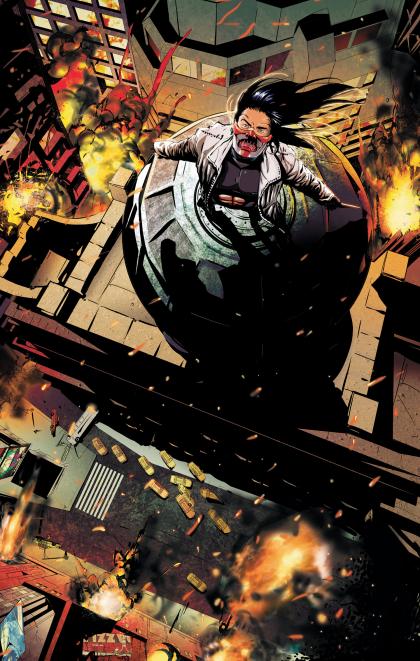 Insurgent #3
Writers: F.J. DeSanto & Todd Farmer
Art and Colors: Federico Dallocchio
Why aren't you reading Insurgent? Is it because it's published by DC but not part of an imprint, but also clearly not a part of their superhero universe, therefore you're confused? Is it because you don't like good comics? Seriously, I need to know.
Maybe I should take a different approach. Did you grow up in the eighties or nineties? Were you stuck in the suburbs? Did you spend your summer vacations haunting video stores where you'd rent anything that looked like it might be some combination of the action/sci-fi genres? If so, you really oughtta be reading Insurgent. Take those perfect blends of action and science fiction: films like Runaway (with Tom Selleck), Outland (with Sean Connery), the brilliant Alien Nation, or even something kinda schlocky but still really exciting and cool like I Come in Peace, put it on the comic page, and you've got Insurgent.
Insurgent #3 pushed my anxiety buttons a little. As someone who has spent most of his life living in or around New York City, I get antsy with stories that cut Manhattan off from the rest of the world. If you were here when the World Trade Center came down, or during the blackout of 2003, or during Hurricane Sandy, you probably understand that anxiety. You see, the "insurgents" have taken Manhattan, and now they're threatening to unleash something called "The Tenth Plague" which is kind of like a neutron bomb, only it won't affect the folks who have the insurgent nanotech in their bodies. What's more, they've done it at a time when a dozen world leaders were having a secret meeting there. While there isn't a whole hell of a lot of action in this issue, it's smart, it's tense, and it looks like all the pieces are in place for a pretty insane ass-kicking rescue mission.
If I have one complaint about Insurgent, it's that it just isn't served very well by the monthly installment format. Superheroes are by nature serial fiction, whether they're "written for the trade" or not. The thing is, Insurgent isn't a superhero book, and I can tell it will read much better in one sitting. But I'm not a patient guy, and I'm not gonna sit around and wait for a trade that may never come (and neither should you). I really can't wait until this series wraps up, so I can stay up late, grab some snacks, crank up some Basil Poledouris or Jerry Goldsmith, and experience the whole story start to finish. And I won't even have to rewind the tape when I'm done.
Review by: Mike Cecchini
Story: 8/10
Art: 7/10
Overall: 7/10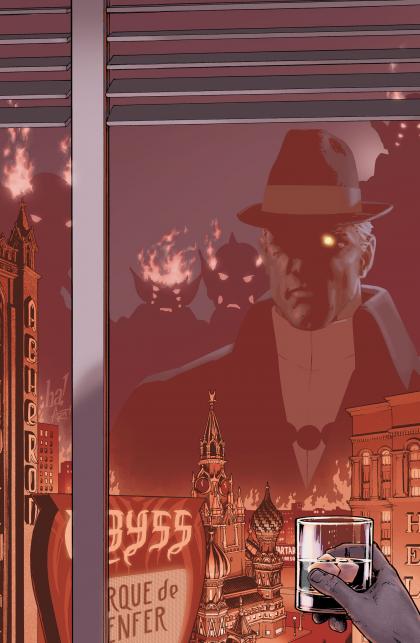 The Phantom Stranger #6
"…Luck Be a Lady"
Plot: Dan Didio
Scripts: J.M. DeMatteis
Layouts: Zander Cannon
Pencils/inks: Gene Ha
Inks: Dan Davis
Damn, that's a lot of talent in one book, AND Dan Didio. Oh, stop, I kid. Didio actually has been doing a very good job in plotting his corner of the New 52. His O.M.A.C. was very well realized and entertaining, and other than a few dialogue mishaps, Phantom Stranger has been reasonably entertaining as well. Didio even realized that his dialogue was forced and stilted and brought in the legendary J.M. DeMatteis on scripts.
To his credit, Didio has done the one thing with the Phantom Stranger many have failed to do over the past six decades, he has humanized the character and made him multi-dimensional.  By giving the Stranger a family, Didio has turned the character from an enigmatic blank slate into a relatable antagonist. He is not just a role-player anymore; he actually has a stake in the outcome of his quests. This version of the Stranger is Judas, cursed to observe the worst of humanity to make up for betraying Jesus. Connecting Stanger to the Bible can lead to some awkward storytelling, as I don't think a Jesus/Superman team-up would be advisable, but by downplaying his biblical roots, and immersing the character in the modern DCU, Didio gives the character a unique perspective.
This issue focuses on the Stranger, following a lead from the magical hacker, Dr. Thirteen, trying to track down his lost family in Las Vegas. His quest leads him to a demonic casino (because comics are awesome) and a high stakes poker game with the sons of Trigon. The arrival of the New 52 Raven has been teased in the pages of Teen Titans and this issue just serves to build anticipation to that event by introducing elements of her back story. This issue also introduces the character of Lady Luck who serves as the dealer for the poker game between the Stranger and the demons. Lady Luck appeared in some very early promotional material for DC, so it seems like she will be a big deal. Didio and DeMatteis builds her up as a figure of mystery and leaves it open whether she is helping the Stranger. The rest of the issue seem like a shoe-horned character study of the three sons, as they each lose the game thanks to their own fears or weaknesses. The reveal on who exactly was helping the Stranger win the game was clever and well-timed, but the whole issue felt unnecessary to the overall quest, despite the clever setting and dialogue.
With the announcement that Stranger's counterpart Pandora will soon be getting her own series, it gives this series a more prominent role in the DCU as we head into the Trinity War. The pieces seem to be in place, with Didio's clever plotting and DeMatteis' always strong scripts, but the duo faces the challenge all other writers of this character face, how does one make the Stranger a more active participant in his own story, when his entire purpose is that of observer? This issue doesn't solve that problem, but it delivers a clever story nonetheless.
Review by: Marc Buxton
Story: 5/10
Art: 8/10